I don't want to own art myself
An interview with Italian cultural entrepreneur and businesswoman Beatrice Trussardi
Last summer, in the Swiss Alpine valley of Engadin, a new cultural institution was launched – the Beatrice Trussardi Foundation, with a project by Polish artist Paweł Althamer as its inaugural presentation. Creation of the Foundation is the next step in Italian cultural entrepreneur and businesswoman Beatrice Trussardi's mission to create arresting encounters with contemporary art in unexpected locations.
Since 1999 Beatrice Trussardi has been the president of Fondazione Nicola Trussardi, named after her father, Italian fashion designer and businessman Nicola Trussardi. Under Beatrice's leadership, and in cooperation with Massimiliano Gioni, Artistic Director of NYC's New Museum, the Fondazione has become a unique and globally recognised model for exploring unusual ways in which to feature and experience contemporary art, shifting away from the restrictions of the "white cube" and removing the traditional boundaries and prejudices that still separate the art of our time from the general public. Fondazione Nicola Trussardi is a "nomadic museum" in the truest sense of the words considering its projects – exhibitions with international artists – revitalise Milan's urban environment and give new life to a series of forgotten yet legendary buildings and public spaces.
With creating the Beatrice Trussardi Foundation, Beatrice's hope is to develop the "nomadic museum" format on an international level, offering a programme of ground-breaking interventions in exceptional settings worldwide alongside pioneering research and study projects. Collaboration with Massimiliano Gioni will continue into this project, and under his artistic direction the Foundation will invite artists who have a particular sensitivity to their contexts and who engage with their environments and find novel ways to surprise, entice and interact with audiences. The Foundation will facilitate discoveries, encourage participation, and spark vital conversations. Pressing issues such as climate change, identity and gender inequalities, human rights, innovation, and talent empowerment will all sit at the core of its programme and research.
While most museums across the globe were forced to close their doors during the Covid-19 crisis, Beatrice Trussardi largely perceived the pandemic as a challenge. "Things are in evolution; they are transforming and we are very much into this perspective of evolving things," she says during our conversation.
Val Fex, which for slightly more than a month – from July 11 to August 29 – served as the setting for Paweł Althamer's artwork, lies 2000 metres above sea level, in the centre of one of the most fascinating hiking routes in the Engadin. Over the centuries, the Engadin's geographical position as one of the highest inhabited valleys in Europe and its distinct geological formations have made it a place beloved by artists and intellectuals. As a matter of fact, the Nietzsche-Haus museum, where Friedrich Nietzsche spent seven of his summers, is not far from there.
Mountain Hut in Val Fex, Engadin. Site of Pawel Althamer's project for the Beatrice Trussardi Foundation 2021 / Courtesy Beatrice Trussardi Foundation / Photo: Marco De Scalzi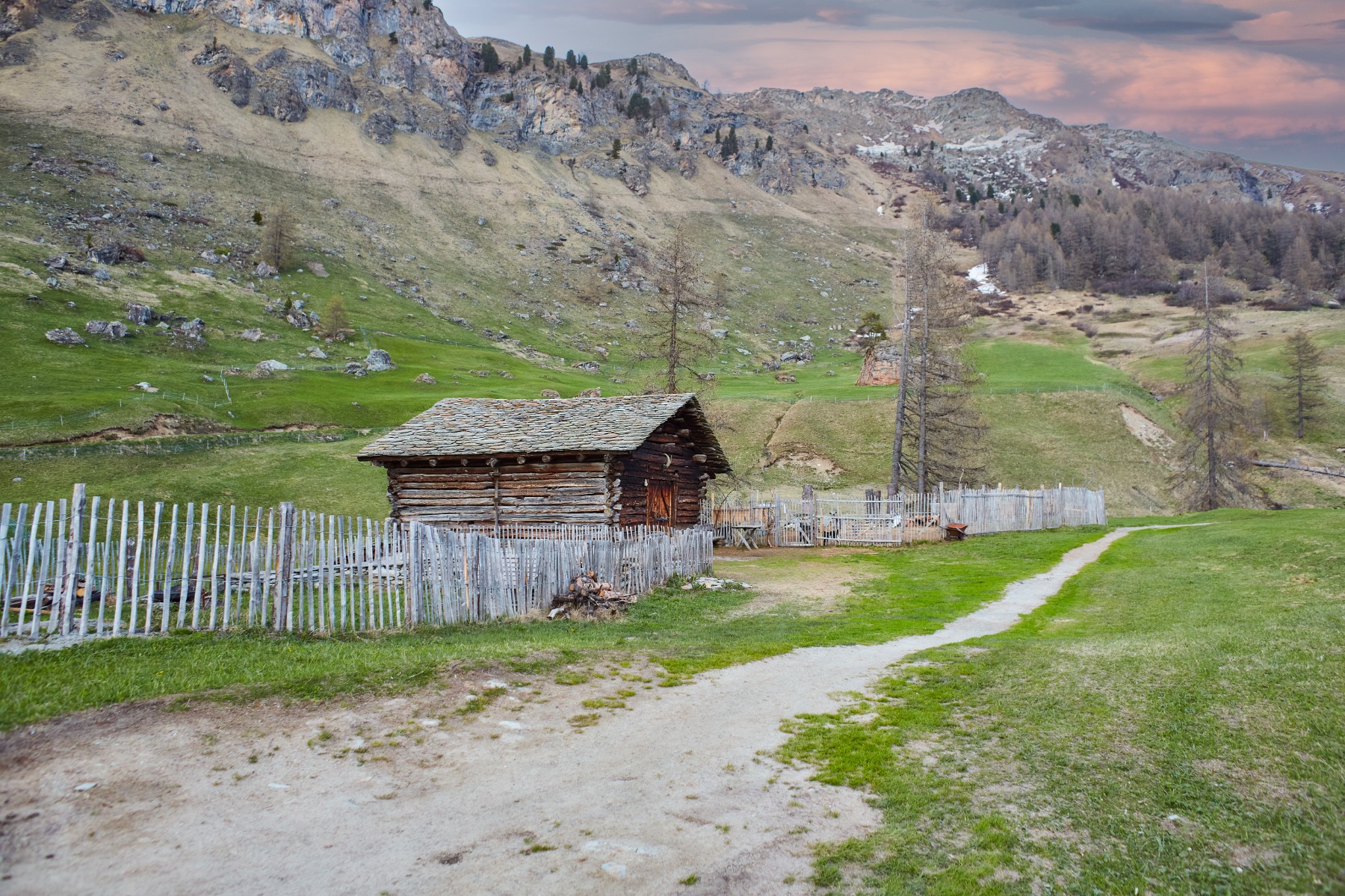 Paweł Althamer's installation was set in an outwardly humble 17th-century hut that could be accessed only by foot or horse-drawn carriage. In a virtuoso fusion of reality and fiction, Althamer transformed the little shepherd hut into a rustic chapel in which the focal point was the figure of Saint Francis. Sculpted using papier-mâché and organic materials such as hay and pigments made with berries, the hyper-realistic figure was largely executed on site and was presented in the space of the hut as part of a diorama that included stones, flowers, soil, and wood found on the banks of the nearby stream. The diaphanous skin of Saint Francis was decorated with preserved insects, a stuffed bird, and tattoos written in Latin and Romansh, the latter being the language spoken in the valleys of Engadin today.
Pawel Althamer, 'Madonna', 2021. Found wood and gold leaf; 96 x 27 x 22 cm Commissioned and produced by the Beatrice Trussardi Foundation, 2021 Courtesy of the Beatrice Trussardi Foundation Photo: Marco de Scalzi
The installation also featured the effigy of a Madonna with child, adorned with gold leaf and sculpted from a log, suggestive of an unusual combination of animist fetish and Gothic sculpture. In the lower level of the stable, Althamer placed a small sculpture of a new-born child sleeping on a pile of hay, hidden in a brightly painted wooden box normally used to store animal feed. Finally – as a stealth intervention – Althamer initiated a collaborative project in the form of a book which he circulated among the employees of the local hotels and the support staff working in the tourist industry, asking them to annotate their definitions of paradise. The book composed a candid collective portrait of the people who work to preserve the illusion of a paradisaical holiday destination, amplifying Althamer's reflection on spirituality in everyday life.
The exhibition was accompanied by Italian and Swiss writer and researcher Giuliano da Empoli's research project (which continued on after the exhibition itself closed) studying how these artistic interventions resonate against the backdrop of the physical, social and cultural landscape in which they are conceived.
Our conversation with Beatrice Trussardi took place in the second half of August 2021, shortly before the Althamer exhibition came to a close.
Pawel Althamer, 'Franciszek', 2021. View of the installation in 17th century mountain hut, Val Fex. Mixed media. Commissioned and produced by the Beatrice Trussardi Foundation, 2021 Courtesy of the Beatrice Trussardi Foundation Photo: Marco de Scalzi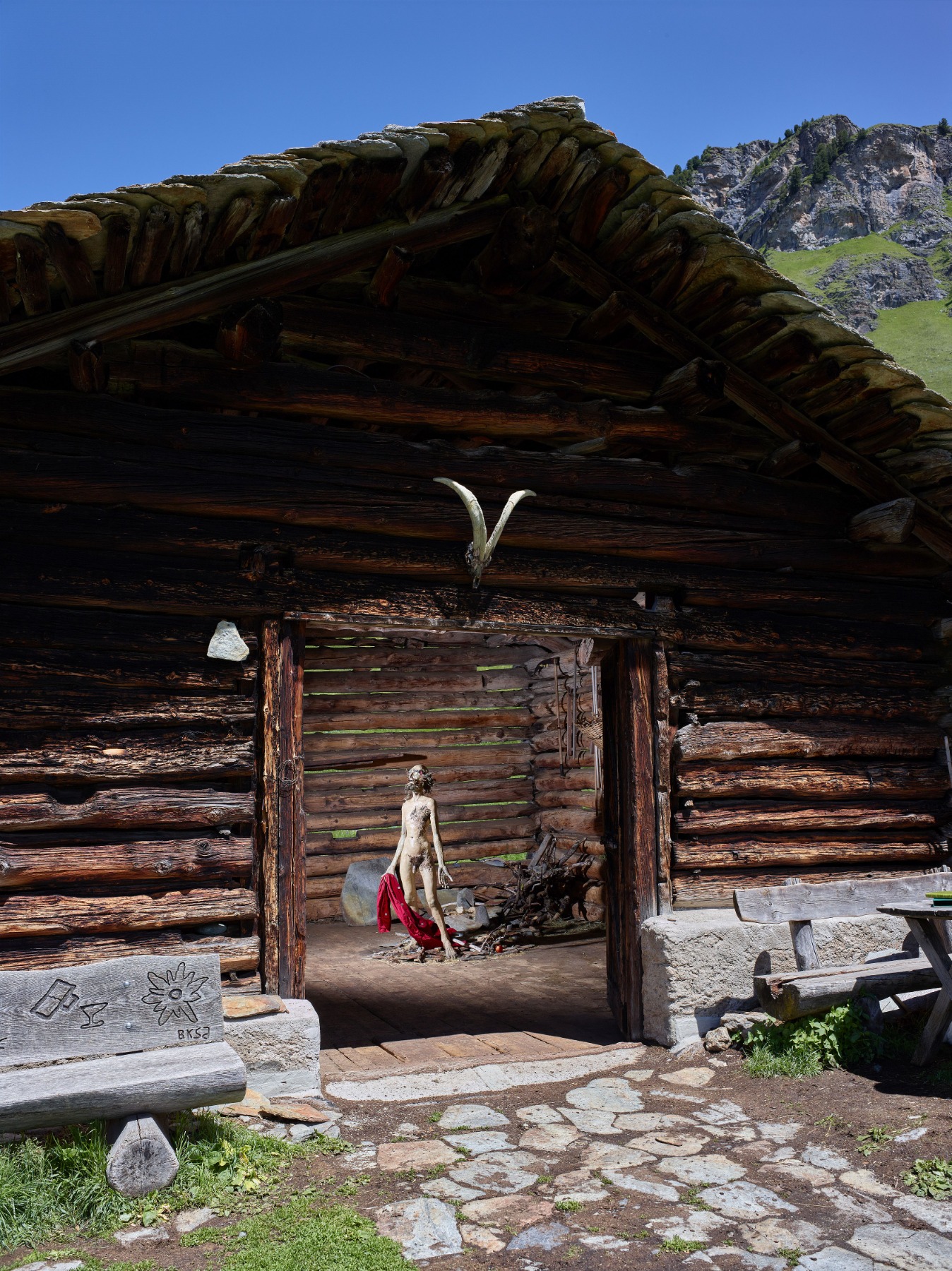 Paweł Althamer's artwork in the Swiss Alps isn't accessible by car, which is quite symbolic, in a sense. The concept of "nomadic museum" is already at the core of the Fondazione Nicola Trussardi, but with your own Foundation, you've brought this concept to an even more radical level. Why?
Actually, the formula of being nomadic was invented by myself and Massimiliano Gioni in 2003 for Fondazione Nicola Trussardi, and that is the formula we're also trying to apply to the new foundation. The difference, or to be more precise, the new thing is that this time we started from the territory instead of starting from an urban context like we did in Milan, where we wanted to bring art first.
With the Fondazione Nicola Trussardi, we are operating in an urban context, in a city. So that's why we call ourselves a "nomadic museum" – because basically, we are occupying buildings with art in a nomadic way. And it's changing all the time. We are also demonstrating that sometimes you don't need to build a new building to host art. There are plenty of existing, sometimes even abandoned, buildings that can be filled with art.
Whereas with the new foundation, we decided to start from the territory, and there are many reasons for this. During the pandemic, all of us tried to spend time in nature. Some – the lucky ones – were already there, while others – those confined to small city apartments – were harshly denied this respite. Anyway, we were all confined in a way. This urge to be free was very much felt during the pandemic, but also because of climate change, of course. And this project speaks a lot about that in the sense that it's very authentic – everything was really authentic and locally made. I mean, the only not-quite-sustainable thing was the transportation aspect. Otherwise, everything was really local.
Concerning the road, there actually is an eroded road that leads to the hut, but in accordance with the local laws, it can only be used by cars in emergency situations.
Val Fex is a very meaningful and respected place, especially due to its beauty and potency. It is radical in the sense of what the territory offers. We didn't want to be easily reachable – that was the point.
The Nietzsche-Haus museum is nearby, which, among other things, contains one of the world's largest multi-language collections of books on the philosopher. The press release says that Paweł Althamer's "installation is rooted in the tradition of a 'visionary Switzerland', as described by curator Harald Szeemann, which in the Engadin inspired an unusual combination of spiritualism and materialism as seen in the work of Friedrich Nietzsche, Giovanni Segantini, Lou Salomé and Alberto Giacometti, each profoundly influencing the way we imagine and experience nature." A powerful sense of spirituality is also characteristic of Althamer's works. How did he come to be selected for this project?
We first chose the location because that's the way we work – location first, and then, in accordance with that, we select an artist. We were interested in choosing a place in which the territory, the surrounding landscape, is very much present – and radically so. The spot we chose is reachable only via the village of Sils Maria, which has a history of hosting intellectuals and artists who loved to spend time in the area. So, there was also this connection there, which was meaningful to us.
It's actually Massimiliano Gioni's job to find the right artist and, of course, we do discuss the choice. The choice of Paweł was very fitting for that specific location especially because he is dedicated to bringing authenticity to everything that he does. When working on this project, synergy with the territory was very important to him – not only with nature and the landscape, but also with the local people. He created all three sculptures on site. He wanted to use local, organic materials found in nature to create the sculpture of St Francis. To colour it, he used natural materials such as mushrooms and even insects. He is an artist who is able to work with these kind of tools and materials. From our side, selecting him was very appropriate because of all of these reasons.
What he expressed, I think, is very much what we wanted to express – what the foundation wanted to bring as its first message: the synergy with nature, the relationship with the territory in terms of local people, and then the human being, which is at the centre of his work.
Pawel Althamer, 'Szopka [Hut]', 2021. Clay, fabric, hay 38 x 21 x 10 cm Commissioned and produced by the Beatrice Trussardi Foundation, 2021 Courtesy of the Beatrice Trussardi Foundation Photo: Marco de Scalzi
Alongside art, the research aspect is just as important to the Beatrice Trussardi Foundation. Could you elaborate on this a bit more in context of Paweł Althamer's work?
Actually, the research part will be more or less in the background of all our artistic projects. And, of course, in this case the research connection is investigating the contemporary Alpine utopia. The Alpine context can be both obsessive and isolating, and for that reason it can drive people to come up with brilliant things. It happened in the past, and we want to investigate if this is still an option for the present and the future.
You call yourself a cultural entrepreneur, not a collector. What is the main difference? Why is this distinction important to you?
I produce projects, I don't collect. I don't want to own art myself. Rather than exhibiting my personal collection, I prefer to produce art for everybody, for the public. And what I produce stays with the artist – we don't own the pieces. So the artist is free to do whatever they want with the pieces we produce for them. They can sell them or exhibit them somewhere else. After our exhibitions, the artworks we've produced can freely travel to other places in the world and be exhibited somewhere else.
Basically, being a cultural entrepreneur means that I think up and produce cultural projects. I don't want to show my collection like a regular collector does. This foundation is absolutely not about myself. It's about the projects – the projects are the protagonist of the whole thing.
The pandemic has changed, or will change, people's relationships, priorities, interests, daily habits, lifestyles, etc. How will the role of public art, and also the institutional role of the museum, change in our post-pandemic society?
During the pandemic we definitely experienced everything that you just mentioned. As well as museums, unfortunately, being obliged to deny access to the public. And that was very sad. But at the same time, it led us to think in different ways. That's how Massimiliano Gioni and I came up with the idea that our "nomadic museum" formula, which we've been applying in normal contexts such as Milan for many years, and may seem challenging to use elsewhere, is actually very relevant and contemporary during this moment as well. So it was a good time to do that, to bring the concept of the "nomadic museum" to different parts of the world.
Regarding [brick-and-mortar] museums, I'm not facing that important issue and the challenges it brings because I don't have that kind of museum. But I think we will see big changes in the near future – new things arising after the pandemic ends.
Agnes Denes, Wheatfield, Milano, 2015. Ph. Agostino Osio. Courtesy Fondazione Nicola Trussardi e Fondazione Riccardo Catella, Milano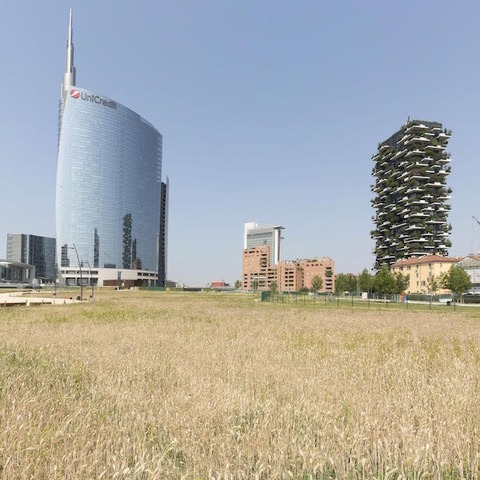 In 2015 in Milan's Porta Nuova neighbourhood, the legendary American conceptual artist Agnes Denes, in collaboration with Fondazione Nicola Trussardi, recreated her iconic 1982 installation Wheatfield. This intervention completely changed the future of this urban landscape surrounded by skyscrapers. The Beatrice Trussardi Foundation artistic intervention is the Swiss Alps is likewise closely connected to the life of the local community. How do you see future synergies between local communities and art – will art be more integrated with local communities and their activities?
It is very fitting that you made this connection with Wheatfield – both projects were addressed to a wide audience. Those who went to visit the sites after the projects were done were mostly locals, but not only. The way the two projects were realised was quite different, however. With the Wheatfield project, we made a public appeal to the citizens of Milan – anyone who wanted could come and sow the wheat field. The large-scale installation was made with 1,250 kilograms of Odisseo variety seeds, and when the growing season came to a close, the public was invited to participate in harvesting the wheat.
Regarding the other project, Paweł was very keen on involving the locals. Over about 15 days he basically transformed the hut into a studio – he wanted to immerse himself in the context. He worked right there because it was very important to him to feel that he was a part of everything – both in a natural context and with the people surrounding him. His attempt at this connection worked, and the local people loved him and helped him whenever he needed something.
Sarah Lucas. Innamemorabiliamumbum. Courtesy of the Beatrice Trussardi Foundation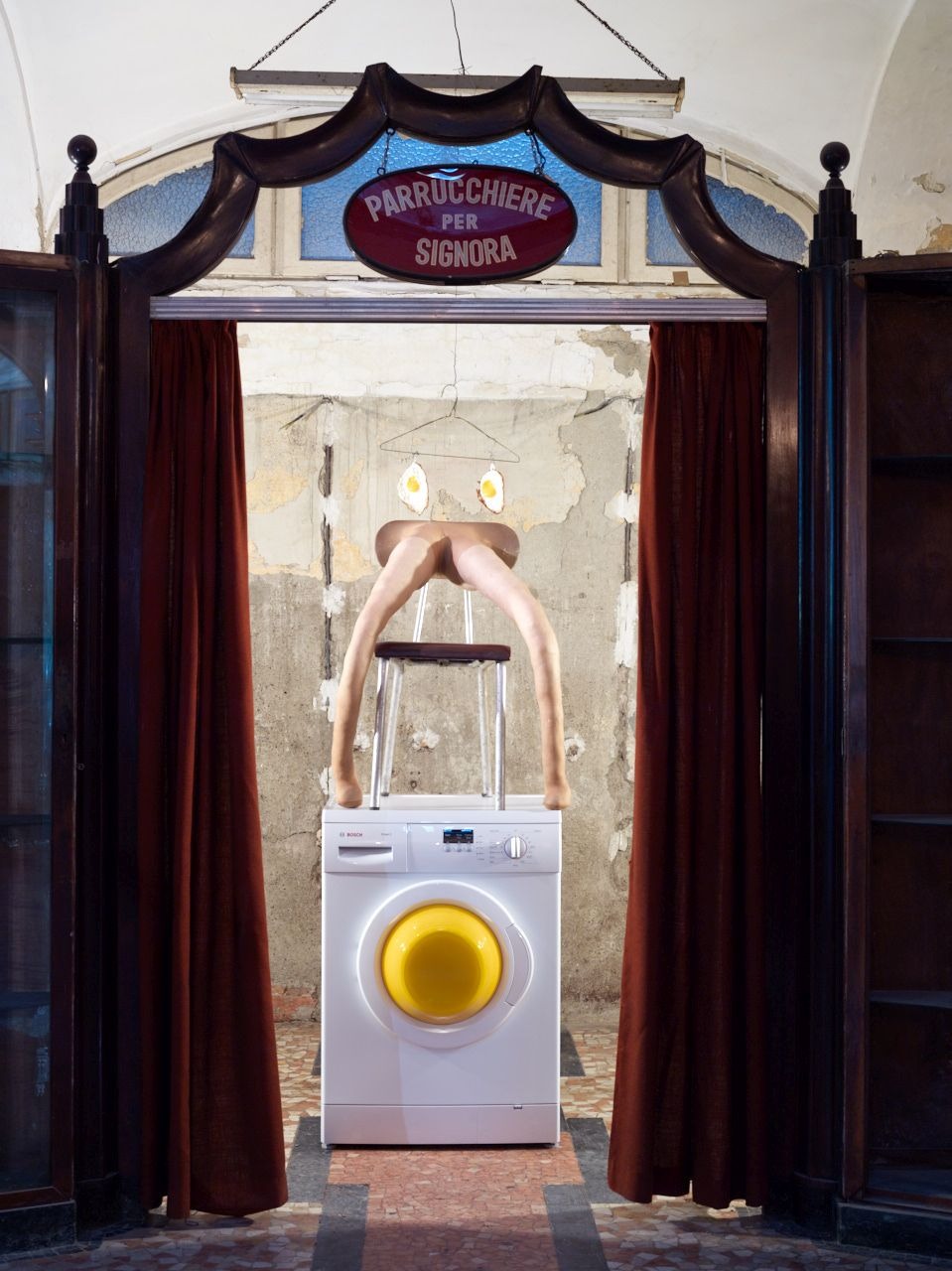 One of the goals of the Foundation is to bring awareness to pressing issues such as climate change, identity and gender inequalities, and human rights. From your viewpoint, what can art do to bring all of these very important issues into the spotlight? Should art even be playing a role here?
We like to say that through art, we make people think. Behind our artistic projects we have important messages that deal with global issues that all of humanity is facing. But I think that we're not doing it in a very explicit or didactic way. It's more like we are creating an experience which then allows the viewer to seek their own answers. We don't want to teach anything. We don't offer any solutions. We're just making people think, and maybe art can help raise questions rather than bring answers. This is definitely one of the missions of the Foundation.
Another mission of the Foundation is to be a vehicle for bringing art closer to the public. Nowadays there's a lot of talk about education – for instance, in many places art education was removed from school curricula, but perhaps it should be reinstated because, among other things, it sustains the artistic spirit of a child, which is there naturally.
That was exactly the reason why I decided to create a new formula in 2003. I felt that contemporary art was a cultural discipline that was being disregarded by education systems, schools, and people in general. I thought, why should I ask people to come to a private place to see art and so on? Let's try to bring art directly to the public. In the "nomadic museum" formula, we experiment and discover new ways and methods to execute art interventions within the public space, and in this sense the Foundation is a vehicle to bring art directly to the public. People don't expect to find art in locations that are usually used for something else.
We don't use other museums to execute our projects. We use locations usually occupied by other things. For example, the hut in the Swiss Alps is usually a place where goats are kept when they're not out to pasture. Now, of course, just a few are there because in summer they are taken elsewhere to pasture; once the exhibition is over, the goats will return. This is a real hut for keeping animals – it's not an abandoned space; it's a living place, even if is from the 17th century. It's still functioning.
Paul McCarthy, Pig island. 2003-2010; mixed media, 11 x 10 x 6 m / Photo: Marco de Scalzi / Courtesy of the Beatrice Trussardi Foundation
If the goats come back and the art leaves, how do you see the lasting impact of this particular intervention – and future ones, if they're just as temporary? Is it going to be emotional, historical…? What will stay behind – what kind of footprint, if any, will art leave in these locations?
I think that the most powerful result is when the project stays in your memory. Of course, you will have to have seen it, not just read about it. Although, maybe sometimes it is enough to just read about it. If you are interested and read about it as well as look at the images, then it can stay in your memory.
As we've experienced with our past projects, sometimes when people go back to the locations where one of our exhibitions had been executed some years before, they remember it and those memories are quite vivid. Even if the location is now occupied by something else. The fact that it stays in people's memories means that the project worked very well.
Anyway, we do temporary things – we don't do "forever" things. Things are always evolving, they transform, and we are very much into this perspective of evolution. And that's why we consider ourselves as "software". We are lighter and flexible enough to grasp what is coming up in society at the moment and then create a project around what is going on. Like in 2020 – we did two projects while no one else was doing anything because of the pandemic. And that was because we are very quick and flexible, and we don't have a big structure. We don't have many fixed costs that have to be faced every time, and we can do things quickly and move almost anywhere.
Installation view of Ibrahim Mahama, A Friend, 2019, Caselli Daziari (Tollgates) di Porta Venezia, Milan. Photo: Marco de Scalzi. Courtesy of Fondazione Nicola Trussardi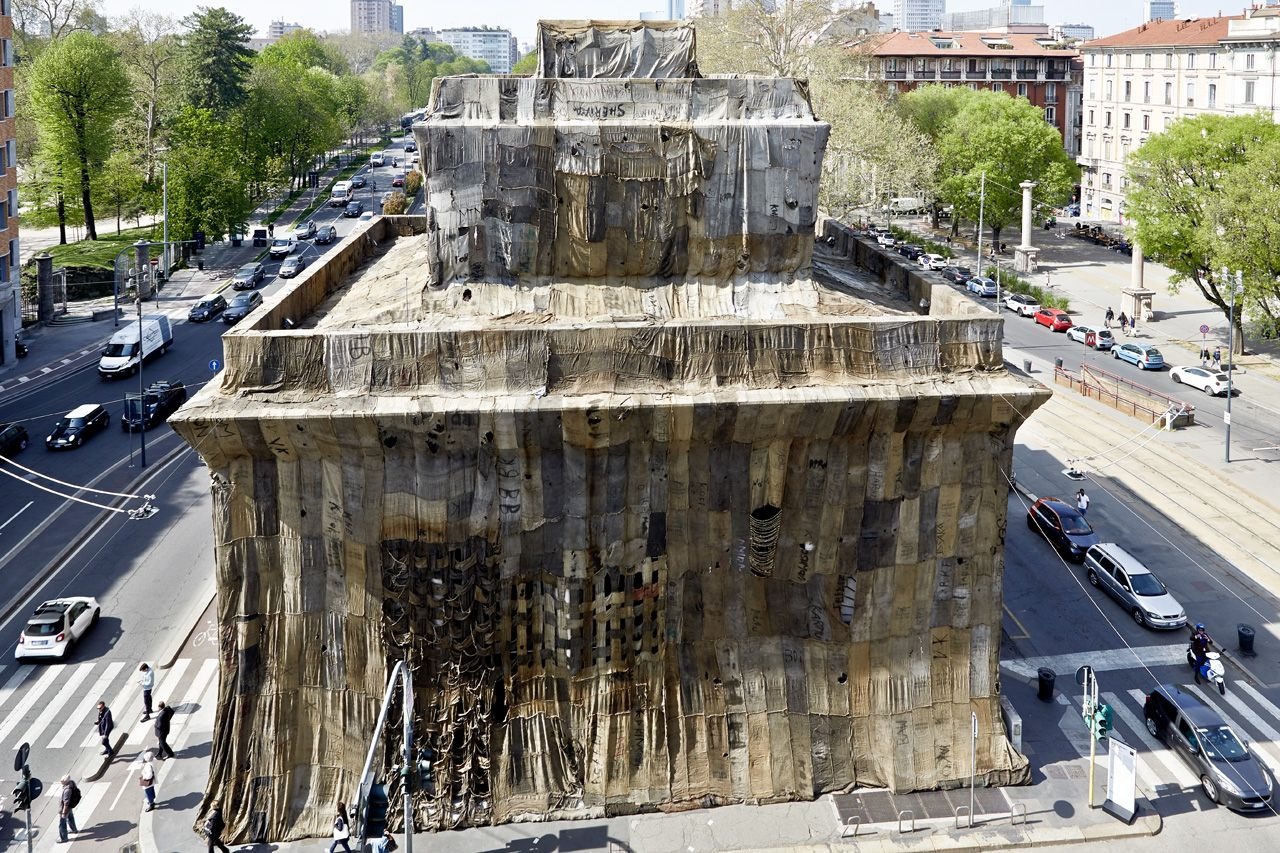 Speaking about the projects you did in Milan, some of them were located in historically important but abandoned places. Have you been able to change/influence the further development and future of these places through your projects?
Actually, some of the most important palazzos were later occupied by other projects. So they definitely came to be considered as possible locations for cultural projects and did indeed become so. In other cases, some places have major problems in terms of permission, zoning, political decisions and so on. So we cannot, of course, interfere with that kind of process. For example, Wheatfield eventually became a public park.
What kind of projects are you working on right now?
None (laughs). I mean, that is also a feature of ours – we don't work on more than one project at a time; we just focus on what we are doing until it's over. And when it's over, we start thinking about a new one. We don't do things in parallel. Moreover, as I said earlier, because we can act so quickly, we don't have to plan much in advance. We can just speak to what we are doing.
We are now working on the research part of Pawel's project and are planning to present it soon. Maybe in a couple of months.
Ragnar Kjartansson, The Sky in a Room, 2018–2020. Performer, organ, and the song Il cielo in una stanza by Gino Paolì, 1960. Photo: Marco de Scalzi. Courtesy of the artist; Luhring Augustine, New York City; and i8 Gallery, Reykjavik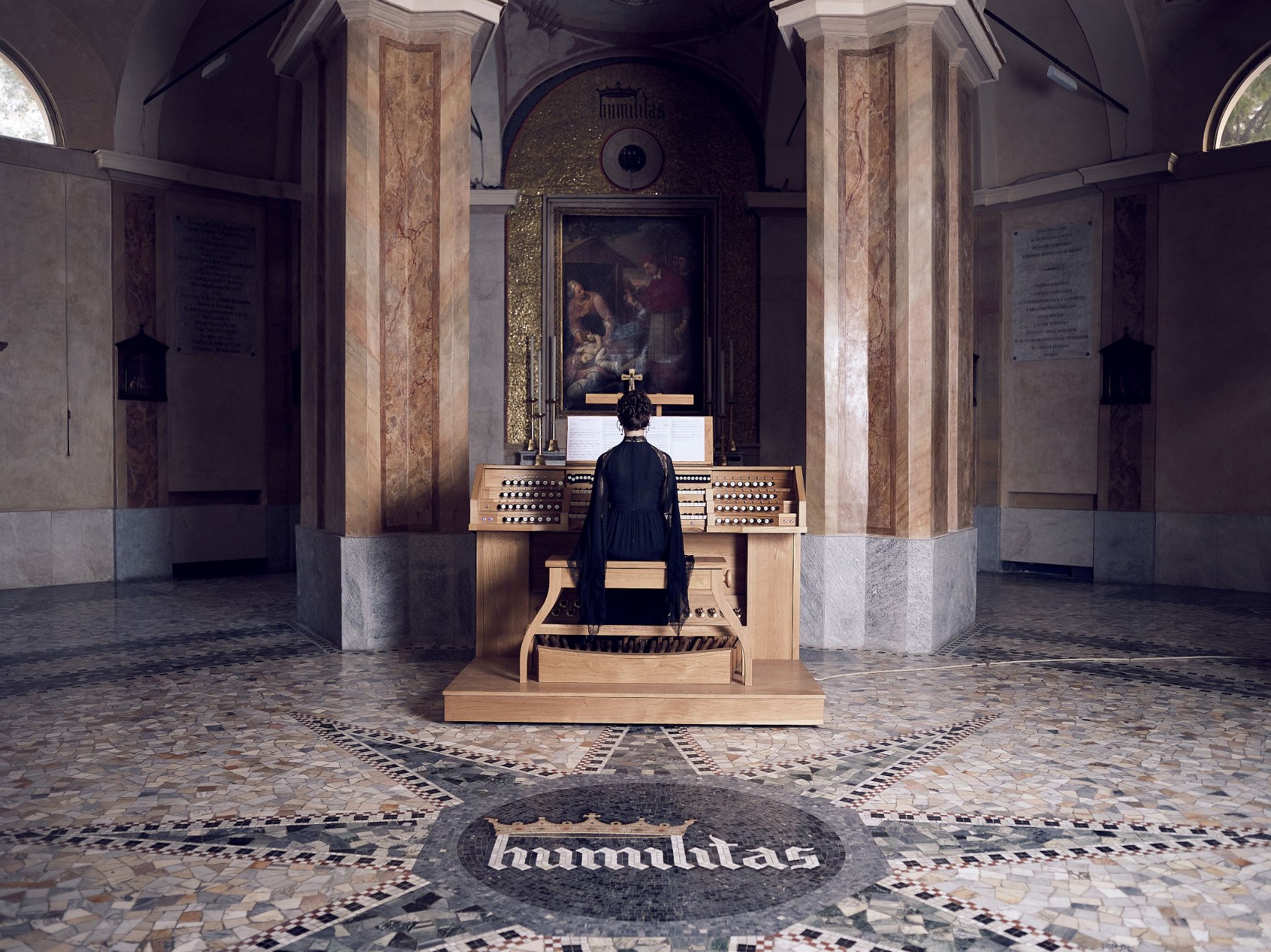 At what moment did you understand the importance of art in your life? And what are the main lessons you have learned for yourself from your connection to art?
Art is a fundamental; it's not like a secondary thing. It's basic.
When I understood that it was important for me, it was also a work in progress, let's say. I studied art in New York, which is maybe one of the most crowded cities in the world for contemporary art. I earned a degree in Art Business & Administration at New York University, and then I worked at the Guggenheim, which inspired me to create a public project for art in Milan. There was nothing like that in Milan at the time – the city had a notable lack of an art life. The first projects were very impactful and meaningful, but maybe not big in the sense of their result. There was a sense of experimentation at that time, but I grew to understand that, one after the other, the mission was being achieved. So I proceeded with this direction. It was really one step after the other. And this new foundation is also a new step.
What you are searching for in art? Are you looking for a new reality, an aesthetic experience, beauty, or maybe an intellectual challenge?
Art and artists have the ability to create new worlds, new scenarios, new possibilities. They don't provide scientific or concrete answers to problems or questions. But they do create new possibilities. And that is what fascinates me. Also, I don't expect anything – I'm very curious about what we've come up with every time.
Urs Fischer. Untitled (Bread House). 2004-2005 / Courtesy of the Beatrice Trussardi Foundation
It's very difficult to teach another person how to look at things. What's your advice for someone who simply wants to learn to look, to experience art in its full potential?
You have to experience it in the sense that firstly, go with your own senses – your own mind and reason. And learn about it. Then ask about its meaning and, of course, go in-depth. But your own personal impression always comes first, and it is unique because there is not just one interpretation – there is not just one meaning or layer. There are multiples, each one according to each individual viewer. And to experience it, you must not be influenced by any kind of specific interpretation. We try to offer that kind of experience with our projects, and the unexpected plays an important role here because you go to the place without expecting to find art there. You don't know what kind of dialogue your eyes will create in that particular location. What you experience is unique to you. That's our feature.
My advice is to go and experience what you see, feel, and think in that specific place.
Thank you!
Title image: Beatrice Trussardi. Photo: Marco De Scalzi