"I buy with my heart..."
Interview with Billionaire Art Collector - Petter Stordalen

03/12/2013
Forbes magazine has named Norwegian businessman Petter Stordalen "the flashiest Scandinavian on the planet". He is undeniably an extravagant personality: a billionaire (Forbes estimates his net worth at 1.2 billion dollars), the ninth richest person in Norway and the owner of Nordic Hotels and Resorts and Nordic Choice Hotels, Scandinavia's largest hotel chain. With 171 hotels in Scandinavia and the Baltic States, Stordalen employs more than 12,000 people. Some call him the rock star of the hotel industry, and YouTube is full of his extravagant shows at hotel openings. At one he's running Spiderman-like down the 57-metre-high facade of the Clarion Hotel Arlanda, at another he descends from the ceiling of the Clarion Hotel Post in Gothenburg in a gigantic disco ball. A certain mythology has grown up around Stordalen's image. For example, while selling strawberries at age 12, his talent for the business earned him the title of "Top Norwegian Strawberry Seller".
Despite his antics and much-talked-about dandyish wardrobe, Stordalen and his wife, Gunhild, are some of the most serious environmental activists and promoters of social responsibility. He finances environmental protection programmes and cooperates with UNICEF in its "Free to Grow" anti-trafficking programme. He is the co-founder of Stordalen Foundation, which initiates and supports projects related to health, environmental protection and climate change reduction. In fact, Stordalen also drives the world's first Ferrari powered by biofuel. "There's no business on a dead planet. It's that simple," he says.

Petter Stordalen in front of AF and Ferrari. Photo: Kerstin zu Pan for Design Hotels
Stordalen is also a passionate collector of contemporary art. Some sources value his collection at more than 50 million dollars. The collection includes artwork by such well-known artists as Tracey Emin, Alex Katz, Franz West and others. Stordalen also owns some of Andy Warhol's best interpretations of works by Norwegian artist Edvard Munch. One morning I meet Stordalen in the restaurant of Oslo's The Thief hotel. We chat a bit before the interview, and he talks about three of his paintings have travelled to Ankara during this, the year of Munch's 150th anniversary, for a Munch/Warhol exhibition. The exhibition was opened by Queen Sonja of Norway, and, as Stordalen says with a smile, he was unable to refuse the queen.
An Andy Warhol is on the wall of Fru K, The Thief's restaurant. The Thief – a hotel-gallery exhibiting 105 pieces of artwork – is currently the summit of Stordalen's empire of hotels. Among its artwork are pieces by well known artists such as Antony Gormley, Richard Prince, Niki de Saint Phalle, Tony Cragg and others. Some of the pieces are from Stordalen's private collection, while others are from the Astrup Fearnley Museum next door, which was designed by the architect Renzo Piano and enjoys a special collaborative relationship with the hotel. The Thief is also the only hotel in the world with its own art curator: Sune Nordgren, the former director of Norway's National Museum. It is precisely The Thief's convincing collection of art that sets it apart from other hotels, where artwork is often just part of the interior décor or an expensive marketing gimmick.
"I am a happy person," says Stordalen with a smile. There is a charming and disarming simplicity about him. And also a directness. It is very easy to talk with Stordalen, I feel he is a rush of intense energy sitting across the table from me. And the energy he emits is 100% positive. I suppose otherwise Stordalen would not be who he is. It's that simple.

Work by Andy Warhol on The Thief's wall
How did you get into collecting? Did you collect something else before art? Maybe stamps or car models as a child?
For me it started like this... You earn some money and then you buy a nice car. Then you start to drink better wines. That, hopefully, you could do for the rest of your life. But it's limited.
For health reasons?
Yes. But you should drink a glass of wine every day – that's good for your health. Then you maybe start buying some art. I think many people, at least in the beginning, buy art because they want to show off. They like to say they own this or that famous work.... I never buy art as an easy investment; I always buy something that is different. For example, installations by British artist Fiona Banner.
How many years ago did you start to collect?
I was not even twenty when I bought my first piece.
That was a painting by American artist Ross Bleckner?
That was my first real piece of art, something that was really mine. Before that I bought art either to match the sofa or, later on, I bought some art because they were works by famous Norwegian artists. You know, those artworks with cows and fjords.... The first real piece of artwork I bought just for myself was the Ross Bleckner.
Do you remember your emotions at the time?
As I said, I had bought many pieces of art before, but that was the first piece that gave me this feeling that it is mine. I bought it with my heart, not with my head. Before then, I bought art as decoration; I wanted to show it off and say, "Look at this, I have this famous Norwegian painter." Which was completely boring; they were just costly decorations. Then I started buying all kind of things. But I always bought pieces because I liked them. So, I had a collection that was like chaos; it had no direction.
And then I started working with art in the hotels. Of course, to be honest, when we did it the first time in Clarion Hotel Stavanger, the result wasn't very good. We had one artist doing the whole hotel. The idea was that they loved him a lot in that town; he was very famous in that part of Norway. Afterwards, we decided that we should do this differently. We should not let interior designers and architects make decisions about art. Art should be free and should not be decided by the colour of the sofa, pillows or whatever. Then I started working with Sune Nordgren (a former director of Norway's National Museum of Art – U.M.). That was a giant leap in the right direction. He opened my eyes to a new world. I met artists and discovered how good art could be.The first hotel we did together with Sune was Hotel Sign in Stockholm. And if you go there, 95 percent of the artworks are just black and white photos. It's photography by famous Swedish photographers and a few from abroad as well. It's so different because, you see, it has a plan behind it. It's kind of a photo gallery.

Peter Blake in The Olso Suite
The other hotel I'm very proud of is Clarion Hotel Stockholm. It was the first project that I really felt gave me something extra as a hotel guest. Of course, it was still a long way from what we are doing today at The Thief. The Thief is also the biggest sponsor of the Astrup Fearnley Museum. And I think we are the first hotel in the world that sponsors a museum of contemporary art. The Astrup Fearnley Museum collection is fantastic! It's probably one of the best in Europe. Working on The Thief project, our ambition was to redefine hotel art in a new and completely different way.
All my life it's been the same – I always want to climb a new mountain. And, for me, art is this new mountain, and The Thief is the biggest one I've climbed so far. By the front doors of The Thief sleeps a cast iron sculpture by British sculptor Antony Gormley of a man, bent over as if in prayer. And the name The Thief, in turn, is very discrete. I think quite a few people would say it is brave to name a hotel The Thief. Especially knowing our clients: bankers, business people, and a Wall Street kind of crowd....
And, seeing as you have an art collection worth millions, it's also a little like tempting fate.
Exactly. When we had the chance to borrow Richard Prince's "The Horse Thief"...actually, according to the interior architect, there should have been a sofa where the painting now stands. But Sune and I said, "No, this piece of art must be here!" Actually, there still is a huge lounge sofa behind the painting. But for me, I've seen so many sofas – all kinds of them, in at least 50 hotels – but I've never seen an original, 3x4-metre Richard Prince in a hotel lobby. No glass, no fancy things. It's just there. And just a small metal sign with the description. Then we also have "Knitting Clock" (by Norwegian designer Siren Elise Wilhelmsen – U.M.), because I just want people to start to think. It's a clock that is knitting a scarf. I decided to colour it gold, because time is so valuable and time goes so fast. And art – if you are doing it well, even in a hotel, people will start to respond. Not all of them, but maybe some. Some will think: ah, what good humour: "The Horse Thief" in The Thief hotel. Or, "Knitting Clock" – time. And then they may notice the video installation by Charlotte Thiis-Evensen of Muslim girls trying on the hijab for the first time. So powerfull...
The pieces of artwork at The Thief that are not borrowed from the museum but are yours – were they commissioned especially for the hotel, or are they from your private collection?
There is a bit of everything here. Some are from the museum, some are from my private collection, some were made especially for the hotel. For example, the "Apparatjik Suite" is actually an installation made by Apparatjik, an international group of artists and musicians. It has a crystal disco ball in the shower and you can project the band members onto your bed – sleep with a rock star! We have unique art in every room of The Thief. And people ask me, "Petter, are you not afraid that people could steal some of this art?" I'm not. Just imagine, "The Horse Thief" by Richard Prince has been stolen overnight from the hotel The Thief in Oslo. That will be on CNN, BBC....
Oh, so that's the point! Then your hotel will suddenly be number one in the world and will be unable to accommodate all who will want to stay there....
Well. When someone stole Munch's "The Scream", it did get some attention....
That means you are not afraid at all?
Maybe the insurance company is afraid, but me? No...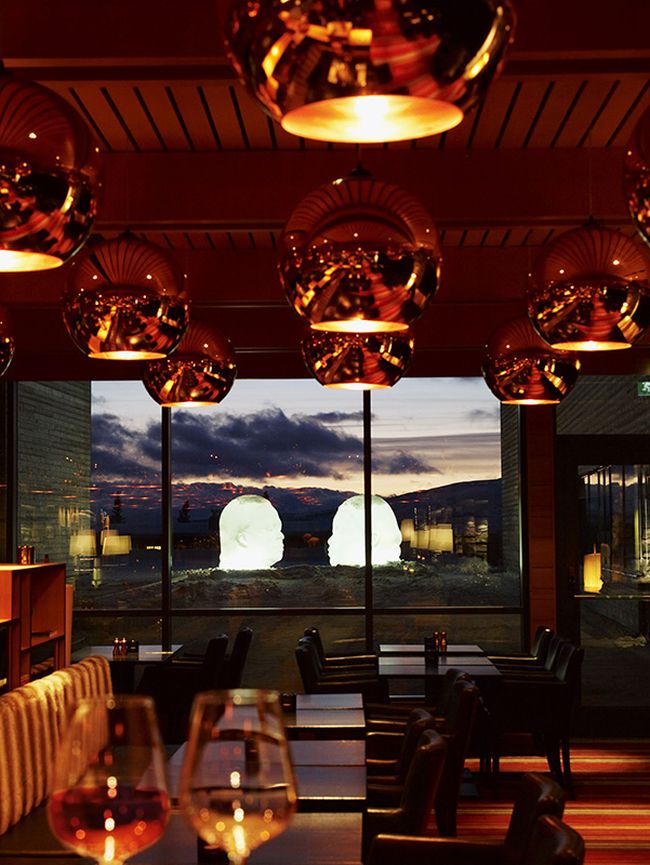 Copperhill Mountain Lodge. Photo: Design Hotels
But regarding yourself as a collector – are you a rational or emotional collector?
Sune would say that I'm a typical emotional collector. I collect with my heart, not with my head. But right this moment I'm trying to realise a number of thematic concepts for various hotels. For example, in the restaurant garden at Copperhill Lodge, which is the number one mountain hotel in Scandinavia (and I'm not just saying that because I own it), just across from the helicopter pad stands "Irma och Nuria" by Spanish sculptor Jaume Plensa. Two huge female heads conversing with each other. Their eyes are closed, so the dialogue is sort of an internal dialogue. Of course, anybody who's stayed here remembers this hotel. And anyone who has eaten breakfast or dinner at this restaurant will remember these heads, standing out there in the dark or the snow. There's a light inside them. It's just beautiful! Art can do something with your guests that gives them a little extra, and a story to tell.
But has it also done something with you? Maybe changed your point of view, the way you look at the world?
Of course. Before I saw Charlotte Thiis-Evensen's video installation "Individual Freedom" (located at the entrance of The Thief's hotel restaurant – U.M.), which features three Somali sisters slowly taking off and putting on a hijab, I'd never reflected on when they have to make the decision to wear the hijab or not. At what age? Are they pushed by their parents or do they make this decision themselves? And I didn't know that once they've decided, it's more or less a decision for life. When looking at this work, I even thought to myself that the two girls on the right side, they will probably wear it. But the one on the left, judging from the way she is taking it off and putting it on, she doesn't wear the hijab in real life. I don't know if I' right; it's just my feeling. But that gave me something, because I started to think about 12- and 13-year-olds.... It's just the beginning of your life, but you already have to make a decision for your whole life. I also thought about the pressure from family, friends, society and the limits of your life. Sometimes art can be provocative, sometimes just beautiful. Sometimes it just gives you some energy.
Just outside The Thief is a sculpture park, right in the middle of town. You can have a picnic between sculptures by Anish Kapoor and Franz West. We sometimes don't even think about it, but art in the urban landscape can be very important. It can do a lot of good. It doesn't always have to be expensive art; it can be any kind of art.
Is that the sort of thing Oslo is doing now?
A good friend of mine, Christian Ringnes, just opened a huge sculpture park in Oslo. There was a huge discussion around it. For me, his motive for doing it is not important. The Ekeberg sculpture park makes art available to everybody, 24 hours a day.
Where do you buy art – at auctions, galleries, in artists' studios?
Everywhere. The last thing I bought was with Sune in Stockholm – we bought an artist's whole exhibition before the opening of the exhibition. We will move it to the hotel I have on Gotland (Visby Hamnhotell). It's on the island, very old and beautiful. It's also on the UNESCO heritage list. When we walked into that gallery, the artist said, "What?" I said, "We'll buy everything!" I think this is also fantastic for artists, because they want people to see their art. That's why the hotel is in a unique position to show art. I know that when people come to Visby next summer, they will see the whole hotel reception area as an installation – photos, chairs, everything.... You can literally sit in a piece art; actually there will be fifteen different chairs. They are all very different, but you can sit down on them. Some are very light, some come down from the ceiling. I think that gives you a different angle. And you will remember this.

Work of Niki De Saint Phalle in The Thief's lounge
Have you ever bought art just as an investment, and what do you think of collectors who buy art that way?
Of course, there are people who buy art as an investment. And some people earn money from it. I think that if you are making good money by buying art and you do it as an investment, you also love art. Because it has to be good. Of course, you could be extremely lucky, but it's not always like that.
Of the art I've bought, some has been good, some not so good. But I don't care, because I'm not going to sell it. It will hang in some of my hotels.... Actually, it doesn't matter to me if Alex Katz's work doubles in price. Is that a reason for me to take it down and sell it?
You've never sold anything from your collection?
No. Maybe some old shit. But I've never sold anything really valuable. Just one piece, and it was a huge mistake. I sold it to a friend.
I've opened so many hotels, so there's plenty of room for the artwork. We are currently reconstructing the Skt Petri Hotel in Copenhagen – a beautiful, new hotel that I recently bought. Our plan is to exhibit the best of Danish contemporary art there. But my hotels also always contain some sign that I'm a Norwegian. In this case, it will be an interpretation of Munch's "The Scream" by the Brazilian artist Vik Muniz. It's an outstanding and also huge piece of artwork – 3x4 metres – made of tiny pieces of plastic material.
What are the highlights of your collection, the artworks that are very important to you?
I think some of the works by Vik Muniz, some by Jaume Plensa, two of Andy Warhols' Munch interpretations and quite a few other artists that are not so famous but are very special to me. Gary Hume, for example.
But he is quite well known.
Maybe you know of him, but most people would not. The Gary Hume I have in my collection is almost three metres high and strong yellow, like a torch. Then I have artwork by Tracey Emin, very cute pieces. One is a little bit provocative. And I have works by an American artist, David Smith, who is actually more famous for his sculptures. He also did some black and white nude paintings. I have two of them and like them very much.
Do you know how many pieces of art you have in your collection, or have you never counted them all?
Hundreds.
Maybe thousands?
No. More like 400, 500, 600. I never count them. I don't even count how much I spend on art. When we did Copperhill, we spent 20 million Norwegian kroner. The Thief has an impressive collection, as does the Clarion Hotel & Congress in Trondheim and Clarion Hotel Post in Gothenburg. The first thing you notice as you cross the threshold there is a huge, six-metre-high flattened red Norwegian postal service van on the wall. The hotel is located in a building constructed in the 1920s, which served as a post office. The hotel concept also revolves around communications, from the postcards of yore to today's satellites. The super-modern atmosphere contains all of it together: a post machine, old postcards, satellite dishes and such.
Do you have a personal relationship with the artists you collect? Artists as friends?
Of course, I know quite a lot of artists. I wouldn't say they are good friends of mine, but I know them very well.
Is it important to you what will happen with your collection after your death?
No. Not at all.
Will it stay as it is now, mostly public?
I don't now. I will leave that to the next generation. If they have different ideas, if they want to sell it, if they want to keep it.... I don't want to rule from the grave. I haven't written down or said to them, "Don't do this, and don't sell this." They'll have to make their own decisions. They have to live their own lives. If they will want to sell everything in the house, fine.
But do you try to educate them in art?
No, they should do that themselves. Maybe they'll love it, maybe not. Maybe they'll love other things such as medicine or opera. Maybe they'll just love their work. Hopefully they'll love their families.
But how have you trained yourself to distinguish good art from bad art? In the beginning, I suppose, it wasn't so easy?
I'm still learning every day. I'm not very good at it. But Sune is – he is very good. Just imagine, I'm fifty, and I have the best teacher in Scandinavia. I think you can live your whole life learning new things every day. And for me, that's a good life. I learn about art every time I meet Sune. Every time. He takes care of my collection. He takes care of everything – curating hotels, etc. But we always have a discussion, and he says, "Petter, what about buying this or that?" In a sense, of course, I have the final word, but I'm always listening carefully to what he says.
That means you trust him completely?
Completely.

Richard Prince's gigantic lithography Cowboy – The Horse Thief in The Thief's lobby
Have you never had the ambition to open your own private museum? Because you have such a great collection....
I don't have that ambition in that direction. No, no. First of all, I want my guests to discover art, to reflect on art, and only then do I feel that I have done something right. I want most of my collection to be out in the hotels. Since I open new hotels very often, I think ahead in decades to what my art will do for the hotels. I'm not the only one. Some hotels actually use expensive art for hotel marketing. For example, the Wynn Hotel in Las Vegas. They have a huge art collection and it's super expensive. I think lots of people have heard the story of Steven Wynn and the Picasso he planned to sell at auction for 139 million dollars. The day before the auction, as he was showing the painting to his guests, he put his elbow through it. Understandably, the auction was postponed. But it brought immense publicity to the hotel. As I was reading an article about this, I thought, "Oh shit, what happened!" It was all over the press.
You have met many collectors. Is there any difference between American, European, Russian or Chinese art collectors?
I think there is no difference. Most collectors I've met are very enthusiastic about art. They have different views, but all of them love art. I've met people who invest in art, too. In my garage I have some huge photos by Axel Hütte, a German photographer. They're from the rainforest. Huge close-ups. For me they're a reminder that rainforests are the lungs of the world. And climate change is the biggest battle we are fighting. It's the biggest challenge we are facing now. It's much more important than that financial crisis, because it's about our planet and the future of our kids. For me the environment, poverty, sustainability, social responsibility and unemployment are much more important than art. I want society to include everyone; I want society to be transparent, open; I want companies to work on the new sustainable pattern. I want a new capitalism. Commercial, yet sustainable capitalism. The capitalism we see today has failed. That is the issue that is much more important to me today than art. Art is like the icing on a cake, which is fun, but the other issues are much more important. And I've spent much more time on them. If I teach my kids anything, it should be this huge responsibility for the next generation. For their kids, and for their kids after that.

Julian Opie in The Thief hotel lift
Art is a kind of luxury toy. It's important, but it's not the most important thing.
Not at all. But you can do both. One of our hotels, the Clarion Hotel Arlanda, is exhibiting Swedish photographer Mattias Klum's work. He works for National Geographic and is one of the people who go into the jungle just to take pictures of one endangered and dangerous snake. If you happen to meet it, your death is very near.... It's possible he's one of those people who are foolish enough to take on a challenge like that. He's been in Borneo and Sumatra and has seen how people are destroying the rainforest. He's seen what happens when there is a lack of biodiversity. In the exhibition you can see wonderful photographs of the rainforest and, next to them, pictures of how people have destroyed it. And then you start to reflect on that snake. It may be the most dangerous snake in the world, but it is also the one that provides medicine for heart attacks. You can use art in different ways: sometimes just to shock people, sometimes just to give them a good feeling, sometimes just to say "look at this". Or to educate people.
From your experience with your hotel guests, do you have the feedback that it works like that?
Absolutely. Even if it's just reading reviews about our projects on Twitter and other social networks. Lots of people comment about the art and also about what we're doing. And I respond to them, "If you stay at Clarion Hotel Arlanda for one night, you will save 100 m2 of rainforest for one year." The exhibition isn't the only thing we're using to communicate. We also publish books, and a separate publication is devoted to the art collection at Clarion Post Hotel and another for the collection at Copperhill. Maybe someone reads them and starts to think. Starts to think about what we're doing to our planet. Or, about the fact that it's not easy for Muslim girls to decide whether to wear the hijab or not. Maybe then we'll understand how important it is to include everybody: gays, lesbians, Muslims, Buddhists...everybody. I want society to be inclusive, to include everybody: white, black, blue, yellow, all kind of religions. I think in some way we are sending small single reflections through art to the people.
How does it actually work at Clarion Hotel Arlanda? Does some percentage of the hotel income go to save the rainforest?
Actually we collaborate with the Rainforest Foundation, and for each night at all of our 171 hotels we sell, Nordic Choice pays into the Rainforest Foundation for 100 m2 of rainforest to be protected for one year. Last year we saved an area equal to 80,000 football fields. The Norwegian government also support Rainforest Foundation. I hope that every time you see the artwork at Clarion Hotel Arlanda, you start to think, "What is the artist trying to tell me?" And the artist is always trying to say something. Some say eat more green, eat more vegetables, eat healthier. But that's secondary – climate and health go together. We are actually producing enough food for the world, but we are throwing half of it away. So, there's enough food produced, but half of us have too much of it.
But you – do you have the time to just sit back and look at a piece of artwork you have just bought?
Absolutely. But it's not like I sit down; I see art every day and sometimes I stop. It gives me good energy, good vibrations. And it has nothing to do with how famous or expensive it is. I remember when I bought every piece of artwork I have, why I bought it and what I felt at the time. It's a little reminder of my life, of that moment in time.
What advice do you have for young collectors?
Do it with your heart, not with your head and calculator. Because if you start buying art with a calculator, do something else. I have always bought with my heart. I buy art because I like it.
Do you agree that art is a mirror of the times?
Absolutely. If you look at art and artists, art sometimes challenges the government, the system. You see it in China, in Russia. Even in Norway nowadays. When an artist paints robbery, prostitution. I think all this is in some way challenging the government. Art can be strong; art can be powerful; art can change perceptions, ideas, systems.
Is there any artwork in the world that you want to have but cannot afford?
One of my favourites is actually "Michael Jackson and Bubbles" by Jeff Koons. That particular one I like a lot.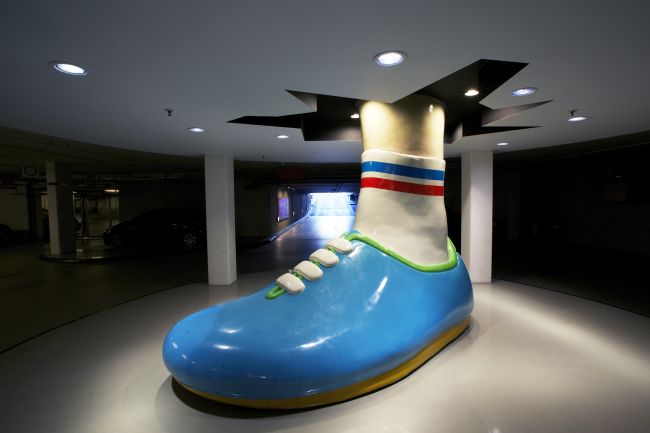 Art in The Thief's garage
Why?
Because of this pop genius. He gave me one of my best music moments ever. When I heard "Billie Jean" for the first time, when the video was first shown on MTV, I was sitting with my friends, waiting for this moment. And it was a magical moment. This weird genius, like a few other geniuses, died too young. He is probably the biggest pop music genius ever, and I still remember those moments he gave me. Sometimes life is short. I remember his first "Moonwalk" movements at Motown 25; I was 25 or 27. Magic! Everyone was trying to move like that.
I could never spend that much money on a single piece of amazing art, but I am happy. "Michael Jackson and Bubbles" is close to me after all. (Jeff Koons' artwork is part of the Astrup Fearnley Museum collection – U.M.)
Does that mean you also like Jeff Koons?
I think Jeff Koons has something. The Astrup Fearnley Museum also has his dolphin, which looks like plastic but it's aluminium. He does a lot of cool things. But I'm not a Jeff Koons fan. It's just by accident that I like "Michael Jackson and Bubbles".
It's currently in style to criticise Koons and Hirst.
Absolutely. I saw a production about Damien Hirst. He's actually a factory; he has a hundred people working for him. They're producing like – tra, tra, tra, tra.... But I'm not going to criticise them. I'm not buying Jeff Koons, and I'm not buying Damien Hirst. But as long as you're asking...just imagine having "Michael Jackson and Bubbles" in the lobby at The Thief. That would be something! And, stranger things have happened.