Arterritory Conversations with Collectors, No. 4 is introduced in Vienna
A photoreport from the public talk organized by Arterritory.com at viennacontemporary 2017

22/09/2017
Photo: Agnija Grigule
For the second year now, Arterritory.com has been presenting at the viennacontemporary art fair a public talk with a collector of Baltic art while, at the same time, introducing the team's latest issue of the magazine Arterritory Conversations with Collectors, which is in its fourth edition by now.
Last year, contemporary art enthusiasts gathered to hear the public conversation between Irene M. Gludowacz, a Vienna-based curator and communications expert, and Riivo Anton, the Estonian art collector.
The main figure in this year's public talk was the Lithuanian art collector Vilius Kavaliauskas; in conversation with a curator, he spoke about the most critical processes taking place in today's Baltic art scene by focusing on the theme of "The collector's role and influence in the region". A point that the talk touched upon, as an example of a collector's responsibility these days, is the founding of the Lewben Art Foundation, which Kavaliauskas was instrumental in the establishing of and now heads; the organization's initial goal was the recognition of Lithuanian artists in the diaspora, collecting their works, studying them, and ultimately, bringing them back to Lithuania.
ISSUE: "Arterritory Conversations With Collectors Vol 4"
Leafing through the blue-covered magazine, guests at the Arterritory.com booth shared their thoughts and impressions of what they had just seen at the viennacontemporary art fair, as well as excitedly commented on the contents of the fourth issue of Arterritory Conversations with Collectors.
Among the guests of the public talk and magazine presentation were:

Irene M. Gludowacz, a Vienna-based curator and communications expert, and Vilius Kavaliauskas, the Lithuanian art collector

From the right: Ursula Krinzinger, director of Galerie Krinzinger (Vienna)

Latvian art collectors Jānis Zuzāns and Dina Zuzāne

Lithuanian art collector Vilius Kavaliauskas

From the left: Annamaria Molnár (Ani Molnár Gallery, Budapest) and Laura Rutkutė (Galerija Vartai, Vilnius)

Volker Diehl (Gallery DIEHL, Berlin)

Una Meistere, Director of Arterritory.com

Odrija Fišere, Latvian Editor of

From the left: Vilma Dagilienė, art collector and Dr.Matthias Röder, the managing director of the Karajan Institute

From the left: Daiga Rudzāte, Editor in Chief of Arterritory.com, Jānis Zuzāns and Dina Zuzāne, Ilze Žeivate and Jana Jākobsone (Māksla XO, Riga), Latvian artist Ģirts Muižnieks

Dr. Matthias Röder, Agnita Vāvere and Ainārs Ērglis, Head of the P.R.A.E. PR Agency

Una Meistere, Ursula Krinzinger and Irene M. Gludowacz

Sonata Baliuckaitė (Gallery Meno Nisa, Vilnius)

Sergey Popov (Pop/off/art gallery, Moscow)

From the right: Maria Anna Potocka, Director of MOCAK (Krakow) and Agnese Čivle, English Editor

Tevž Logar, independent curator

Una Meistere, Director of

From the left: gallerist Volker Diehl and Ekaterina Iragui (Galerie Iragui, Moscow)

Sergey Popov and Latvian art collector/curator Māris Vītols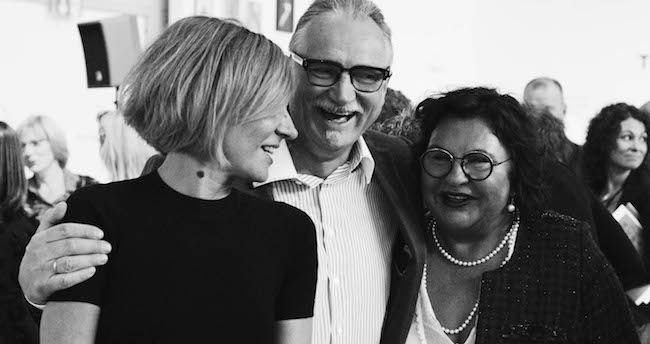 Daiga Rudzāte, Jānis and Dina Zuzāni

Agnija Grigule, Social Media Editor of

Agnese Čivle, English Editor of