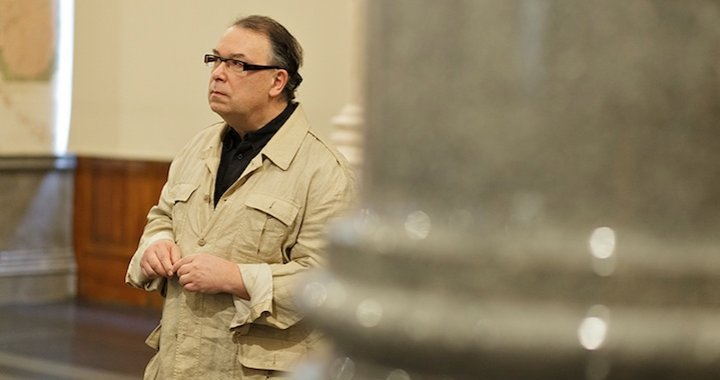 Lech Majewski's Exhibition Opens
A photographic editorial from the opening of the exhibition "4 Moving Poems"

03/05/2013
Photo: Andrejs Strokins
Video: Arterritory.com
Lech Majewski "4 moving poems"
Art Museum Riga Bourse, Riga
May 4 – June 16, 2013
"The Bruegel Suite" was shown in 2011 at the Louvre in Paris, at Krakow's National Art Museum, and then at the 54th Venice Biennale, where it was projected onto screens on either side of the Chiese di San Lio altar. The work can now be seen at the Art Museum Riga Bourse through 16 June, along with three other video works by Lech Majewski (1953). "The Bruegel Suite" was inspired by Pieter Bruegel's "The Procession to Calvary" (1564). The Polish-born artist Majewski is many things – a director of theater and film, a writer, a poet and a painter, who also happens to have dual citizenship, being a citizen of both Poland and the USA. In 2006, New York's MoMAheld a retrospective of Majewski, for which the artist specially created the video work "Blood of a Poet", which can also be currently seen in Riga. Lovers of film will recognize his name from the credits for the 1996 film "Basquiat", because it was he who started the film, which was then taken over by Julian Schnabel. "I felt that I was living in a time when you could no longer discover the world around you. Half a year later, however, I met Jean-Michel in New York and he, in a very primitive way, proved me wrong," reveals Majewski in an interview with .
Pieter Bruegel the Elder was a 16th century Flemish painter, especially known for his skillful portrayal of landscapes and rural life, as well as for his symbolic paintings. Immediately after the opening of the exhibition, Majewski gave a lecture titled "The Hidden Language of Symbols in Art". In the talk, he dissected several landscapes done by Flemish painters, explaining the "encoded" meaning behind the portrayed objects and their positioning, as well as encouraging visitors to museums to spend more time in them, so that one can learn to "read" the historic paintings on yet another level.
The following is a photographic editorial of the opening of "4 Moving Poems", which took place on the evening of 2 May.

Lech Majewski tells Arterritory.com about his exhibition.