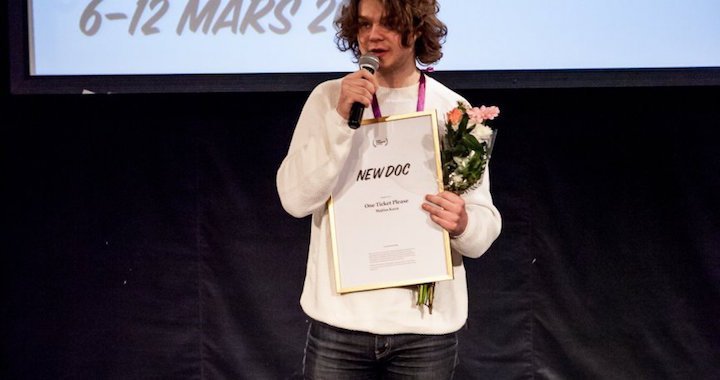 I Can't Die, Until I Make a Western
Q&A with Matīss Kaža, the Director of the film "One Ticket Please"

04/04/2017
I was heading to my interview with emerging film director Matīss Kaža, currently showcasing his debut documentary film "One Ticket Please" to the Latvian audience, to not only talk about film, but let's say, to have a tête-à-tête with an old classmate.
Matīss Kaža was born in Sweden, grew up in Riga, and after 12 years at the Riga Centre Humanitarian High School, he made his way to New York to study film directing at the New York University Tisch School of the Arts. At present, Matīss is marking his third year in New York. He has now come to Riga to present one of the most colorful New York theatergoers to the local audience. In his film "One Ticket Please", Matīss presents Nicki Cochrane, theatre's most passionate fan, who attends a show every day and locally is sadly notorious for her annoying character. The emerging director also shared what he's been up to in the last few years: he has seen several dozen theatre performances, began a Latvian-American collaboration, fundraised necessary funds via a Kickstarter campaign, filmed 20 hours of material, the result of which was screened at several festivals and now also presented in Latvia.
In the first few minutes of conversation, Matīss tells me all the news of our classmates' activities across the globe and adds some ideas about filming a collage style film about our globe trotting classmates. You see, even our old teacher, upon seeing Matīss' film, suggested including all the young people from our class in his next one! The emerging director only added that he will keep the details to himself. "I never talk about films, unless I am a 100% certain that I will make them. I have rules for myself." We caught up on each others lives and soon enough broached the topic of the new film, which has already roused serious audience interest in Riga.

Illustration for the film "One Ticket Please" poster. Photo: Deep Sea Studios LV
My first impression of "One Ticket Please" was that it's a portrait-film, where you move from Nicki Cochrane, the crazy lady sitting in her theatre seat, to a multifaceted biographical study about her past, family problems and philosophical ideas. The trailer doesn't seem to promise such a transition. Had you already imagined such a structure for the film beforehand?
Yes, that was my plan, but I don't agree with the people that think my film turned into a biography. Theatre is still present in all conversations in the film. The conversation with her son is about theatre. The conversation with her daughter – about what her mum doesn't do, due to theatre. Theatre is still in the background, greeting the viewers. If the film was only about how Nicki breaks into theatres, which of course, happens at least three times in the film, it would be boring to watch. There would be a repetition of the action and we would be under the impression that she is not a very nice lady, and that she irritates other theatregoers. I could also have added theatre staff making a fuss about what a nasty woman she is in between those scenes, and the viewers would leave the cinema with this impression. That would be a much shorter piece, and it would lack humanity.
Speaking of marketing texts, they are made to get the viewer to the cinema. With an existential drama about a person and her relationship to art, and the ensuing effects on the family and kids -I would only attract about three people.
Is the humane aspect more important to you than entertaining and the shock factor?
It's incredibly easy to shock. To make someone think, is not such a simple task. I consciously reduced the shock element, as we also filmed things, that I chose not to include. For example, the daughter spoke about her mother in such a way, on camera, that together with Nicki we chose not to share it with the public.
How did your collaboration with Nicki come about? How long did you know her before you realised that this theatre fan's story is worth becoming a feature film?
I knew her for 4 or 5 months. I don't remember the moment when I decided to film her. We met for the first time, at the cinema, we started chatting, and then we started going to the theatre together. I agreed, as it was my first season, besides I was interested in the diversity of the New York theatre scene. Nicki also sometimes got me a cheaper or free ticket. Once, she even sold me a free ticket. Unbelievable!

A shot from the film "One Ticket Please". Photo: Deep Sea Studios LV
Nicki is a colourful character both in her behaviour and appearance. Even in Cinema "Bize", she came holding a sack.
The sack is her attribute, as well as her hat. All the iconic film characters have some kind of attribute: Indiana Jones has his cool hat, Marty from Back to the Future and the crazy Professor have their DeLorean, and James Bond has his Martini.
In interviews, you mentioned that you saw about 50 shows together. Did you find any commonalities in your and Nicki's character and attitude toward life?
We both hate barriers that various entities try to impose on people's creativity. So I am fascinated by her as a hero of a story. In all situations, Nicki will behave contrary to how a regular person would. She has the element of surprise, she is madly alive in all her manifestations. We also have a shared love of art, but it reveals itself differently for me. For example, we both often have dramatically different viewpoints of the same show. We also share the respect for intellectual values. I agree with Nicki, that theater is able to speak to you in different ways: there is theater that speaks to one's emotions, one that addresses the intellect or encourages change in society. A parallel in our way of life is that I try to go to the movies every night. You can watch a variety of old filmed in New York, shot on 35mm film. Those are two hours that I could spend reading nonsense on Facebook, and I'd rather go to the movies to see something worthwhile.
Continuing with Nicki's contradictory beliefs, in the discussion about theater, which was just held at the Ģertrūdes Street Theatre, in Riga (Ģertrūdes ielas teātris), she argued that, on the one hand, theater can save someone from depression and suicidal tendencies. On the other hand, she complained about terrible performances, exclaiming that selfish directors "alter, twist and cannibalise" classic texts. What is your view?
I don't see any contradictions. There are some shows, which can be described as masturbative theatre. In them, the director shows how accomplished he is, and makes people admire him. Such theatre is aimed at groupies, the adherents to the groupie opinions and that's it. There are people who agree with general views that are assured to them by a single authority, so these kinds of performances tend to be more popular and accepted. In turn, there is also theater, which is able to change people's lives, and it is certainly not focused on the director's personal ego. This is theater, that attempts to seek out the truth.
What is Nicki's opinion of your films?
She is very interested in my film. She has been watching it anew every time she participates in a question and answer session after a film screening.
For how long were you chasing Nicki around New York streets and theatres with a film crew?
Sometimes we filmed 20 hours a day, and in difficult circumstances, thus we had two operators. Filming from start to finish took eight months, but we divided the filming up into time blocks, and we had some free months in between.

Trailer for the film "One Ticket Please"
You have presented the film in film festivals in Gothenburg and Stockholm. What were your accomplishments?
In Stockholm I received an award for the debut documentary. This award is both a privilege and also money for the implementation of future projects, as the circumstances of making no-budget movies are painful. I'm not just talking about the technical solutions, which would definitely be trashy. People have the impression that the actors, directors, producers and the whole team for a film do not need to be paid. I do not agree with this and refuse to participate in projects, which are solely for the fun of it, except, of course, for uni work. My answer to the question, do I need money, is always - yes!
And what do you think about the film's attendance in Latvia?
Usually after a film screening, during a Q&A session with the creators, there have only been a couple of questions from the auditorium, the rest have come from the moderator. But here, we have had an auditorium filled with raised hands, there are always questions. Even when Nicki was not present, I answered at least 10 questions. Consequently, I am very glad that the film has encouraged discussion and a desire to talk. It is surprising, though. Up to this point, the film has already interested a wide range of audiences, taking into account the fact that it is a documentary. If it were fiction, then attendance would be miniscule, but given that it is a documentary, the result is quite good.
I am pleased that at the premiere, which was also attended by our classmates and teachers, Nicki was surrounded by a whole swarm of people who asked her various questions. Someone even said that the film has helped him understand his personal relationship with his mother. This is very touching. If a movie can help just one other person, then it is worth making it!
Is your film "One Ticket Please" connected to your studies at the New York University Tisch School of the Arts? What kind of feedback did you get from your professors?
In the beginning this was intended as a 10-20 minute short documentary for a film course in my second year of studies. Such a format, however, was not adequate for the story; 20 minutes could only feature an introduction to Nicki, her fight for tickets and a tour through the box offices. I realized that the story is much more ambitious, it could incite an emotional response from the viewer, not just a hostile, moralizing view. I prepared other material for the course, which in no way overlaps with the full-length movie, and "One Ticket Please" was created in the time outside of class. I sent my teachers a draft and got recommendations on what should be corrected.
You have been studying at Tisch for three years. What has your experience been like so far?
The studies are okay. It's definitely not a diploma worth 75 thousand dollars; the quality is good overall, but not great. The city itself is very inspiring. The cultural events that are available every day open up new perspectives on life. I headed to New York due to its film industry as well, there are opportunities for internships in the huge film and TV studios, there are contacts. There are students from all the corners of the globe at my university, and if you need to go and film somewhere, you already know the right people to entrust. We have all studied together, and we know who is who.
You were already making short films in school. Tell me about those!
But you were also in those short films! We created a Christmas music video for English class and other fun projects. I also created stop motion animations. But during adolescence I worked on larger projects in the film industry, such as documentary films.
Are you still interested in the genre of Westerns?
Yes of course. I can't die, until I make a Western. My plan is to make one, though maybe it will be an Eastern. The Russian film "Белое солнце пустыни" (White Sun of the Desert), for example, is an Eastern. Essentially it's a Western, but set in a different environment.
Where are you headed on your next film story quest?
Anywhere where you can shoot. Cinema is an art, where there are no geographic boundaries. Latvia, in particular, would be a rational choice - because I grew up here. The cultural context is clear to me, and I can find stories that I would find personal.
I am particularly interested in genre cinema such as Westerns, detectives, science fiction; these genres are universal everywhere. You can make a detective with Bedouins in the desert. Cinema has no language barrier, as one can always have subtitles, besides it's easy to associate with the stories and people on the screen. Human psychology is interesting in that we can feel empathy for characters, regardless of their race, ethnicity or gender. However, this can only occur if the story has been successfully told and there is no director, as Nicki would say, where he has only projected his ego in the film.