A Report from Copenhagen's newest art fair, Chart

01/09/2014
When Chart opened its doors for the first time last year, there was a lot of speculation on whether it was a declaration of war against the largest and oldest art fair in Copenhagen, Art Copenhagen, which has been around since 1997 and was beginning to gain a more international profile – and particularly because Chart took place on the same weekend as Art Copenhagen. Chart was established by five of the leading galleries in Copenhagen – Galleri Susanne Ottesen, Galleri Bo Bjerggaard, V1 Gallery, Andersen's Contemporary and the David Risley Gallery. They all defected from Art Copenhagen because their ambitions didn't match the artistic quality of the fair. As a result, a number of other galleries also decided to leave, but they were not accepted into the newly-founded circle of a chosen few. This created quite a stir on the local art scene (which has still not entirely settled down), and Art Copenhagen has not yet recovered. Regardless of whether it is or isn't a war, it certainly is true that the Chart fair has already become one of the major events to take place in Copenhagen, drawing crowds of local art-lovers as well as international collectors (the latter being one of the fair's main goals); Chart has, in general, already succeeded in obtaining international recognition.
The second edition of Chart opened on Friday, the 29th of August, as a part of Copenhagen Art Week, and ended on Sunday, the 31st of August. The fair was hosted by Kunsthal Charlottenborg, which is part of the Royal Danish Academy of Fine Arts' School of Visual Arts. With its spacious white rooms, this imposing, historical building right in the heart of the city constitutes an exclusive and rather different framework compared to the huge exhibition halls in which art fairs usually take place. Consequently, Chart is yet another one of the smaller art fairs in which the key word seems to be "exclusivity". This year, the small, closed circle of specially-invited galleries was expanded from 22 to 27, and all of them were Scandinavian-based. Most of them do, however, also represent international artists.
There seems to be an air of familiarity and fellowship among the galleries, something that, to a large extent, is due to the absence of fair booths. A few of the galleries have been lucky enough to have a whole room at their disposal, while others share one of the larger open-exhibition rooms. In spite of the generous settings, the space already seems to have become a challenge – in some spots it was difficult for the viewer to move around without a tinge of anxiety about possibly knocking something over.
The Preview and Vernissage Day at Chart – which is usually exclusively reserved for specially-invited guests – was shaved down to three hours, after which the fair was opened to the general public. The opening included one hour of speeches given by some of the leading persons in Danish culture, as well as a performance by Dorit Chrysler. However, it seemed as if all of the prominent guests, along with the gallerists, were having difficulty concentrating on the event at hand – they were fidgeting impatiently, crammed together shoulder to shoulder in the jam-packed bar area in the central hall; everybody was just waiting for the fair doors to finally open, and the space's poor acoustics meant that the speakers were struggling to make themselves heard above all of the chatter.
The general public was also not forgotten – a large opening party, featuring an extensive line-up of live bands and DJs, was thrown in the courtyard and open to everybody (a rarity at art fairs). The specially-designed food stalls were open through the weekend, serving food from a select number of Copenhagen's plethora of gourmet restaurants.
The fair program also included several talks with free admission, and a number of performances by artists such as Matthew Stone, Rahman Hak-Hagir & Asad Khan, the Danish artists Sophie Dupont and Lillibeth Cuenca-Rasmussen, and other special projects. Such initiatives and other non-profit projects have become an integral element of every self-respecting art fair, and send out a clear message: they are not just marketplaces for galleries and collectors.

Sophie Dupont, Galleri Susanne Otteseen, Copenhagen
Sophie Dupont was present at all three days of the fair with her performance, Marking Breath (although the usual duration of the performance is from sunrise to sunset). Indeed, the term "presence" seems staidly adequate in describing her performance: almost completely motionless, and quite possibly unnoticed by some of the visitors rushing by, Dupont sat at a table and carved marks into a gold plate – one for each breath; by doing this, she transforms the evanescence of breath – an invisible sign of presence and existence – into physical marks. There is no real plot or narrative – only the body, the breath, marks and time. As a viewer, one got a rather powerful experience from standing and watching the artist, which, at the same time, made one feel uncomfortable – like a voyeur violating somebody's privacy.

Antony Gormley, Galleri Anderson/Sandström, Stockholm, Umeå
The focus of the fair is exclusively on contemporary art. The galleries presented a selection of both Nordic and international artists, including already well-established names alongside emerging artists. Most of the galleries presented three or more artists, with one or two pieces from every artist – this is an overall problem at art fairs, often making the displays incoherent. Only a few galleries chose to show a solo exhibition, one of them being Galleri Anderson/Sandström from Sweden, with works by Antony Gormley.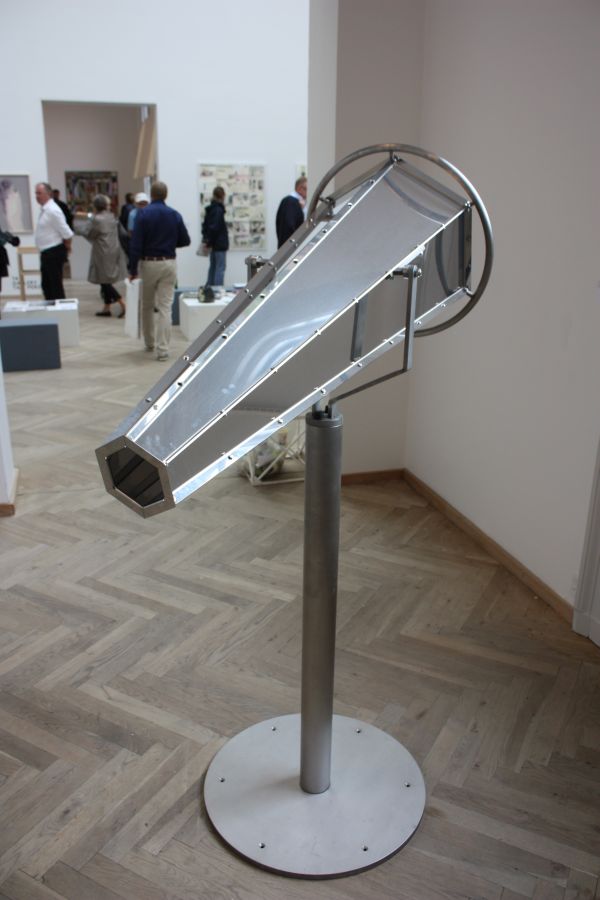 Olafur Eliasson, Andersen's Contemporary, Copenhagen
There were no major show-stoppers, and not much variation in terms of media. Works by established artists – such as the Danish-Icelandic Olafur Eliasson, whose solo exhibition, Riverbed, is currently on view at the Louisiana Museum of Modern Art – were well represented.

Elmgreen & Dragset, Galleri Nicolai Wallner, Copenhagen
The Danish-Norwegian artistic duo of Elmgreen & Dragset was among the big stars represented by Galleri Nicolai Wallner. A large show of their works will open on the 19th of September at the National Gallery. Otherwise, painting was predominant, in all its diversity. Photography was also fairly well represented, which is telling of the growing interest in photography in Scandinavia. The second edition of Chart left an overall impression of understated Nordic appeal, one that has become recognized and appreciated outside of Scandinavia. Chart seems to be more than an art fair – it is an event to be attended, and for locals, it is the place to be seen – but it is also an important initiative for drawing more international attention to the Nordic art scene.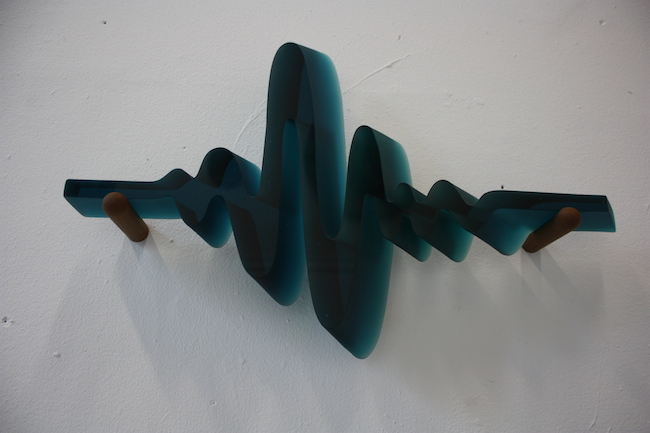 Adam Jeppesen, Peter Lav Gallery, Copenhagen

Wes Lang, V1 gallery, Copenhagen

Hreinn Fridfinnson, Gallerie Nordenhake, Berlin, Stockholm

Tal R, Galleri Bo Bjerggaard, Copenhagen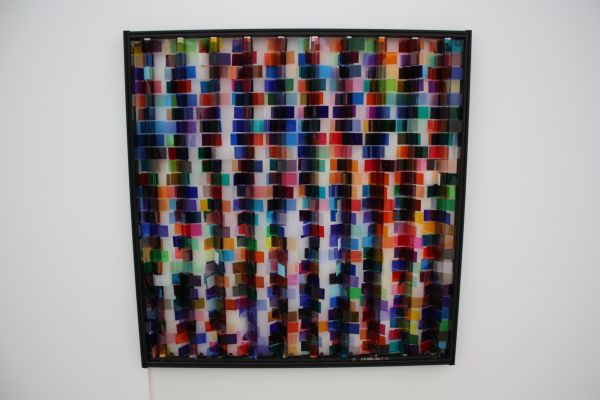 Pe Lang, Galerie Anhava, Helsinki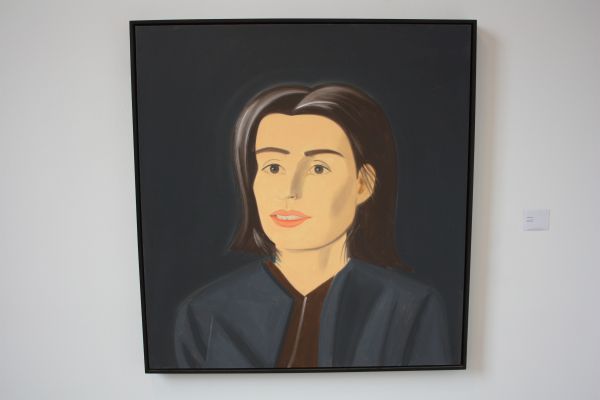 Alex Katz, Christian Larsen, Stockholm

Anders Krisár, Christian Larsen, Stockholm

Anne-Karin Furunes, Galerie Anhava, Helsinki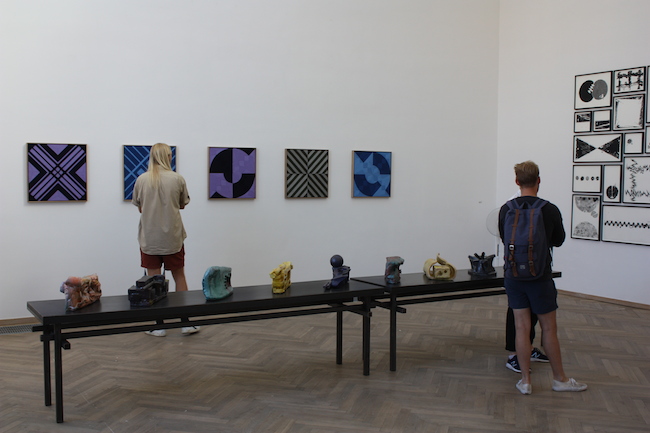 Catrin Andersson, Elastic Gallery, Stockholm

Eva Steen Christensen, Specta, Copenhagen

Maria Bovo, OSL Contemporary, Oslo

Hrafnhell Sigurdsson, i8 Gallery, Reykjavik

Elisabeth Peyton, Edition Copenhagen, Copenhagen

Milja Laurila, Gallery Taik Persons, Berlin

Ian McKeever, Galleri Susanne Ottesen, Copenhagen

Alexander Tovborg, Galleri Nicolai Wallner, Copenhagen

Emil Westman Hertz, ANNAELLEGALLERY, Stockholm

Tomás Saraceno, Andersen's Contemporary

Thomas Øvlisen (front) and Shane Bradford (left), V1 gallery, Copenhagen