RUSSIA v UKRAINE: WHAT IMPACT ON THE ARTWORLD?
Simon Hewitt
04/09/2014
The first test of the impact on the art market of the Russian-Ukraine stand-off and the international sanctions imposed on President Putin's regime came last June, with Russian Art Week in London. A spate of high auction prices suggested the market might be impervious to, or even – with art performing its rôle as 'refuge value' – benefit from the crisis. It has been hard to draw further conclusions since then, as auctioneers and galleries enjoy their Summer recess. Now, though, as business resumes and the political crisis worsens, optimism is dwindling.
When Sotheby's and Christie's – citing insurance concerns prompted by the political turmoil – cancelled Moscow previews of their Russian auctions, many feared Russian Art Week would be severely hit. But total sales in excess of £60m were the highest since 2008, 'heavily led by Russian buying' according to Christie's Alexandra Kindermann.
One Russian buyer shelled out £8m, forty times expectations, to land five aristocratic portraits by Vladimir Borovikovsky at Christie's, while a collection of eleven Avant-Garde works prompted soaraway prices at Sotheby's – notably for Malevich, Stepanova and even the little-known Vasily Ermilov, whose Cubist-like Self-Portrait flew to £986,500 against a £30,000-£50,000 estimate.
'There is not always a clear correlation between socio-political stability and the strength of the art market' asserts Frances Asquith, Sotheby's Head of Russian Pictures. 'Russians still have significant wealth, and have to put their money somewhere' adds William MacDougall – whose firm has a permanent showroom in Moscow (where, unlike its competitors, it did preview its June sale as normal).
London dealer James Butterwick, who used to be based in Moscow, specializes in works of the Russian and Ukrainian Avant-Garde, and tried to buy both the Malevich and the Stepanova at Sotheby's, 'bidding six times low-estimate on the first, and three times on the second – yet I failed to land either. That shows demand is still there!'
CRISIS? WHAT CRISIS? a packed saleroom at Sotheby's in June saw Avant-Garde masterpieces soar to seven-figure prices
Although he feels his colleagues in Russia are 'more affected by the crisis than I am,' Butterwick continues to receive 'requests for serious paintings at serious prices – I just can't source them. If top-quality stock were available, I could sell it.' He feels this proves there is 'still money around,' adding optimistically: 'Perhaps Russian buyers are seeing art as a safe haven.'
Such buyers do not appear on any black-list, at least not for the time being. 'None of the sanctioned individuals are well-known as art collectors,' notes William MacDougall, 'and none of the banks sanctioned for currency transfers had been used to pay for art with us – so there is no direct effect on our sales.' But he also sounds a note of warning: 'The main effects have been on confidence. The Russian economy is slowing down, and may even be in negative territory. The biggest reason is the European recession, but sanctions on top of this certainly don't help.'
The lower and middle-markets are already struggling, with the number of unsold lots in the June auctions up nearly 10% on the previous Russian sales in November 2013. Contemporary Art, in particular, did little to contribute to London's saleroom euphoria. A mere 127 contemporary works were offered, generating just £1.66m, with top prices of £242,500 for Erik Bulatov's 2001 свобода есть (Freedom is Freedom) at Christie's and £161,800 for Komar & Melamid's Lenin Hailing a Cab in New York at MacDougall's. Sotheby's declined to build on the relative success of their 90-lot, £2.4m Contemporary East sale of November 2013.
Several Russian contemporary art galleries – like Frolov in Moscow, or Lazarev and AL in St Petersburg – have shut down in recent months, albeit due to the weak economy in general rather than the situation in Ukraine. Moscow's gallery scene, in fact, has been on the slide since 2012, when Aidan Salakhova closed her gallery and Guelman and XL morphed into nebulous 'foundations.' Regina's London offshoot, meanwhile, lasted little over a year.
None of these galleries now appear at international fairs and Triomf, Moscow's biggest gallery, is present only at mid-ranking events like Art 14 in London and the ViennaFair – claiming that it has no chance of being admitted to Frieze or Art Basel because of Russia's disastrous international reputation under Vladimir Putin. 'We're from Moscow, so we're not welcome' shrugs Triomf supremo Dmitry Khankhin. 'If we were from Pristina, Timisoara or Kaunas, there would be no problem!'
But it's not all gloom. Alex Sharov, owner of Moscow Gallery 11-12, has a thriving branch in Singapore, and says neither sanctions nor the Russian-Ukraine conflict have affected his business. Sharov even suggests that 'anti-Russian sanctions have prompted additional interest in the Russian art market… it could be a great opportunity for the development of Russian Art worldwide.
That prediction may be excessive, but there is also optimism among Russians keen to enter the market despite the troubled times. Over the past 24 months, the 29-year-old twins Mariana and Madina Gogova (right) have established themselves as two of the most dynamic personalities on the international art scene. This Summer they curated a collateral show at the Scriabin Museum during the Moscow Young Biennale, before jetting down to Kazakhstan to present new paintings by Oksana Mas, one of the hottest names in Ukrainian art, at the ArtbatFest in Almaty. The twins plan to open their new gallery, Artwin, in Moscow this Autumn. Away in Vladivostok, the Zarya Contemporary Art Centre, which opened last year, is actually benefiting from the crisis. 'The embassies of some countries that have imposed sanctions against Russia have asked us if we'd like to stage cultural events that have been abandoned by government agencies' reveals Chief Curator Alisa Bagdonayte.
Back in Moscow the decline of Art Moskva, the city's long-running contemporary art fair, has not deterred the re-launch of the rival CosMoscow fair this September. And New York dealer Oksana Salamatina – who declares herself 'completely unaffected' by the current crisis – will shortly be back in her native Moscow with an ambitious show devoted to Naum Medovoy, and is also busy on a landmark catalogue evoking the cheerfully colourful œuvre of Moscow artist Andrei Sharov.
FASCIST REGIME? Andrei Sharov's Punk parody of Repin's Cossacks Writing to the Sultan suggests Russian artists have lost none of their ironic sense of humour
In St Petersburg, Marina Shtager – former director of the now-defunct Lazarev Gallery – is planning to open her own gallery close to the Hermitage. Pinning her faith in the gradual emergence of a Russian middle-class clientèle, she is adamant that 'the art market can develop in a favourable environment' and believes, somewhat fatalistically, that 'everything is cyclical.' But she admits that 'the situation on the Russian art market today is really depressing – people do not want to buy art if they are exhausted by bad political news all the time.' She has, as a result, postponed the opening of her new gallery 'until better times, maybe in six months or a year' – although, in the meantime, she is taking part in the MIA&D Fair in Singapore this October. Aping their politicians' attempts to beef up links with China, a handful of Russian art dealers seem to be eyeing the Asian market as a potential El Dorado.
WINTER OF DISCONTENT? Russian collectors have flocked to the Tour & Taxis venue in Brussels to by art and antiques in recent years, but how many will be back in January? And will they be spending?
Back in Old Europe, Ekaterina Limonad de Rochambeau, the Russian representative of the Brussels Antiques & Fine Art Fair (BRAFA), admits it is 'still too early to say how many Russians will attend our fair next January,' but reveals that 'one group of collectors have already confirmed, and some Russian decorators are eager to come.' Although such Russians may, adds the Countess, 'be less spontaneous in their acquisitions, BRAFA remains very active in promoting the fair in Russia/CIS countries.'
John Varoli, who runs a cultural PR agency in New York, says the super-rich collectors he knows in Russia (where he lived for many years) 'are still buying, but limiting themselves to very safe and liquid art assets such as blue-chip Russian masters, Fabergé, Impressionists, Old Masters and established contemporary artists.' The mid-range, on the other hand, 'seems to be struggling' and Russian post-war and contemporary artists, 'who a few years ago sold in the $30,000-$50,000 range, now say they sell little or nothing.'
The situation in Ukrainian is worse. 'The main Ukrainian buyers are not buying' reports Varoli. 'In Kiev everyone is nervous. Political instability always creates market instability.'
William MacDougall – whose firm is the only Western auction house with a permanent representative in Kiev – shares Varoli's fears. 'The Ukrainian economy is in desperate crisis' he states bluntly. 'Much of the country's wealth is produced in the rebellious areas and in oil transit fees, so things are particularly difficult. There was some Ukrainian buying at our auction in June, but it was significantly down from previous years.'
Earlier this year Dianne Beal, owner of Washington gallery Blue Square (which specializes in art from Russia and Eastern Europe), was invited to be a juror for Grant UART's second annual €20,000 award for Ukrainian artists aged under 35. In April she showed works by the 2013 winner, 19 year-old Nicolas Tolmachev, at Art Paris. But in June, as the Ukraine crisis deepened, the 2014 Award was abruptly scrapped. Meanwhile Ukrainian artist Larissa Zvezdochetova backed out of a show with Marina Shtager in St Petersburg after the deadly confrontations in her native Odessa, telling the dealer that 'right now we cannot be thinking about art.'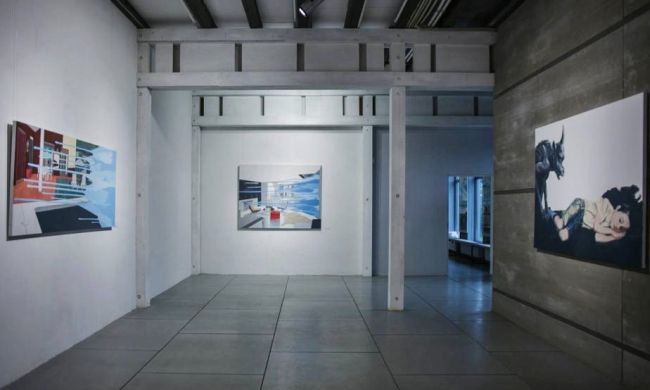 LESS ROOM TO MANOEUVER: works by Ivan Plusch & Irina Drozhd at Gridchinhall during this Summer's Moscow Young Biennale – but even munificent art patrons like Sergei Gridchin are now scaling down
Many Russian artists are just as concerned. 'People are starting to buy less because everyone is thinking of other things rather than art' declares the glamorous St Petersburg artist Irina Drozhd. 'There is fear of change – bad change – and, when no one knows what's going to happen to the country, people do not buy art.'
The fact that Drozhd's partner Ivan Plusch has collectors in Western Europe means the couple have 'not been touched by the crisis – for now.' But Drozhd is 'sure we will be affected if it doesn't stop soon.'
CANNOT AND WILL NOT TAKE PLACE: the Mistetsky Arsenal was due to hold the Second Kiev Biennale this Autumn – but won't
Non-commercial events have already been badly hit. This year's Second Kiev Biennale at the Mistetsky Arsenal was cancelled. Although the European contemporary art biennale Manifesta has gone ahead in Drozhd's native St Petersburg – despite calls for it to be relocated or postponed – the British Government pulled out of the UK-Russia Year of Culture in the wake of Russia's actions in Crimea and Eastern Ukraine. An exhibition at London's Royal Academy by Russian supergroup AES+F, and a show at the Manège in Moscow of works by English street-art superstar Banksy, were both ditched. So was an event devoted to Young British Artists planned by the British Council in Moscow at the Ekaterina Foundation, which failed to raise the anticipated sponsorship. When even affluent Ekaterina boss (and prominent contemporary art collector) Vladimir Semenikhin is feeling the pinch – he recently passed up on the chance to acquire the most important work by Oleg Vasiliev currently on the market – then you know times are tough.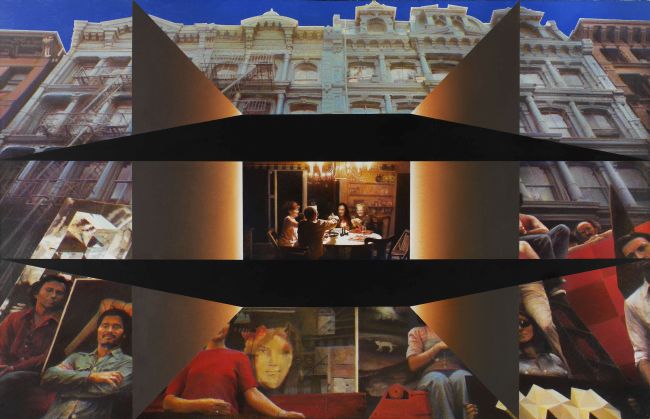 UNJUST DESSERTS: Artists in New York (1990), a seminal work by the late Oleg Vasiliev, is currently on the market – but struggling to find a buyer
Even so, Theodora Clarke – the effervescent founder of influential London-based website Russian Art & Culture – remains upbeat, suggesting that 'culture plays an even more important role in creating a platform for dialogue and communication when political relations between countries are tense.' She believes that 'the view of Russia and of Russian culture are two very separate things: you only have to have read the Review or Culture sections in any of the main UK newspapers to learn about the Mariinsky Ballet's successful visit to London or the popularity of the Tate Malevich show – and see that Russian culture is still very much appreciated here.'
John Varoli offers a more nuanced view. 'Many Russians currently feel their events will not be welcomed in the West' he states sadly. Most of his Russian and Ukrainian clients have 'postponed or cancelled their cultural projects for 2014' and are 'adopting a wait-and-see attitude for next year.' Varoli has 'pretty much accepted there won't be much new business from Russia or Ukraine until late 2015. The economies of these countries will continue to stagnate and even decline. Few will want to mount costly international events.'
In the words of Dianne Beal: 'The longer the war in Ukraine rages, the less communication and exchange in the art world there will be.'