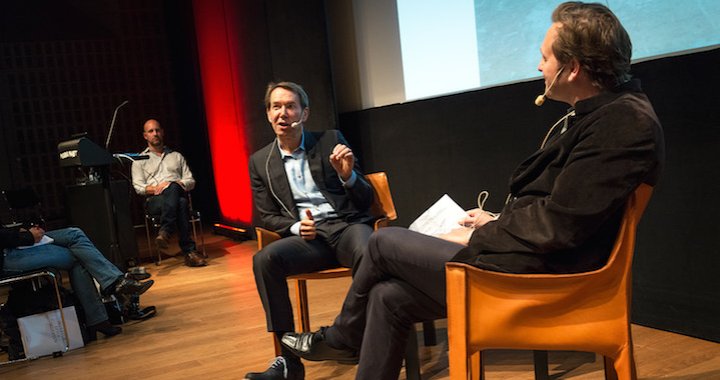 Jeff Koons in conversation with Daniel Birnbaum
A conversation between Jeff Koons and Daniel Birnbaum at Moderna Museet in Stockholm, October 11, 2014

14/10/2014
"Sculpture after sculpture", an exhibition containing no more and no less than thirteen sculptures by three of the world´s most prominent artists working today – Katharina Fritsch, Jeff Koons and Charles Ray – opened last week in Stockholm, curated by the former editor of Artforum Jack Bankowsky. In conjunction with the opening a conversation between Jeff Koons and Daniel Birnbaum, the director of the Moderna Museet, was held at the museum.
Birnbaum was very excited about the show and talking to Koons, and he announced that: "This is an iconic moment for the history of the Moderna Museet. It´s necessary that you are here. Just as important as the Brillo-boxes." Birnbaum was referring to the museum´s long interest in and devotion to the ready-made and to Pop art. Both Duchamp and Warhol had big solo shows at the museum already back in the ´60s. And this is where the current exhibition takes off, since all three of the artist started with work commenting on popular culture and mass production.
"I believe in the concept of the avant-garde and I wanted to participate with my cultural heroes", Koons said in response to this.

Jeff Koons. Balloon Dog, 1994–2000. © Jeff Koons
When asked how he got started in art, Koons told the audience that he began in a little shed at kindergarten: "I showed a talent for making something just out of little sticks and paper. But my real interest in art developed when I started art school." At the time he didn´t know the first thing about art and said that the art history classes were really important:
"I saw Manet´s Olympia with all its different symbols, and it was a mind-blower! I understood that I could be a dilettante in art and still be in dialogue with philosophy and aesthetics. It gave me a sense of self. I didn´t quite know what art could be a vehicle for yet, but discovered eventually that it´s a journey between expansion and transcendence."
Koons´ early interest in Dada and surrealism started a journey inwards and gave him an expanded interior world. "I developed a personal iconography that gave me control. Art became a way of life." His way of talking is very soothing and well articulated, and during the discussion he spread several of his evocative thoughts on art.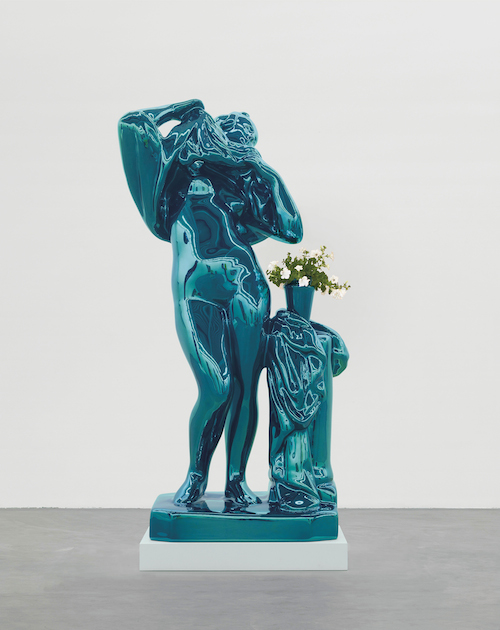 Jeff Koons. Metallic Venus, 2010–12. © Jeff Koons
"Art can change our perception of the community. It can transform the DNA in our genes. It can change who we are. Many of my works exposes eternal values of death and immortality. Art wants to become the energy of life, but it inevitably fails. Everything will eventually turn to dust." Later in December Koons will return to Stockholm to join a discussion with the Nobel laureate Eric Kandel on this particular subject.
Koons´ earlier boxed vacuum cleaners are included in the exhibition, and was an attempt to represent an ultimate state of being. His "eternal virgins", as he called them, alternate between the animate and the inanimate, between the perfect and the imperfect. Koons said that it´s important to preserve the original details since "they contain important information." But as the techniques for representation has gotten better and better he can avoid the subject of interpreting the details. And instead leave that bit to the audience.
Read in Archives: Interview with Daniel Birnbaum
"You have to trust the viewer, and understand that there´s no hierarchy. Art concerns what it means to human, on my mind. You have to embrace art, it´s something that empowers. If you follow your interests and focus on them, you come to a very metaphysical place where time bends."
One of the themes in the exhibition is that the three artists' figurative objects establish a dialogue with Antiquity, and Koons made a comparison between his Michael Jackson and Bubbles (1988) and a pieta-figure or even an Egyptian Pharaoh. He pointed out that the superstar´s body is formed like a pyramid, and meant that through art we can connect with the essence of life. Since the sculpture is made in porcelain it also brought other associations to Koons mind, like bathrooms, guilt and sexual shame, even masturbation.

Jeff Koons. Michael Jackson and Bubbles, 1988. © Jeff Koons
"I was trying to evade my sexuality, but it got into the work again. But let´s get rid of guilt and shame and accept that we´re all nature."
To round up, did Koons think the art world had changed a lot since he started?
"Not really. But there´s a bigger audience now, a different discourse and a bigger interest in art today. I have good dealers and supporters that give me freedom to work, and I´m also fortunate to be able to protect my art. I don´t want it only to be about economic value."
And finally, Birnbaum showed a late painting by Picasso that was recently donated to the museum. He wanted to know Koons´ thoughts on his French colleague.
"He´s so free and he goes full circle, trying to remove anxiety. I think 1969 is his best year. For myself, I want to exercise the freedom that we have as human beings and try to capture a moment of life´s energy. I wish to experience maximum freedom with total consciousness."
Sculpture After Sculpture: Fritsch, Koons, Ray
Moderna Museet, Stockholm
October 11, 2014 - January 18, 2015
Curator: Jack Bankowsky