A challenge to work with artists outside the hype
An interview with Mia Sundberg, curator at Spritmuseum in Stockholm
Magnus Bons
01/12/2014
We meet in the museum´s cosy restaurant to share a cup of tea. It seems the right choice on a grey and gloomy autumn day such as this. During summer though, the location on the island of Djurgården is perfect, near the water and with a smashing view over to Skeppsholmen, where amongst other museums the Moderna Museet is situated.
Mia Sundberg, curator at Spritmuseum (the Museum of Spirits), has a collection of her own to take care of, and a rather special one at that. The Absolut Art Collection consists of 850 pieces by over 550 artists with one thing in common – a bottle of vodka. The paintings, photos, graphic prints and glass pieces were initially used in advertising for the Swedish brand of Absolut Vodka, and they all contain depictions of this specially designed bottle. Andy Warhol was in 1986 the first artist to make a painting for Absolut, soon followed by Keith Haring and many other more or less familiar contemporary artists. Artworks for Absolut were produced internationally until 2004 and in the museum´s catalogue Mia Sundberg describes the collection as: "Lively, diverse, at once sophisticated and naive. It cuts across trends and themes – and the disparate spheres of the art world."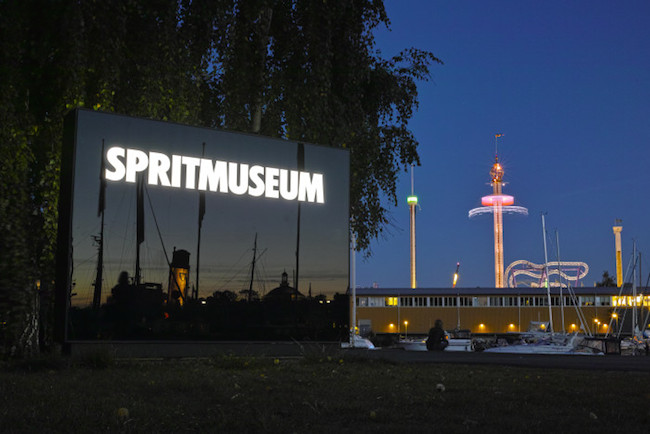 Spritmuseum. Photo: Mikael Sjösten
Sitting in front of me she continues to develop her view: "The variety is what´s special about the collection, and gives it a certain charm. Many of the artists in the collection do not belong to the same circles in the artworld. But they do so here, and we want to take that opportunity to raise some questions about the art world. It gives us a somewhat unexpected profile where we can mix the global and the local. And even let the public decide if it´s art or not. Many feel that it´s not, and I fully respect that. You could say it´s only commercial images. I personally place them in the borderland between art and commerce."
In 2007 the Absolut brand was sold by the Swedish state to the French company Pernod Ricard, but it was decided that the art collection should not be included in the sale and Spritmuseum became the new caretakers. Since the museum moved a couple of years ago to its new location, some of the rooms are devoted to the Absolut Art Collection.
"We have created a strategy to work with the collection. Each year we produce two big exhibitions. One is a thematic selection of works from the collection, the other is a solo-presentation of an artist that is represented in the collection", says Mia Sundberg.
"This summer we showed Art Pop, as we had noticed many affiliations with the world of pop music in our collection. Many of the artists were also musicians, and they had made album covers which we put together in the exhibition."

Béatrice Cussol. Photo: Claire Dorn
The first solo exhibition was with the French artist Béatrice Cussol in 2013, who showed large works on paper with a rather explicit and provocative content. Her mixed watercolours may look like innocent and delicate depictions of a fantasy world at first glance, but are in fact far from it.
"She is homosexual and a feminist, and her work deals with that. Using references from art history as well as mass media, her focus is the female figure, and the female sex. The images are brutal and humoristic but made with ease, which creates an odd contrast between the tough content and the alluring appearance."

Frank Bowling's exhibition at Spritmuseum. Photo: Jäger Arén
At the moment the museum is showing a small but focused exhibition with paintings of Frank Bowling, born in British Guiana, but since the ´50s living in London and New York. Over the last decade he has gained attention as one of the important British modernist artists. His atmospheric and expressionistic abstractions vibrate with colour. Mia Sundberg has chosen a particular period in his abstract paintings, and does not show his latest work.
"The room is rather small for a retrospective, so we decided to take over chronologically from Bowling´s previous exhibitions, thus we´re showing paintings made in the 1980s. Frank Bowling recently turned 80 but is still working, and showed with his gallery in New York this spring. Although we are a small and somewhat odd institution the show has been taken seriously by Swedish and international media."
"We want to create something that is unique for this museum", Mia Sundberg continues. "We have so far chosen artists that haven't been shown in Sweden before and that are somewhat outside of the hype. But none the less are worth our attention. Spritmuseum is not an art museum and we attract a wide audience that may not follow contemporary art very closely. We look for artists that many people can relate to. That said, of course we want to show art that is accessible but intelligent."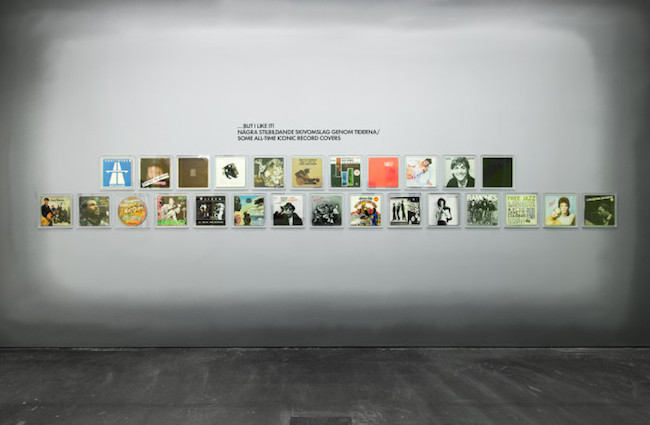 Art Pop exhibition. Photo: Per Myrehed
For the autumn of 2015 she plans to investigate the legacy of Keith Haring by showing younger artists working in his tradition. It will include artists not represented in the collection. "It is a way of expanding our strategy, but that´s what is so exciting with our collection. The options are infinite, and we can connect the Absolut Art Collection with what goes on in the art world of today."
Mia Sundberg has a long career on the Swedish commercial art scene and for many years had her own gallery. What is the big difference from her previous occupation and working at an institution?
"When you make choices in the realm of the gallery they always emanate from your own personal take on art. You invite artists that you are passionate about because otherwise it would be difficult to promote their work. As a curator in a museum you must engage in a different position. You can´t solely rely on your own preferences, instead you have to imagine what could be interesting for a bigger audience. I don´t mean to underestimate the public, but we are not the place for theoretically based art that attracts only an initiated crowd. On the other hand, artists like Cussol and Bowling have both depth and complexity. They certainly challenge their viewers."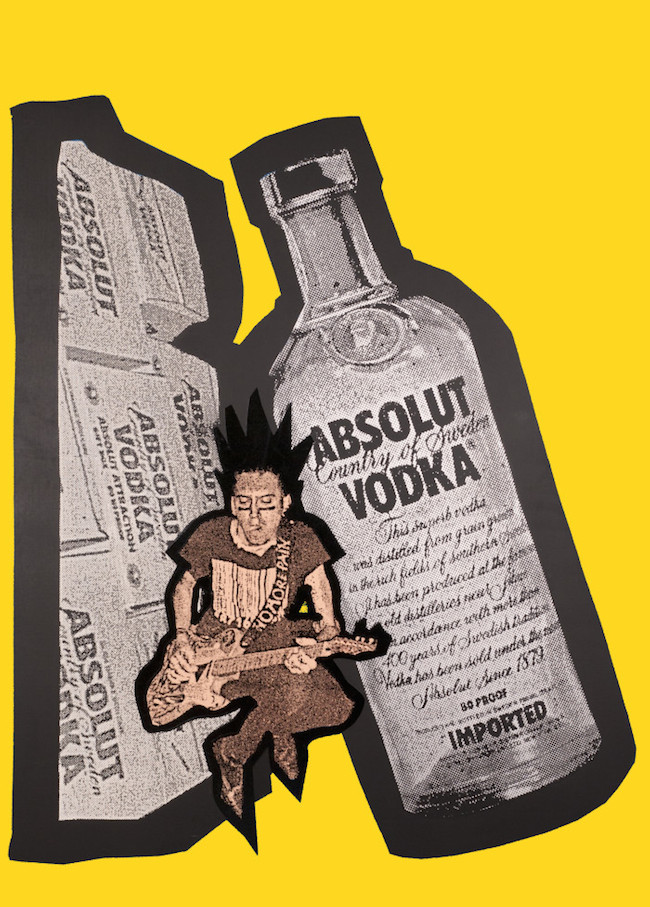 Absolut Sprouse, 1988. Stephen Sprouse (c) The Sprouse Family Archives
At Spritmuseum Mia Sundberg also has to take the collection into consideration. She says the jobs have many similarities, since both deals with curating and producing exhibitions. In the gallery as well as in the museum you have to lead projects and find competent and creative people to collaborate with. "It´s not unknown territory, and it was not difficult to take the plunge from the gallery. But that doesn´t mean it´s without challenges."
A big difference is the commercial side, since as a museum curator she doesn´t have to sell art. Is that something that she misses?
"I have to say it´s neither nor. I carry with me what I´ve done before, that´s a prerequisite of what I´m doing today. I´ve been given the advantage to take on a new role that I find very pleasing. I could very well start a gallery once again. I do enjoy selling art, but I don´t miss selling. It´s just something I did, and now I´m doing this instead."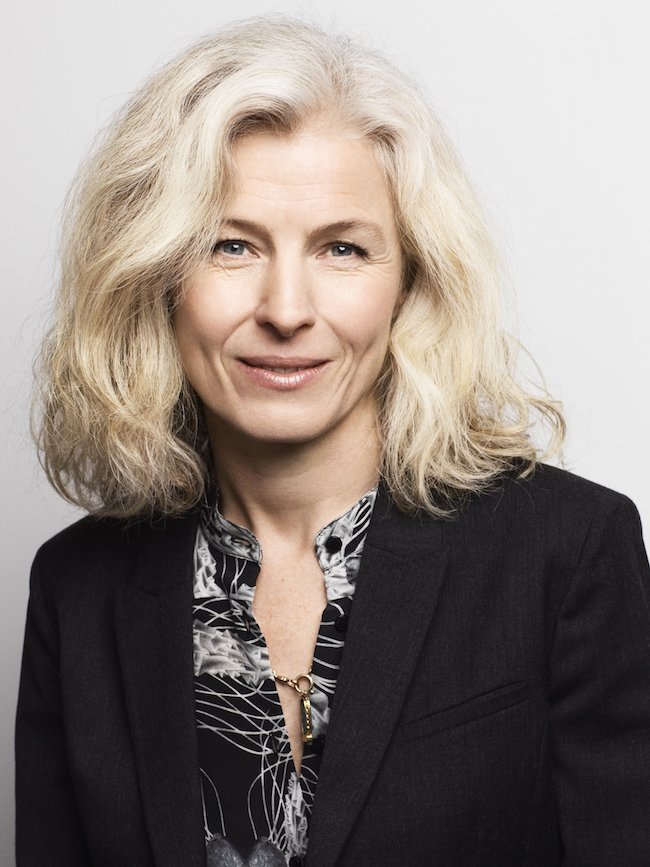 Mia Sundberg. Photo: Andreas Öhlund