Flo Kasearu House Museum
Jurriaan Benschop
26/01/2015
What happens when you turn your own house into a museum? Estonian artist Flo Kasearu did so in 2013. The house in the Pelgulinn district of Tallinn has been in her family for generations and is now a museum where her own art is exhibited. Or should you say, her own life? In Flo's case, the art forms are diverse - it can be film, object, performance, drawing, painting, or something else. And here the house itself becomes kind of an artwork and also the subject matter of several pieces.
I talk with Flo (1985) in her studio on the first floor, after she has given me a tour. "As a museum director," she says, balancing seriousness with irony, "you have a lot of responsibilities - for or the maintenance, for the condition of the building, for the tenants that rent spaces." The museum is a large wooden building containing seven apartments, a cellar, and a garden. Upon arriving at the entrance, I had noticed little notes pinned to the front door, where people who are looking for rooms write down their telephone numbers. The artist decided to collect these private ads and keep them in a row on the door, as a collection. So the house started to keep track of its own history.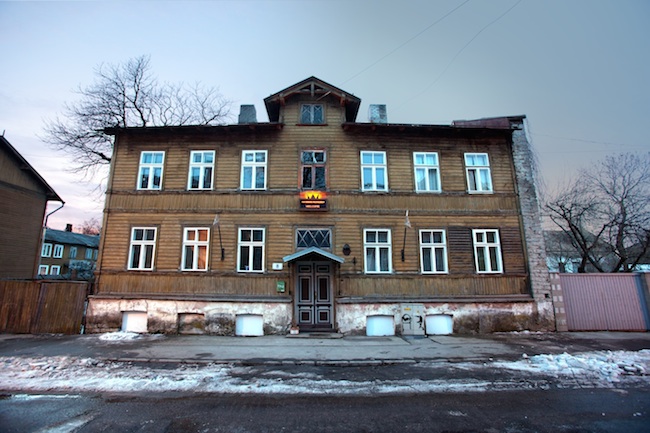 Private ownership of houses is for many people in Estonia a recent phenomenon. Houses were communalized during the Russian occupation, and the more powerful people who were considered a threat to the new government were sent away to Siberia. Flo's grandmother also had to leave her house, although she managed to escape deportation. Only after Estonia's independence could people reclaim their houses, supported by government legislation. After a lot of bureaucracy, Flo got the family house back in 2010, although materials such as water pipes and electricity wires were taken by burglars in the time that it had been empty. The story of the house and its inhabitants is, in a way, a story of multiple people in Estonia and is preserved now in this museum. Some of Flo's worries about owning the house can be seen in a series of drawings, called 'Nightmares of the House Owner' (2013), exhibited in the stairway. One drawing shows a house in flames, another a house being hit by a plane, a third one a house being hit by a tornado.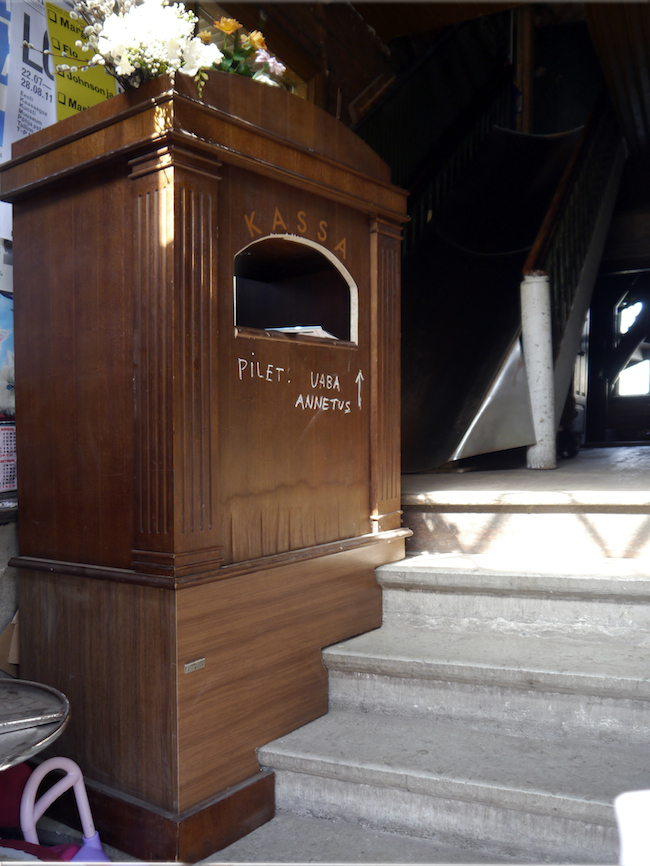 The artist made 'Landscape Painting' (2013), depicting a tsunami wave, which was then transposed onto a giant canvas and then placed in her back garden so that it obscures the view of the neighbor's house, which, according to the artist, did not fit the aesthetics of the neighborhood. So the painting offers an alternative, natural view when Flo looks out of her studio window. In the garden, there is also a fallen tree, symbolising a gigantic paintbrush. According to the artist, it came down after a storm and should be read as a sign from above that this place had to become a museum. There is also a sculpture of the artist's face, with the nose broken off, like on the old Roman ones, thus presenting a living artist as a valuable piece of antiquity.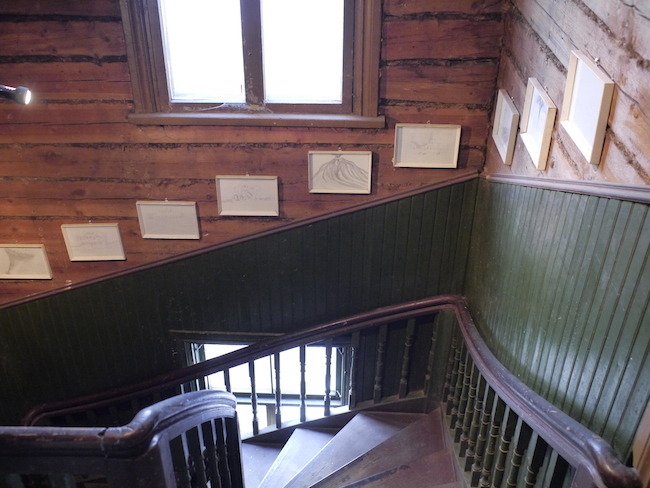 NIGHTMARES OF THE HOUSE OWNER. Graphite on paper, 21 × 29,7 cm. Series of 16 pieces. 2013
Seen from the perspective of the art infrastructure in Estonia, the house museum seems like more than just a pastiche, and in fact it is an intelligent move to open your own exhibition space. The artist does not depend on institutions or galleries; she can receive visitors and guests any time she wants to. "In Tallinn there are still some galleries that ask for rent if an artist wants to exhibit there. There is not a developed gallery system like that of bigger European cities. So it's better to create your own space, that way you don't have to pay rent," says Flo. And she is also not confined to the exhibition timespan of only two or three weeks that is common in Estonia.

COLLECTION OF ARTEFACTS
One of the movies that can be seen in the museum is 'Estonian Dream' (2011), which pictures the daily life of an Estonian girl who goes to live in Texas. She films her own life and puts it online in a video blog on YouTube. She drives around in her car, listens to the radio, and then comes home and announces that she wants to see her "babies," which turn out to be a dog and a cat. She also explains life and habits in Estonia to her American audience. At the time of filming, seven Estonians were kidnapped in Lebanon, and this becomes a story that she follows and that connects her to her homeland. As you watch the girl, you feel her loneliness and how she misses her country, while at the same time you sense that the American way of life seems to fit her. Estonia turns up in cliche symbols, like a certain kind of lollipop, or stamps with the colors of the flag. Actually, the question of what home is, and how this is related to the place where you live, is a motif that has occurred in Flo's work throughout the years. For the series 'Grown Out' (2013), also on display in the museum, homeless people were individually photographed outside in the snow, with a big, house-shaped wig on their heads, the only roof they have.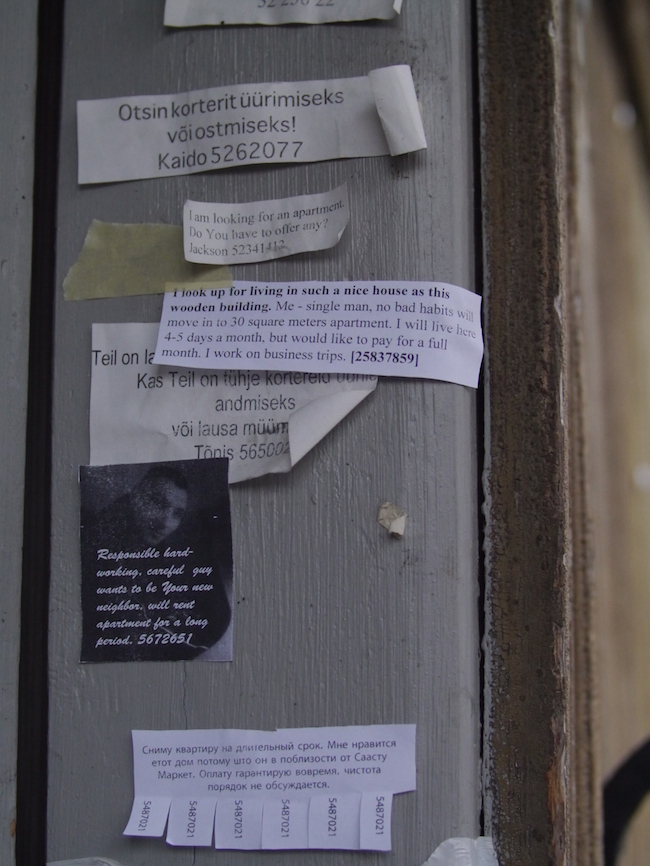 COLLECTION OF RENTAL ADS. nstallation, paper. 2013
To have your own museum at the age of 29 is quite early. Does it not reduce the artist's mobility? Yes it does, she admits. "In a way, I'm stuck here, at least for the moment. But I feel there are a lot of things to do in Tallinn; there are issues to deal with." As an artist, she feels urgency in the Estonian context, a feeling that disappeared while she studied abroad in Berlin in 2007 and where she found herself surrounded by so many other artists. In Tallinn, the art scene is small and her actions have a clear effect.

LIBRARY
Did the opening of the museum, with all its responsibilities, transform her from an artist into a museum director? Actually, she is both. And more than that: she has also become an artwork herself.

LANDSCAPE PAINTING. Print on canvas. 730 × 868 cm. 2013

REVELATION. Wood, windthrow. 2013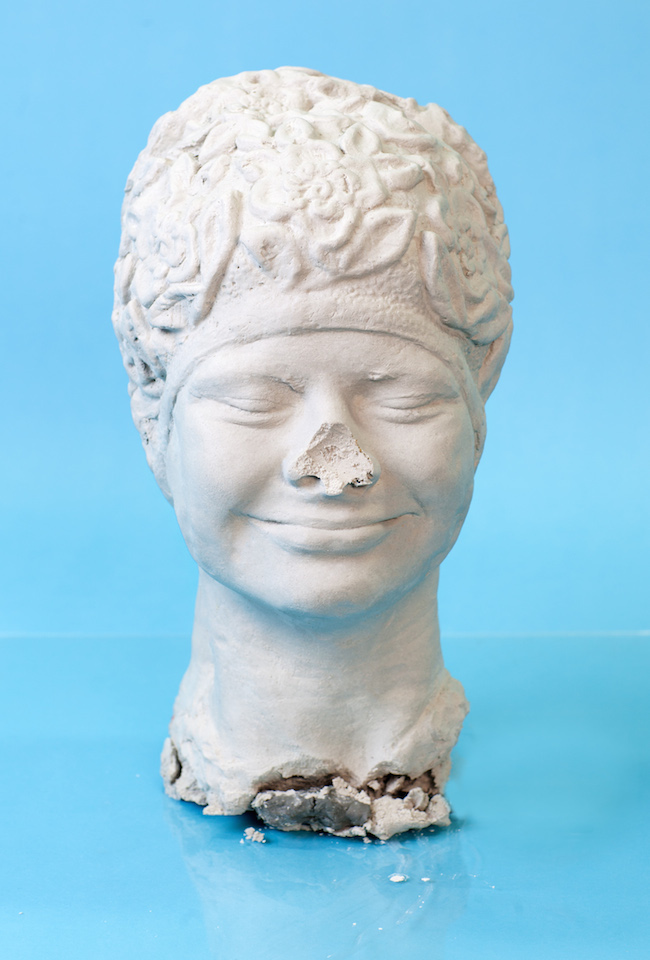 THE MONUMENT OF THE LIVING ARTIST. Plaster, seeds, height 36 cm. 2013
***
Flo Kasearu's House Museum can be visited by appointment (see flokasearu.eu). New works of the artist can be seen in the exhibition "Uprising," on display until 21 February 2015 at Temnikova & Kasela Gallery in Tallinn.