Art Basel Hong Kong Highlights
Anna Mikaela Ekstrand
18/03/2015
When Hong Kong International Art Fair (Art HK) launched in 2008 there was a debate whether or not the city could sustain an international art fair, one had been held prematurely in the 1990's. Art Basel Hong Kong this past week was larger than ever with 233 participating galleries from 37 countries showcasing around 3,000 pieces attracting the international art set, blue-chip galleries, collectors and museum directors from around the world. Drawing a total of around 65,000 visitors. Those who were first opposed have surely been proven to be wrong.
Only in it's third edition the waters are still being tested. The fair was moved from May to March now fitting comfortably between Art Basel Miami Beach in December and Art Basel Basel in June – some say it was a smart move to get ahead of Art Dubai others are just thankful to dodge HK's humid May weather. Straying from the classic Wednesday-Sunday quotidian the fair runs Friday-Tuesday. Malaysian Adeline Ooi previously VIP relations manager stepped down from her position as director of RogueArt to take over director of ABHK after Magnus Renfrew, founding director of Art HK who has been instrumental in making HK center of the art market in Asia. Renfrew is returning to Bonham's. Many were also happy to welcome Art Central, a new satellite fair on the harbor front in Central – one of the 150 events happening in and around the fair during Art Week's eight days.
HIGHLIGHTS
To honor the location of the fair I was especially interested in art referencing the cultural heritage of the Asia-Pacific region. I was mesmerized by a poignant series of 40 ink paintings by Chen Shaoxiong at Pékin Fine Arts, the artist methodologically recreates photographs of political expression he finds online from modern day demonstrations across Asia and the world. Ink Media #1(2011-2013). Reputable Hong Kong gallery Osage showed a 17 piece series called the Cultural Life of Wilson Shieh by the artist of the same name who created the work in his Faton studio. It depicts portraits of men that have shaped his cultural life an eclectic mix from east and west, fictional and real, historical and contemporary. Author Haruki Murakami, Ian Curtis from the Joy Division, architect I.M Pei, Taiwanese top-selling artist Hou Chun-Ming alongside the child of superhuman strength, Kintaro, from Japanese folklore and Le Petit Prince. Acquavella Galleries had the most impressive large-scale Chinese painting, Portrait 08-2-1(2008) painted by Zeng Fanzhi.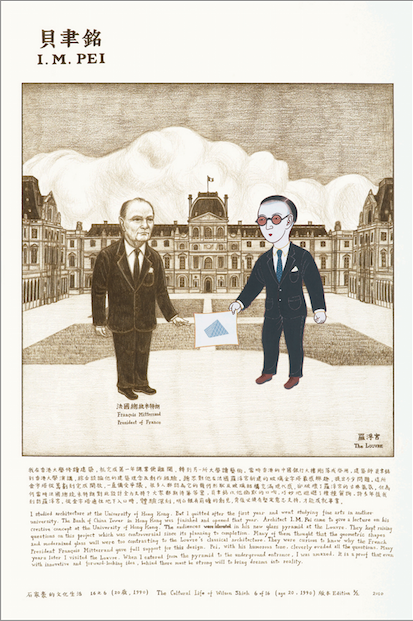 Wilson Shieh, Cultural Life of Wilson Shieh. Osage Gallery
Athr Gallery based in Jeddah showcased Dana Awartani who is based between Saudi Arabia and the U.K. currently studying traditional Islamic art practice with a master in Istanbul. The drawings on view clearly reference geometric forms of Islamic art but also minimalism. A group of 15 Saudi's had just been by the booth earlier and several of her pieces sold. "Being a woman has not encumbered me in my artistic career," she says and tells me that the mixed gender openings at the gallery in Jeddah are usually raucous affairs, similar to western openings, minus the wine.

Hassan Sharif. Eight Points Angular Lines - Part 2, 2013. Pencil on paper, wood, glue and nails. Group of 3 works 59.5 x 42 cm and 90 x 58.5 cm. Gallery Isabelle van den Eynde
Hassan Sharif brought conceptual art to the United Arab Emirates in the 1980s, at a time when the country was becoming increasingly commercialized. Eight Points Angular Lines glorifies the simplicity of form, it is a wood relief evolving from hundreds of variations of subtly shifting shapes on paper, some on view at Gallery Isabelle van den Eynde.
Kwangho Lee's copper tables with hypnotic Korean enamel table tops in the realm between natural and supernatural named The Moment of Eclipse(2014) at One and J. Gallery is design worth mentioning. The Korean designer has been showcased at Design Miami and collected by M+, Daegu Art Museum and SFMoMa. The accompanying bench clad in woven royal blue polyester was an eye-catcher. I hope to see more of his work in the future.

Tatsuo Miyajima. Life (rhizome) No.2, 2012. 203.5 x 293.5 x 4.7 cm. LED, IC, microcomputer by Ikegami program, electric wire, passive sensor, stainless iron frame. SCAI The Bathhouse
It was a thrill to see Nam June Paik's Internet Dweller (1994) at Hakgojae Gallery from Seoul, comprised of old monitors, cables and other technology it references to the history of technology. Less conceptually complex but technologically intricate are Tatsuo Miyajima's Ikegami microcomputer installations which are all the rage, there were a couple scattered throughout the fair the largest measuring close to 2x3m Life (rhizome) no. 2 at Tokyo based Gallery Scai The Bath House.
While chatting about Patricia Piccinini's Metaflora(2015) – a delectable merge of nature and the human body - with Melbourne based Tolarno Galleries director Jan Minchin told me that the now seasoned gallery have showed in Hong Kong for six years, during the first fair they did no business at all, at the second they sold to expats hailing from the pacific region and during 2012 their collector base opened up across the region with buyers from mainland China and Indonesia. Many galleries do not sell during their first fair but all see the benefits of pruning the Asian market.
100 Tonson based in Bangkok was the first gallery from Thailand to be admitted to Art Basel HK. Their booth was dedicated to a large scale allegorical street art inspired painting commenting on Thailand's current political situation, the artist Yuree Kensaku is collected by Yokohama Museum and Mori Art Museum. Another booth dedicated to one single artist was London-Istanbul based Pi Artworks showing Berlin-based performance artist Nezaket Ekici, video's, performance ephemera like a dress and photos were on view. The artist also performed Emotion in Motion during the first two days of the fair, planting lipstick kisses on select objects in the space her lips bloodied at the end of the day – at first it looks quaint then it becomes painful to watch.
A newcomer to the fair is Paris based Air de Paris a favorite of mine, in addition to Sarah Morris, Carsten Höller and Claire Fontaine they have a spellbinding piece by Japanese artist Shimabuku on view City in the Sea(2013). What if piles of salt crystals are the blue prints of ancient pyramids? Is the question, which the artist bases his whimsical piece on. Director Florence Bonnefous tells me that the ink jet print was shortlisted by M+ acquisitions team. A state funded museum venture aspiring to become Asia's leading museum for 19th-20th century visuals arts headed by Lars Nittve.
ENCOUNTERS & FILM
Encounters, dedicated to presenting large-scale work, is curated by Australian Alexie Glass-Kantor, proposing that we "invite possibility from impossibility to imagine another world" is one of the fairs sections. Indonesia artist Eko Nugroho's large-scale tapestries grounded in traditional batik and embroidery styles, graffiti, street art and comics of political commentary do just this. The VIP program includes no private collection visits but as a consolation work from four prominent Taiwanese collectors can be seen at Hong Kong Art Centre's exhibition Collectors' Contemporary Collaboration (CCC) an annual exhibition showcasing highlights from Asian Private collections, well worth a visit.
Hong Kong Art Centre is also the venue for Art Basel's daily Film section screenings. This year Beijing and Zurich based multi-media artist and producer Li Zhenhua has made the eclectic selection. UterusMan(2013) caused a stir of laughter and awe in the dark movie theatre. Shanghai born artist Lu Yang's 11'20 minute film features a stylized Japanese arcade game superhero based on the female reproductive organ with superpowers (blood chain defense, blood column attack, XY chromosome attack, energy supply from placenta), weapons (baby weapon, umbilical cord whip) and modes of transport – a sanitary pad skateboard and pelvis chariot (with a deep throat chariot cannon!) to match. Yang means serious business; UterusMan is part of a larger franchise with a video game produced by Fukuoaka Asian Art Museum. Chen Tianzhuo's PICNIC (2014), a gallery space based marijuana infused drug trip and Song Kun's A Thousand Kisses Deep were a couple other pieces with hot soundtracks, tantalizing imagery and pop-cultural references. Both artists are represented by Star Gallery, an edgy Beijing gallery that promotes young artists.

Ai Weiwei. Censored Artworks at 15 Years Chinese Contemporary Art Award at The Power Station of Art. Shanghai, 2014. Installation (photographs, essay, 2 boxes of sunflower seeds, 8 stools in various sizes). Mizuma Art Gallery
Greek artist Raed Yassin's The Immigration Forecast(2010) were screened daily, an individual event pertaining to illegal immigration from the Middle East to Europe broadcasted in weather news format, focusing on the individuals being deported and the risks involved in crossing boarders. Another deceivingly humorous piece was EXERCISES, a spin-off of "Rajio Taisou" Japanese Radio exercises. Issuing Japans high suicide rate amongst the young and other ailments of the mind. The artist Hiroko Akada is represented by Mizuma Art Gallery, who featured interesting work by Ai Wei Wei and Indieguerilla in their booth. Swedish artist Tobias Bernstrup, represented by Andréhn-Schiptjenko headlined the section "Reperform, Reconstruct, Represent" with his eerie piece South of Heaven(2014).

Chen Shaoxiong. Ink Media, 2011-2013. Series of 40. Pékin Fine Arts

Zeng Fanzhi. Portrait 08-2-1, 2008. Oil on canvas, 94 1/4 x 72 5/8 inches. Acquavella Galleries

Kwangho Lee. The Moment of Eclipse. Authentic korean enamel, 39 x 63.5 x 38cm, 2014. One and J. Gallery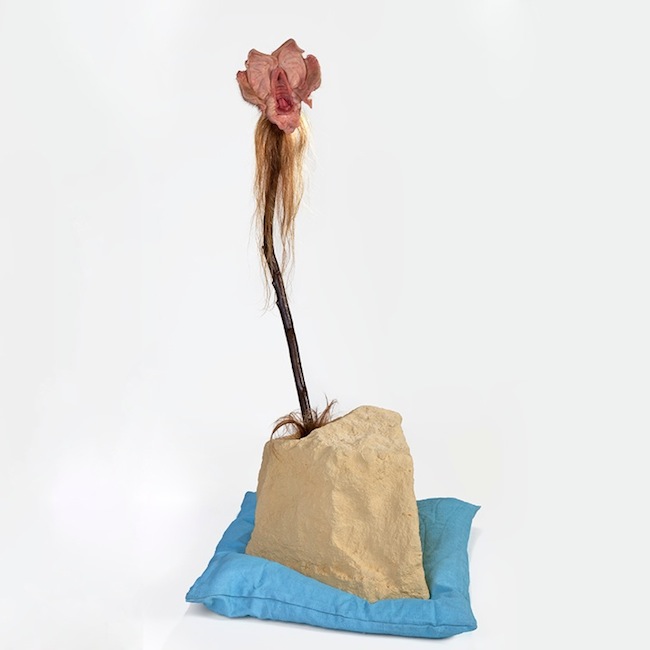 Patricia Piccinini. Metaflora (stone mountain) 2015. Silicone, bronze, fibreglass, human hair. 120 x 60 x 60 cm. Tolarno Galleries, Australia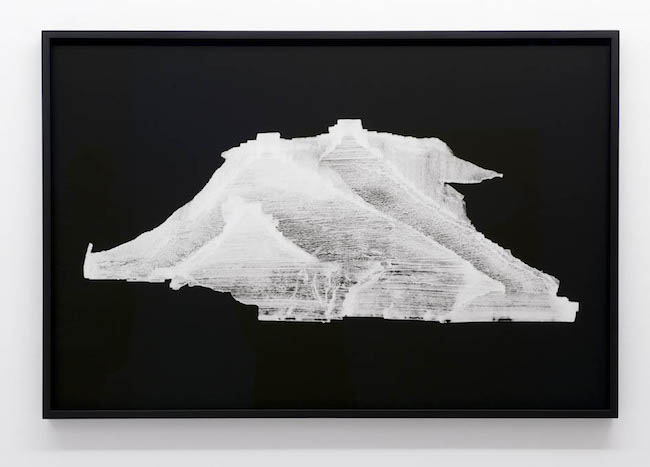 Shimabuku. City in the Sea, 2013. Framed inkjet print, 76 x 113 cm. Air de Paris, Paris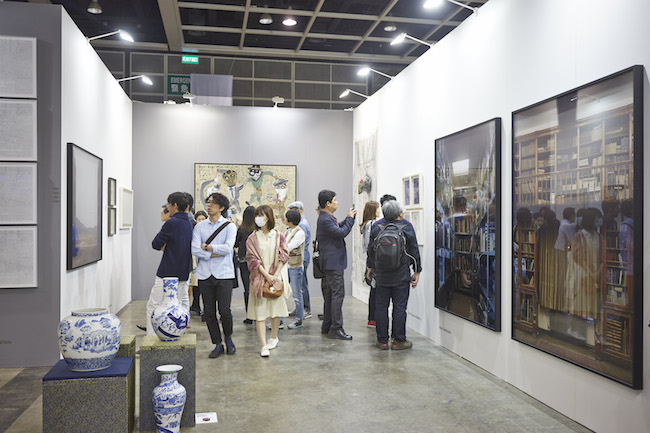 Kalfayan, gallery overview. Image courtesy of Art Basel

Indieguerillas. Lompat Besar / Big Leap, 2015. Acrylic on canvas, 200 x 300 cm. Mizuma Art Gallery