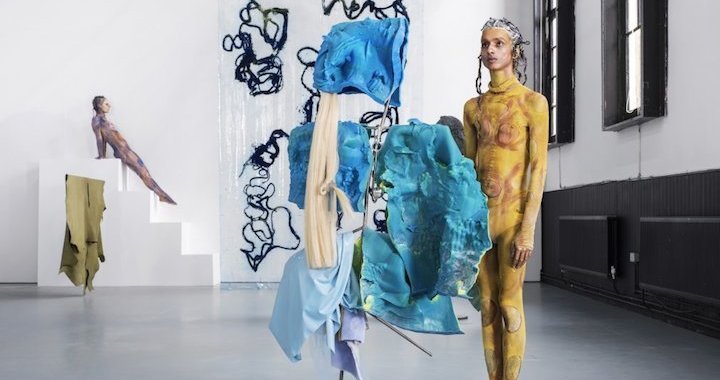 EXHIBITION OF THE YEAR 2016

27/12/2016
As the year was coming to a close, invited people close to the art world to recall the exhibitions and shows they had seen in the past year, and to commend the ones they thought were the most vibrant and memorable.
It's been said that this year has seen a long-overdue emphasis on the work of female artists, and accordingly, Donna Huanca (1980, Berlin and New York), who was singled out in our survey by the artist David Kennedy Cutler, has also been honored by Artsy.net this year with a spot on their list of "The Top Emerging Artists of 2016". Similarly, the well-known Belgian artist Berlinde De Bruyckere (1964) – who the curator Julien Robson mentions in his list of favorites – also uses her work to look at the body and how it interacts with the world, except instead of performance, De Bruyckere does it through the medium of sculpture.
Laura Rutkute, creative director of the Vilnius gallery Vartai
A name that immediately came to mind was that of Michael Landy. And indeed, his exhibition, "Out of Order", at the Tinguely Museum last summer during Art Basel, inspired me greatly. I knew the artist from his project "Break Down" (2001), in London, in which he destroyed all of his possessions in a former department store.

Michael Landy operating "Spin the Saint Catherine Wheel and Win the Crown of Martyrdom", 2013. Installation view. © 2016 Museum Tinguely, Basel. Photo: Matthew Lee
Upon entering the show, I was welcomed by the "Credit Card Destroying Machine" (Michael Landy, 2007). The deal was that I would get an artist-signed drawing, originated by the machine, in return for allowing it to shred my valid credit card into dozens of small pieces. This breathtaking action was certainly a great beginning for the show, but what really inspired me was the feeling of lightness and freshness, and partially, a good portion of aestheticism and healthy humor. Walking through the halls, which were actually loaded with ideas of annihilation and recreation, evoked truly paradoxical feelings.

Pablo Helguera. "Artoons", Löwenbräukunst. Photo (c) Manifesta11/Wolfgang Traeger
Also, the main part of Manifesta (in Zurich) was quite enjoyable. I loved Pablo Helguera's "Artoons", which accompanied the visitor throughout the exhibition in the main venue.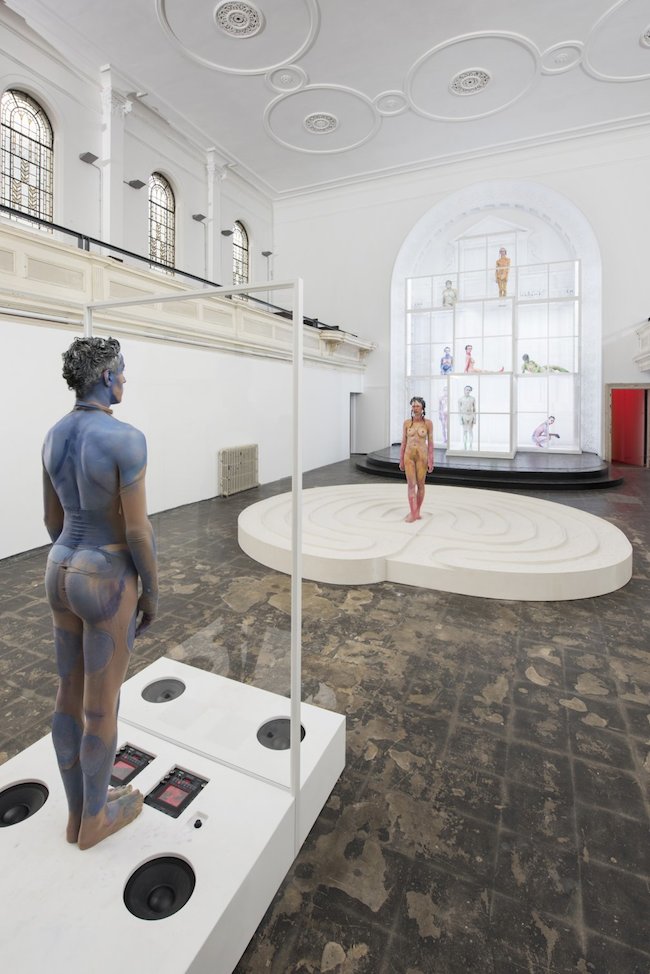 Donna Huanca. "Scar Cymbals", 2016. Performance view. Photo: Thierry Bal
David Kennedy Cutler, artist (USA)
It's always hard to pick just one exhibition, so am I allowed to pick three? All of them are shows by women, and abjectly confront representation of the self through adornment, and envision clothing or body coverings / artificial skins as countercultural action. Two of the shows were up in London: Donna Huanca's "Scar Cymbols", at the Zabludowicz Collection; and "The Vulgar", at The Barbican (through 5 February, 2017), a fashion exhibit curated by Judith Clark, with wall texts by her husband, Adam Phillips, who views fashion from his vantage as a psychoanalyst. And earlier this year in New York, Sara Greenberger Rafferty at Rachel Uffner Gallery, which mostly focused on the subjects of her title, "Dresses and Books".

Zaha Hadid retrospective exhibition at the Venice Architecture Biennale. Photo: © Luke Hayes
Marten Esko, curator (Estonia)
From a local Baltic viewpoint, I'd name the Vilnius CAC show "The Nine Day Week", by Gabriel Lester, as it is something that could be described as intriguing; but it is just one of the recent ones.
Erwin Wurm, artist (Austria)
I haven't seen too many exhibitions as I was working a lot. I saw a nice show of work by Alex Katz, "New Landscapes", at Galerie Thaddaeus Ropac in Paris. And there was also a fantastic show of Zaha Hadid's work at the Architecture Biennale in Venice.

Jordan Wolfson. Colored sculpture, 2016. Collection LUMA Foundation, courtesy the artist, Sadie Coles HQ London and David Zwirner, NY. Photo: Dan Bradica
Milena Orlova, art critic, Editor-in-Chief of The Art Newspaper Russia
My list may be too long, so I am going to name just a few shows. One of them is the exhibition of Sergei Shchukin's collection of French modernist art at Fondation Louis Vuitton in Paris, the others ‒ the exhibition of 20th-century Mexican art at Grand Palais in Paris (through 23 January, 2017); Tino Sehgal's show at Palais de Tokyo in Paris; the exhibition by the young American artist Wolfson at the Stedelijk Museum, in Amsterdam ‒ more specifically, the Coloured Sculpture kinetic installation (through 23 April, 2017); the beautiful exhibition "Piranesi: Before and After" at the Pushkin State Museum of Fine Arts in Moscow, and finally, the excellent "Warrior of Beauty" exhibition by Jan Fabre at the State Hermitage Museum.

Cate Blanchett's characters in Manifesto. Julian Rosefeldt: Manifesto, 2014/2015 | © VG Bild-Kunst, Bonn 2016
Brigita Reinert, art theorist, critic, and editor (Estonia)
The most memorable experience for me was Julian Rosefeldt's "Manifesto", in Hamburger Bahnhof, Berlin. The multi-screen installation showed a collection of artistic declarations from the past century, reinterpreted as poetic monologues in order to investigate social and political contexts that shape the artist's role in society. By linking both high and popular culture, the artist has created highly professional short films using Cate Blanchett as the main character. Blanchett implements thirteen diverse characterizations that range from a homeless man to a TV anchorwoman, a puppeteer, a scientist, and a widow. In each video, a different world forms with its own meta-narrative referring to particular artistic movements while their manifestos are declared in a contemporary scenario. Rosefeldt stated that the main concept for the project was to have a woman embody the manifestos in an art-based framework. According to the differences visible in the presented texts, these acts are quite distinctive by nature, yet they all still have a hauntingly similar element. This was expressed best when all of the videos were synchronized to play the moment in which the protagonist presents the text in a monotone voice – as if under hypnosis, or experiencing a revelation.

V Artishok Biennale, at NO99 Theatre
From the local Estonian art scene, I would like to point out the V Artishok Biennale, which was held at NO99 Theatre. Probably one of the most playful exhibition formats on the Estonian art scene, it was revived even more with this year's exhibition. According to its concept, it gathers together ten artists and ten critics, with all becoming equal participants in the exhibition. Each artist has their work up for one day, while all the critics write the review for that one work; the work and the reviews are then presented in the exhibition hall simultaneously. The curator, Evelyn Raudsepp, decided to shift the traditional meaning of the exhibition format and of the artwork as such; using a theater space, the whole project was professionally produced into a parallel reality, which then started to manipulate one's perception of time and space. This certainly influenced each artist's approach to the creative processes and to a choice of topic, while also setting new challenges for working with the space itself. As a visitor, it was fascinating to enter the theater room and experience the artworks as if they were "out of context" – they had inevitably acquired a particular performative element. In addition, it was refreshing to see that among the selected review-writers, there were not only art critics but also theater critics, philosophers, authors, etc.

Daiga Grantina. "Grotto from Glammar", exhibition at Galerie Joseph Tang (28.04.2016 - 18.06.2016), Paris, France. © Photo: Toan Vu-Huu
Kaspars Groševs, artist (Latvia)
I'd name Daiga Grantiņas' solo show, "Heap-Core,,,", at the kim? Contemporary Art Centre, if only because one could finally see this great artist's work here, in Latvia. I certainly would like to see the works of Grantiņa and other Latvian artists living abroad more frequently, and not just as foreign objects that make rare appearances as if they were some exotic animal.

Marc Camille Chaimowicz. "An Autumn Lexicon". Installation view/ Serpentine Gallery (29 September – 20 November 2016). Photo: © Hugo Glendinning
I also wanted to linger at Marc Camille Chaimowitz's exhibition "An Autumn Lexicon", at the Serpentine Gallery. Just squeeze in between the shapes and patterns, sit by the radio and listen to some music, perhaps even enjoy a glass of wine or recline on one of Chaimowitz's pieces of furniture. The world created by Chaimowitz is full of details and discoveries that are hard to pinpoint to a particular time and location, yet they all seem familiar and as if you have already dreamed of them.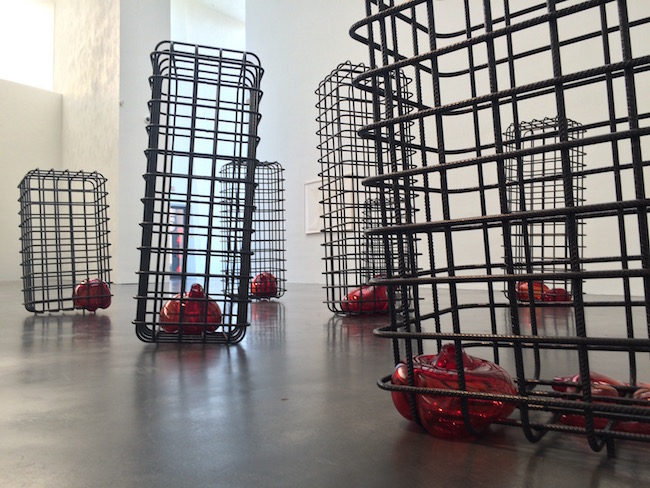 Mona Hatouma. "Cellules". 2012–2013. Photo:
Michael Haagensen, curator (Estonia)
- Mona Hatoum – survey exhibition at Tate Modern, in London;
- Jaanus Samma – "NSFW – A Chairman's Tale", at the Venice Biennale and the Estonian Museum of Occupations;
- Jass Kaselaan – "Vaikelu", at Hobusepea Galerii in Tallinn.
Liisa Kaljula, curator (Estonia)
Mark Leckey´s retrospective "Containers and their Drivers" at MoMA PS1. Wonderfully playful and insightful take on our culture´s relationship with charismatic things. Leckey studies the contemporary totemic object in his museum retrospective – what could be a better place to do that! – and even though this venture is somewhat rocking out of the time frame, it also keeps the audience thinking about art and its power in complicated times.
Bo Nilsson, Artistic Director of Artipelag (Sweden)
Edmund de Waals two exhibitions named "Irrkunst" at Max Hetzler Gallery in Berlin.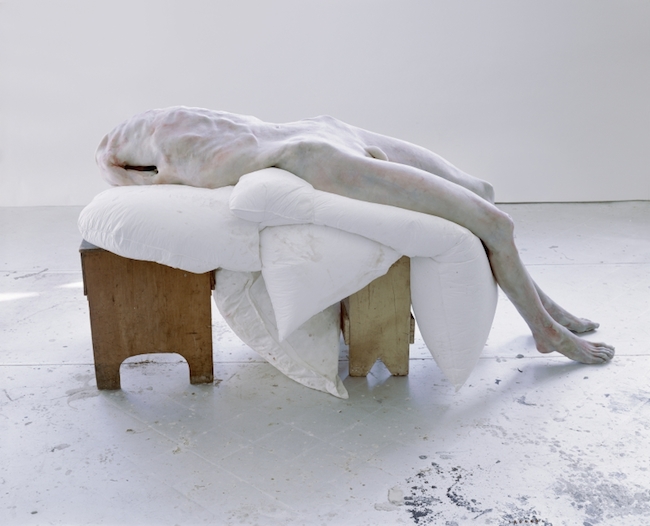 Berlinde De Bruyckere. "Piëta". 2007–2008. © Self Collection, London. Photo: Mirjam Devriendt
Julien Robson, curator (Austria/USA)
At the beginning of the year I caught the "Baroque Baroque" show at the Winterpalais, in Vienna. The juxtaposition of this extraordinary building and Olafur Eliasson's rich explorations of perception made for an exhibition that was nothing less than inspiring.
Later in the year I was impressed by Berlinde De Bruyckere's exhibition "Suture" at the Leopold Museum, and in particular, the collaborative performance she presented with dancer Romeu Runa. A demanding and intense event, it revealed the body as both mutable and vulnerable, echoing the melancholic beauty of her sculptures.
Francisco Martínez, anthropologist (Spain/Estonia)
There were two modest exhibitions that have been growing in my mind since I visited them half a year ago. The first one is "Who is this I that can say I?", which was a collaborative art intervention organized by the artist Nadia Tsulukidze and the curator Lali Pertenava, in the splendid State Silk Museum of Tbilisi. The second one is "Kraam" (Stuff), by Killu Sukmit and Minna Hint. More than an exhibition, "Kraam" is an artist-run space which opens every Sunday in Polymer, in Tallinn, to support immigrants by way of material donations, social company, and cultural activities.

Žilvinas Landzbergas. "Crown Off". Image courtesy of Contemporary Art Centre, Vilnius. Photo: Andrej Vasilenko
Also, I'd like to highlight two events in which several of my friends and colleagues took part. The first one is the Artishok Biennale in Tallinn, curated by Evelyn Raudsepp. I found the format very original and useful in encouraging the audience to reflect on the nuances of art criticism. The second one is the Sculpture Quadrennial Riga, curated by Aigars Bikše (Latvia), Kirke Kangro (Estonia), and Elona Lubyte (Lithuania). These kinds of inter-regional collaborations are especially relevant in terms of learning from each other, coining concepts that describe local phenomena, and gathering sufficient funding and institutional strength.

Bosch. The 5th Centenary Exhibition at Museo Nacional del Prado
Sergei Khachaturov, art critic and curator (Russia)
The exhibition marking the fifth centenary of the death of Hieronymus Bosch. The show was on view at Museo del Prado in Madrid and became a historic event of global importance. It was the first almost fully exhaustive show of the artist's legacy, also presenting a truly grand overview of the cultural context. It turned out that not only Bosch was a contemporary artist ‒ he was a 'budetlianin', and today he is a futurist. The radical questions posed by his method and the worlds he created are, for instance, what is post-internet, post-contemporality and technogenic civilisation.