CHART Still Going Strong: A Look back at CHART Art Fair 2017 in Copenhagen
05/09/2017
From 1 – 3 September, for the fifth year in a row, a motley art fair crowd of prominent, specially invited international and local guests, collectors, art professionals, artists, art students and art lovers, along with the usual curious onlookers drawn by the hubbub, flocked to the courtyards and grand halls of Kunsthal Charlottenborg and the Royal Academy of Fine Arts (connected to Kunsthal Charlottenborg) in the heart of Copenhagen. In just a few years, CHART Art Fair has not only become the leading Nordic contemporary art fair, but also a must-attend event in Copenhagen thanks to its abundant courtyard programme (which is open and free of charge to everyone) filled with concerts, performances, DJs, and food and drinks served from specially designed pavilions in an attempt to attract the general public. Since 2013, when the fair was established by five leading galleries – Gallery Susanne Ottesen, Galleri Bo Bjerggaard, V1 Gallery, Andersen's Contemporary, and David Risley Gallery – the concept of CHART seems to have been extremely successful by featuring interesting settings, a small number of top galleries exclusively from the Nordic region, and a relaxed and vibrant atmosphere, all of which, from the beginning, was aimed at expanding the notion of an art fair. The five galleries represent the selection and curatorial team of the main part of the fair.
This year's edition presented 33 galleries, three more than last year; five of the galleries participated for the first time. Among the things that make CHART unique is the setup of the fair, namely, an absence of fair booths – some galleries share the large open spaces of Kunsthal Charlottenborg, while others occupy the entire space in some of the smaller rooms. This creates a particular dynamic in the presentation of the works, one that is more reminiscent of a curated exhibition than an art fair, and which also invites the gallerists to collaborate and interact with each other and the visitors. In addition, visitors can no longer merely wander along aisles and pass fair booths without entering them, which often happens at large art fairs with an overwhelming number of galleries. However, much room does not seem to have been left for further expansion, as the space seems occupied almost to its maximum.
The programme this year was again a plethora of special projects and events, including an extended courtyard programme with performances, concerts, and installations as part of CHART SOCIAL, as well as talks and exhibitions both within and outside the premises of Kunsthal Charlottenborg. These sorts of different special events and initiatives have gained importance at art fairs in general, and they have been an essential part of the concept of CHART since its first edition; in fact, it seems that the events surrounding the fair are becoming more and more important with every edition. This year, more than 10,284 people attended CHART COURTYARD events, including the opening concert, maintaining the trend of growing attendance figures every year. Galleries also reported growing attendance numbers – in particular, international visitors, collectors, museum representatives, and other art professionals – along with strong sales.
CHART 2017 continued a number of initiatives launched in previous years such as CHART DESIGN, the architecture competition CHART ARCHITECTURE, and CHART EMERGING, as well as some brand new ones such as CHART ART FAIR FILM, which included a film programme presented in a specially designed cinema at Kunsthal Charlottenborg. Film screenings by CHART gallery artists, including, among others, Marina Abramovic, Alex Da Corta, Tuomas A. Laitinen and Tomas Saraceno, will continue after the fair and will be a part of Kunsthal Charlottenborg's programme.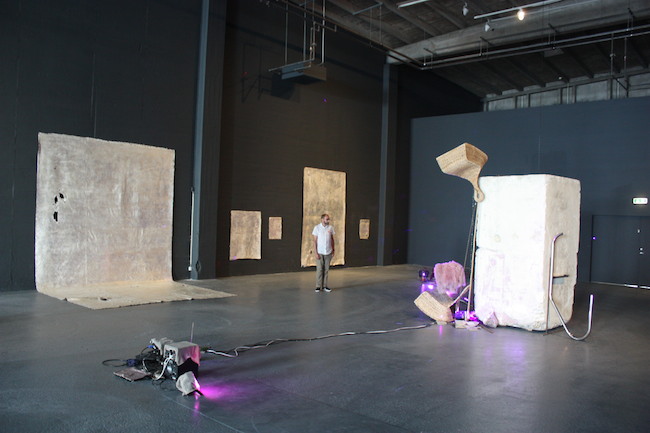 Installation by Martin Erik Anderssen. Exhibition EX SITU. SAMPLES OF LIFEFORMS at Copenhagen Contemporary
Among CHART's special projects this year, and particularly worth mentioning and visiting since it also will extend beyond the dates of the fair, is an international group exhibition at Copenhagen Contemporary (CC) in its large, raw industrial former paper storage space in the harbour area of Copenhagen. The exhibition EX SITU. SAMPLES OF LIFEFORMS, which consists of large-scale installations and videos as well as smaller works, addresses the constantly changing conditions of life on planet Earth. The accelerating transformation of global ecosystems is forcing humans and animals to leave and lose their natural habitat, and consequently, adapt to a new world in which nature, culture and technology are inextricably entangled and enmeshed. The works on show include exhibits by artists such as Dominique Koch, Alan Bogana, Tacita Dean, Roni Horn, A Kassen, and Martin Erik Anderssen. The exhibition will run through November 26, 2017.

A Kassen. Ponds. (Ponds carved in the floor, filled with coffee) and Tacita Dean. Quatemary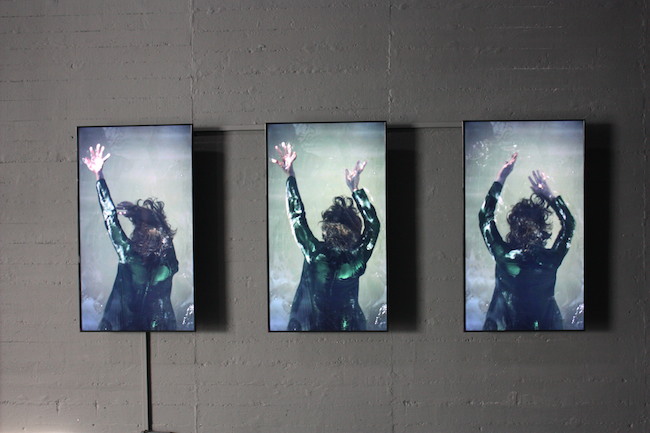 Laurent Huret. Deep Blue Dream III (Swamp Version)
For the fourth time, this year students, joined by recent graduates of Nordic architecture schools and newly established architecture practices, were invited to participate in the CHART ARCHITECTURE competition. The theme for this year's competition was The Living City, which focused on sustainable urbanism, renewable resources, and the need for innovative production methods using upcycling and recycling. Competition finalists then designed pavilions for the Kunsthal Charlottenborg courtyard, which housed restaurants and bars during the fair. And every year, the finalists' projects never fail to surprise with their creativity in shape and use of materials, as well as a touch of humour.

Paper Pavilion by Kazumasa Takada, Yuriko Yagi and Yohei Tomioka. The winner of CHART ARCHITECTURE 2017. The pavilion is constructed with sustainable materials that only last for the duration of the fair. From this perspective, paper is considered as the most suitable material because it is both durable and strong enough to accommodate a short-term event. The main structure of the pavilion has a movable design that enables it to be moved to other cities and to be reinvented in relation to the new location. After CHART, the paper can be re-used through the city of Copenhagen's existing recycling system.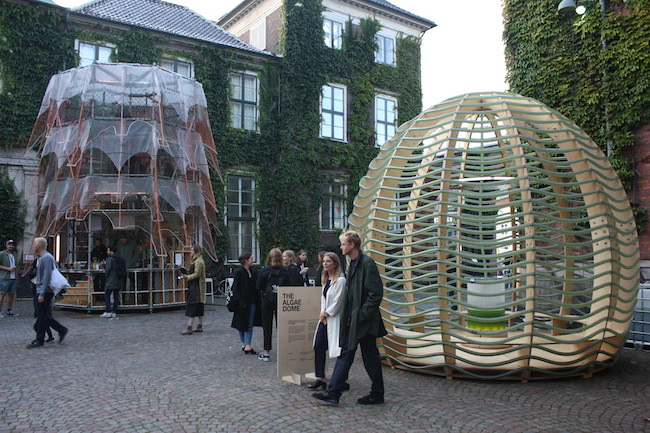 Algae Dome by Future-living lab SPACE10, in cooperation with architects Aleksander Wadas, Rafal Wroblewski, and Anna Stempniewicz. The pavilion showcases the potential of micro-algae as a ´super-food´ of tomorrow; algae do not put pressure on the environment but, in fact, reduce the amount of carbon dioxide in the atmosphere. The project functions as a bio-reactor, capable of growing up to 450 liters of super food during CHART.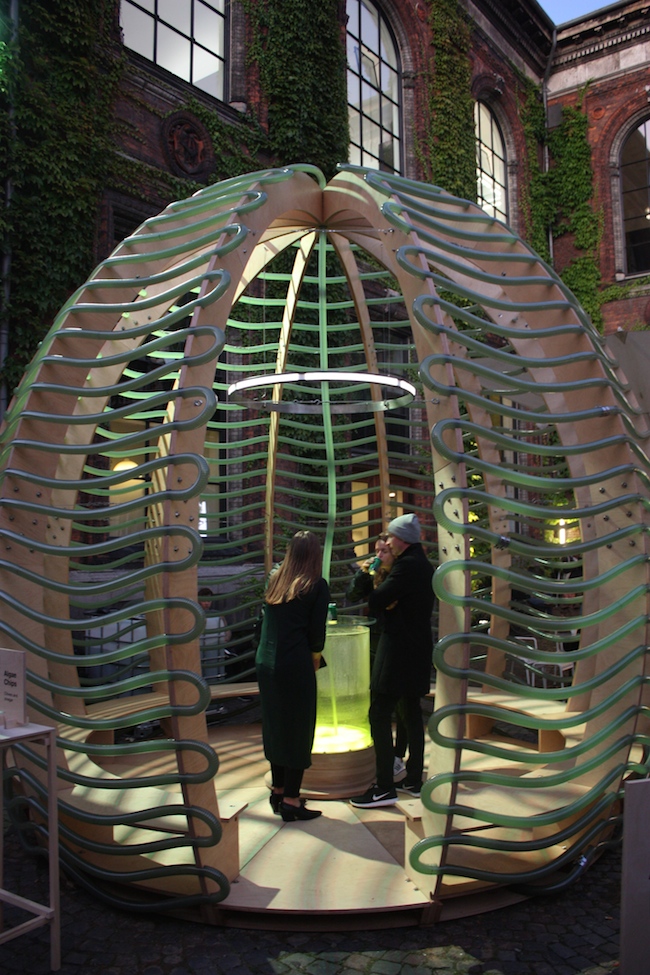 Algae Dome. CHART ARCHITECTURE

Sunday Temple. Made of blue IKEA bags the pavilion refers to the Sunday trip to IKEA's warehouse or doing laundry, which has become the new Sunday ritual instead of going to church.
CHART EMERGING was given a particular place in this year's edition. Initiated last year in collaboration with the Royal Academy of Fine Arts, its goal is to promote emerging artists not yet represented by a gallery in order to help foster their careers. This year, CHART EMERGING was a separately curated exhibition, spread across the buildings of the Royal Academy of Fine Art and presenting the works of 11 artists and collectives from Nordic countries, all of whom have completed their education and have already secured a certain position within the larger artistic landscape. The exhibition I AM OUR COMMON PRONOUN took its title and subject from the book I Civil (2012) by Danish writer and artist Amalie Smith, and shared Smith's exploration of the self in contemporary society as 'something constructed and broken apart by networked culture, migration, increased isolation and gender fluidity, and the body as a medium and a container of shards that connects and separates us from the world and each other'. The works on view represented a wide range of media, including traditional media such as painting, detailed ballpoint drawings, sculptural objects and installations, and also video, sound installation, and performance. Compared to CHART EMERGING, traditional media, particularly painting, dominated at this year's gallery presentations; from this point of view, it offered very few surprises, suggesting that gallerists had not unreasonably amplified their focus on commercial success. After all, art fairs are, first and foremost, about business and building contacts, but these days, this aspect is downplayed by all the extra goings on that surround the fairs. Moreover, nowadays, all of the events, initiatives and other activities around the main section of the art fair (i.e. the gallery presentations) are extremely important for art fairs and a means of accentuating their individual profile and identity. Here, CHART seems to have achieved remarkable success, thanks in no small part to the young, vibrant and creative atmosphere of the fair. The question is whether CHART will also be able to continue to evolve and surprise, and not just play it safe – the latter coming with the risk that the event becomes all about the party and less about the art.

The Nasty Surprise. Performative installation by Josefin Jussi Andersson (Norway), Klara Ström (Sweden) and Hannah Wiker Wikström (Sweden). CHART EMERGING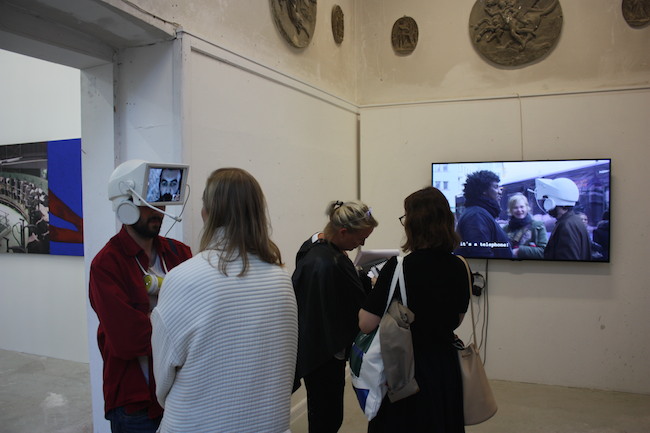 Yassine Khaled (Morocco). Monitor Man. Interactive performance and HD Video. The artist wears a helmet affixed with an iPad, which offers a real-time connection to a person outside of Europe. In this way, visitors had an opportunity to meet with someone who is physically far away, outside of Europe's borders in a non-Western country, and restricted in their freedom of movement. Monitor Man was inspired by the refugee crisis and how it is unfolding in relation to the Internet, social media, and the omnipresence of technology. The project is ongoing.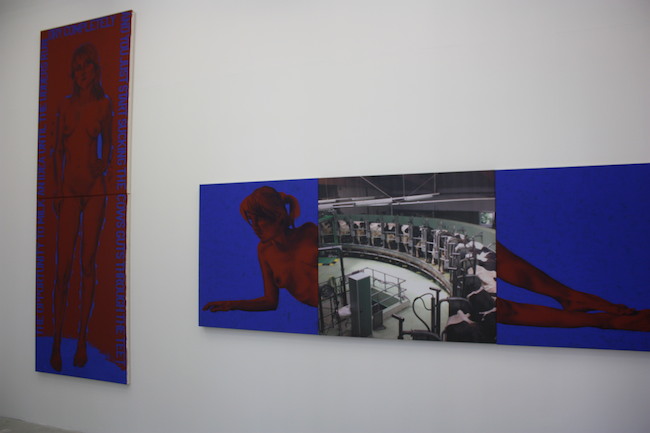 Zoe Barca. (Canada. Lives and works in Sweden) CHART EMERGING

Artor Jesus Inkerö. (Finland). Justin, Kim, and Caitlyn. CHART EMERGING

Alex Da Corta. David Risley Gallery (Copenhagen)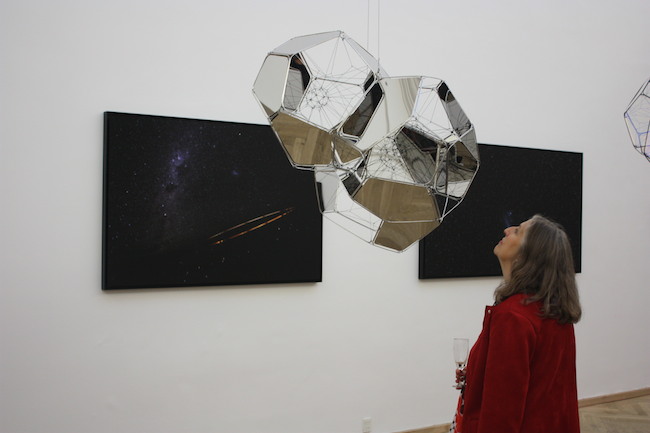 Tomás Saraceno. Andersen's (Copenhagen)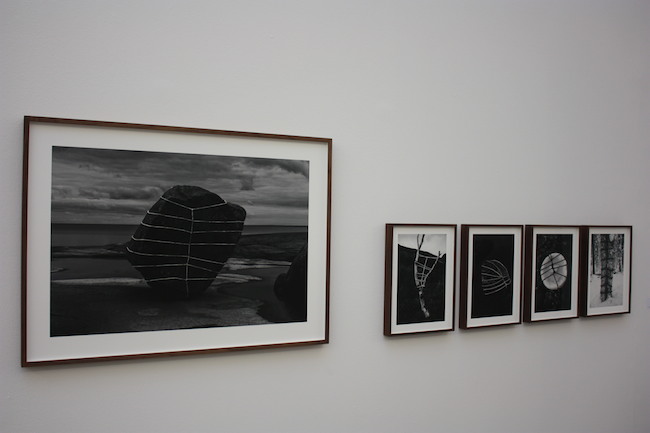 Anna Reivilä. Gallery Taik Persons (Berlin)

Bjarne Melgaard. Rod Bianco (Oslo)

Amalie Jacobsen and Henrik Olai Kaarstein. Gether Contemporary (Copenhagen)

Toril Johannessen. OSL contemporary (Oslo)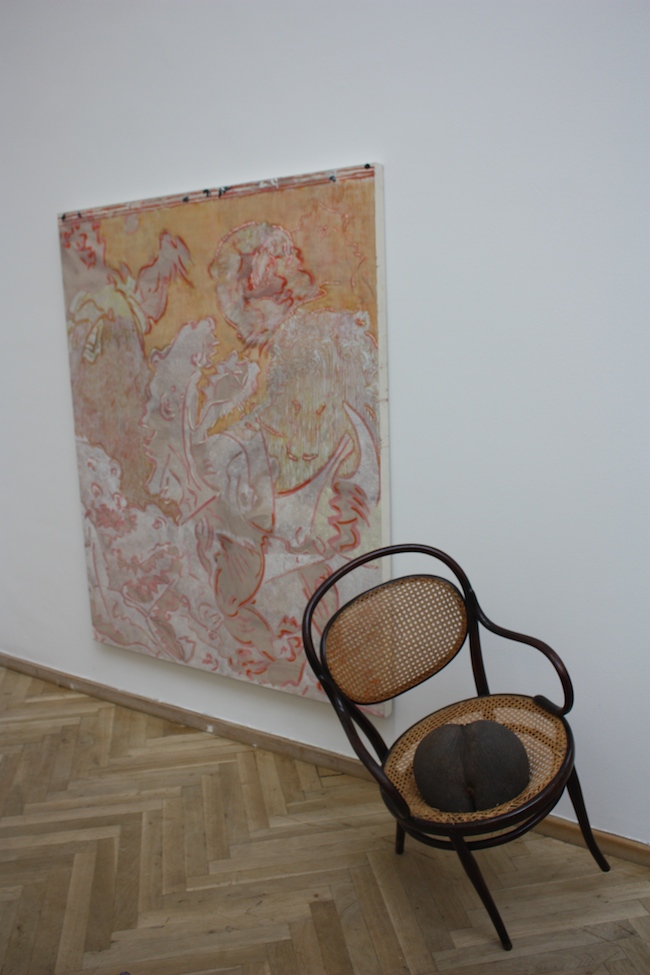 Nina Beier and Anna Schachinger. Croy Nielsen (Vienna)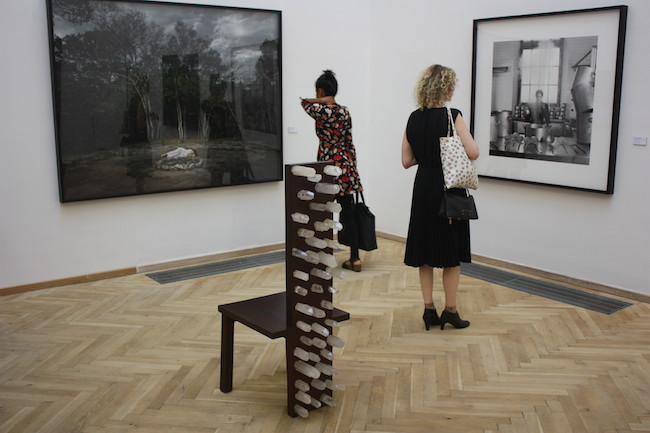 Marina Abramovic. Galleri Brandstrup (Oslo)

Jannis Kounellis. Bo Bjerggaard (Copenhagen)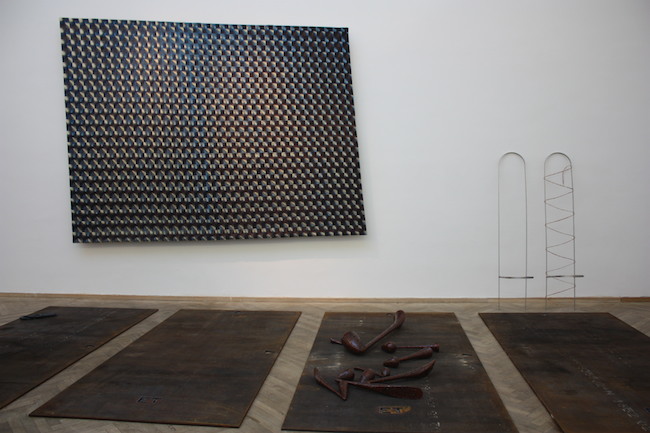 Lea Porsager and Miriam Bäckström. Nils Stærk (Copenhagen)

Vesa-Pekka Rannikko. Galerie Anhava (Helsinki)

Matt Saunders. Niels Borch Jensen Gallery & Editions (Copenhagen)

V1 Gallery (Copenhagen) presented at CHART a group exhibition with works of gallery's and guest artists motivated by the song Paint It Black by Rolling Stones

Wes Lang, John Copeland and Thomas Øvlisen at V1 Galley (Copenhagen)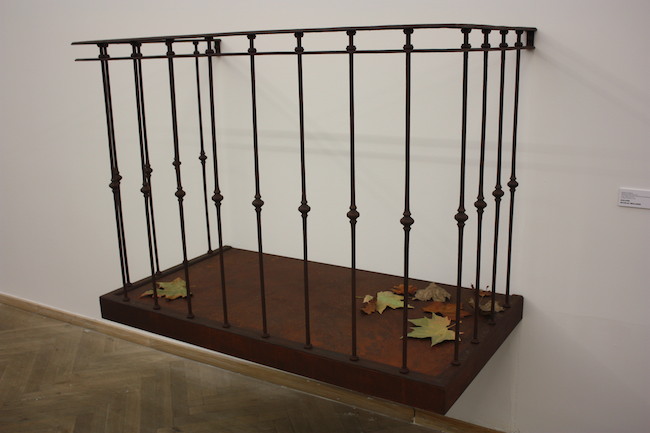 Elmgreen & Dragset. Galleri Nicolai Wallner (Copenhagen)

A long duration performance like me by Greek performance artist Virginia Mastrogiannaki, where the act of photographing oneself (taking a "selfie") becomes a perpetual video capture. ANNAELLEGALLERY (Stockholm)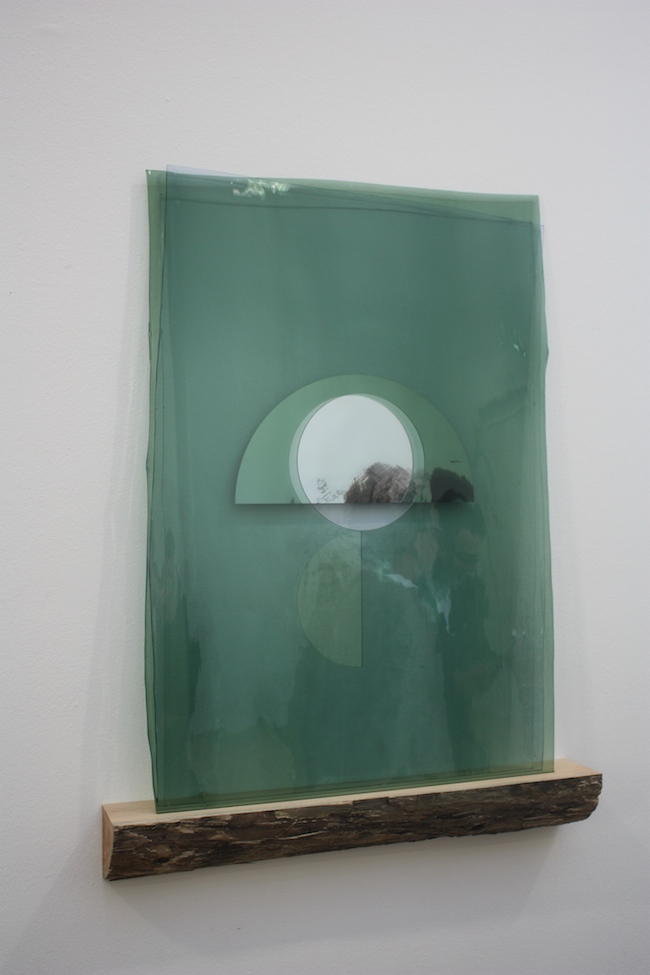 Ólafur Eliasson. i8 Gallery (Reykjavik)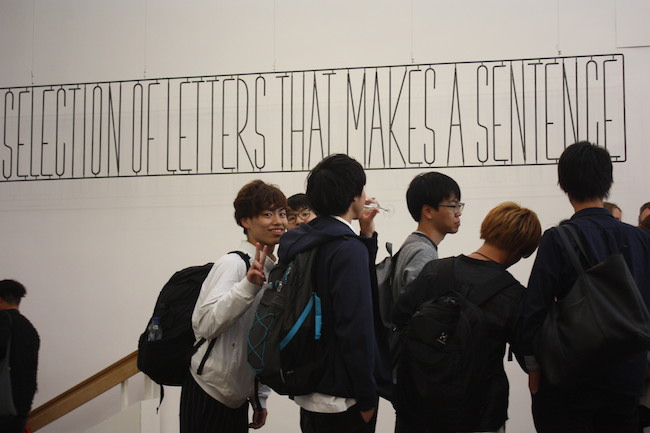 CHART Art Fair

Ai Weiwei. Soleil Levant. Installation on the facade of Kunsthal Charlottenborg. (The installation is not a part of CHART Art fair)