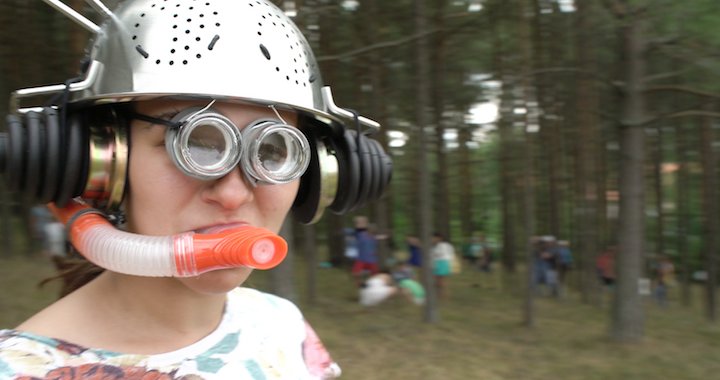 (Per)forming Scapes at Nida Art Colony
03/08/2018
July 20 saw the opening of the interdisciplinary exhibition "(Per)forming Scapes" at Nida Art Colony – an artist residency based in Nida, Lithuania. The exhibition is part of the 22nd annual Thomas Mann festival, and it brings together various artists from Lithuania, Germany and Slovenia.

Photo: Laurynas Skeisgiela
As stated in the exhibition guide, those involved would actually like to refrain from calling this event an exhibition; instead, they define it as a visual, auditory, performative and interactive experience that is centered around the Curonian Spit itself – the location of the artist residency. Since May of this year, it has functioned as an object of artistic research for the participants of the exhibition. Vytautas Michelkevicius, the curator of (Per)forming Scapes and also the artistic director of Nida Art Colony, is known for his interest in interdisciplinary contemporary art projects that merge art with research, including experimental methods of education and interactive events that involve the participation of onlookers and volunteers. It is also worth noting that Michelkevicius was the curator of the Lithuanian national pavilion at the 2015 Venice Biennale, when the country was represented by Dainius Liskevicius with his work Museum.
Elaborating on his spheres of interest, Michelkevicius told Arterritory.com: "My recent curatorial interests have focused on artistic research. They were discussed in my book Mapping Artistic Research, which was published this year. That's why for this exhibition, more than a year in advance, I invited artists and architects with very different backgrounds to come here, to the residency, and research their specific interests. As I said in the exhibition guide, this is more than a visual arts exhibition. Some of the presented materials are finished artworks, some of them represent research that is still in progress, but the whole exhibition is a finished piece. It shows the ways in which the local landscape can be performed and reshaped by various investigative methods – dissecting, enlarging, zooming in and out – through philosophy and technology.

Ona Lozuraityte and Petras Išora. Photo: Laurynas Skeisgiela
The exhibition at Nida Art Colony showcases the works of six artists. Lithuania is represented by Lina Lapelyte and an artist duo that consists of Ona Lozuraityte and Petras Išora – they play an especially significant role in the exhibition as they also happen to be the architects responsible for installing the show.

Anna Romenko and Björn Kühn. Local Fittings. Photo: Laurynas Skeisgiela


Anna Romenko and Björn Kühn. Local Fittings. Photo: Laurynas Skeisgiela
(Per)forming scapes also features a work by Slovenian artist Špela Petrič titled Tools for Dissection of Phytopolitics, as well as a collaboration between German artists Anna Romenko and Björn Kühn titled Local Fittings. Those present at the opening of Petrič's show had the chance to attend her lecture and take part in a performance organized by the artist in which she attempted to model a situation in which the Curonian Spit was not a human democracy, but a hierarchy molded and ruled by plants.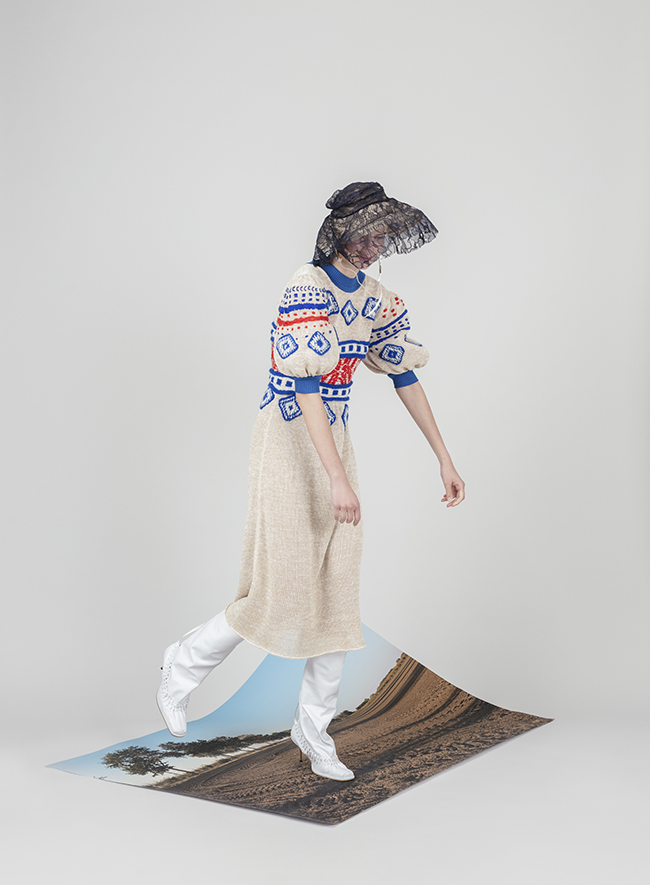 Photo: Laurynas Skeisgiela
Michelkevicius explains that the idea for the exhibition formed over the course of seven years, whilst working as the director of Nida Art Colony. He tells us: "The exhibition idea comes from seven years of research in the Curonian Spit and my work as artistic director at Nida Art Colony. At first sight, everything here looks like a shiny landscape, but there are a lot of hidden layers which were revealed by the invited artists. I want people to remove themselves from their usual tracks and stop separating nature from culture."
All works on view in the group show have been created by the artists whilst living and working at Nida Art Colony since May of this year. (Per)forming Scapes strives to create new visual, auditory, dynamic and performative landscapes. In this show, the Curonian Spit is a point of reference for each and every participant. Through installations, video works, objects and other mediums, the artists examine the ecology of the surrounding environment, its geographical placement, as well as the relationship between humans and nature.

Lina Lapelytė's video. Photo: Laurynas Skeisgiela
Virginija Januškeviciute, a curator based at Vilnius' Contemporary Art Centre (CAC) praised the work of Lithuanian artist Lina Lapelytė titled Play for Parallels: "In Lina Lapelytė's video, at one point the trees seem to move closer to a group of women sitting in a forest, as if surrounding them; the trees slowly retreat again when the women stop singing. The film is magical and attractive in a very old sense of the word."
She went on to elaborate on the exhibition as a whole: "The overall exhibition may be confusing at first, especially if you've just arrived and have been blinded by the sun and are high on the fresh air of Nida. My suggestion would be to drop the printed guide (maybe save it for winter) and grab a human one. A colleague noticed how the exhibition seems to extend the 'new materialism' seen in the show Entangled Tales at the Rupert art centre in Vilnius [June 5 – August 3] by reaching beyond the art studio practice; for its part, the show at Rupert extends and comments on many aspects of the 13th Baltic Triennial, which is also still on view. The three shows create a distinct image of the offerings of Lithuanian art institutions this summer, which are surprisingly tuned to the same note. For better or worse, there's much to reflect upon. If you've ever wondered how sea waves work, this is a great place to start.

Ona Lozuraitytė & Petras Išora, Landscape Management, timeline of local history on paper designed by Tadas Karpavičius, 2018. Photo: Laurynas Skeisgiela
Perhaps this exhibition, just as a fair portion of contemporary art located on the palely drawn borders of various mutually unconnected spheres of work, could seem viewer-unfriendly upon first glance. It demands an in-depth reading of the given information via text, as well as some approximate notion of contemporary Lithuanian art and the aesthetic codes through which these authors operate. Although, one can also agree with Virginija Januskeviciute – the offerings of Lithuanian art institutions this summer are dense and rather congruent. Therefore, possibly, one can head to Nida Art Colony for the purpose of getting to know contemporary Lithuanian art, then head to Rupert and have a look at Entangled Tales, and then, finally, go see the 13th Baltic Triennial.
(Per)forming Scapes is on view at Nida Art Colony until August 31. Arterritory.com offers those interested an informative photo reportage of the exhibition and it's opening.

Photo: Laurynas Skeisgiela