Eight new artworks at Kunstraum Buchberg
24/08/2018
Just an hour's drive from Vienna is one of the most extraordinary art spaces in Europe – Kunstraum Buchberg, the home of the unique conceptual art collection belonging to Austrian art collectors Dieter and Gertraud Bogner. Its 50 rooms contain more than 30 works of art created especially for this space, and more are continually being added; this summer alone, eight new works were came into the fold, created by the following artists: Martin Beck, Michael Beutler, Josef Dabernig, Nikita Kadan, Hanne Lippard, Ulrike Müller, NicoleSix/Paul Petritsch, and Sofie Thorsen. Each of the works elicit a singular dialogue with the 12th-century castle's past, its present, the times in which we live, and even the artworks already within the castle.

Hanne Lippard. Locus (2011). Spiral Staircase, H 700 cm, Audio-Installation 4 min 28 sec, 2018. Photo © Joerg Burger

Hanne Lippard. Locus (2011). Spiral Staircase, H 700 cm, Audio-Installation 4 min 28 sec, 2018. Photo © Joerg Burger

Hanne Lippard. Locus (2011). Spiral Staircase, H 700 cm, Audio-Installation 4 min 28 sec, 2018. Photo © Joerg Burger
One of the new installations – Locus (2011), by UK-born, Berlin-based artist Hanne Lippard (1984) – has been placed in the castle's historic tower. A blue spiral staircase has been erected within, reaching for the sky – and breaking through the haggard medieval stone walls to serve as a surreal observation platform. Lippard's instruments are language and one's voice; the narratives she creates manipulate the observer's perception and awareness. In experiencing Lippard's installation, the viewer is both an observer and a participant: accompanied by the sound narrative, one seems to be going both up and down the stairs at the same time – for a moment, you find yourself in an 'in-between' space among layers and layers of centuries.
The video work About the Relative Size of Things in the Universe (2007), by Vienna- and New York-based Austrian artist Martin Beck (1963), which can be seen in one of the halls of the castle, reconstructs the StrucTube created in 1948 by American designer George Nelson (1908-1986). StrucTube was a modular exhibition system that Nelson used for displaying his own work; it could be taken down and reconstructed in a myriad of ways – in other words, it easily became commercialised. It was also Nelson who, in the 1950s, came up with the so-called Experimental House – a modular cube system with domed Plexiglass roofs which could be customised into arrangements according to the user's individual needs. In Beck's video, Nelson's StrucTube system is assembled and disassembled, thereby reflecting on the aspects of sovereignty and control in the modern history of exhibitions.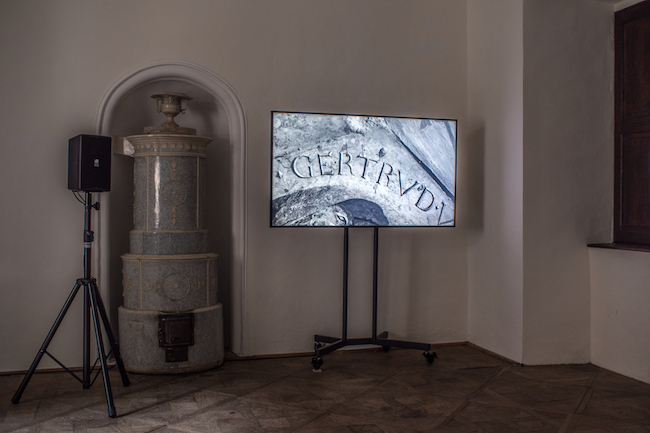 Josef Dabernig. Gertrud&Tiederich. Super-16 mm transferiert auf HD-Video, 10 min, Edition 1/5, 2018. Photo © Joerg Burger
Vienna-based Austrian artist Josef Dabernig's (1956) video work made with 16mm film, Gertraud & Tiederich (2018) was made in Buchberg Castle itself – it is a tribute to this unique place that is at once a part of the current art scene while also quite firmly 'anti-museum'. This sentiment is especially clear in the film's 'prayer' scene in which, accompanied by organ music, the artist himself reads a list of the artworks displayed in the castle.

Nikita Kadan. Private Suns. Metall, Neon, 180 x 230 cm, 2018. Photo © Joerg Burger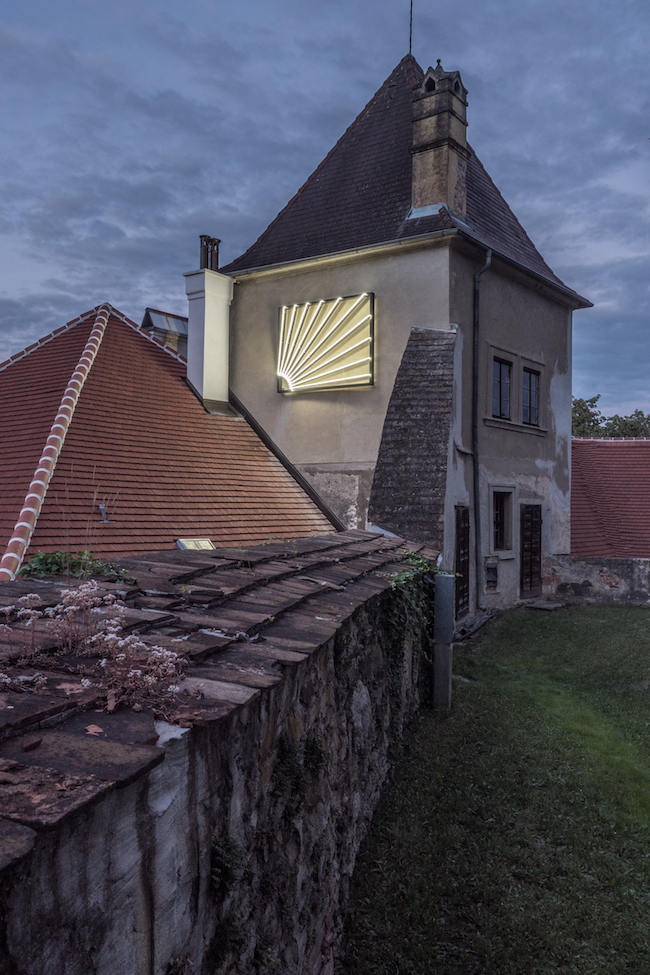 Nikita Kadan. Private Suns. Metall, Neon, 180 x 230 cm, 2018. Photo © Joerg Burger
From the western tower of the castle's facade there's a ghostly apparition from a completely other time and place – the neon quotational installation Private Suns (2013) by Ukrainian artist Nikita Kadan (1982). Visually, it's reminiscent of the typical sunburst pattern of metal bars that were placed over windows throughout the former soviet region – utopian dreams vs daily life as dictated by totalitarian ideology. After WWII, neon became an intrinsic part of social realism architecture in the socialistic countries and was seen everywhere on city streets, desperately trying to imitate the West's booming development and a taste of its glamour...but within the soupy confines of social realism. Neon signs would go on to become a platform for expression by graphic designers of the era. Nevertheless, once the regime crumbled, many of these neon signs were destroyed as reminders of the past – a past that those who had experienced it wanted to quickly distance themselves from.

Sofie Thorsen. Photo © Joerg Burger
Danish artist Sofie Thorsen's (1973) installation has been placed in the castle's archive room, which is usually crammed full with various documents and models. All of that has now been removed, and the windows which usually protect the room from the sun's rays have been opened up. With the aid of abstract metal constructions, Thorsen reflects upon the topography of both the castle and its exhibition rooms. Each 'frame' – with its bends, corners, and rough spots – precisely embodies one of the rooms in the castle.

Ulrike Müller. Curls. Enamel, 39,5 x 30,5 cm, 2017. Photo © Joerg Burger

Nicole Six/Paul Petritsch. North, South, East, West. 4 Colour Photos, 238 x 160 cm, Edition 1+1, 2018. Photo © Joerg Burge
All eight works of art were also part of this summer's exhibition Yesterday, Today, Today, which focused on the interplay between history and the present. Held at Kunstraum Buchberg, it was done in cooperation with Vienna's MUMOK museum of modern art.
As the Bogners assert: 'Contemporary art and social history are always linked to the past that they are attempting to overcome. When new stories are being told in historical locations, the history of these places appears in a new light, experiencing a visualisation through art.'