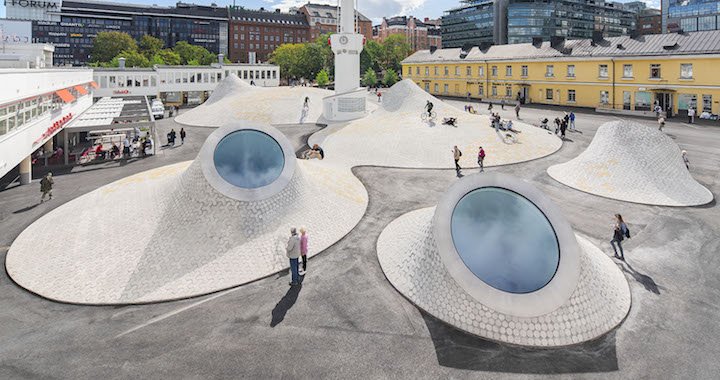 Amos REX – a new exhibition space in Helsinki
03/09/2018
A new and vast exhibition hall complex, Amos Rex, opened its doors in Helsinki last week. The new venue is located a stone's throw from Kiasma, Helsinki's museum of modern art (it's literally across the street). Both the media and the public were well aware of the opening on August 30 – a long queue had formed for for tickets (EUR 18), which was quickly being processed by cashiers dressed in futuristic gold lamé frocks. Situated under street level, the new exhibition space will be neighbours with Helsinki's historic Bio Rex cinema hall, an institution in itself which has always been housed in the elegant modernist building (and which also recently underwent renovations). Financial support for the newly opened complex is being provided by Föreningen Konstsamfunde, the foundation established by Amos Anderson (1878-1961) – a noted businessman, publisher, real estate magnate and patron of the arts. Amos Rex is the foundation's largest investment in the Finnish cultural process to date.

Photo: Tuomas Uusheimo
The informational booklet for Amos Rex begins rather amiably: 'Tremendous ideas spanning over five years, two and a half years of renovation, pedantic planning, and bursts of joy and nervous breakdowns – that's all behind us now! Amos Rex is open!' Then the writers continue on a bit more serious note: 'The time in which we live is characterised by intensive technological development, which also influences changes in visual culture. It is difficult to predict exactly what kind of exhibition spaces will be required for the art of the future. This is why we created Amos Rex.' According to the booklet, the museum's exhibitions will change three times a year: at the start of the year, at the start of summer, and in the autumn. Emphasis will be placed on contemporary, technologically complex experimental art, as well as on 20th-century modernism.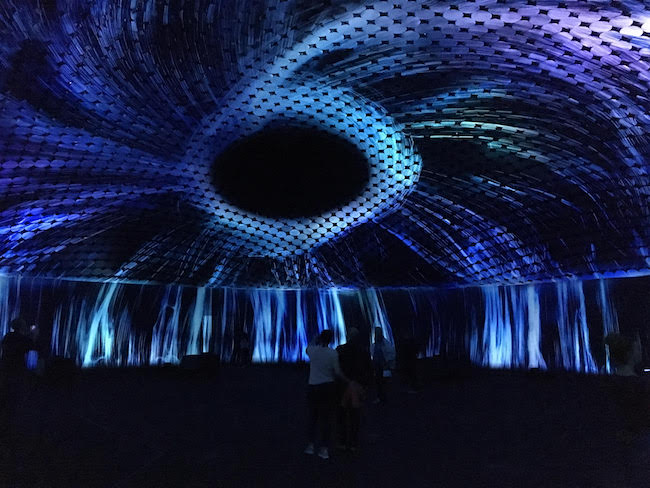 Photo:
Amos Rex is being positioned as a multimedia space featuring avant-garde, technological executions appearing side by side with examples of modernist art. The feasibility of such an arrangement is illustrated by the exhibitions currently on view at Amos Rex. Massless, an impressive audio-visual exhibition by the Japanese multimedia group teamLab, is the first and largest of them, and was specially commissioned by Amos Rex. It opened on August 30 and will be on view through January 6, 2019. teamLab consists of about 500 artists, programmers, mathematicians, and 3D-animation professionals who work together to create huge multimedia installations. Digital technologies allow art to get rid of its mass and connection to physicality; as the title of the exhibit indicates, this frees the art from being 'tied down'.

Photo:
Massless is made up of five video works, i.e. five large rooms in which the multimedia works are exhibited; more specifically, the works completely cover all of the planes of each room. It appears that the gigantic work Vortex of Light Particles is the core of the exhibition – a grandiose installation in which a flowing rush of virtual light and water spirals into a huge 'black hole" which opens up above visitors' heads. The installation makes effective use of the vaulted ceilings of the Amos Rex space, which happen to be directly under Helsinki Street. teamLab uses visual imitations of natural textures and processes to create a very convincing virtual audiovisual simulation.

Photo:
Also effective is the large installation Black Waves, which references the Japanese painting tradition that features water and waves. With its visual and aural score, Black Waves creates a powerful and visually fascinating feeling that one is thoroughly experiencing this blue-black element of nature – as if you could truly dive in and sink into its murky depths.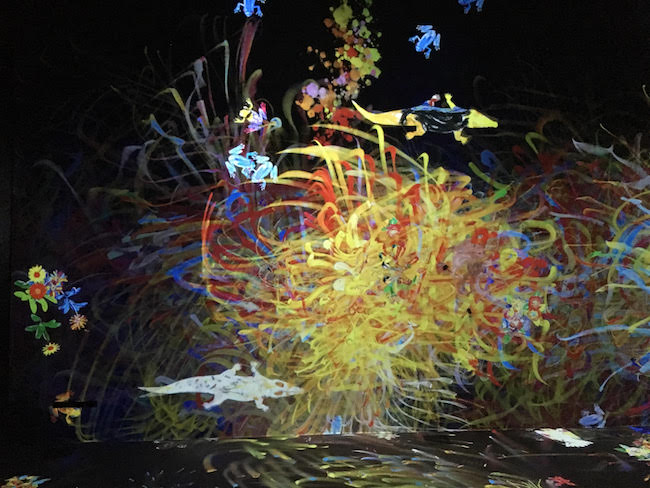 Photo:
What could very well become the exhibition's most popular work is Graffiti Nature: Lost, Immersed and Reborn. A bright, pulsating, technically complex collage of natural motifs and animal figures, visitors can add on their own works to it – in a separate room, visitors can colour drawings of different kinds of animals and then digitally scan them; after a short while, the drawings become a part of the installation. Graffiti Nature has been made as a unified ecosystem in which various elements mutually react and impact one another: butterflies, flowers and crocodiles flicker, pulsate, disappear and reappear. Children are especially fond of the glowing and kitschy exhibition in which they can actively colour, scan, chase virtual butterflies and crocodiles, and, of course, just run around the labyrinth-like room.
TeamLab likes cyclical themes, which is accented by the most ascetic and succinct work of the exhibition, Enso, which alludes to both the Zen term for a hand-drawn circle and traditional Japanese calligraphy. Another reference to the cyclical is the work Crows are Chased and the Chasing Crows are Destined to be Chased as well, a rather ironic multimedia installation. The installation causes the viewer to feel as is they are surrounded by a murder of crows. As the birds move, they leave trails of light. Crows chase other crows who will soon also be chased, but when the virtual birds collide, they transform into flowers.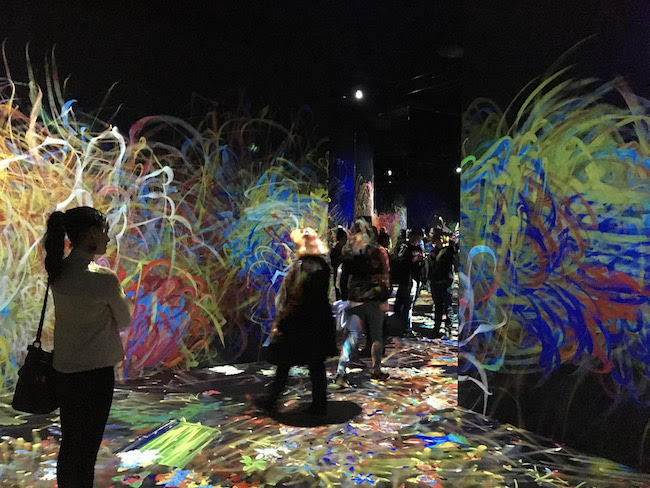 Photo:
These five subsuming multimedia installations at Amos Rex are neighbours to another, much smaller exhibition that seems to come from a completely different world – one of the museum's halls contains a permanent exhibition consisting of Post-impressionist works collected by Sigurd Frosterus.
Kais Kartio, the director of Amos Rex, has stated in the press that this new institution is not only an exhibition hall and museum, but an experimental space that also has a cinema, a museum shop, and restaurants. As a unified assemblage, it creates a unique experience to be had not only in the context of the Nordics, but in Europe as a whole. I can see no reason to not agree with that sentiment.