A journey to remember
Kai Art Center has been opened in Tallinn!
23/09/2019
On 20 September a new art and culture space Kai Art Center opened its doors in Tallinn with a group exhibition "Let the field of your attention…. soften and spread out", curated by Hanna Laura Kaljo. The team of Kai Art Center is made up by strong professionals of the field, with Karin Laansoo as its artistic director. The team says: "Kai Art Center aims to create an experience-filled cultural quarter that brings the contemporary art experience even closer to the public. Kai brings together artists, art and culture professionals, guests, and aficionados. We consider it important to promote Estonian contemporary art both at home and abroad, and we create ways to expand Estonian artists' horizons by providing studio and exhibition space as well as through international artist-in-residence programs."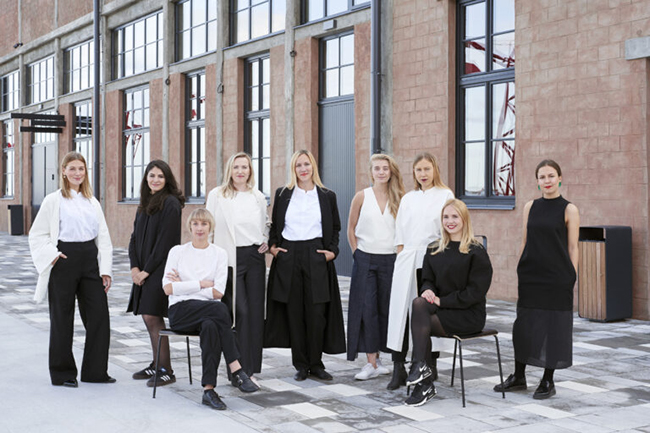 From left: Katrily Lepik, Alexia Menikou, Kädi Eelmaa, Karin Laansoo, Kadri Laas-Lepasepp, Triin Niinemets, Triin Metsla, Eeva Lillemägi, Kadi-Ell Tähiste
The new art centre offers its visitors an extensive and exciting programme of contemporary art, culture and cinema, as well as a possibility to participate in an education hub where arts professionals will be able to complement their knowledge both in creative and practical work and in seminars.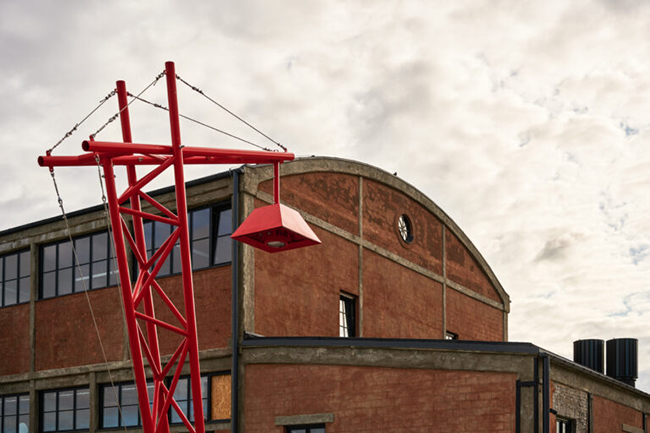 Kai Art Centre
The new art and culture centre is located in Port Noblessner on the shores of Tallinn Bay. Its history rivets in the early twentieth century when two businessmen from St. Petersburg – Emanuel Nobel and Arthur Lessner – built a submarine factory on the site that served the navy of the Russian Tsar. Simply and aptly – the title of the port comes from combining both surnames of those two gentlemen. For nearly a century this port area has been closed to visitors due to its military functions. Although the production of submarines was stopped in 1918 when Estonia gained its independence, shipbuilding and repairs took place there until last year.
The two-story concrete building where currently is located the Kai Art Center, was built in 1916 as a workshop space. The most unique element of the architecture is the curved concrete roof, thanks to which the exhibition hall currently has a ceiling of nearly 6 meters. The rebuilding of the art centre was designed by KAOS Architects, best known for their passion to adapt historical buildings for contemporary purposes. The space itself includes a large (450 m2) top-floor exhibition hall, office space and conference rooms for art organizations, an auditorium for 100 people as well as a residency space for international artists, curators and critics. As if it wasn't enough - visitors of Kai Art Center will also be very welcome to visit four cafes, restaurants and even a cocktail bar on the ground floor.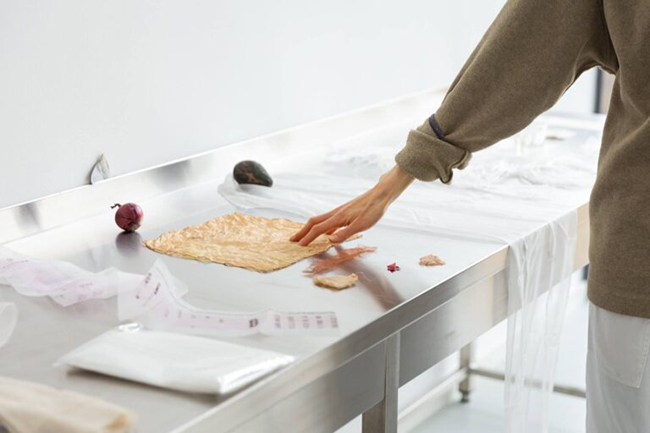 Sandra Kosorotova, project presented at Nida Art Colony, 2019, photo by Andrej Vasilenko
The exhibition "Let the field of your attention…. soften and spread out" currently on view at Kai is a story about the interaction of art, body and surroundings. Curator of the exhibition writes: "Arriving into the body, do I feel restless or tired? What holds tension, pain? Then, noticing the quality of the bay, of tidal movement, of the weather, as the sun sets into the Baltic Sea. Noticing my body's native capacity to resonate with other bodies and with the living land. We gather intimately to be with what is difficult, to witness movement and be moved. […] Amid crisis, like that of the collapse of ecosystems caused by human activity, we may gather around stories of recovery. The practices of the artists featured in the exhibition span visual art, moving meditation, deep listening, writing, textile and traditional medicinal knowledge. The gradually unfolding curatorial choreography is informed by the seasonal transition towards darkness and dormancy inherent to late autumn and early winter in Estonia. It brings attention to different registers of visibility, as we gather through small private moments and those more public." With the participation of Marie Kølbæk Iversen, Sandra Kosorotova, Pia Lindman, Andrea Magnani, Elin Már Øyen Vister, Carlos Monleon Gendall, Sam Smith and Nele Suisalu the show will be open until 1 December.

Sam Smith, Lithic Choreographies, 2018, film still
The title Kai comes from Estonian language as it simply translates to "dock", thus it has been pointed out that this space is both a point of departure and the final destination for many a journey.

Threshold, 2019. Photo by Mari Kakkola
In preparation for the exciting adventure, more information on Kai Art Center can be found here.