Navigating the Indeterminate Terrain
Ksenia Kaverina
(Re)configuring Territories in Narva Art Residency – mid-term reflections on the programme
Indeterminate Terrain Between Disciplines, one of the public events of the (Re)configuring Territories research programme, hints at where the programme, devised as a collaborative, open-ended process, seeks to operate. The aim is to remain on the surface that researcher and curator Carolina Rito defines as the plane of the curatorial: a plane that 'enables movement across disciplines; allows seemingly unrelated subjects to meet along their lines of flight; is driven by intellectual and conceptual disquiet; recognises intuition and contingent encounters; and finds new ways of engaging with urgent and current issues and their fugitive affects'[1]. The geography of (Re)configuring Territories is transnational: both the co-organisers – the Finnish Institute in Estonia, Narva Art Residency (NART) and the Trojan Horse collective – and the programme participants are active locally and globally. At the same time, one can think of a distinct location on the periphery where the project is situated: (Re)configuring Territories specifically 'aims to produce knowledge about interdependent social, political, geographical and technological processes in the context of Narva and reflect on postcolonial questions on the fringes of the European Union'.[2]
Trojan Horse collective – Kaisa Karvinen and Tommi Vasko (along with Ida Kukkapuro) – would organise a week-long school every summer on an island in the Helsinki archipelago around questions of critical design and architecture. It would be held at an analytical distance, making it possible to observe and understand generally accepted phenomena and mundane working conditions[3]. The Climate Change of Work summer school in Bengtskär island in 2017 had the goal of questioning broader ways of working as we continue using energy generated by burning fossil fuels, along with the technologies and tools that are being created in the process of work by designers and architects, which potentially lead to climate change and environmental decay. These themes find a logical continuation in the context of Narva Art Residency, which is located in the building of the former Kreenholm factory in Ida-Virumaa – a massive disintegrating textile complex in a shale oil production region that is on the verge of a major transition towards greener energy. Questions of culture and identity, including professional, are posed here with a special acuity. I was invited by Trojan Horse to join the (Re)configuring Territories programme as a participant, coordinator and curator, so this text is an attempt to remember what has happened so far, as well as contribute my own questions and understandings, as someone situated geographically and mentally in the region of the Baltic Sea, between Finland, Estonia and Russia.
The Road to Narva
The programme emphasises that Narva is at the easternmost periphery in terms of the European Union. A periphery is associated with something difficult to reach, located on the margins, probably not modern enough – anyhow, something that is secondary to the centre in the popular imagination. Max Ryynänen broadly criticises the need to engage with peripheries, metaphysical suburbs or ghettos, which is related to academic or artistic projects that come to the suburbs to spread 'art' or to help the locals to produce 'art', calling it a Central European tradition[4]. What does it mean to be critical and self-reflective about operating in the 'peripheries'?
(Re)configuring Territories programme poster in front of Narva Art Residency. Photo: Marina Koreshkova
One can drive to Narva from either Tallinn and St Petersburg in only 2.5 hours; however, I heard that locals in Tallinn say that travelling to Narva is like going abroad. To me, Narva is a city on the Russian-Estonian border, but I also tend to think of it in terms of St Petersburg's geography. The Narva road already existed when St Petersburg was being planned, and is one of the city's oldest roads that has kept its original name to this day. Located in the southern part of the city, not even the outskirts anymore, the Stachek ('Workers' Strikes') Square in the district of Narvskaya Zastava (the Narva Outpost) has preserved much of its revolutionary history, which also connects to Narva in its street names and architecture. But when looking at the Narva Triumphal Arch, a monument built to commemorate the victory in 1814 over Napoleon, which dominates Stachek Square, the distance to Narva feels almost longer than to Paris. Cities listed on the facade trace the glorious path of the Russian imperial army: Kulm, Leipzig, Fère-Champenoise, Paris. Ironically, the Arch is nearly a twin of the Arc de Carrousel in Paris, built 20 years earlier to celebrate Napoleon's victories. As if that military period, which reshaped the map of Europe 200 years ago, is still haunting the present.
Narvskaya Zastava ('the Narva Outpost') has its own museum specialised in local history – the Narva Outpost museum. Located partly in a manor of duchess Dashkova, partly in the house of a merchant who imported Singer machines to the Russian Empire, the museum is based on a narrative about historical characters and their achievements, for which archaeological finds, old maps, book reprints, contemporary drawings and mannequins in costumes on display are used. One can tell that the museum is not flourishing, and it looks just like any provincial local history museum. The duchess Dashkova, the first woman in official state service and creator of the Russian Academy of Science and Letters, was indeed an outstanding and seemingly open-minded female figure of her time in Imperial Russia (she was a famous anglophile, wrote letters to Voltaire, wrote music and spoke at least four languages fluently), but why the interest in her persona today? A visit to that place was like travelling into the past, not the 19th century, but before discourses on post-colonialism and decolonisation became prevalent in museum studies. It left me wondering why this perspective on history is thought as relatable or educational for museum visitors today.
The Narva Triumphal Arch (Narva gate) and one of the rooms of the Narva Outpost Museum (manor of dutchess Dashkova), Saint Petersburg, Russia. Photo: Ksenia Kaverina, 2021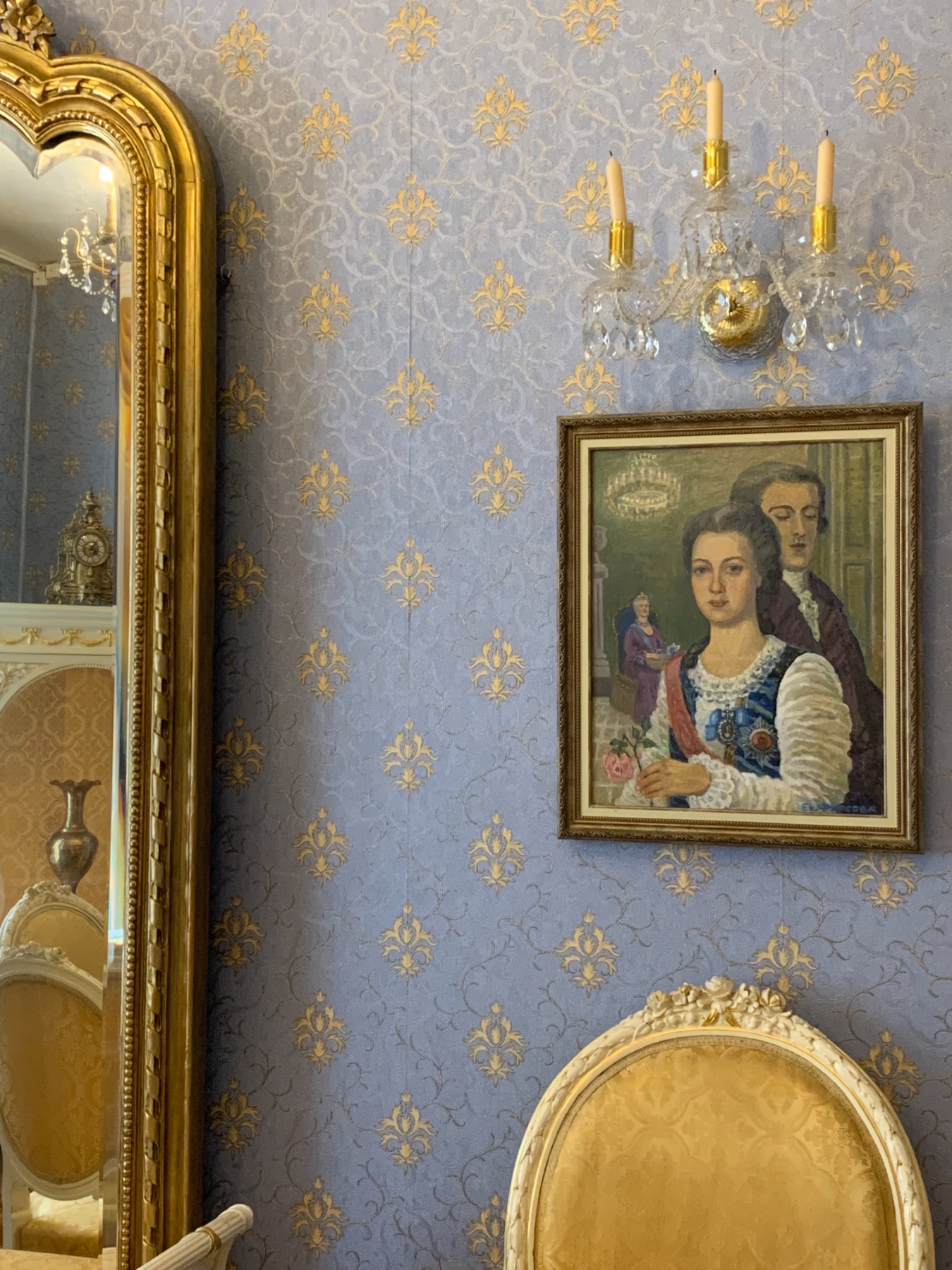 Krayevedenie, local history studies, is usually taught in Russia throughout the first grades at school: you visit museums to learn about the past and present of your region. As I grew up in St Petersburg, the Russian Ethnographic museum was the place to go. The section of the Peoples of the Baltic Sea there is dominated by a colourful mural The Friendship of Peoples of the USSR from 1960 (artists Leonid Polishtsuk and Svetlana Shcherbinina), representing men and women of different skin colours, dressed in ethnic costumes. As I remember it from the 1990s, the display (which hasn't changed much to this day) explains who the peoples of the Baltic region are, along with their traditions, occupations and religions – from there, it's easy to imagine how life was in pre-Peter the Great's time, before the first major modernisation and westernisation, but also just after the rapid standardisation and industrialisation from the late 19th century. The Friendship of Peoples mural is so memorable because the idea of the common Soviet modernity for all the USSR peoples clearly belongs to the past, and at the same time, this period is not at all reflected in the museum display. Back in the day, this section was actually quite modern: it focused on representing the best kolkhozes in every part of the Soviet Union, in the spirit of socialist realism of the time[5].
Section of the Peoples of the Baltic Sea, the Russian Ethnographic museum, St Petersburg. Photo: Ksenia Kaverina, 2020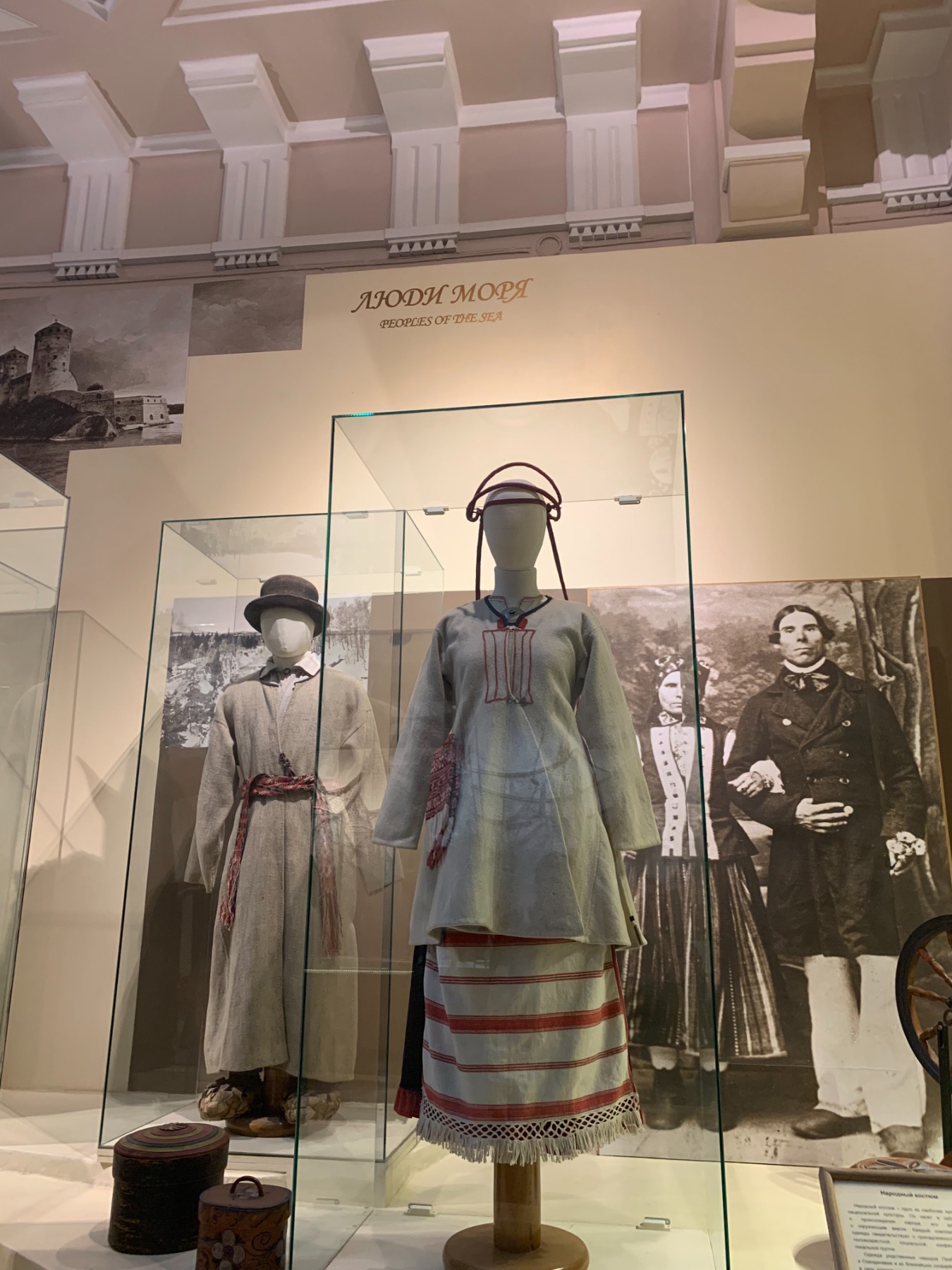 Unlike the Ethnographic museum in the very heart of St Petersburg, one of the institutions focused on the period of colonial expansion in the history of Russia, the Dashkova manor, stands in the middle of the former working district, and so has a different function – to be a cultural, somehow festive, public space (it serves as a palace for marriage registrations today). If we look away, turning to the constructivist and Stalinist classicism architecture around the Stachek avenue, similarities with today's Narva become more perceptible. Narva and the Narva Outpost area share the common industrial and Soviet past, and the history of workers' struggles. Does it make the lives of Narva inhabitants more similar to St Petersburg than, for instance, to Tallinn, which was further away from the imperial metropole, and from the revolutionary Petrograd? Narva, after all, is 90% Russian-speaking today.
(RE)Configuring Narva
Despite a childhood spent in a Soviet modernist area in St Petersburg, I am at the same time aware of my external position as an alien in Narva. Locals there are used to visitors and tourists, and they don't like being observed: a number of people approached me in the street, objecting that I take photos of them (I was taking photos of the surroundings, or simply looking at the map). Thanks to (Re)configuring Territories, I got to think of Narva not as a periphery or a border city, but as a fold on the map, a stop on the road that continues through the continent, with inhabitants who continuously define and redefine themselves. Through the presence of multiple languages and modernities, Narva seems to hold a promise for the coexistence of multiple worlds.
Archaeology of Postsocialist Narva, public presentation by Post-brokenness workshop participants, (Re)configuring Territories Spring School 2021. Photo: Marina Koreshkova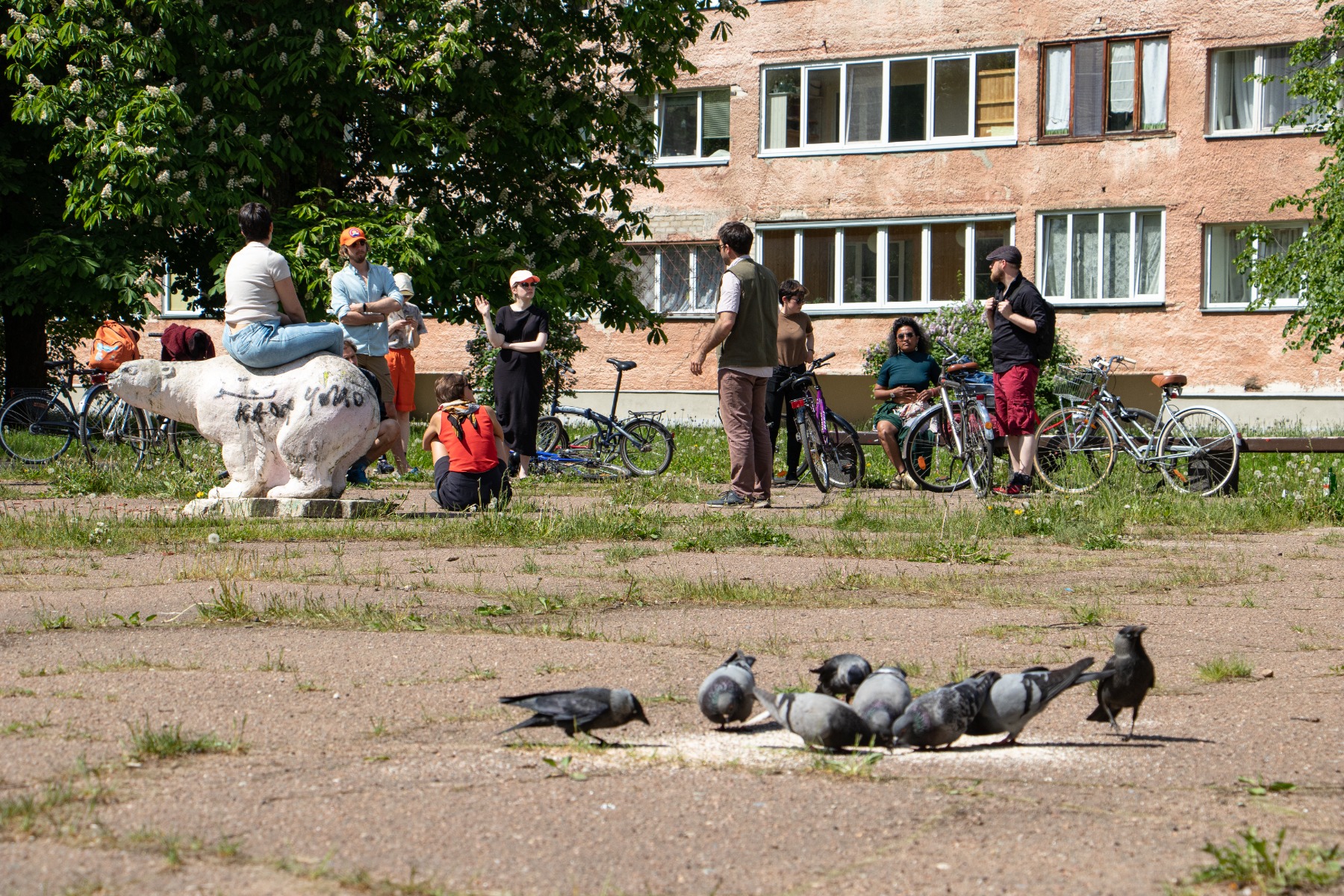 Farbod Fakharzadeh, A Narvian Construction (2021), (Re)configuring Territories Spring School, June 2021. Photo: Marina Koreshkova
To understand how Narvians perceive their city today, it is best to simply listen to them. In a video that resulted from the Deconstructed Field Study Workshop by filmmaker and artist Polina Medvedeva, during the first (Re)configuring Territories Spring School in 2019, a young person navigates Narva to travel to where her grandmother lives: to Ivangorod, a city on the other side of the border dividing Estonia and Russia. Before the pandemic, crossing the border daily was a common thing for people on both sides, and so families used to live like they did in the Soviet times, when there was no border as such. We are hearing a mix of languages – Russian, English, Estonian. The video conveys a familiar feeling, an atmosphere of certain hopelessness and futurelessness for post-Soviet suburbs. This could have been any city or district of the former USSR. On the way, we learn a story about the local textile factory that closed down in 2010, but remains central to the city.
(Re)configuring Territories Spring School 2019 – Deconstructed Field Studies, part 1/2 from Reconfiguring Territories on Vimeo.
(Re)configuring Territories Spring School 2019 – Deconstructed Field Studies, part 2/2 from Reconfiguring Territories on Vimeo.
The Kreenholm textile manufacture in Narva, which can be seen in the video, has been at the core of a number of artistic and autobiographical projects. This year, artists Sandra Kosorotova and Sepideh Ardalani chose to approach Kreenholm by creating a fictional dystopian audio walk, where a visitor is taken to a post-Great pandemic era, after some planetary disaster has happened. The walk is part of Point of No Return: Attunement of Attention exhibition, curated in Narva Art Residency by Ann-Mirjam Vaikla and Saskia Lillepuu. Kosorotova's and Ardalani's Garden For Death included an installation utilising composted vegetables and fruits around the fountain near the main entrance to the former factory. It is visual and sensorial and the most 'alive' part of Kreenholm – and even though it will be over when the exhibition ends, it continues in some form with the Kreenholm plants garden project across the street that Kosorotova is running. This is a form of memory work that is being done with the involvement of the local community, with the factory in the background, even if there is no Krenholm factory museum. Personally, using something that is decaying as a nurturing compost is a liberating and hopeful metaphor, unlike having a conservationist or nostalgic attitude for tomb-like moulded buildings and a past glory.
Sepideh Ardalani & Sandra Kosorotova, Garden For Death (2021), installation in the former Kreenholm factory yard. Part of exhibition Point of No Return. Attunement of Attention in Narva Art Residency, curated by Saskia Lillepuu and Ann Mirjam Vaikla. Photo: Hedi Jaansoo
Sepideh Ardalani & Sandra Kosorotova, Garden For Death (2021) (detail), installation in the former Kreenholm factory yard. Part of exhibition Point of No Return. Attunement of Attention in Narva Art Residency, curated by Saskia Lillepuu and Ann Mirjam Vaikla. Photo: Tommi Vasko
Reconfigurations are happening in our polycentric world, whether we like it or not: collective unlearnings; ongoing processes of decolonisation; changing governmentality; this is why physical and imaginary borders attract researchers. Francisco Martinez, one of the programme mentors in 2021, pointed out that the idea of a field originates from colonial expeditions, with white men gathering intelligence away from the metropole, dominating the colonies. Performative role-playing, employed as a research method by the Trojan Horse in Live Action Role Plays (LARPs), helps to become more conscious of the surrounding landscape, as a way of reading and understanding the field from a variety of perspectives. This year, the online LARP in Narva titled Dear Mist: A Journey Through Folklore and Energy Politics focused on energy, and it allowed us to inhabit the perspectives of, for instance, a factory worker, an Old Believer, a Narva local, or even of air and water.
The Narva Art Residency is the closest to the St Petersburg permanent contemporary art institution hosting an international residency and supported by the Estonian Ministry of Culture. To add to the question that we discussed in the first gathering of (Re)configuring Territories, 'how can residencies and gatherings create discussions about borders, territories, and design and architecture cultures?', it seems relevant to ask today: how could even a greater number of places and locations in the Baltic Sea region, including in Russia, welcome these discussions? Numerous projects and activities have already taken place in the Baltics that aim to imagine borders in more porous ways, and to understand the state of mind of peripheries in this area. And, much has been written about the need to reconsider practices and structures in art making and art residences from a more ecological point of view[6], which also means recognising local interdependencies and different temporalities. Sustainable visions for the future are those carefully weaved into the past, as anthropologist Tim Ingold metaphorically suggested, speaking at the RIBOCA biennial in Riga in 2020[7].
The programme in Narva Art Residency has been running since 2019, and by 2020 it became a three-year iterative research process, including a residency, educational workshops and live-action role play. In December 2020, residents, mentors and organisers gathered online for the first time on the occasion of the long-awaited public launch of (Re)configuring Territories programme, postponed because of the Covid-19 pandemic. A physical gathering became possible in May-June 2021 with the (Re)configuring territories Spring School and live action role play. The focus in 2021 was on feminist spatial practices. The programme is continuing in 2022 with the theme Histories of tomorrow – speculative educational institutions and cities of the near future, with artist residencies of Laura Kuusk (Estonia) and duo Varialambo (Finland) at the Narva Art Residency, another Spring School and a live action role play, as well as a final gathering.
Thanks to Kaisa Karvinen and Tommi Vasko, Anu Heinonen and Karoliina Korpilahti from the Finnish Institute in Estonia, Ann Mirjam Vaikla and everyone involved for the opportunity to write this text.
Organizers and participants of Post-brokenness and Obshenie workshops, (Re)configuring Territories Spring School 2021, Narva Art Residency, June 2021. Photo: Marina Koreshkova
***
[1] Carolina Rito (2020), What is the Curatorial Doing?, in: Institution as Praxis. New Curatorial Directions for Collaborative Research, p. 51.
[2] (Re)Configuring Territories (2021), www.reconfiguringterritories.net.
[3] Trojan Horse collective (2021), www.trojanhorse.fi.
[4] Max Ryynänen (2020), On the Philosophy of Central European Art. The History of an Institution and Its Global Competitors, Lanham, Maryland: Lexington Books.
[5] Petriashin S. (2018), Sotsrealizm i etnografiya: izuchenie i reprezentatsiya sovetskoy sovremennosti v etnograficheskom muzee 1930-kh gg [Socialist Realism and ethnography: the Study and Representation of Soviet contemporaneity in ethnographic Museums in the 1930s], Antropologicheskij forum, 2018, no. 39, pp. 143-175.
[6] Taru Elfving (2020), Time to Take Time to Get Grounded, www.eva.ie, retrieved 26 March 2021, from www.eva.ie/wp-content/uploads/2020/10/Groundings1_Taru-Elfving.pdf.
[7] Tim Ingold (2020), The Young, The Old And The Generation Of Now, talk at RIBOCA2, 6 August 2020 (online).
Title image: (Re)configuring Territories programme poster. Photo: Tommi Vasko