Estonia's petite photo fair

10/10/2012
Estonian photography art fair or Eesti Fotokunstimess, which took place October 5–7, has comfortably situated itself within the Tallinn's creative Telliskivi Loomelinnak neighbourhood – an ex-factory transformed into cafes, designer shops and artist's studios. But on a Saturday's morning, the day chosen to visit the event, a hectic second-hand market, selling everything from old VCR tapes, to black leather jackets and mismatched porcelain china, has invaded the urban space's creative setting. Many would say that this relates well to the commercial character of an art fair (and in many cases they would be right), but not here.
Organised by the Estonian Union of Photography Artists, Eesti Fotokunstimess is not what you would typically label as an art fair, as here, instead of galleries, artists themselves have proficiently inhabited the exposition walls. It is also a petite fair, occupying the space just slightly larger than what some art fairs would allocate for the use of a single gallery. I am greeted by Marge Monko, one of the fair's participants and the founding member of the Union of Photography, who voices that so far the audience's response has been very positive, but "of course, when you are using the term "fair", everybody is expecting a lot of images, big crowds and so forth. But it goes both ways – we are developing ourselves and educating the audience." To my question, why is there a term "fair" used to describe the event, Marge swiftly finds the answer – "because we sell here, and we also have talks, guided tours and a film programme, besides the main exhibition. It's a format, which is closer to an art fair."
Although the fair's list of exhibitors mainly consists of members of the Estonian Union of Photography, the criterion for participation was actually quite modest – artists should have a prior practice of exhibiting. Surprisingly this one instruction has guaranteed a convincing result. As soon as you enter the worn-out exhibition space you find yourself fixed in front of Dénes Farkas large-scale minimalistic work titled "In my dreams there were stairs behind the corner…" which the artist has constructed by photographing fragments of paper models. For the last ten years Dénes Farkas' primary focus has been on reflecting social structures in a concise visual language, combining photography and captions as means of expression. The photo artist was also chosen to represent Estonia at the 55th International Art Exhibition, La Biennale di Venezia. And Liina Siib, who inhabited the Estonian pavilion during the 54th Venice Biennial, is also contributing to the photography fair. With her on-going project "In America" the artist again explores the different representations of women and femininity. Liina Siib is often found playing with the boundaries of what the viewer might find obscene and chooses to interact with individuals in contrast to her, thus becoming a voyeur of their different worlds.
Anna-Stina Treumund, from the series "Lilli, Reed, Frieda, Sabine, Eha, Malle, Alfred, Rein and Mari", 2012. Price - 500 euro.
Dénes Farkas "Dysfunctional game", 2012. Price for the series - 2000 euro.
Dénes Farkas "In my dream there were stairs befind the corner...", 2012. Price - 4000 euro.
Liina Siib "In America", 1998/2012. Price - 190 euro (each).
Included is also Sigrid Viir, a member of a creative enterprise called Visible Solutions LLC, who represented Estonia at this year's Manifesta biennial. Displaying part of the series "Do Not Look at Me" the artist introduces viewers to her models - striking a pose in their households and wearing casual attire with associations to home. A white background separates each individual from his or her surroundings, but the photographer still leaves part of their living environment exposed. More than once has Sigrid Viir engaged the role of a model herself, yet this time amusing postures seen in fashion catalogues have manifested to the inspiration of this project.
Sigrid Viir, from the series "Do Not Look at Me", 2008. Price - 700 euro (each).
Sigrid Viir, from the series "Do Not Look at Me", 2008. Price - 700 euro (each).
Marge Monko also took part in Manifesta, but here, however, she is revealing photographs from the series "Fall of Manufacture" – industrial images taken at "Kreenholm", an abandoned textile factory near Narva, which the artist has continuously revisited for three years, documenting the continuous transformation of the site. Two of the artist's great grandmothers once used to work in this monumental factory and the tales surrounding the building have often circulated within the family.
Marge Monko, from the series "Fall of Manufacture", 2009. Price - 160 - 300 euro (each).
Marge Monko, from the series "Fall of Manufacture", 2009. Price - 160 - 300 euro (each).
Regarding the younger generation of photographers, Eesti Fotokunstimess has plenty to offer. Paul Kuimet from Estonia and Mikko Rikala from Finland (who recently presented a conjoint exhibition in Tallinn) are displaying detailed yet abstract pieces "A Proposal for Releasing Time/Space". Conceptual photographer Johannes Säre is represented by a single piece titled "Unprinted Photo of a Chair" – a famed unexposed photo paper. Tõnu Tunnel has photographed "gaps" of the city space and filled them with drawings of buildings that once stood there. Helen Melesk is showing a conduct of a social experiment. But Laura Toots' three images from the series "Lovers Discourse" illustrate fragments from a couple's life. These small images, mostly covered with pastel coloured paper, are just a few of the pieces proud to wear a bright red speckle next to them, the sign of a completed sale. One of Marge Monko's pieces has also changed hands – a small photocopy of an Estonian classical painter Johann Köhler's piece "Broken Thread". Sold are also Paco Ulman's photographs "Untitled", depicting artificial clouds in rooms under construction. With the background in architecture, it is no coincidence that Paco Ulman's photos and videos are connected with the space and its staged environment.
Paul Kuimet & Mikko Rikala "A Proposal for Releasing Time/Subject", 2012. Price - 1200 euro.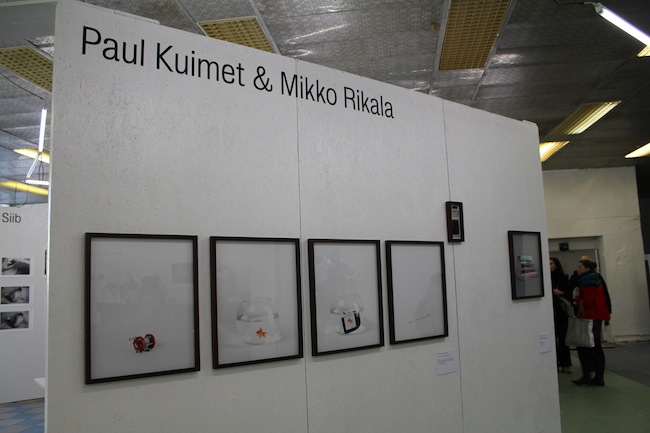 Paul Kuimet & Mikko Rikala "A Proposal for Releasing Time/Subject", 2012. Price - 1200 euro.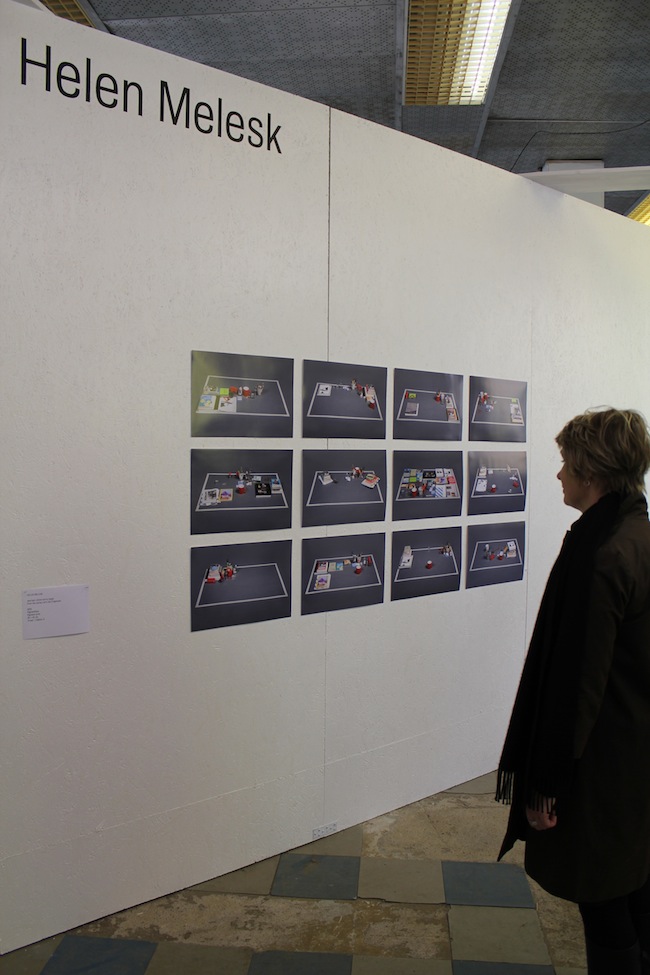 Helen Melesk, from the series "Let's Get Organized", 2010. Price - 100 euro (each).
Tõnu Tunnel, from the series "Holes/Wholes", 2011. Price - 200 euro (each).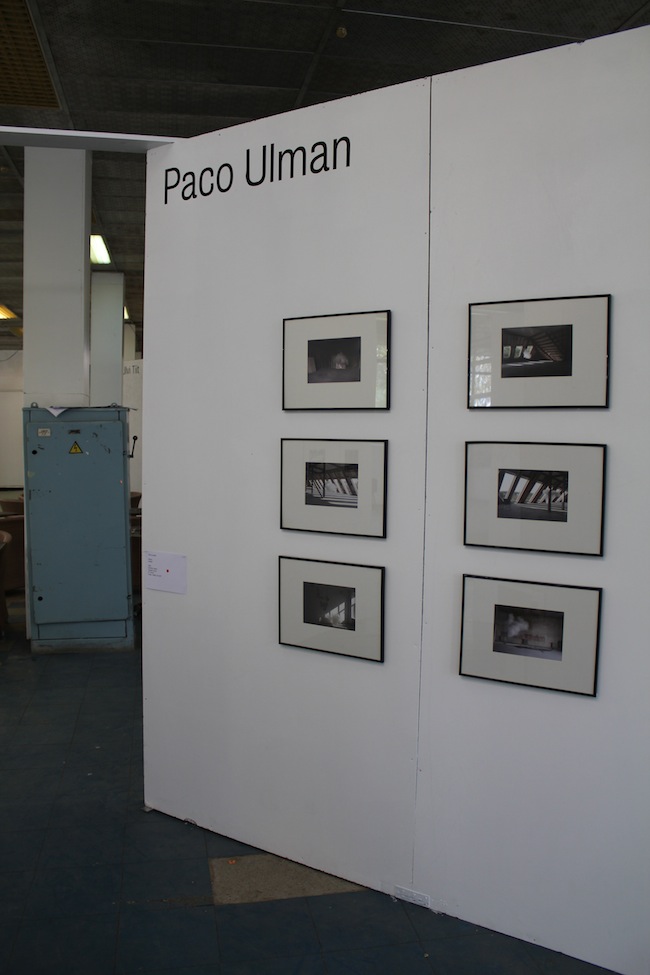 Paco Ulman "Untitled", 2009. Price - 50 euro (each).
Although signs of successful sales are present thought out the fair, so far the visitors have favoured the least expensive works. "We have not been too successful in selling, because the market for photography is still developing. We also don't have many collectors, who would buy photography. It takes time," Marge tells me. "But it's getting better and better. Some truly talented artists have just graduated or are about to graduate the Art Academy and many of them have also studied abroad. I feel that a dialogue is developing between Estonia and the contemporary art abroad, which hasn't always been there." Regarding the future of the fair and the possibility to open the event for neighbouring participants, Marge agrees, "the organisers should come together and consider expanding the event or developing its format." But it also "depends how much energy and enthusiasm the artists and the organisers will have, because it's easier to raise money for exhibitions. This event is considered to be rather commercial and it's difficult to fund it. Nonetheless, I think it's a very necessary format – something that was previously missing. It's also important for the artists; it gives them the opportunity to approach the audience from a different angle."
Tarvo Varres "Corners", 2010-2012. Price negotiable.
Laura Toots "Lovers' Discourse", 2012. Price for the series - 350 euro.
www.fotokuu.ee