The Lost Bohemia
Dmitry Golynko-Wolfson
02/01/2013
Forms of life in the bohemian society of Saint Petersburg (historical ethnographical essay)
1
During the second half of 20th century many saw Saint Petersburg (also known as Leningrad or Peter) as acknowledged artistic place, the city of idle dandies unladen with families, social status or liabilities. This unsettled bohemian state differed Petersburg from family and business-oriented patriarchal Moscow. The latter denied bohemia by its entire traditional and material social pattern. Culturally, Petersburg striked as the city of short puse and starving freedom as opposed to rich, fat Moscow that held its oil-capital and the entire federal budget. Peters's bohemian reputation was sustained by the variety of its mythological images: this city was a copy of an idealized imaginary Europe with no recognizable historical or geographical original. It was the Ghost-city, the Demonic mirage, the mass scale dreaming. Petersburg perfectly pictured the idea of Bohemia, the delusive social community.
Poet and musician Alexei Khvostenko
It is noteworthy that the term 'bohemia' itself doesn't have any certain representation or definite features. Peters bohemia is a common type of urban bohemia (like one of Berlin or Paris) organized as asocial unstructured communities. Such communities usually hang either around or inside artistic circles or political elite while working out new remonstrative social, behavioral or ideological patterns. When competitive economy era develops rapidly, bourgeois society inoculates punishing scenarios of success and benefication, and one of its products is urban bohemia. In order to get rid of the convetional patterns imposed by regime, the most maverick part of cultural audience seeks to invent some alternative ways of life. The period of late Soviet Union and early stage of wild Russian capitalism was characterized by strict regulations of all social scenarios, and, surprisingly, it created the most suitable circumstances for bohemian identity and bohemian communities to raise in St. Petersburg.
The bohemian environment contrasts itself against the commercial mainstream, whether it is parapolitical bureucracy (Communist Party had unlimited access to the administrative resouces and material benefits share in Soviet times) or the oligarchal capital that had over taken the common resources later, in 1990s. Due to this constant open opposition to generally accepted order, bohemia started to form new patterns of life. It embraces lifestyle free from the middle-class moral on one hand; on the other hand it delivers the special kind of bohemian subjectiveness, very volatile and unpredictable (this is where the myth of the bohemian whimsicality comes from).
In fact, bohemian subjectiveness is a link between bourgeois and revolutionary subjectiveness: bohemia helps passing from one stage to another, from bourgeois to rebel and vice versa. As the Western capitalism infiltrated the society, bohemia often contributed to turning bourgeois to the earnest revolutionary. In St. Petersburg, quite the opposite, many charismatic leaders and pompous revolutionists of Perestroika experienced bohemian lifestyle and turned into successfull entrepreneurs or political figures after.
The main difference of bohemia in St. Petersburg is its essential placelessness. Although, it's not a territorial placelessness (quite the opposite, many important figures of local bohemia are firmly bounded to certain toponims of urban landscape, such as coffeebars, squats or clubs), but a certain metaphysical placelessness (Peters bohemia seems to lack its own place in the global historical process or contemporary educational projects). Historically-philosophical background of the city itself also contributes to this greatly: Saint Petersburg initially was built as the point of voluntary break-up with no historical logic and cultural tradition policies. Peters bohemia voluntary excludes itself from the history line: it has no past, it lives only for playful reckless present, therewith, creating a phantasmagoric model of the today, sometimes ridiculous and foolish.
Composer and musician Sergey Kuryokhin. One of the key personalities of Peter underground in 1980s. Photo Lev Goncharov.
Not only the bohemia seems to have no past, but also no future, but that's not true at all. Paradoxically, its claimed model of comtemporaneity is actually the point of making the future, the future of social utopia based on free consolidation of creative units. In other words, the present of Peters bohemia is an imaginary future zone that already exists today. This is how metaphysics of Peters bohemia appears, it may be a little naive and simple-minded, but certainly full of creative potential.
When it comes to finding its place in life, Peters bohemia is mostly past-oriented, it chooses to urn its face to the periods of impetous efflorescence in science and art. One of these periods is Silver Age, the period when style directions such as realism, symbolism, acmeism and futurism, struggled intensely; the other one is early and mid- 1920s, pioneering days of the formal approach, when the activity of the Emotionalists Artists Group arised and World Literature publishing company was initiated by Maxim Gorky; last but not least comes the Era of Stagnation in 1970s and 1980s when the phenomenon of underground came to life. In USSR it became second, West-oriented unofficial culture that searched to explore values of Western civilization, from theology to artistic avant-garde.
2
The main ideological value of Peters bohemia is the principles of cultural universalism: inside bohemian perception symbols and codes of the remote cultures harmonize perfectly with no semantic conflicts or logical contradictions. Peters bohemia tends to mix antique classisism and imperial baroc as well as these are mixed in architectural landscape of St. Petersburg or in literary tradition. But in fact, this tendency to mix the unmixable can lead to many explosive effects and existential failures, like trouble differing true reality from delusive cultural imitators often shown by members of Peters bohemia.
Bohemia perceives the city as infinite cultural archive and doesn't even try to hide lack of respect towards this archive, they rather treat it with cautious irony of even mocking sarcasm (since this archive assumedly consists of common cliches and secondary copies of European culture). Bohemian vitality is being compared with the bash, everyday carnival (the source of this image is Mikhail Bakhtin's culture of laughter theory, where carnival is characterized by easy folksy communication and regular crowning and debunking of the carnival king, the charismatic leader of bohemian society). While spending days and nights in the atmosphere of flamboyant feast, the bohemia also runs into total absurdity of the carnival fun. This absurdity brings in such life elements as dark depression and painful sobering. In fact, the absurdity surrounding Peters bohemia has the same literary genesis as its addiction to the carnival: it comes from nonsensical works of the OBERIU Group (the Association of Real Art) (Daniil Kharms, Alexander Vvedensky, Yakov Druskin and others). Already in 1920s-30s they had opened up the irrational nature of any spoken or cognitive act. However, for Peters bohemia both carnival and absurd show up in theatrical, not existential form, because also their practice reminds of the brief excentric performances.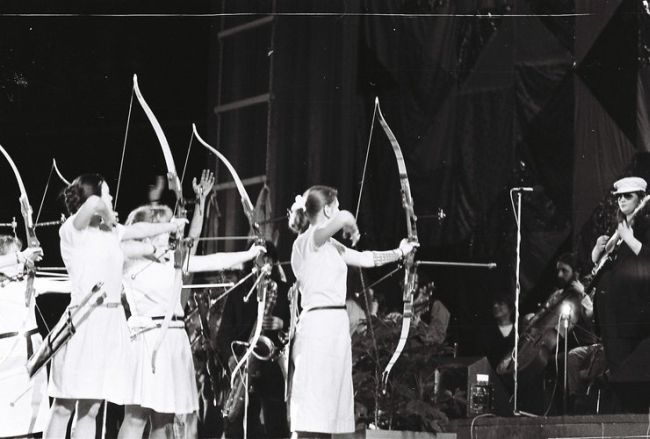 Probably, the brightest carnival aesthetics from mid-eighties: shows of "Pop Mechanics" ("Поп-механика") with even acheresses involved. Photo by Lev Goncharov.
It is interesting that in terms of social positioning Peters bohemia practices some sort of cultural elitism and shows equally scornful attitude both towards power and people, politicaly machinery and different layers of population (from wealthy middle-class to rightless and deprived, homeless and migrant workers). This elitism is the result of Peters bohemia rooting in Soviet liberal intellectuals (intelligentzia, engineers and technical personnel in USSR). Intelligentzia tended to indulge irtslef in its status, because it differed from the status of the ire Soviet society. Unfortunately, the haughty assumptive tone used by bohemians for everyone is exactly why they couldn't get out of this very narrow circle of communication and start a real reform work, thread the path of ecological and political activism.
... or finalists of the First Beauty Contest in Leningrad. In the middle Sergei Bugayev (Africa). Photo by Lev Goncharov
Therefore, Peters bohemia voluntarily divided itself from the society (and keeps on doing that) in social enclaves, which are quite comfortable and enclosed at the same time. The only way out of these enclaves, since they didn't have any trigger from the outside, was quite pessimistic, if not tragic: practice of self-destruction, dipsomania, drug-addiction and sexual experiments. The most favourite shelter of Peters bohemia since Soviet times are romanticized little smoky bars, where the so-called bohemian class huddles at the dirty tables next to boozers with a glass of cheap dodgy vodka. It is no coincidence that not a posh French restaurant but a bedraggled bar (where unbearably raw vodka is chased down with a boiled egg or a salty fish) is a distinctive mark of the bohemian social physiology. It admits itself an inert and invertebrate collective body that follows the extacy of self-destruction and longs for the final stage of decay, but never reaches it. It never tries to get off this road as if it enjoys its self-destructive drive. Not always this self-destruction factor, true physiology of Peters bohemia, bespeaks radical ascetism and self-denial; sometimes it turns out just a game, a part of bohemian behavioural code.
3
The story of Peters bohemia from late Soviet times until today is a track of changing aestheticized forms of bohemian life. From mid-50s until early 90s bohemian cultural life was based on so-called coffee-culture. The bohemian elite was localized at few bars with coffee-mashines (there were more of thereof in St. Petersburg than in Moscow, where they largely spread only during Perestroika).
At "Saigon"
So, where Peters bohemia used to gather and hang out? For instance, artists have been gathering at the coffee-bar at Malaya Sadovaya Street since the first in the city coffee-machine was established there. They discussed poetics of Wiener Gruppe, Ernst Jandl and Friederike Mayröcker, poets of these years, whose pieces, for a wonder, got into Peterburg's undergroud.In 1964 on the corner of Nevsky and Lyteyny famous Saigon was opened, and immediately it filled with all kinds of bohemian characters from book speculators to drug-dealers, from struggling artists to dissidents. There was also hippyish Gastritis ("Гастрит") on the corner of Nevsky and Rubinstein Street where crummy visitors sometimes grabbed food from someone else's plates. Or in 1980s they used to gather in new places like Skvoznyak and Ogrizok (Draught and Scran) and passionately discuss fresh publications of previously forbidden or suppressed authors, both Russian and foreign.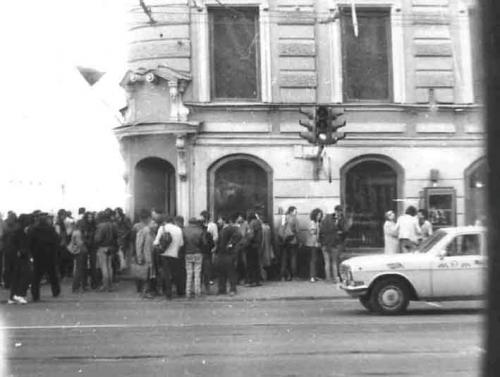 "Saigon" back then. And now
The scenario of hanging out in these places was very regimented. Visitors came to the coffee-bar everyday at the same time and joined the enormously long queue. In half an hour they got to the bar, ordered a double coffee (so-called small double) in a plastic glass, drank it while standing at an uncomfortable table, then went to the back of the queue. All this time they were talking talking and talking to everyone about everything: culture, literature, painting, numismatics, books collecting, quite seldom about politics and really seldom about the rough and tumble of life. Not always they knew each other by their names, often they had made-up names. The name Faust was especially popular, sometimes few Fausts could hang out in Saigon at the same time and when someone called that name, they turned around all at the same moment.
When it comes to social set-up of the then coffee-culture, most of them came from Soviet liberal intellectuals (intelligentzia), who knowingly turned away from their official professional rules. Oleg Aronson in his book Bohemia emphasizes that moral model Russian intelligentzia assumed was realized by no one but bohemian layer. In other words, bohemia was the bearer of ethic virtue that belonged to intelligentzia, of which main was freedom of indivudual search and self-expression.
Sociologist Yelena Zdravomislova in her description of Saigon, the main shelter for bohemia of Leningrad in 1960s-1990s, uses the word negative when talking about this sort of egocentric freedom. This term is borrowed from Isaiah Berlin. This negative freedom, praised to high heaven by Leningrad's bohemia, embraces absentiism, evasion from any sort of social configuration imposed by the state order. Besides, Leningrad's bohemia,consolidated by value system of coffee culture, served as interagent between society and dissidents and more often it turned to political nonconformity.
Rockabilly under pillars of St. Isaac Cathedral.
At the turn of 90s, at the height of Perestroika and just before the break-up of the USSR, coffee culture was killed by harsh economic laws imposed by the new era of primary accumulation. In 1989 Saigon was closed for reconstruction, and the first to occupy its place was an outlet trading imported bathroom fitment, later there was pompous Radisson hotel. In 1991 Skvoznyak and Ogrizok gave place to Reebok store and several fashion boutiques. The square where Gastritis was now hosts McDonald's. And all the freaky alternative crowd such as hippie, punks, rastamen, rockabilly and the segment of the stage, positioning themselves as new (like new artists, new composers, new reviewers etc.), they began to squat in the old derelict buildings. And Leningrad was full of them. In the late 80s there was graffitti-painted squat named НЧВЧ (High Frequency/Low Frequency) at Tchaikovsky Street, but it didn't stay for long, just for couple of years. The longest-liver and legendary squat was the building at Pushkinskaya Street, 10. In 1991 it was overtaken by shuttle-traders (dealers of cheap Turkish goods), they used the building as the storage place, but soon left it due to insanitation and absence of electricity and heating. The empty place soon was taken by undergound artists and musicians. They opened their workshops there and stood by their new place, defending their territory from city authorities until reconstruction of the building in 1997. After that, two wings of the building were given to the artists to establish the official fund Free culture.
What is interesting, the daily life in this squat had the sense of community and hospitality. Many of the workshops would open their doors 24/7 for all the visitors, offer some tea or vodka in aluminium mug and hosts usually would never saw their guests off until they left themselves. During cold Peters winters bohemia gathered in the large yard and made fire, often burning pieces of their works and installations. In the mid-90s new galleries began to appear in the squat one after another: one of them, Gallery 103 was a zinc-covered cubic room with the photo of a simple electrician hanging on the wall, braided with the electric string of lights. Obviously, this was the time when the life of Peters bohemia became a total performance: all the real cares and troubles were forgotten or postponed, and the bohemia sinked into endless theatralization of its own life.
4
In 1992 at Liteyniy (avenue) the non-profit gallery Borey ("Борей") was opened. It became the symbol of bohemian living for about 10 years. Almost every day, from the early morning till late evening poets, artists, philosophers, designers filled the rooms of gallery. They conducted intellectual talks and wittily discussed recent books and exhibitions. This gallery for 10 years symbolized Peters bohemia and demonstrated its main characteristics: first of all, intellectualism and hyperseriousness (as opposed to irony of Moscow and its affection to pop-culture). Second thing was mixing professionally different people in one bohemic society, such as novelists and mathematicians (again, as opposed to Moscow segregation of professional communities, even writers and artists would barely meet in its public space). In the mid-90s Peters bohemia stepped in the newly opened rave dance clubs, which were very popular at the time. This culture seemed to promise new unlimited horizonts of behavioural freedom (basically, due to psychedelic cult of MDMA drug also known as ecstasy). Therefore, bohemia spent its living in 1990s in the format of clubs and galleries.
Nowadays, 1990s are often interpreted as the peak of bohemian activity. Stable Soviet life scenarios were destroyed and devaluated, new mandatory scenarios were not yet established, therefore, alternative bohemian life models became massive during this decade. Old social barriers were destoyed when new social elevators were not launched yet, and in as long period as one day a boho from Peter could go to the reception at a foreign consulate featuring city governement to a dance party in a freshly-cleaned basement. Bohemian life scenarios in 1990s exploited extravagant looks and alternative manners too intensely, and in the end of the decade negative consequences began to unfold. For instance, self-destruction became much more intense, and many Russian cities including St. Petersburg were affected by the heroin boom.
From Igor Voloshin's film "Nirvana".
In 2008 filmmaker releazed the movie Nirvana where Peters bohemia of the 90s was depicted in a nostalgic cyberpunk steam: fancy dressed heroin-addicted cyborgs try to invent an artificial nirvana (something similar to Baudelaire's artificial paradise). Indeed, there was something futuristic, something cyberpunkish in Peters bohemia, which oftentimes wore such outfits as suited dress coat paired with spaceman's helmet. Systemwide collapse of bohemia began in late 90s due to spread of heavy drugs. It was simply dangerous to join bohemia, besides, creative youth started to move to the Western world to join univercities or went looking for better earnings and career development in Moscow.
What happened to Peters bohemia in 2000s? Does it still exist as an alternative society? It is a difficult question, and there is no strict answer to it. Of course, there is no more flamboyant bohemian show as it existed in 90s at the galleries, clubs and squats of St. Petersburg. One after another biggest bohemian figures of Peterburg's culture walked off: in 1996 composer Sergey Kuryokhin died, then in 2001 – poet Victor Krivulin closed his days, Timur Novikov was gone in 2002. Only small part of bohemia still remains. They call themselves trashy bohemia – the art-society, considering their main value – reproduction of trash, and it will never be accepted as cultural value. Konstantin Seliverstov in his film Scènes de la vie de bohème (Scenes from the bohemian life) shows Peters bohemia of the 2000s as the doomed carrier of tras-oriented, a socially safe phenomenon. Seniors of local bohemia: an artist, a composer and a writer are living in the state of total carreer collapse. They are left with no remonstrative potential, they are losers, able to only create melodramatic scenes, suffering from lack of money and success, close to sinking into senile dementia.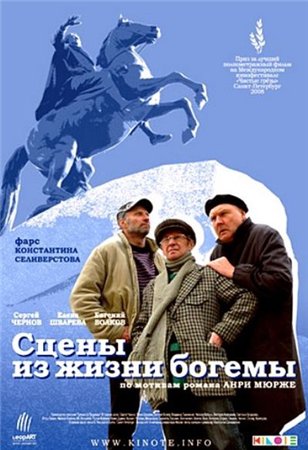 The crisis of bohemia is also predestined by all the alternative scenarios being dried out or taken by the mass-media industry. The creative class of today turns to social images borrowed from Western (or global) system of personal success and aspires ambitious workoholism, such as yuppi or hipsters, rather than giving themselves up to self-indulgence. The other bohemia-eliminating factor is federal cultural politics: in 2000s Moscow is developing as opened global metropolis, whereas Peter becomes isolated administrative centre of theatre and music-oriented culture, it leaves no room for any bohemian activity. Will Peters bohemia become another relict of urban cultural legacy or will it make any claim in future again? It is hard to predict since bohemia usually appears at most unlikely places.