How To Be A Critical Artist-Tourist
Observations on art, tourism and the 2013 Nida Interformat Symposium
Laura Ķeniņš
03/06/2013
When are artists "tourists" and when are they "professionals"? Is travel for art "tourism"? Is it still tourism if you call it "research"? These are some of the questions touched upon at this year's Inter-Format Symposium at the Nida Art Colony in Nida, Lithuania. From May 16 to 19, artists, curators and critics from across Europe gathered for the annual symposium, under the theme of critical tourism (in full, "Critical tourism, site-specificity and post-Romantic condition"). As an "inter-format" conference, presentations ranged from lectures to installations, performances and video games on art and tourism, art as tourism, tourism as art, tourism as research, and research on tourism.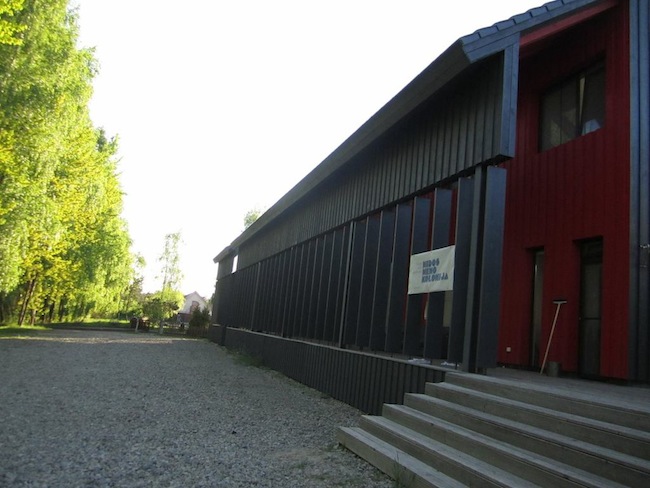 Colony building
The symposium started in Nida's famous sand dunes with a "performative lecture-walk" by the Contingent Movements Archive, a collaboration between London-based artists Hanna Husberg (FIN), Laura McLean (AUS) and Kalliopi Tsipni-Kolaza (GR), representing the Maldives at this year's Venice Biennale. The Maldives is an island nation at risk of disappearing into the sea due to rising sea levels; the Archive's tour drew parallels between Nida's famous sand dunes, also changing and disappearing over time, and the Maldivian predicament – both places having economies that depend highly on tourism and the natural landscape. Leading the group through the dunes and marshes, to the edge of the Kaliningrad border, the artists explained the history and politics of Nida and the Maldives, including the politics of tourism.
How did a London-based Greek/Australian/Finnish collective come to represent the Maldives at the biennale? The three artists acknowledge the strangeness of their position. The Maldives is among ten nations presenting for the first time at the 2013 Biennale. None of the artists involved in the pavilion are Maldivian; to look at the role of the artist in Maldivian society, painter Naushad Waheed, brother of president Waheed Hassan, spent five years in jail for his anti-government activism and art. Although the Venice pavilion has the support of the Maldivian tourism board, the country is not otherwise involved, and the government, known for its poor human rights record, has little interest in supporting the arts. The artists have never been to the islands, which market themselves as an elite tourist destination – out of reach of most young artists' travelling budgets.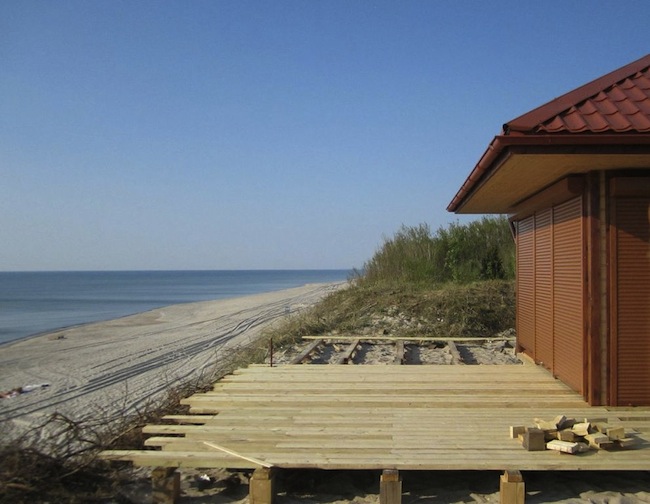 Nida, a tiny place on the Curonian Spit, just a short walk from the Kaliningrad border, is a resort town that empties out outside high tourist season. The irony of artists gathering in a touristic location to speak critically on tourism was not lost on symposium participants, who often brought up the beauty of the landscape and its relationship to the issues being discussed (one danger of residencies at Nida, artistic director Vytautas Michelkevičius notes, is that many artists get caught up in the natural beauty of the space and proposed projects turn to simplistic interpretations of the place and nature). And in between lectures, performances and discussions, all enjoyed the sand, sun, landscapes and 28ºC weather quite unironically: often critical discussions happened in a picnic or beach or sauna.
London-based artists Markus Soukup and Sam Skinner confronted this irony very directly: they didn't even attend the symposium. Instead, they decided that the more sustainable and critical choice would be to stay home, and created a video "postcard to Nida" where they showed touristy images of London and discussed their ideas of tourism and future plans for sustainable travel, including campaigns where artists' work travels instead of the artists, and anti-tourist stickers. They considered artist movement to reside somewhere as a variety of tourism: for instance, when artists move to Berlin, they often do so for similar reasons to those that tourists come for.
Soukup and Skinner's presentation also brings up questions of how artists can connect and travel without the environmental damage caused by travel, as well as the displacement that comes with series of short visits to places. Artists' work can travel without the artist – is it really necessary for the artist to be in attendance to put a photograph on the wall? – artists can move to a location for years instead of a series of short visits, artists can attend via "video postcards" like Soukup and Skinner's, or video conference.
Last year I attended an opening of a Jonas Mekas exhibition, in which the artist was in attendance – via Skype. I was excited to say I'd met Mekas, digitally, and it was understandable that the nearly-90-year-old artist couldn't fly from New York to Europe for the opening. Yet some of the most interesting discussions at Nida took place not in the conference hall or in front of performances, but at the beach or walking to the town shop. Soukup and Skinner sent an email following their presentation, "We would have liked to have dinner with you…Please keep in touch." I've been meaning to contact them about their presentation but haven't had the time; yet I've managed to speak with and meet up with others I met in Nida when they came through Riga. Soukup and Skinner thus excluded themselves from this small community that developed over the several days of the symposium. Are we better because of their decision to stay at home? Can we say that they really participated in the conference?

Artist in residence Gilles Furtwangler's performance
Nida and other artist colonies are constantly creating temporary communities, yet the temporary community is permanent: one can always show up to find a group of artists making work, though the individual artists and work may change. Klaipėda University professor Ramūnas Povilanskas' address on artist colonies in remote locations and "liminal spaces" – barrier spits, or sandbars, like the Curonian Spit, Skagen in Denmark and Ahrenshoop in Germany – addressed this community. Povilanskas drew parallels between the physical space and conceptual space: both the spit and the colony act as limbos between ordinary space and society. The backdrop of nature is the most important thing for the artists at a 'retreat'-type space like Nida (compared to urban residencies): a space to relax, clear your mind and be inspired by the landscape. Interaction with the locals, or with the local space, isn't really important: artists' concerns are usually on their own work, and the consumption of the landscape. Other issues that concern locals and preservationists, like the erosion of Nida's sand dunes, concerns about littering and conservation, aren't really of interest to visiting artists: they don't stay long enough to see the sand dunes erode, and concern of the impact of materials on the local environment can be less important than the production of new work.
However, Povilanskas' ideas became controversial with the group when he brought up the idea of artists collaborating further with the local community: specifically, a centre for "thalassotherapy" – 'seaside cures' using sea water, mud, algae, amber and other natural materials found in the Baltic Sea – is being planned in Nida, and Povilanskas suggested artists could work with guests at the spa. Art therapy could be offered as part of the range of therapies at the spa, and artists could work with guests to stimulate their creativity. The centre and its guests could serve the artists' need for an audience, Povilanskas offered.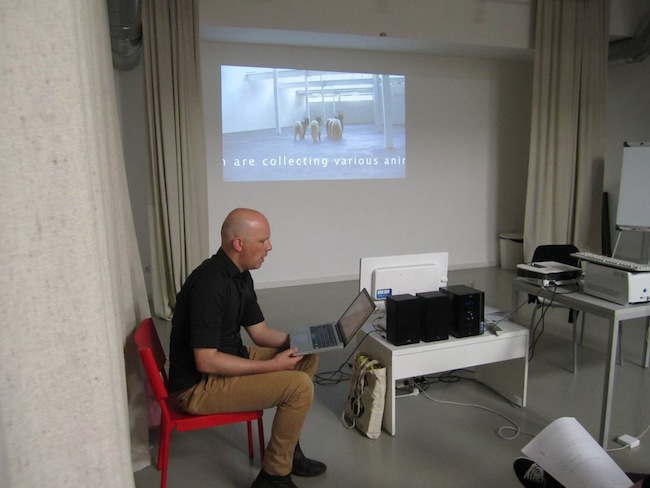 Curator Barnaby Drabble presenting Florian Kutzli's video work Alpine Transhumance
Many in attendance, it seemed, thought Professor Povilanskas was joking at first. His suggestion seemed to demonstrate a lack of understanding about how artist residencies operate. Few artists seemed concerned about an insufficient audience at Nida, and fewer still seemed interested in using the limited time of their residency to provide art lessons for wealthy spa patrons. "How do you make an introspective space communicative?" one curator asked. Others wondered if artists would be paid for their work with spa guests.
The idea of "retreat" is also an important part – both for artists and spa visitors. Should spa visitors' need for retreat supersede that of artists'?
This debate seemed to perfectly illustrate a disconnect in understanding the art world and the rest of the world: a suggestion from someone who clearly had an informed view of artist colonies and tourism, was met with incredulity by the entire audience. But, with further discussion from both people at the colony and other locals, surely there is a point at which resident artists in Nida and other residencies in touristic destinations can interact with locals and other visitors without feeling exploited or recruited solely for the purposes of providing an enhanced, more "artistic" tourist experience for visitors.
Actively trying to provide an artistic tourist experience for visitors, Tallinn-based Error Collective delivered a presentation on their project Master Suite, a suite constructed in Tallinn's Culture Factory Polymer that once played host to a group of Swiss tourists for €300 per night. Not merely a place to stay, the Master Suite experience aimed to show tourists another side of Tallinn, and introduce them to the city's alternative arts and culture. Polymer, located in an old toy factory, isn't known for being the most comfortable environment for overnight guests, so the Master Suite tried to improve on this. Error presented a short video on the suite and the experience and offered franchising opportunities to those looking to expand their art/cultural centre into the hospitality business.
Error's presentation, though tongue-in-cheek and punctuated by a dance party (however, the collective will quite sincerely build you a master suite if you're interested), brought up the question of hospitality in the arts. What do we expect when we travel as artists, curators or critics? If an institution fails to provide sufficient hospitality, are they failing as residency or exhibition hosts? From the other side, is the individual curator or administrator from the hosting organization obligated to act in the role of host or friend?
British artist Bill Aitchison considered some of these points when he arrived for artist residencies in the past. The artist residing somewhere for a short festival or short-term residency can only scratch the surface of a place, never staying long enough or becoming entrenched enough in a community to be a local. The resident artist is, then, more like a tourist. Aitchison arrived for a performance art festival in Dubrovnik, a historic town on the Adriatic Sea at the southern tip of Croatia, known for being overrun with tourists. While many people become annoyed at the tourists and wish there weren't so many other tourists filling up the beautiful squares and streets they'd like to see and photograph – thus ruining the supposed "authenticity" of the town – Aitchison began to consider that these tourists were the authentic Dubrovnik. "I decided it would be interesting to make a tour of the tourists," Aitchison said.
Aitchison observed guided tours, tourist infrastructure and went from one group of tourists in the crowded city centre to the next – touring these groups instead of historical sites. A similar project in Stuttgart – a city in which Aitchison had difficulty finding any tourist infrastructure – produced a map of tourist routes: on which paths one could find the family tourists, the party tourists, the gay tourists, the Chinese bus tours and others. Though he had decided to become an expert at 'being a tourist' in Stuttgart, Aitchison found that, "If you try too hard to be a tourist, you become not really a tourist, but a researcher."
As artists or arts professionals, we rarely reflect on our roles as tourists: for self-employed people, there's no such thing as a holiday, and so we are researching or photographing, sketching or meeting as we tour unfamiliar cities and lands, even if we follow similar paths to the tour buses and families in sensible hiking shoes. It's a common thing to think of oneself as invisible as a tourist, but artists often go beyond that: thinking of themselves as untourists.
Lithuanian art critic and culture theorist Jurij Dobriakov provided an interesting take on this. Born in Kaliningrad, not far away from Nida, his family relocated to Klaipėda in his early childhood. Dobriakov now faces a post-Soviet experience of displacement, in which he is a tourist in his birthplace, without ever having immigrated. His family in Kaliningrad has either relocated or passed away, and he requires a visa to visit; he is interested in spending more time there as a researcher, but notes he would be there solely as a tourist, in the strange and isolated space of Kaliningrad–Dobriakov contrasts this with several late Soviet films like Karen Shakhnazarov's 1989 Zero Town, in which characters become stuck in bizarre lands from which they cannot escape; film acts as a space for nostalgia tourism, much like his hometown.
Are we better off being artists or being tourists? Does art provide a satisfactory excuse to consider oneself an "untourist"? Does staying in a space for three weeks or two months make you a local? What about artists who return to a space year after year? In spite of the sun and sand, the symposium provided a forum to critically examine our roles as tourists in the arts. And though I started out being critical of tourism and the irony of the resources going into bringing forty arts professionals from across Europe to a remote corner of Lithuania for this symposium, after my first visit to Nida, I still left feeling that I'd like to go back – as an artist, critic, or tourist – or, more likely, as a critical artist-tourist.