Blog From The Basel Art Week: Baltic Artists At Volta And Liste
Kaisa Kahu
13/06/2013
Oh, the sound of champagne bottles opening at Basel! This Swiss city of 172,000 inhabitants is currently full of international art for this one intense week in summer that started with the opening of Volta art fair this Monday, June 10.
Today is my 16th day in the heart of Europe after enjoying the opening of Venice Biennale, May 31, the action in Basel followed, when this week satellite fairs (Volta, Liste, Scope and The Solo Project) of the major Art Basel opened up with great intensity. The Swiss mountain air has filled with art consumption, sales and critiques, which you can even hear in the artsy shuttle buses between the fairs. There is a constant exchange of business cards. Plus attending the events are art and pop culture stars, like critic Matthew Collings and singer Kanye West, who visited Art Basel party yesterday.

At Jarmuschek + Partner (Berlin) that represent Cierpka, Linge and Neelova
The behaviour and art fair patterns seem to overlap in all four fairs seen so far – gallerists doing their art-sales talk, typing away on numerous iPads and Apple laptops (yesterday I noticed one Asus laptop too), sipping on champagne or just looking tired (the jet-lag for US and Asian gallerists) by the end of the evening.
Despite the overwhelming visual info and noise, and perhaps more art than I would be able to consume in my Riga in a year, it has been an invaluable experience to see the cutting-edge art fairs contrasting with Venice biennale, playing around with and complementing each other. All of this still raises many questions about the essence of art (Is social art really art? Where is the limit of science and art? Who is the trustworthy enough an authority to decide this? How important exactly is a curator or a gallerist for the career of an artist? Will an artist fail in an art market if standing alone and without any organisational/curatorial support by a gallery? Can it be true that allegedly personal contacts and relations matter more than strong concepts?), but instead of seeking immediate answers, I enjoy the vivid experience that Basel and Venice can give. So after all info has settled in, upon some meditation on it, the answers or versions of answers will come, slowly.
Being an Estonian living in Riga, Latvia, I am proud and positively surprised that this year Latvia and Lithuania are quite well represented in Basel, considering how small the art scene of these countries actually is. The Latvian composer and sound artist Voldemars Johansons is participating at Liste with House of Electronic Arts Basel, and the op-art painter Ritums Ivanovs is solo shown at Volta by Bastejs Gallery. The works of the Lithuanian artist Zilvinas Kempinas are displayed by the Tinguely museum.
As Liste positions itself as a young art fair and Volta as a cutting edge art fair, the Tinguely, with its museum status, stands apart from the fair scene happening in Basel right now, even though the Kempinas show is displayed as an event parallel to Art Basel. The museum has given Kempinas freedom to realize his biggest solo exhibition so far (on approximately 1500 square meters), so the Lithuanian artist now living in NY could play around with quite simple means like videotapes and fans to produce an optically aesthetic atmosphere.

Voldemars Johansons at Liste by his sound art work Emissions (pierres) 2012
The minimalism on the Baltic Basel scene is continued by Voldemars Johansons at Liste Basel with his work Emissions (Pierres) 2013, which has quite an unique source of origin, as it turned out in conversation with the artist in the Liste cafe yesterday. Namely, Johansons was once swimming in a hot spring in a small town in Iceland. When he dived under the water, he heard a rhythm that has now been exhibited via his sound installation at Liste. It turned out the rhythm comes from the hot spring that heats up the swimming pool and the small emissions of vapour that are produced, but you can only hear them when under the water so the artist recorded them. The dense black material full of metal ore was chosen for display because of its ability to produce and emit sound. The installation is modular and consists of black plates hanging on strings, producing a beautifully mysterious clinking-cracking sound you could listen to for hours. When suggested, the artist agreed that the small gallery space is not enough for His work to express itself in full, it would gain more power when exhibited in a bigger, perhaps an industrial venue.

Refreshing drinks with Ritums Ivanovs (on the left) and Voldemars Johansons (on the right) at Liste
Thirdly, Sotheby's sold painter's Ritums Ivanovs exhibits – his skull concept – at Volta, located at Dreispitzareal industrial area. He has large scale incessantly obsessive blue paintings that have been skillfully mastered in his self-invented linear technique, which in these fresh works is getting bit milder than his earlier purely op-linear mode. Through flirting with death, the artist actually wishes to draw attention to life, and that it should be constantly appreciated during our journey through it. He also skilfully directs our attention to how death – via a symbol, a skull – is nowadays represented and played with in modern urban culture – skulls on t-shirts, high heels, tattoos, and Vivienne Westwood rings, which in a way is an inevitable phenomenon and might (in older generation, as observed) pose the question of "isn't anything holy any more? (don't play with death!)".

Latvian artist Ritums Ivanovs (on the right) by his paintings at Bastejs Gallery from Riga at Volta. On the other side is Björn Koop
Another strong piece at Volta's web of sterile-white gallery booths, not far from the Ivanov's exhibit, is an installation by Nika Neelova at Jarmuchek+Partner gallery, Berlin. The black, matte, massive parquet wooden sculpture rises from the concrete floor and touches the wooden ceiling of the exhibition hall, meanwhile twisting itself like an irregular DNA-spiral. It reminds me of Latvian fashion designer Keta Gutmane's parquet installation dress that will be exhibited in the States this autumn at "A Queen Within: Adorned Archetypes, Fashion and Chess" next to Hussein Chalayan, Henrik Vibskov and Maison Martin Margiela. As the artist puts it, the matte black sculptural work at Volta is like a forgotten piece from a ruined past, whereas Gutmane's piece stretches into the artefacts of fashion and deals with the perception of space.
***
A walk and talk with Brian Fee, Volta's press manager in Basel and New York, during which Brian kindly picks three favourite pieces from Volta's 81 galleries. A special coverage for Arterritory.com during Volta's 2nd day.

Brian Fee, Volta's press manager in Basel and New York
Brian: "The thing I like about Volta is that the galleries like to show one or two artists, so you have this ability to get a rain check of what an artist does. It's almost like a studio visit, which I think is unusual for most art fairs."

By Satoru Tamura at Tezukayama gallery, Osaka
1. Tezukayama gallery from Osaka
I was pleased to meet Kazu [Tezukayama gallery assistant director Kazuhide Miyashita] a few months ago in New York, but his gallery is in Osaka. The artist here is Tamura Satoru. I saw a few of his pieces in New York. I see them as emotive machines. They are not just cold objects, they give back. The one with the needle keeps the light bulb going because it is touching its surface and the wheel moves around. That will affect the light bulb.
Kazuhide Miyashita: The name is Point of Contact, the point is just a phenomenon of lights going on and off, very simple.
Brian Fee: I think it is really nice what he does – to take these industrial objects and make them into something life-like or life-giving in a way.
It was nice to meet his gallery at Osaka. I try to go to Tokyo twice a year to follow the contemporary art scene, but I had not been to Osaka for quite a while. It is nice that it worked out with Kazu and the gallery. This is the first time she and the gallery are showing in Central-Western Europe, or at least for Switzerland this is the first time.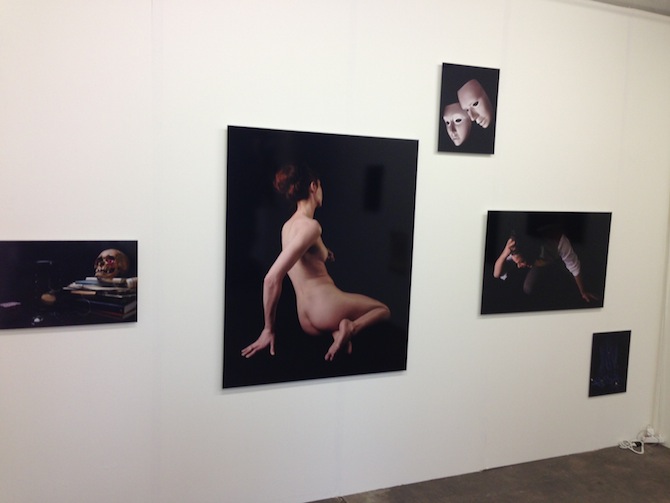 Photos by Carina Linge, German gallery Jarmuschek+Partner
2. Jarmuschek + Partner gallery, Berlin
The gallery is showing three artists. To me the way it has been presented forms a narrative flow – when I am looking at it, I always work this out in my head. The large piece is by Nika Neelova. It is made out of wood. It was technically a parquet floor that has now been uprooted and is floating. You can see it from different perspectives – it's black and it's heavy. Some of her works would actually hang from the ceiling, but this one interacts with the concrete floor, the wood against the concrete and the natural beams of Dreispitzhalle (Volta venue). She was pleased with it. In a way you can consider this a site-specific piece for Volta. I also notice the light playing with it.
Then there is a set of new works by Carlina Linge. She is based in Leipzig. She is a German artist. I have seen her work when Jarmuschek showed her in New York and I fell in love with it. It is a sinister dialogue, but it in any case captivates you. Here you have these tense figures, which you want to make up stories about in your head. It was not quite clear. Is it a couple, who had a fight?
The third artist is Patrick Cierpka, who lives in Berlin. The work gives a similar as if staring into the sun and everything going a little blank. It is a little unclear from what vantage point we are looking at – these are more like flowers (on the lower left), but then they resemble branches (the bottom and the top). It is not really clear, which way should we be looking at it. It is like a plunge into brightness after the dark narrative of Carina's work.
3. LARMgalleri, Denmark
It is actually my first time seeing Hartmut Stocker's work. He is very interested in people, who live in urban environment, and also nature. He is combining the two in an idealistic and subtly humorous way. I did not pick up on this at first, but this is a massive wheel, like a hamster wheel for pets, but it's human-size. Like when you exercise at a gym. It can be boring as hell. But then you have this – you do your exercise on it, and you get this idyllic scene. There is just one enormous drawing in it. When one of the galleries was telling me about this, I could almost hear the nature. The piece – a violin with a roof on top – makes me think of the appreciation of birdcalls – the birds, when they are singing, but not so much when they are walking around. You have to listen with the stethoscope. You have to wait for one of them to land here to eat and then the sound is amplified through the shape of the violin!
The last of Hartmut's pieces is a nature backpack. I think that might actually be the title of the work [a metal backpack with grass growing inside]. It has a mask that takes you to it, so you can walk around with it. Let's say you are going to work, but at the same time you are inhaling nature – a field of flowers surrounds you and everything around is energising. When in New York I sometimes do a day trip to Hudson Valley, to this really great site for minimalist art. It is an hour and a half train ride outside the city, but when you get there you can feel the warmth of the air and it smells cleaner. If you could encapsulate it in a container like that...

Christian Baechler from Unguided, a Swiss art movement, and his spinning wheel where you can win a religion (I got islam, haha)

Christian Beachler himself

Nika Neelova's installation, Jarmuschek+Partner, Berlin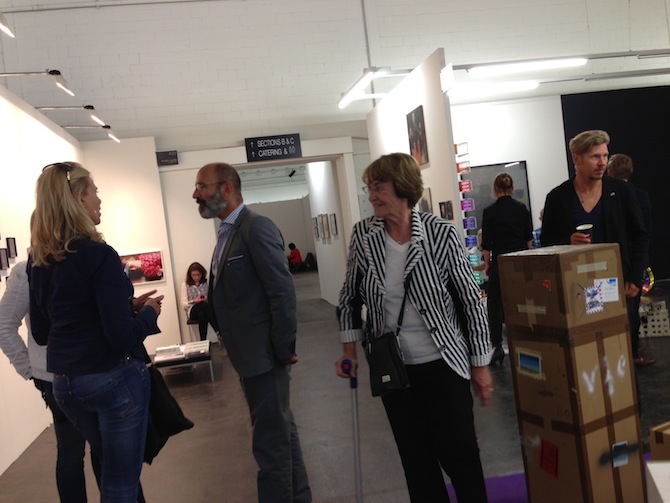 Volta visitors

Some more Volta visitors