An interview with curator Stefanie Hessler
Curator Stefanie Hessler Shares Her Secrets of Success and Talks Psychotropic Substances
Anna Mikaela Ekstrand
22/05/2015
Stefanie Hessler, a rising star amongst curators, may have been born in Germany, but she is a product of Stockholm. As an inaugural graduate of the Curating Art program at Stockholm University, and as co-founder of andquestionmark together with artist Carsten Höller, Hessler's curatorial practice is highly interconnected with Stockholm and Sweden, which is one of the reasons she was selected to be a part of the curatorial team for the upcoming Nordic Biennial of Contemporary Art. Arterritory met with Hessler to understand first-hand what it is that makes her an interesting curator; we also quizzed her on her curatorial practice and on Tunnel Vision, the theme for Momentum 8.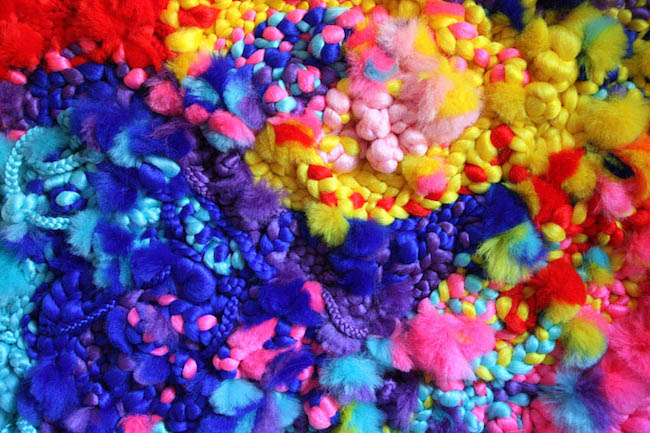 Shoplifter (aka Hrafnhildur Arnardottir). Study for an opera II, detail, 2011. Synthetic hair. All rights: Shoplifter
Stefanie Hessler curated her first exhibition in Germany: she was getting ready to leave the country to work at the biennial of video and media art at the Museum of Contemporary Art in Santiago de Chile, as well as to take a position at the gallery Die Ecke. Her empty apartment became the perfect exhibition venue. Hessler is a go-getter, an opportunist. We met late one evening; she had just been for a run and we were both leaving the country on early flights the following day. "We better meet this evening then," she told me on the phone with her slight German accent.
Today Hessler has clear curatorial visions and her main interest or "over-arching umbrella interest", as she calls it, is systems. "Biological, socio-economic or physics'. Why they exist and why we have come to accept them."
But let's rewind a few years. Hessler came to Sweden for the Curating Art MA at Stockholm University – its focuses on law and management were a big draw, as well as being in the program's inaugural class. Hessler is still involved in the program as a lecturer in a course on the art market. "I always like trying new things," she says. Afterwards Hessler worked as Carsten Höller's studio manager in Stockholm. She met the German artist during an internship at Hamburger Bahnhof in Berlin, and together they founded andquestionmark. With funding from Stockholm Stad and other collaborators like Konstfack, Royal Institute of Art, IASPIS and national embassies, andquestionmark shows one artist every two or three months in a performative event. Next up is a showing of the German sound artist Florian Hecker.
How does she have the time, I wonder? In addition to Momentum 8, Hessler is working on an exhibition of Katja Aglert's works at the Museum of Contemporary Art in Santiago de Chile, on Speed at Museu de Arte Moderna Aloisio Magalhães in Recife, and on Carsten Höller's upcoming retrospective.
What is the role of a curator?
You function as an antenna. I have my antennas out, in terms of art and society, to try to understand what is important at a moment of time so that I can cast a different light by highlighting and amplifying different issues. It is more about raising discussions than changing the world.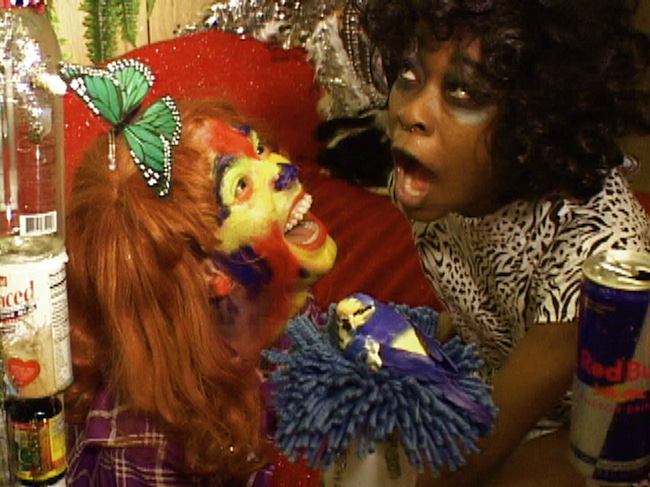 Ryan Trecartin. A Family Finds Entertainment. Video still 2004. 40 minutes 10 seconds. Courtesy of: the artist
What does your work process look like?
Nothing is pre-existant. I start with an idea, it develops when I speak with someone about it, then I continue working on it. It becomes a dialogue with other institutions, with artists, writers, other curators, literature and philosophy.
For the exhibition itself, I focus on creating an atmosphere that you can sense, that you can feel. Not making sure it is about something, but highlighting the performative utterance in which you create what is on display or whatever you want people to engage in through action.
So your exhibitions come to life when the audience is present; I like that. How important is it to think about your audience? Do you ever think about pleasing your audience?
It doesn't matter what subject you choose, you must always think about your audience. The most difficult exhibitions can reach someone who does not usually engage with the themes if you master the skill of mediation. Creating something that is perceivable on different levels, both cognitively and theoretically; or more connected to the body – connected to the senses, history, music, smell – this is best way to make exhibitions.
You mentioned earlier that many of your former classmates are not practicing curators. How do you think Stockholm can become a better place for post-graduate curators?
I think there should be more support for independent curating; it is very tough to get a show without institutional backing. IASPIS brings curators from abroad to Sweden; a result of this is that many Swedish artists will be on view at the Venice Biennale. But focus should also lie on working with the national curatorial scene. I'd like to see a competition for curators, an invitation to pitch your project and be given a certain budget to realize it.
Which curatorial practices and curators interest you right now?
The artist-as-curator was a prevalent concept for a while, but now many curators-as-artists are creating exhibitions that can be seen as artworks. This strays from the cold view of objects in space moving towards how the audience interacts with the space. Instead, this emphasizes an overall narrative making objects and concepts come to life in a much more generous way. Raimundas Malašauskas's projects are fantastic; he does not impose a curatorial idea, but instead works closely together with artists to curate his shows. The way Eva Gonzalez Sanchez works flexibly with an institution also interests me.

Zhala, 2015. Copyright for artwork: Zhala. Photo: Märta Thisner
Right! We saw each other at a Sanchez talk she did in conjunction with her Curatorial Residency in Stockholm (CRIS).
Yes, it was partially organized by Jonathan Habib Engqvist, who is one of Momentum's co-curators.
In addition to Habib Engqvist and Hessler, the curatorial team hand-picked by the biennial's director consists of Birta Gudjonsdottir and Toke Lykkeberg. Most of their meetings happen on Skype and each decision is made together. The team has chosen to focus on the experience of a narrowing mind. Taking a look at the artist list, which includes mixed media, performance, sound art and video work, visitors can expect a wild, multi-sensory experience in an idyllic Norwegian setting.
What does Nordic mean to you and the rest of the curatorial team?
I have no idea [laughs]. We have been discussing the term in conjunction with Tunnel Vision. Talking about Nordic seclusion and making connections to isolation, Ibsen has come up; so has the welfare model and the region's long winters. But what Nordic-ness means to us hasn't been the main issue; we are more interested in the contemporary.
Fair enough. What does Tunnel Vision mean to you, and how is it represented and performed through your selected artists and works?
What happens if you zoom into one aspect in one singular system? A system in which you create expertise, but in which you are also a bit blind to what's outside. We have worked along the lines of "a room of one's own," a term coined by Virginia Woolf – a space that every artist needs.
Ok, so it's the exploration of deconstructing works and the experiential?
Well, we are delving into psychotropic substances – everything that has an effect on your brain: Ayahuasca, literature, Adderall, Ritalin. Using these substances is not about mind-expansion, but more about closing down. Ryan Trecartin's work and a specially-created soundtrack by Zhala fit well in here.
Another topic has been how the Internet creates tunnel vision. Just think of how cookies and algorithms define all research queries so that what you find is what you already know – making searches concept-reaffirming.

Stefanie Hessler. Photo: Romeo Mori
Wow. Have you found an artist to engineer a mind-altering drug for visitors?
No, but Valia Fetisov has developed an app called Paranoia; it is played by following other players. So users will be following each other IRL not only in Moss but also in other places [chuckles]. I haven't seen it yet. And Shoplifter, an Icelandic artist, is building a nightclub with fake hair. It will function as a social hangout and perhaps as a party venue.
An app, cool. Is social media part of your curatorial toolkit?
I am not the biggest fan of social media. It can be very fun, but also distracting and two-dimensional.
On the topic of distractions, thank you for meeting with us. To conclude, what is your advice for a budding curator?
Work hard; work very hard [laughs]. It's a very German answer.
Momentum, the 8th Nordic Biennial of Contemporary Art, will be on view 13 June through 27 September 2015, at various locations in the city of Moss, Norway.