"I do try to be somehow aware of the trajectory of what I've done and what I'm doing"
An interview with British artist Liam Gillick in Amsterdam

18/06/2015
At the beginning of summer, Amsterdam focuses on opera, dance and musical performances as it hosts the Holland Festival, one of Europe's oldest international theatre and opera festivals. This year, the festival is supplemented with an intriguing programme of visual art that includes British artist Tino Sehgal's exhibition This Variation at the Stedelijk Museum and British artist Liam Gillick's environmental installation All-Imitate-Act all along the green mile of the Museumplein museum square.
A wall of white panels with human figures depicted on them has been set up across from the much discussed bathtub-like Stedelijk Museum addition and the Van Gogh Museum. The figures have been borrowed from the Stedelijk's graphic arts collection as well as its notable collection of Russian avantgarde art. Among them are works of Kazimir Malevich that the museum acquired in 2001 from the collection of Russian art collector Nikolai Khardzhiev, the most noteworthy owner of the Malevich's works.
Round holes have been cut out in place of the figures' faces, and now and then a visitor's smiling face fills the void. This is a popular place for snapshots of friends with new "bodies". People pose, make faces, laugh and then trade places to start the process all over again, bringing a light, new mood to the square between Amsterdam's three most significant museums. This is the first work by Gillick in which he has depicted human figures, but it is not the first work in which he employs a visually activated environment to initiate human action.
Gillick is better known for the configurable Plexiglas and aluminium modular objects he uses to transform an environment. Through the unlimited potential of transformation, he explores the ways in which a space can be perceived. Text and text fragments also play an essential role in Gillick's art.
The artist's largest work in a public space was the façade of the Fairmont Pacific Rim hotel in Vancouver, which was opened shortly before the 2010 Olympic Games. Gillick's poem "lying on top of a building, the clouds looked no nearer than when I was lying on the street" decorates the southern and eastern sides of the 48-storey hotel.
Corresponding to his inter-disciplinary nature, Gillick also works as a curator, putting to use his skill at creating exhibitions and exhibiting and perceiving art. He is currently one of the advisers to the new, innovative LUMA Foundation museum in Arles.
Gillick, who now lives in New York, is also from the same generation as the often shocking YBA, or Young British Artists, group. In 2002 he was nominated for the prestigious Turner Prize for his installation Annlee You Proposes at the Tate Britain and his solo exhibition The Wood Way at the Whitechapel Gallery. In 2009, Gillick represented Germany at the Venice Biennale with an animatronic talking Cheshire cat atop a Frankfurt-kitchen cabinet.

Liam Gillick. All-Imitate-Act, 2015. Holland Festival, Museumplein, Stedelijk Museum, Amsterdam, 2015. Courtesy Esther Schipper, Berlin. Photo © Andrea Rossetti
In 2008, you were nominated for the Vincent Award, and you still have a strong connection with Amsterdam. Why do you keep returning to Holland?
There are many reasons, and the first one is the history of design and architecture more than art. I am really interested in this country's history of modern design.
And as an artist I have always been interested in the very strong and interesting institutions and curators of this relatively small country. I was involved in De Appel Curatorial School, I did a little bit of teaching there, and that was the place where I met people with whom I started to work. Not galleries, not collectors, but these kind of institutions and structures. And this is what I think – the Netherlands is historically very good at – not necessarily new art – but with coming up with new structures and new models.
How did you become a part of this year's Holland Festival programme?
The organisers of Holland Festival wanted to create a partnership with the Stedeljik Museum and to do something with it. I had worked with the festival's artistic director, Ruth Mackenzie, before in Manchester and I knew her, and I knew the new director of the Stedeljik, Beatrix Ruf. So, they invited me because they thought I could somehow make a bridge between those two institutions. I suggested that we should also talk with the Opera House to produce this work. In the end, there are three partners – the Stedeljik Museum, the National Opera and Holland Festival – and together these three groups are really strong and work together very well.
Did they give you freedom to make this work?
Yes, they did. But when someone says do something in a big city piazza, it's not really freedom, it's more like a problem, because then you have a kind of general public. It's not an audience. An audience is a group that comes because they know why they are there, but here at 7:00 in the morning it is full of children, people walking their dogs, people going home after a long night, people running to work, the first Canadian tourists coming to the museum…. It's like suddenly everybody starts to come to this place! You have a lot of people who are not focused, so it's a kind of freedom, but it's a strange freedom. I wanted to do something that requires no language and no instructions. Something not universal but something close to that.
What inspired you for this work?
I was in Japan last year and I went to one of the most beautiful temples in Kyoto. There, outside this beautiful temple, I found one of those things – a kind of board where you can stick your head through the hole and take photographs. I thought, wow, it's amazing that they have one of these at a temple in Japan! Maybe there's something about this that could be interesting – this combination of culture and something like a street fair or something we can find at a Medieval street event. I thought it might also fit into the Dutch mentality, which is against hierarchy and against power. Because it makes people look stupid in a way, it plays a game with figures. And I like this idea of people's faces sticking in the holes and looking at the Van Gogh Museum. This is the kind of image we can see in old photographs – the kind of thing that used to be fun before spectacles and electronics.
As I understand it, the figures on the panels are taken from the Stedeljik Museum's graphic art collection. How did you select them?
Yes. I knew the museum has a good collection of graphics and drawings by Russian suprematists, and they also have a lot of everyday graphics – publicity and advertisements from the last hundred years. So, it's a mixture of Russian avantgarde and advertising and educational graphics of simple Dutch things like coffee, tobacco, milk, chocolate, etc.
I wanted figures to repeat, so there are 36 figures that change places. I tried to balance images of women, images of men, small images and big images. It sounds a bit strange, but the work is relatively intuitive – it allows one to go rapidly through the art and maybe drop in at one or another figure.
I never really used human figures in my work before. The human is always suggested, but it's never represented; it's necessary, but never visible. It's not about real people; it's about the representation of people. It was kind of fun, it wasn't so difficult!

Liam Gillick. All-Imitate-Act, 2015. Holland Festival, Museumplein, Stedelijk Museum, Amsterdam, 2015. Courtesy Esther Schipper, Berlin. Photo © Andrea Rossetti
Did you have to change anything during the creative process?
I wanted to do everything in black and white, so I had to find images that are strong enough that they could work in black and white, but some images I liked didn't work in black and white. What is interesting – they have Picasso graphics in the collection, but Picasso doesn't work effectively in this project.
Another thing – I needed to decide on which side to place the figures and which side should be blank. Which way should the figures face? I changed my mind at the last minute. From the blank side the work looks very abstract and from the other side it is immediately clear that this is some kind of carnival or fairground thing. The first panel went up at 7:00, and almost immediately a small child started to play with it and laugh – there was no waiting, no asking, people immediately used it.
A lot of your works are in public spaces, where they are quite unprotected from bad weather or creative hooligans. How do you feel about that?
In this case, we thought about it a lot. Here, in the Netherlands, they have no strict rules, so we agreed to not make any special rules in the beginning and just try to trust people. But look, this work is very strong; I'm not working with delicate materials, this is built for a public space. But we'll see….
Generally, it works OK. I have good experience. I trust people. You know, when I do something like this, I'm always imagining my own situation, my own reactions.

Liam Gillick. Lying on Top of a Building... The Clouds Looked no Nearer than when I Was Lying on the Street..., 2010. Fairmont, Vancouver, Canada
What does "art in the public space" mean to you? And how does it differ from classic monuments and fountains in city parks made centuries ago?
When I'm working on something that will be located in the public space, the first thing I consider is its dismantling. Earlier, people thought about a work's sustainability. If a work isn't intended to be there for a long time, it means I have to make agreements and arrangements to make sure how it gets removed. For me, working in a public space is also about time, not just spaces. I'm playing with time. It's about how long something will exist. In the past, this wasn't an issue. And if a work is appropriate now – for this generation, for this time, for this context – that doesn't mean it will make sense later on.
Sometimes I lock the work into the context, making a new surface. Some of my artworks are integrated into the building and have become a part of the architecture. So, in order to take them away, you have to take away the building. Other times the thing is supposed to exist maybe just for one night.
When I start to do something, people normally show me the space, but they don't talk about time. They talk about the space, and I always ask about whether it should last forever or whether it should last for six weeks.

Liam Gillick. View of the Exhibition From 199C to 199D. MAGASIN, Grenoble, 2014. Courtesy of the artist. Photo: © Blaise Adilon
How you start your work? What kind of space exploration do you make before you start your work? What do you take into consideration?
The first thing that I make is a computer model for the entire space with all the buildings. So, I'm building all the models and at the same time thinking about the whole project. I like thinking about things while doing a simple act.
The second thing, I spend time watching the movement of people – what is the trajectory they use to walk? And where is the biggest mixture of people?
For example, here in the square by the Stedeljik, Rijksmuseum and Van Gogh Museum, you have local people, tourists, children, old people, people on bikes, alcoholics and so on all using this one route. So, I thought – I want to give these people some kind of entertainment, to change distance, change the sense of how long this walk takes, because without these panels it's hard to understand how long the walk is. But now, when you walk down the line, you sometimes can't remember how long it took you because you are distracted by people, people stopping, taking pictures…. It's like in a cartoon where the background changes, where Roadrunner is zipping along and the background keeps repeating behind the cartoon character. In this case, I was studying the physical situation, I was studying the flow. And then there was a third component – here you have embassies on the opposite side, bourgeois architecture. I wanted to block this visually a little bit. I wanted to create a different zone for the cultural part. This makes a kind of series of parallels. I like this. People are playing football, walking, sticking their heads through the holes, and there are museums. It's like a cake with different layers.

Liam Gillick. Leeum Samsung Museum of Art. Seoul, Korea, 2014
Your name is often associated with an art movement defined by the term "relational aesthetics". What are the major issues addressed by this movement?
The first question is about the idea of the audience and the public. There is a difference between the audience and the public. And there are many different audiences.
The other one is the question of the time – how is time used in an exhibition, who is controlling time. And often we find that an art centre or museum has a fixed idea about time that they don't question. We try to question that sense of time. Why does the museum open every day at 10:00 a.m. and close at 6:00 p.m.? Why is it closed on Mondays? Why does an exhibition last two months or three months?
And then the final thing – where is the art moment? Where is the key – where are people looking and where is their attention directed?
We are playing with these questions a lot. And even with this work in the grass – we can say that the art is in these panels, but, in fact, for me the art is in the relationship between the two people who take the photograph. Not the photograph itself but the relationship between the two people standing there. That's my key feeling about it.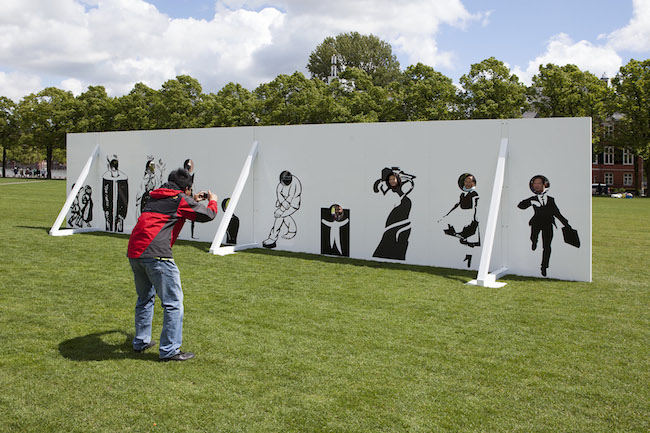 Liam Gillick. All-Imitate-Act. Photo: Andrea Rossetti
And today, people really want to become a part of the art, the subject of the art. It seems they are looking for direct sensory stimulation, physical engagement. But, in this way, doesn't art become a kind of attraction in an amusement park?
Yes, sure. I absolutely agree with you. In fact, that's a part of what this work is about.
But in general, I don't know…. Some people are not quite sure how to deal with large groups of people and what to give them, and they are frightened of being accused of elitism, or even formalism. So they tend to convert things in this kind of middle ground where they are neither elitism nor truly popular. In a sort of middle area where art becomes kind of attractive but often isn't really spectacular.
I think we have to use some ability to differentiate which of these things is good and which is bad and how they are good and bad. I'm not against something that is engaging, and I am not interested in a completely separate world of academic art. It would be easy to say OK, there's art that is completely stupid, spectacular and just stupid entertainment, and there's some art that is very serious. But actually, it's very hard to draw this line. Some works are better than others, and there are many ways how to read them. It's not about a good object and a bad object; it's about how objects in different situations provoke or initiate behaviours. And it's true that the first thing museums are worried about is how to engage the public. Always!
In this case, I did a very deliberate artwork – it's a bit like a carnival or fun fair, it's a little bit like an old-fashioned entertainment device. You can stick your face through a hole and the artwork gives you a funny body. And no one today was asking where these images came from; they just accepted them as art figures.
Is it important for you that your work is understood correctly?
No, not really. Because my interest in art originally starts from a very personal engagement with the work, and my understanding might be completely wrong. But I do try to be somehow aware of the trajectory of what I've done and what I'm doing, so I sometimes try to correct things. And I think that's the way to play with meanings, or to play with a way in which a work is read; how to play with the near future and the recent past.
After this work I would like to do something to change the temperature. Something about this work also has to do with starting a conversation between the people who work in a museum, in its lowest hierarchy – the people dealing with graphic art, advertising and graphic collections of posters, sometimes drawings and prints. These things normally aren't on the top view for most museums, but for me these collections are really important. These collections of everyday things, they are political. And they also show what was desired in the city, how it was revealed through the information posters they made. In the 1950s, when the people made a new Holland, they thought about the strong children they would have when they drank good milk and ate good chocolate. They also believed in the avantgarde. They collected it and looked after it, and they preserved these records. And I want to have a public conversation with those people in the museum. To put this work literally in front of the museum, literally providing evidence that what it has inside is not just about art; it's about design and art and the mixing of the two.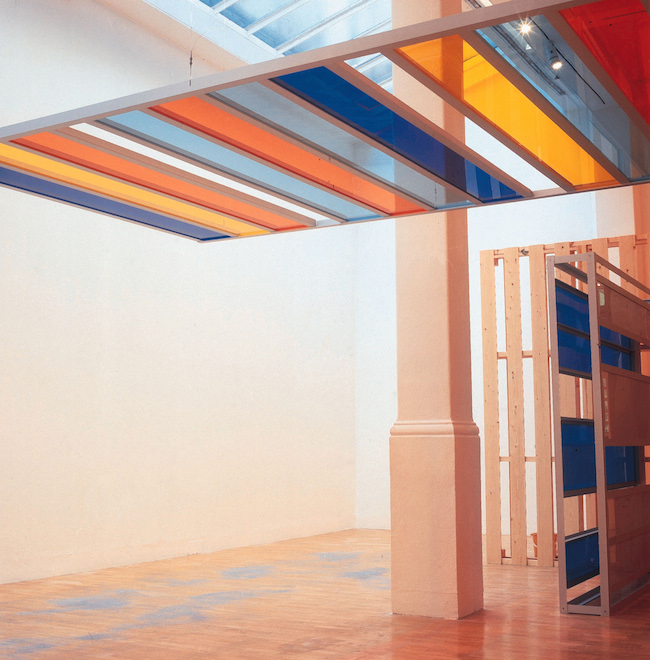 Liam Gillick. The Wood Way (Installation View), 2002. Whitechapel Gallery. Whitechapel Gallery Archive
In 2002, you were nominated for the Turner Prize. The Minister of Culture at that time, Kim Howells, attacked Turner art and called it cold, mechanical, conceptual bullshit. This year, in February, I met British artist duo Gilbert & George, and they said that they don't believe in British modern art. Why are there opinions like these?
Howells mainly directed those comments at me. To begin with, Howells is a populist politician from kind of the centre left. He is someone who wants to get publicity. He doesn't have an educated opinion. He is hoping for working class people to hate art. He's a cynical politician. The other thing, he didn't have the strength to say it to anyone directly. He wasn't interested in a discussion about cultural ideas.
In Britain, there is a great fear of the avantgarde or modernism, because it is related to the imagination that drives revolutions, the philosophy of national identity. There is a strong history in Britain of pragmatic disinterest. It's quite well recorded in literature, even in comedy.
Gilbert & George are very funny because they are the most British of artists, but they are also quite revolutionary. But in Britain you can find people saying one thing and doing another thing.
To be honest, I think the thing that happens when these arguments are written down, they become more visible. I'm sure if you ask right-wing populist politicians in the Netherlands what they think of contemporary art, they will have very strong opinions, but there won't be anyone who cares. In England, it ends up in the newspaper. In America they have strong opinions, but the New York Times wouldn't print them because it's not news. In England it's often news.
People coming from literature have always dominated England's cultural field, and they barely understand visual art. Britain has a strong spoken and written tradition, and even in traditional schools they teach to listening, not looking. And I think that Howells didn't look at anything very much. He couldn't see; he was relating things to other ideas. Looking takes a little effort sometimes, and it's not easy. But just doing that, upsetting a small-minded politician seems to me a kind of success. It's a cheap success, but it works.

Liam Gillick. The Wood Way (Installation View), 2002. Whitechapel Gallery. Whitechapel Gallery Archive
How has the role of the Turner Prize changed today?
It's changed completely, because at the beginning the Turner Prize was looking backwards to saying who has been important in the last twenty years and how can we make sure they will become visible, and now they are going closer and closer to the present. They caught up with time and then started to go forward. Now, it's no longer about the past or the present; it's about the future. It's about encouraging people to work. In the beginning it was about saying we are happy that you have worked.
What is your opinion of this year's British presentation at Venice biennale (Sarah Lucas)?
Oh, we shared a studio at art school!
She is exactly where she should be! Exactly what I imagined – she was really a much better student than me, and a much more serious person. She hasn't really changed; she is quite a serious sculptor, she does things that no one wants to do. In a way, she is a traditional sculptor. She is the only person I know who is completely unstressed by money, by getting enough attention. If other people stress out, she doesn't care. Therefore, she is free to work. I like that.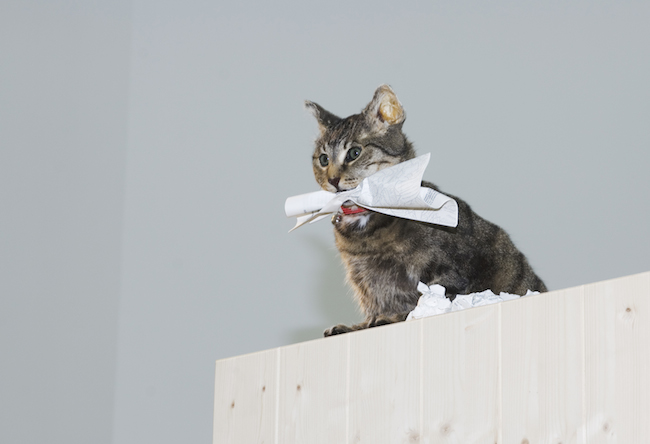 Liam Gillick. How are you going to Behave? A kitchen cat speaks, 2009. Courtesy Esther Schipper, Berlin. Photo © Liam Gillick.
Liam Gillick at German Pavillion, 53rd Venice Biennal (7.6.09 - 22.11.09)
You represented Germany at the Venice Biennale in 2009. What do you think of that work now? And what was the public's reaction to your speaking cat?
When you look back over time, you see it doesn't quite fit in the line of my work. It's because I changed my work deliberately from that exhibition. It turned the text into speech and abstraction to a recognisable form.
The work is now in the collection of the Guggenheim Museum in Bilbao.
I can't say what the reaction of the public really was, because Venice has really such a specific audience. There are a lot of contradictory opinions. It isn't very helpful sometimes. I don't think the work I did should necessarily be understood or used in that moment. On that level, I didn't really seek or search for their response. It was more as a statement. I was not rousing any questions; I wanted to make a statement. For some people it can take twenty years to understand it. It cannot be consumed too quickly.
The curator of this presentation was Nicolaus Schafhausen. I met him in Vienna, when he had already been the director of the Kunsthalle Wien exhibition space for a year. The focus of the Kunsthalle Wien is international, and he said that he never looked in artist's passports. What is your own attitude, taking into account the national aspect of the biennale, to the fact that countries present artists from other countries?
It happens at the most extreme points – when countries are mature, stable and powerful – and then it happens again at the other extreme, when a country has no pavilion and has a more recent history.
I grew up within the opening of Western Europe to the free movement of citizens. I felt as comfortable doing this work for Germany as I would have done for Britain. I think it's completely normal. But, on the other hand, it is interesting because it doesn't kill off specific histories and specific stories, specific narratives.
Venice is, in a way, stupid – it is a picture of old power. I would never look in anyone's passport, either, but I'm interested in finding out some meaningful stories. I think Schafhausen is, too. I know what he means.

Liam Gillick. How are you going to Behave? A kitchen cat speaks, 2009. Courtesy Esther Schipper, Berlin. Photo © Liam Gillick.
Liam Gillick at German Pavillion, 53rd Venice Biennal (7.6.09 - 22.11.09)
Frank Gehry designed the new LUMA Foundation museum in Arles, the city where the Dutch painter Van Gogh, whose museum we are now standing near, created his fantastic swirls of stars. Could you tell me about your involvement in the LUMA Foundation project? What is your role in its creative core-team (Hans Ulrich Obrist, Philippe Parreno, Tom Eccles, Beatrix Ruf)?
What we're trying to do is develop a new interdisciplinary centre dedicated to the production of exhibitions and ideas, research, education and archives. It requires open thinking and allows a lot of possibilities. Nothing is fixed, a lot of things are still very open. We are not the directors; we are like a thinking team. For the last four or five years we've met quite often and have discussed what kind of institution it can be like – today, in the south of France, in this very specific context. Arles is not a big city, but nor is it in the countryside, either. Arles is kind of seasonal – in the summer there are a lot of activities, but in the winter it's quiet. This is a big difference – we have to make this museum function all year round, not just in the summer. This is the big question – how to develop the programme, how to play with time. That's the big difference, compared with London, Moscow or Berlin, where you have a permanent public, an audience. Here, it's also about Mediterranean culture. Even time is different in Arles – the day is longer, and then there is a big break in the middle of the day when people stop and go home. Of course, we have to play with all of these aspects. If you go to an art centre in a big city, you don't expect it to be closed at lunchtime for three hours. Sometimes the best time in Arles is early evening.
The LUMA Foundation's new building was opened with the Solaris Chronicles exhibition. The exhibition brought together models of Frank Gehry's seminal projects, including the Walt Disney Concert Hall in Los Angeles, the Guggenheim Museums in Bilbao and Abu Dhabi, and the forthcoming Facebook Headquarters in London and Dublin. It was developed in an unusual format for an architecture exhibition. Tell me more about it.
The idea was to present some of Frank Gehry's works. Together with Philippe Parreno, we went to Los Angeles and looked through the archive of all the models, and we decided that we would use it as the basis of an exhibition, but different people would animate it. Normally, architecture exhibitions are static, with lots of information, models, texts and photographs. We wanted to animate the models, to bring them to life. We created a sort of programme; we introduced a marquee lighting installation by Philippe Parreno, some choreography by Tino Sehgal.
The exhibition had a kind of circle. The basic idea was to put architecture models in different kinds conditions – so, you could see models of the building in daylight, then evening shades appearing – and we did this through movement.
What's it like to work together with Frank Gehry?
He has a lot of strong opinions about art and architecture; we always have strong conversations. He certainly tries doing something really new, he tries to make a new kind of architecture that is not based on the typical grid. I think he really suffered from an orthodox Modernist, formalist context when he started out.
For me, when I have contact with him, I am really listening a lot, just to be capable of catching bits of ideas. With him discussions are more philosophical – they're about the ideas behind architecture, the idea of what a building could be today.

Liam Gillick. Portrait, 2014. Photo © Liam Gillick
How have you as an artist changed since you started?
For me, these two things – the idea of the things you didn't do and the things you did do. Somewhere in between is where you start to reflect.
I've always liked artists who did very little work, maybe ten works in their lifetime. And I am completely the opposite.
It's probably a question that it's better not to think about too much.