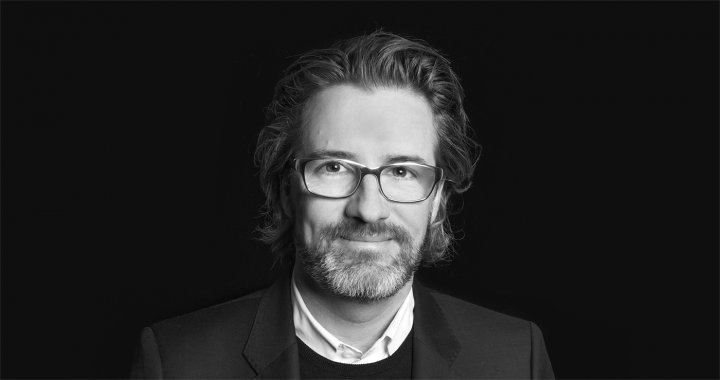 The Ability to Exercise One's Own Existence
An interview with Danish-Icelandic artist Olafur Eliasson

14/12/2015
"I think making art and being involved with creative work is an incredibly fierce process, one through which you stay connected with the world," reflected Olafur Eliasson in a recent interview with Daniel Birnbaum, director of Stockholm's Moderna Museet. The quote can be perceived as either a reproach on the romanticizing of the art world, or as a statement on the ability to experience this world to its fullest. Seeing how busy Eliasson's exhibition and social activity calendar is, it seems that he would choose the second alternative, and take part in the creation of reality. Among the artist's latest activities is creating the visual concept for the modern ballet "Tree of Codes"; based on the book written by Jonathan Safran Foer, and with music by British artist Jamie xx and choreography by Wayne McGregor, the production premiered in New York a couple of months ago. Eliasson currently has retrospective solo shows going on in the Winter Palace of Prince Eugene in Vienna and at the Moderna Museet in Stockholm, which is where we meet. Our conversation took place on the opening day of his exhibition, "Reality machines", and lasted only fifteen minutes, but that was just enough to get a glimpse into Eliasson's thought labyrinths and see how he transforms his multi-layered thinking into actions, thereby giving our seemingly familiar world the most unusual of forms.

Olafur Eliasson
Your compound daylight, 1998
© 1998 Olafur Eliasson. Photo: Anders Sune Berg. Installation view, Moderna Museet/ArkDes, Stockholm 2015
Olafur Eliasson's creative forms of expression include practically every artistic medium – sculpture, painting, photography, video, installation, architecture and site-specific projects. In many of his installations, nature becomes his artistic material – wind, light, plants, other natural elements. But just as captivating to him is the study of optical phenomena, and the relationships between nature and technology; he resolves these subjects through the building of complex structures that present the viewer with situations that make us rethink our understanding of the world and help us find new interpretations for it.
Since the mid-90s, Eliasson has been a standard contributor to international exhibitions and art events, almost taking over the art world by storm. In 2003 he represented Denmark at the 50th Venice Biennale with "The blind pavilion", which was almost immediately followed up by one of his most famous projects, "The weather project": shown at London's Tate Modern, the museum's Turbine Hall was illuminated by Eliasson's orange "sun" – an entity so welcoming and relaxing that museum-goer's willingly lay down on the floor to more fully experience it, thereby adding a physiological aspect to the artwork's visual experience.
Eliasson's solo shows have been hosted by the largest museums in Europe, America and even Africa, and his urban outdoor projects make people take a new look at the metropolitan environment and its interconnection to the natural landscape. For instance, his mega-scale public art work Green river, which was carried out in different cities from 1998 and consisted of flooding a non-toxic dye into several rivers around the world, was like an experiment with people's accustomed perception – the public's reaction to the bright-green waters was a part of the artwork. In 2008, Eliasson created four huge waterfall-fountains for his piece "The New York City Waterfalls" – for three months they made a grand show of diffusing the water of the East River along Manhattan's southwestern edge. London was quite proud of its Serpentine Gallery Pavilion 2007, which was designed by Eliasson and Norwegian architect Kjetil Thorsen, while Copenhagen opened one of its newest architectural artworks, the Eliasson-designed Cirkelbroen (The circle bridge), just this year.
Olafur Eliasson's activities in the domain of art cannot be removed from the social and environmental projects which he initiates and participates in. In 2012, together with the engineer Frederik Ottesen, he created "Little Sun", a light source powered by solar energy. Created with the aim of improving the quality of life in places where electricity is not available, this solar-cell lamp also decreases the amount of carbon dioxide emitted into the atmosphere by replacing traditional fossil-fuel light sources. And at the start of this last November, twelve gigantic blocks of ice began their journey from Greenland to Paris. These main components of "Ice Watch", a project by Eliasson and geologist Minik Rosing, will be placed in front of Paris' Panthéon during the United Nations conference on climate change (COP21). As the ice blocks melt, they will provide a harsh illustration of the effects of global temperature changes.

Olafur Eliasson in collaboration with Einar Thorsteinn
Model room, 2003.
© 2003 Olafur Eliasson and Einar Thorsteinn. Installation view at Louisiana Museum of Modern Art, Humlebæk, Denmark, 2014. Photo: Anders Sune Berg. Courtesy of Moderna Museet. Purchase in 2015 funded by The Anna-Stina Malmborg and Gunnar Höglund Foundation
Returning to objects set-up in the outdoor urban environment, several of them can be seen at Stockholm's Moderna Museet, albeit in miniature form – Eliasson's exhibition Verklighetsmaskiner (Reality machines) begins with a vignette of three-dimensional objects titled "Model room". Moving on, the visitor enters a room of elements from nature: a swinging fan ("Ventilator", 1997) creates wind; a vertical wall of living moss ("Moss wall", 1994) smells of the forest; and a touchable 14-million-year-old meteorite, illuminated so that it casts a colored shadow, activates the visitor's sense of touch. Going further into the exhibition, one enters a world of optical effects: the large-scale kaleidoscope "Your compound delight" (1998) reminds us that human visual perception is just a construct formed by our culture, while the mirrored "Less Ego Wall", made specially for this exhibition, reflects Eliasson's geometric experiments that have expressed themselves through mathematically complex structures. The installation "Beauty" (1993), a miracle of nature brought indoors, provides an exceptional visual experience, while the thoroughly yellow "Room for one colour" (1997) reduces the viewer's spectral range to only yellow and black. When walking through the maze of colors titled "Seu corpo da obra (Your Body of Work)" (2011), it is the viewer's movement alone that creates an infinite number of color compositions.
Matilda Olof-Ors, curator of the "Reality machines" exhibition, points out that Eliasson changes the perspective of perception – by looking at his artworks, you can see yourself: "Instead of concentrating only on the visible, the exhibition makes viewers conscious of themselves – how we see things, what we are doing when we look at works of art, how we interact with other visitors, how our movement changes what we see. Eliasson makes us understand that our perception is not something static – it is constantly changing."

Olafur Eliasson: Verklighetsmaskiner / Reality machines. Moderna Museet, Stockholm, 3.10 2015 - 17.1 2016 © Olafur Eliasson. Photo: Anders Sune Berg. Installation view, Moderna Museet/ArkDes, Stockholm 2015
Could you please explain the idea behind the title of your exhibition?
The title of the exhibition is "Reality machines". There are many ways to look at the title and I welcome you to make your own interpretation of it. I like this idea that reality is not something that is out there in which we can walk around in, but that it is actually something that is being produced or something that is happening – it is a process which, to a great extent, depends on your involvement or engagement.
You could also say that reality is really the consequence of your presence, and that your presence is also the consequence of reality, of course. So, if I suggest that reality is something that is actually constructed, like, through a machine, then that means that reality is also something that we can change. It is a little bit about the ownership or authorship of reality – is it something which we can impact, or is it something that we cannot impact? Quite often I have the feeling that we cannot, or we feel that we can't impact reality – we feel disconnected. We feel in despair of some thought, or we feel that we have a great idea, but we don't know how to translate the idea into an action or into simply doing. Sometimes we make the mistake of thinking that reality is static around us, whereas I would like to argue – well, reality is actually dynamic and relative to our impact.
Sometimes when you are involved with a work of art – it can be a space, it can be a situation, it can be a little performance, it can even be a painting, actually – you see something in the artwork or in the situation that you recognize. Sometimes you recognize it as something from yourself. I know that feeling; I have it in me, but I did not have the time or opportunity to bring the feeling to shape, so the painting verbalized, on my behalf, a feeling that I was not conscious of. And we know this from reading a book, from listening to music, from watching a film; it is one of the key cultural resources – it is able to verbalize things on behalf of people. And when that happens, I'm very interested in going one level deeper. What I feel is that the painting recognizes me, it sees me; at least, I can identify myself with it or the painting identifies with me. In that moment, it is almost like you feel reflected. In this way, the artwork reflects needs that you are not yet conscious of having.

Olafur Eliasson
Room for one colour, 1997
© 1997 Olafur Eliasson. Photo: Anders Sune Berg. Installation view, Moderna Museet/ArkDes, Stockholm 2015
Also, I'm very curious about the relationship between a city or society and a cultural institution, such as a public museum (in which we happen to be right now). The museum is like a reality machine in society. As it is a public cultural institution and paid for with public money, it is not the same as a private consumer environment – which is also a reality machine, but there is a difference between them. I think the difference is in the quality of the critical questions one can ask within a cultural context, compared to the ones which are typically asked within the private sector.
How does reality feel to individual people, and what is the structure of that feeling? I think it is so easy to talk a lot about reality, like I just did, in different ways and in different systems, but how does reality actually – when it reveals itself as real – feel to you and me? It is true that for this, I don't have a very clear answer, but at least I'm very interested in it, and my show here is an attempt to kind of focus on this question.
In a public institution like this, there are spaces which are capable of hosting you, and this, I think, is a very rewarding feeling because this is the moment when I can say that, through my engagement, I allow the artwork (the institution, in this case) to see me, and I see myself from the perspective of the institution. It's a sort of reversal of how we normally see things when we consume. So suddenly, I'm in a producing mode and I produce myself. And this is what I mean by 'reality machine' – it is the ability for me to exercise my own existence as being a part of a context.

Olafur Eliasson
Touch, 2014
© 2014 Olafur Eliasson. Photo: Anders Sune Berg. Installation view, Moderna Museet/ArkDes, Stockholm 2015
One more thing I'm very curious about – the potential of the shadow. I have worked a lot with shadows. You see a shadow, then you move and, of course, it's no surprise that the shadow moves, too. But because the shadow has a particular quality here (maybe a color plate is being used), you start to move differently because the shadow inspires you to move differently. You might even start to dance (children definitely start to dance), especially if you are in a childish mood or if you are alone. There is this interesting moment – first you create a shadow, but then the shadow creates you. It follows the principle of what I said before – the shadow becomes the subject and you become the object; instead of the shadow being a consequence of you, you become a consequence of the shadow. So you use the shadow to sort of... realize yourself (that's a big word, and that's probably not what is really happening, but it is an interesting exercise).
Actually, a lot of public spaces seem to suggest that you can actually use the space to – I wouldn't say 'reinvent' yourself, but at least 'reconsider' yourself, and this is what the color labyrinth ["Seu corpo da obra (Your Body of Work)", 2011 – O. F.] also is about. It is very much about – 'let's put our sensory confidence of ourselves into our physical activity'. Running around, playing at color sliding – there are only three primary colors: magenta, cyan and yellow, but with them you can make all of the other colors – it is the movement that mixes the colors; if you stand still, it's static. So your legs become your eyes, or your eyes and your legs become one system. It's not like you walk and then see; if you don't walk, you won't see as much as when you walk. And the whole idea of a labyrinth – getting lost, finding oneself – shows where I am going. Also, it is a kind of gentle suggestion that sometimes, to connect thinking and doing, one needs to allow for some playfulness – like running around a bit.

Olafur Eliasson
Seu corpo da obra (Your body of work), 2011
© 2011 Olafur Eliasson. Photo: Anders Sune Berg. Installation view, Moderna Museet/ArkDes, Stockholm 2015
Do you feel that it is kind of your mission to show people other possible ways of looking at the world?
I don't think it's my mission. My mission, I think, is to make art. But the art I am interested in making asks these type of questions. It is not a mission or an idea that is external to my artwork; it's not that I make art which then has a secondary mission. I think there are just these questions in the toolbox from which I make my works, and I'm very interested in the dynamic relationship between the works and, for instance, public spaces or city planning, urban planning and architectural governing.

Olafur Eliasson. Cirkelbroen. 2015. Christianshavns Kanal, Copenhagen. Photo: Anders Sune Berg. A gift from Nordea-fonden to the City of Copenhagen. © Olafur Eliasson
You work a lot with urban spaces and architectural objects that come into daily contact with passersby. How important for you is it that the audience has an understanding of what it is that you are doing?
I think that the future will be much more cross-disciplinary, and that we won't be as obsessed with dividing art, architecture, poetry, music and theater into different categories. Cultural productions are a strong tool with which to shape the world, and what we need is more confidence that the cultural sector can, and should, be a part of the shaping of our world; we shouldn't leave it all to the financial sector, politicians, and so on.
Just recently, a bridge [Cirkelbroen (Circle Bridge) – O.F.] that I designed was opened in the city of Copenhagen. I was very thankful and truly excited to work on it because it is right in the city's public space. I did some tests with people on the bridge: I'd say, "It is architecture," and they would say, "Oh, it's architecture!" But then I'd say, "No, now it is art," and then – "It is architecture again." I would switch back and forth, and it actually had a profound impact on the perception of the space. When I said it was art, that allowed for a more irrational understanding of the space – for more playful interpretations. When I said it was architecture, it was taken to be more pragmatic and rationalistic. I'm not saying that art and architecture, without any effort whatsoever, can blend, but we should also see that there is a certain responsibility for art to introduce the potential of art into architectural skills. Also, I think there is a pragmatic realism in architecture that can sometimes be beneficial to art.
So, I do love architecture, but not because of the pragmatism; rather, it's because of all of the problems that it brings to the table. I love solving, and being a part of the problem-solving process without loosing the potential that, I think, art can offer. And the bridge in Copenhagen was, for me, an attempt at doing that.

Olafur Eliasson. Beauty. 1993
What about beauty? Is that something that you consider when doing your art? What is 'beauty' to you?
Well, I think we should not allow beauty to be colonized by the private sector alone. Beauty is everywhere, and we should occupy this beauty and claim it back from the commercial sector – which is why one of my works is called "Beauty". And I think people should not be afraid of putting their stamina into saying... Well, I know it's difficult to tell a girl (in my case) that I love her because it sounds kitchy to say "I love you" (especially in Italian – "ti amo") – because it has been exploited by all of these romance novels, but what can I do? I don't have a choice; I can only say what I feel. So, I need to put my effort into saying these things when I make art, even though sometimes I'm very close to something which, in another environment, could be seen as being exploitative.
I think ugly things can be beautiful, too, but I also think there is a romanticized mythology of ugliness, which also can be very unproductive. I don't... I should stop there; I probably shouldn't say what I was about to say.