A social sculpture
An interview with Vienna-born curator Kathrin Messner who built a school in Sri Lanka

11/03/2016
"THINKING FORMS – how we mould our thoughts; or SPOKEN FORMS – how we shape our thoughts into words; or SOCIAL SCULPTURE – how we mould and shape the world in which we live: sculpture as an evolutionary process; everyone an artist," wrote the artist and theoretician Joseph Beuys in his legendary 1979 work Theory of Social Sculpture.
And it is precisely this idea and conviction of Beuys that art can change the world that inspired the Vienna-born curator Kathrin Messner and her husband, Austrian artist Josef Ortner, more than 30 years ago to begin the idea that went on to become their own "social sculpture". A "social sculpture" that is their own contribution towards a better world, which, although it sounds utopian, might be closer to reality than we think. Because all great things are made up of smaller things...of cells, molecules and atoms.
Messner and Ortner's one world foundation is located in Sri Lanka and serves as a space in which the most diverse cultures meet as equals. Experience, knowledge, ideas. The foundation is a project of fair exchange that consists of three elements: a free school for local children and youths, the Bogenvillya Ayurvedic guest house, which caters mainly to people from the European art world and finances the school, and a residency programme that has let this little paradise-like corner of the world to also become a space for new ideas in art and literature. "Travel broadens the mind" is the motto of one world foundation, and here this motto truly takes on a very real, specific, material shape.
Messner and her husband, who passed away in 2009, first travelled to Sri Lanka on vacation. Despite both being very much involved in Vienna's art scene at the time, they were also consciously searching for a "second home", a place to begin a second life of sorts. And Sri Lanka just happened to be the right place at the right time. The road from the airport to the city centre (now a four-lane highway) was then a small, narrow road crowded with antique automobiles, cows and even a few elephants all travelling at a snail's pace. On top of it all, the island country was on the brink of civil war.
Messner and Ortner bought some land in a small, out-of-the-way fishing village about a two-hour drive from the capital, Colombo. Bit by bit they increased their property and, in addition to their home, they added a guest house and a school. In proportion to their growing responsibilities, the family began spending more and more time in Sri Lanka. When they opened the school in 1995, it had 100 students. Today, more than 1000 students attend the school and are taught by 40 teachers.

Bogenvillya Guesthouse, Sri Lanka. Photo: Thomas Wirthensohn
Survival has always been a struggle in Sri Lanka. At first, the income generated by Messner and Ortner's guest house did not cover the expenses of running the school and the couple was forced to rely on donations from friends back in Vienna. When it finally seemed that things were starting to go according to plan, the island was struck by one of the most tragic events in its history – the 2004 tsunami – which took the lives of 35,000 Sri Lankans and left another 2.5 million people homeless. The school was totally destroyed, and the guest house was also damaged. To help after the disaster, gallery owner Ursula Krinzinger, artist Eva Schlegel and the mayor of Vienna organised an auction of artwork in the Austrian capital. Philanthropist and patron of the arts Francesca von Habsburg was also involved in the auction, which took place at the Galerie Krinzinger, and the proceeds (230,000 euros) went towards the construction of a new school. This new school was built on a former cinnamon plantation a safe distance from the sea. "After the tsunami we had nothing, everything was destroyed, and it was so incredible that artists in Vienna organised this all by themselves," says Messner.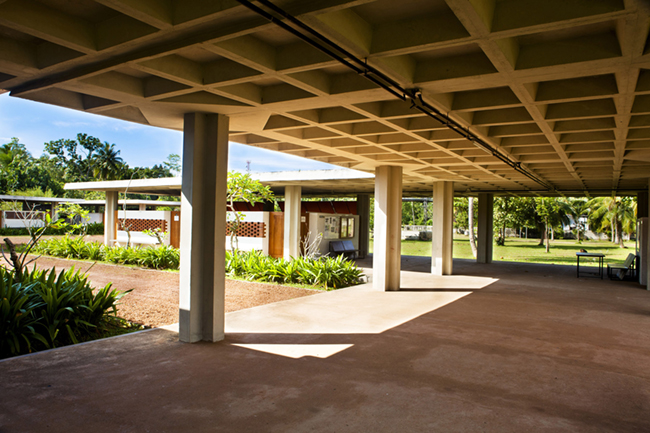 one world foundation. Free Education Unit, Sri Lanka. Photo: Thomas Wirthensohn
A new guest house cottage designed by architect Varuna de Silva and made possible by Hans Ulrich Hardmeier has in turn been built on the site of the former school. He is the third architect involved in the project. Other cottages were built by Ortner himself, having taken inspiration from the Bauhaus style and that of renowned Sri Lankan architect and master of tropical modernism Geoffrey Bawa; still others were built by Austrian architect Carl Pruscha. Made of wood, glass and concrete, the buildings are simple modular structures that provide guests with the basic comforts yet allow them maximum access to nature. In all, the guest house complex now has 14 rooms located throughout the paradise-like property, in which nature, art and a human-created aesthetic coexist harmoniously. The Indian Ocean sparkles beyond the palms and the small, picturesque lagoon, and a simple bell calls guests to lunch and dinner.
Messner grew up in a bourgeois Austrian family that was always closely linked to the art world. She studied economics in Salzburg, languages in France, and opened her first book store in Vienna, where she sold books about contemporary art. "Vienna was very different at that time. Back then, you could find traditional art everywhere, but there was practically no information about what was happening on the contemporary art scene." Thus, Messner's book store became a meeting place of sorts for Vienna's creative intelligentsia; it's also where she first met her husband.

Dominique Gonzalez-Foerster. "Helen & Gordon", Safety Curtain, 2015/2016. Vienna State Opera. Photo: Andreas Scheiblecker. Courtesy: museum in progress (www.mip.at)
In 1990 in Vienna, Messner and Ortner founded the "museum in progress", the first museum without walls, whose goal was to exhibit contemporary art outside of an institutional environment. In other words, putting art in places where one usually does not expect to see art. In place of classical exhibition halls, the "museum in progress" placed art on billboards, on television and radio, on the Internet, in the Süddeutsche Zeitung and Der Standard newspapers, on the pages of Austrian Airlines' inflight magazine and so on. By doing so, the project attempted to search out ever new forms of addressing viewers and auditoriums. Many well-known artists, writers and curators participated in "museum in progress" initiatives, including Hans-Ulrich Obrist, Daniel Birnbaum and Akiko Miyake. In 1998 the safety curtain at the Vienna State Opera became a "museum in progress" platform; every season since then (18 and counting), a specially created work of contemporary art has been exhibited on the safety curtain. For the 2016/2017 season the featured artwork is by American artist Tauba Auerbach. Titled A Flexible Fabric of Inflexible Parts III, it resembles a glowing x-ray of our times. An almost three-dimensional green-red helical grid seemingly interwoven with the bright blue background pulls viewers in and turns their minds like a centrifuge of information in which it is impossible to separate the wheat from the chaff. Like the tempo at which we are currently living, rotating in ever larger circles and from time to time risking losing our grip on ourselves.
Right now, the opera curtain is the most significant project still linking Messner to Vienna. We meet on the terrace of her guest house's main building, which was her and Ortner's first home in Sri Lanka. A mongoose runs around in the garden across from us, and a monitor lizard is heading towards the water-lily pond for a drink. The lizard has made its home under one of the pieces of artwork in the garden. Messner tells me that she once observed a mongoose and a cobra fighting on the village road... and everything happened according to the laws of nature. Messner is now seventy years old, and she radiates both strength and a wise humility. A laconic concrete bridge overgrown with grass leads to the house where she now lives. In Buddhist philosophy, a bridge signifies change; as one crosses a bridge, worldly temptations are left behind. "And every time it gives you the chance to start something new," she smiles.

John Baldessari. Travelling Eye, profil, no. 49, 04-12-1995, pp. 70, 71. Courtesy: museum in progress (www.mip.at)
30 years ago, when you were well known and very involved in Vienna's art scene, why did you decide to look for a "second home"...and on the other side of the world, at that?
This was a challenge for us, we wanted to look for a place in a completely different situation, also in the cultural sense. My husband was an artist, and I owned an art bookshop. We were very involved in Vienna, both in the "museum in progress" as well as in other projects. In the meantime, though, we thought it's a pity if we spend our whole life in Vienna. We were already travelling a lot back then, in order to distance ourselves a bit from life in Vienna. We were researching; we were looking everywhere, also in the States. At one point we were thinking about Los Angeles and had even found a school for our daughter there. But it didn't work out. The financial costs of starting a second life in Los Angeles were too high. We came to Sri Lanka by chance. We always travelled in other directions, and one day I said to my husband and to my daughter – for once, let's go to Asia. We had never been there before. They were not so enthusiastic about the idea at first. But they did it for me. We came here for the first time in 1983, and we stayed in a small guest house in this very same area. We drove around the whole island and got lost. But then the decision came to us.
And then the cultural situation in which you found yourselves was radically different.
Yes, but we wanted that. We were looking for that, because we were a little bit, like, not fed up, but in Vienna it was always the same thing over and over again. And the scene was narrow at that time. We had no possibilities to develop in a different way. So, we wanted to have a second life. That's why we chose this place and have very, very slowly built it up.

Gerhard Richter. Travelling Eye, profil, no. 23, 03-06-1996, pp. 74, 75. Courtesy: museum in progress (www.mip.at)
Was it just the idea of having a second home, or did you have further goals in mind already from the beginning? For example, goals linked to the educational and art projects that are at the core of one world foundation today?
First was a home, because you have to start somewhere. But in our minds we always had the idea to make a project for other people, for our artist friends. They came here to visit, and we wondered what we could do, how we could develop a situation. That's why it was not clear from the very beginning, because in such a different cultural situation you cannot just say I will do this or that. You must first look, you must first feel, you must be in this culture, with these people, you must understand them... and only then is there the possibility that something might grow. You must have time.
Today, of course, we can also speak about a contemporary art scene in Colombo – there's a biennale and a few art galleries that are quite strong. But what was it like thirty years ago? Was there any contemporary art here at all back then?
Very, very little. There were some artists, of course, just like all over the world. You can go to the desert and you'll find artists there, because art is something you can find everywhere. But at that time it was very hidden and not developed, you couldn't compare the scene with Vienna or any other city in Germany, France or Italy. But there were interesting artists. And the more information they received, the more quickly the environment here began to develop. But you can find art anywhere.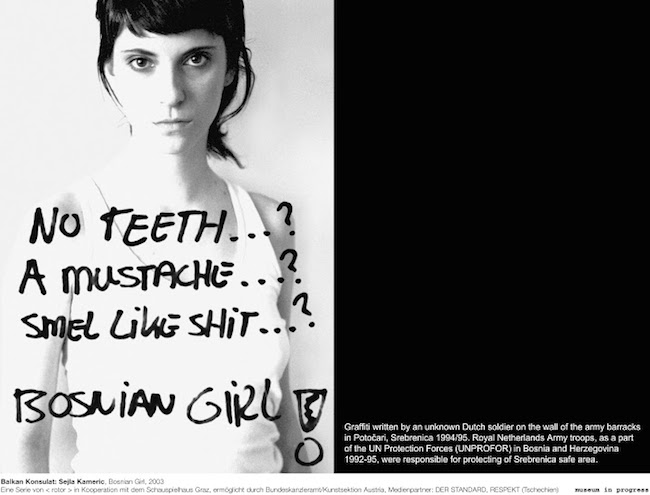 Šejla Kamerić. "Bosnian Girl", Balkan Consulate, Der Standard, 11-12-2003, p. 10. Courtesy: museum in progress (www.mip.at)
Considering your experience, do you think art has a nationality, a national character?
Yes. There is the one common element, that artists always want to express themselves. Even in a peaceful world, art is always political. Whether knowingly or unknowingly, artists have always worked for a better world, justice and so on through their art. Most of them. Really good art is always a kind of political statement.
In any part of the world?
Yes, in my opinion.
Have you tried to introduce Sri Lankan artists to the European art world?
Yes, we invited one Sri Lankan artist, Chandraguptha Thenuwara, to Vienna. That was in 1997. There was a big exhibition at the Vienna Secession curated by Hans-Ulrich Obrist, the title was Cities on the Move. And it was about fast-growing cities in Asia. Obrist was very close to us; we were friends and still are. We worked together, and we were always telling him about Sri Lanka. He didn't know any artists here, but after seeing the works of Thenuwara he decided to invite him for the exhibition. Thenuwara studied painting in Colombo and later in Moscow; later, he founded the Vibhavi Academy of Fine Arts in Colombo and is still the director there.
He founded his own "-ism". You know, there's cubism, minimalism and all sorts of "-isms", but he was the founder of "barrelism". Because during the civil war the visual landscape of Sri Lanka was filled with barrels. You always had to go around them to go on your way. For Thenuwara, the barrel was a metaphor of freedom. He did many sculptures and other pieces of artwork with these barrels. The piece of artwork he exhibited in Vienna showed Sri Lanka with a boundary drawn in the barrelism style. It was called Barrelism Tourist Map. He put his work on the wall and said that he also needed a real barrel. It's a funny story. The curator from Secession in Vienna went with him to nearby factories to find a barrel. Finally they found one, but it was a brand-new barrel, not like the barrels here, which are very dirty and used. So, he was not happy, but he had to take it. He had no other choice. During his speech, he spoke about Sri Lanka, about the artists here – how they must be careful, not too loud. Because they were being watched and they struggled a lot, but anyhow, they were together and they made nice artwork.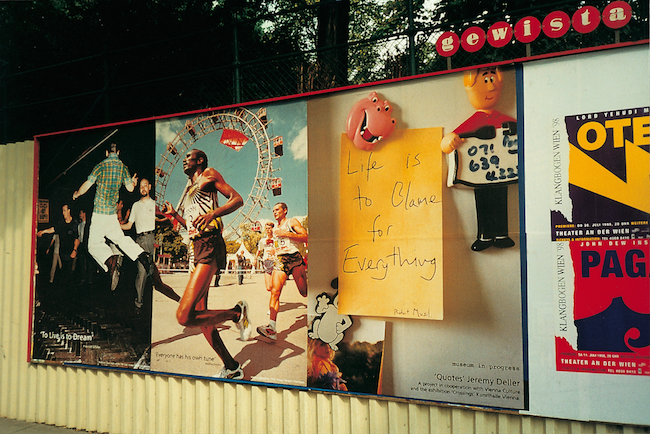 Jeremy Deller. "Quotes", Billboard, 1998. Courtesy: museum in progress (www.mip.at)
A move no less radical than your moving to a different continent was the "museum in progress" project that you began in Vienna, which became the first museum in the world not bound by traditional walls. How did that idea begin?
The idea was born in 1990, because we had the feeling that art should not only be shown in museums, but also in the public space. That's why we wanted to show art on newspaper pages, on billboards, in "in-between spaces" that are normally not for art. This was very interesting, and many artists came and joined us, because they were enthusiastic about the idea. We worked together with Austrian Airlines and we did thousands of billboards in Vienna. For example, in the span of one month, 2500 billboards were set up across Vienna with artwork by Felix Gonzalez-Torres, Hans-Peter Feldmann and other artists. And it was fantastic, because everywhere you went, you saw these billboards, and that was very unusual for Vienna. It was only possible because the two big bosses at Austrian Airlines at that time were interested in art. We did it for twelve years. Then these two persons changed, and another director came who was not interested in art. He was interested in festivals and music. So, this project was finished.
And then came this terrible time in Vienna, the year 2000, when the right wing came to power in the government. Together with them came the infamous Jörg Haider. All the artists were so shocked by that. Back then we were working with Der Standard, the Austrian daily newspaper – on its pages we were publishing artwork and essays as a part of the "museum in progress" project. And, you know, art can sometimes sting and hurt. We became undesirable.
One of the "museum in progress" projects was the Portraits of Artists series of video works (1992-2001). Basically, they were videos of interviews with artists. The artists could choose their interview partners and the colour of the background – blue or yellow, green, whatever they wanted.... All interviews were recorded with the artists as talking heads face on to the camera and the interviewer's voice off-screen. We interviewed more than 100 artists including Georg Baselitz, Gilbert & George, Jeff Koons, Vito Acconci, Jenny Holzer, Hans-Peter Feldmann and others. They all now show in big exhibitions. One in Kunsthaus Bregenz, another in Cologne. Several museums have expressed interest in obtaining these works, restoring and digitalising them.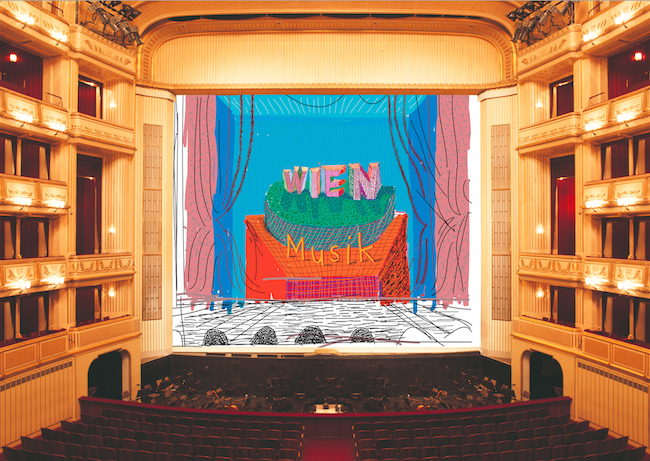 David Hockney. Safety Curtain, 2012/2013. Vienna State Opera. Courtesy: museum in progress (www.mip.at)
For 18 years now, one of the "museum in progress" projects has been the Safety Curtain exhibition of contemporary art, which is located on... the safety curtain at the Vienna State Opera.
It started because the director of the Vienna State Opera at that time was not happy about the image they had on the safety curtain. It was from the mid-1950s, and the artist who had made it was a former member of the NSDAP. The director of the opera was Jewish, and he didn't like the situation. He said he wanted to do something about it, and he also discussed it in the media. Then Josef and I, we arranged to meet him, and we told him that we're placing art in big spaces and that we also have the ability to put it on a very thin and light material. So, then the discussions began, and we came to the agreement that this project would be entrusted to us. Thanks to our lawyer, we also drew up a very good and strict contract. Because the "museum of progress" is an immaterial structure, only its legal status makes it a museum space. That really helped us in the beginning, when a private Austrian person collected more than 20,000 signatures against our project at the opera. It was horrible. But in our situation, the director of the opera was able to simply refer to the binding contract with museum in progress. And so the art project continued ever since.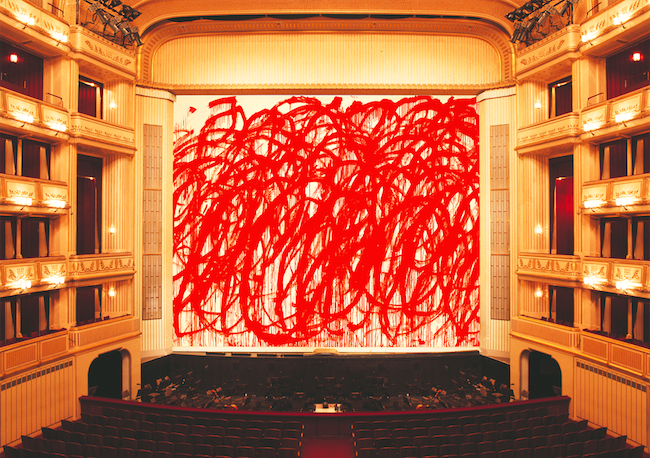 Cy Twombly. "Bacchus", Safety Curtain, 2010/2011. Vienna State Opera. Courtesy: museum in progress (www.mip.at)
The list of artists who have had their work exhibited on the opera curtain over the years is impressive: Matthew Barney, Richard Hamilton, Tacita Dean, Jeff Koons, Franz West, Cy Twombly, and others. How did you get them all involved?
We contacted them, we wrote to them. Also, Hans-Ulrich Obrist was on the jury. He's our friend and partner. I would say he's one of the best curators in the world. He is a phenomenon. He lives for art and artists. He's so obsessed, and he gave us many tips as well.
Is he still on the jury?
Yes, he's still on the jury. And we already have artists lined up for the next two years.
What's been the reaction of audiences over the years, considering that opera goers are fairly conservative?
Now it's very good. In the beginning, of course, it was a big risk. Because you must imagine these were people who were coming to listen to music. To opera, which is something very traditional and very holy. And then suddenly they were confronted with contemporary conceptual art. And for twenty minutes before the performance started they had to look at this artwork. You can imagine... We put out a lot of information – postcards, brochures, talks... But it was difficult, of course. There was a lot of scepticism. And it really was a challenge to put contemporary art into this frame. But now – like always with art – after some time has passed, people even begin to feel a need for it. And they begin to discuss who will be next...

Kara Walker. Safety Curtain, 1998/1999. Vienna State Opera. Courtesy: museum in progress (www.mip.at)
Which piece of artwork has been the most provocative?
The first one was by African-American artist Kara Walker. Some people said that it looked like a cheap bar in Africa.
When you began the "museum in progress" project, your idea was to create a 21st-century museum. Well, we've been living in the 21st century for a while already. Do you think anything has changed in the museum's idea and in what people expect of it?
When we started it, there was a boom – so many museums were being opened. So much new architecture. Sometimes we had the feeling that it's not for art, it's more for the architects themselves. At that time our thinking came from Alexander Dorner, a legendary museum director and promoter of artists such as El Lissitzky and László Moholy-Nagy. He said that the museum should be an intensive place, not just art, pictures on the walls. There should be a movement in a museum. He compared museums with power stations, the producers of new energy.
There are so many new museums now, and new ones are still being built. One bigger than the next. Of course, that's important, but we went another way. We wanted to show that it's important to show art out in public spaces. Of course, this is not the only solution, but it's one idea.
How do you feel that your idea of an immaterial museum helped to change the concept of the museum as an institution a little bit?
Yes, museums are now more open. For example, the Museum of Modern Art in Vienna (MUMOK) loves to include the "museum in progress" in their shows, and they are always open-minded for discussion. And the MoMA in New York also presented our projects. Yes, something has happened. Of course, they cannot do the same as us, but they are open and they show our work in their exhibitions. We didn't want to be there originally, but now we are there. As an example.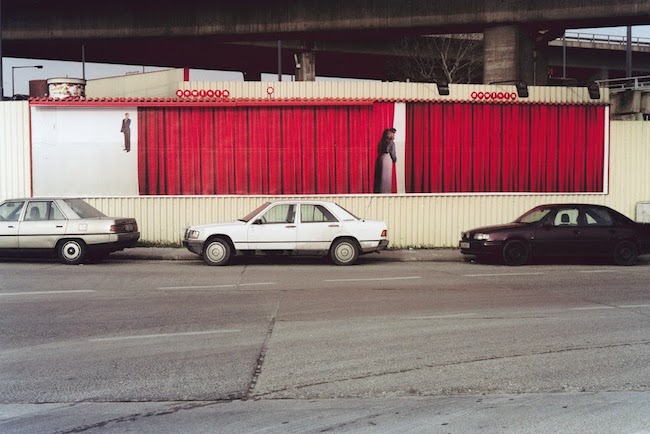 Markus Schinwald. "Stage", Billboard, 1999. Courtesy: museum in progress (www.mip.at)
Museums traditionally have a depository where their collection is stored. Your collection is completely immaterial.
It exists only in books and on the website. But also in our extensive archive of newspaper pages, magazines and billboards.
What's the future of the opera curtain?
The curtains used to be destroyed, however in 2012 we started keeping them in our archive. There are some ideas about what we could do with the curtains, but until now we haven't done anything. Each work is being presented for about 8–9 months. Afterwards the individual art work lives on in the pictures, on the website and of course in the visitors' minds. The art works of Joan Jonas and Dominique Gonzalez-Foerster are also available as signed and numbered prints.
How do you feel about what's happening with contemporary art right now? People are talking a lot about how there haven't been any radical new phenomena or directions in the past ten or even twenty years.
It's always developing. Even if we can't see it immediately. Many things now are very intellectual and maybe sometimes quite difficult to understand. But there's always development. We can see this only ten, twenty or thirty years later. There are good artists and others who are forgotten. Of course, it's not always so easy to judge quality. You must know many things, you must be very well informed. But there's always one phenomenon that is interesting. My partner is very good at music, but he's not so well informed about contemporary art. But when he sees it, he looks at it for a long time, and when he goes to a museum or gallery exhibition, he always goes straight to the place where there's quality. He can see it immediately and he can feel it. But he doesn't know why, or, to be more precise, he doesn't know "why" intellectually. But he has this feeling, and that's wonderful.
Good art is strong. Even people who can't understand it, they can feel it. Of course, you must be sensitive and open-minded. I can see it also with our staff. They are so nice when artists come by. We had an artist from India who stayed here as an artist-in-residence. He did very erotic works. The staff who cleaned his studio every day, he just told them that all this is natural. And they didn't have any problem with it. They can't reflect on why it was like that – they only like the person, they like the pictures, they can't say why.

Christian Eisenberger. "westberger, kippenberger, eisenberger", 2013. Courtesy: Galerie Krinzinger
Another artist we had here in residence was Christian Eisenberger from Vienna. He was also in the school, because he wanted to learn batik. The girls there were real Buddhists, they were always doing elephants and that kind of drawings. But Christian makes dead people, penises and sexuality. And he was sitting next to them. But there wasn't any problem, nobody said no. Nobody was shocked. And it was so incredible to see this, because it was really an experience. Of course, it's good if you're intellectual and you can understand much more, because then you also have much more pleasure, you can discover so many things. If you don't know, you don't know it. But if you don't know, you still can feel something. I've seen it so many times. It's wonderful.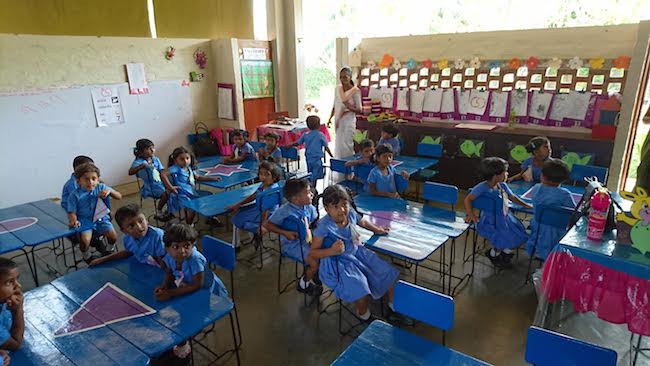 one world foundation. Free Education Unit, Sri Lanka. Photo: Ainars Erglis
After all of these years in Sri Lanka, have you come to understand exactly why you decided to stay here?
It's this feeling of being here. I like to work with people. We are like a family here. Of course, sometimes I miss art and all this life in Vienna, and Zurich, where my partner lives. But, you know, nowadays it's not difficult to follow along. All you have to do is open your computer and you can really visit each exhibition and know what's going on.
I have the feeling that here I have more time. I read books, I do my writing. I like to be quiet in the jungle. I like this. But, of course, if it gets too quiet, I like to go out. And afterwards I like to come back. It's like a magnet. I don't know why, but it's like that.
After the tsunami, did you ever consider leaving this place?
Never. After the tsunami it was really down and dark and sad. I never experienced the war myself, but I know it from literature and movies. Just like after the war, everything was destroyed and it was so bad, so painful to see all these dead people. But I never had the idea to run away. It was really, really depressing, but I always tried to find a way out of this, not run away. To leave them alone with all that had happened, no.
But how do you feel now – has Sri Lanka recovered from the war and tsunami?
No, it's still in there. The conflict with the Tamils is not resolved. The war is finished, but the conflict is still there. It's very, very deep. It's centuries old, sometimes it's felt more, sometimes less, but it's not gone. It's the same with the Muslims.
The tsunami was a real catastrophe and many families still suffer mental illness from that time. It takes a long time to get over it. But there's always this feeling that one day it could come again.
Can you see a reflection of all that in Sri Lankan art, too?
Yes, you can see it. If you really look at the artwork, you can see it.

Kathrin Messner. Photo: Elena Givone
You said that when you first came to Sri Lanka it was like travelling back in time.
It was like a film from the past. You just arrived in another time. When we first came here, it was like the 1950s in our own country. Of course, that's very simply said. But sometimes you have this feeling that you're going back in time, not forward – back in time. But from the back you go forward. Because the purism of expression is sometimes further ahead here than in Europe. It's very strange, but that's what it's like. The back is a variety of the forward.
How do you feel when you return to Vienna after a longer time away?
In the beginning, I'm happy to be back. My family, my daughter, my grandchild, my friends – they are all there. Sure, it's nice. But after some time there, my brain and my heart start telling me that I have to go back. I don't know why, but it's like that. My roots are in Europe, but I always like to go back to Sri Lanka.