A Nomadic Event with a Permanent Impact
An interview with Hedwig Fijen, the director of Manifesta – the European Biennial of Contemporary Art

09/05/2016
One of Europe's three most significant art biennials, the contemporary art biennial Manifesta, will soon be at the door – June 11, to be precise. This year the traveling biennial will be anchoring itself in Zurich. Under the observant eye of the event's Curator, German artist Christian Jankowski, 30 international artists are working together with local representatives of various professions to create 30 new productions that will illustrate the theme of this year's Biennial – "What People Do for Money: Some Joint Ventures". Joining the artists will be the enfant terrible of French literature, Michel Houellebecq; under the supervision of a physician, Houellebecq is having his brain x-rayed and his heartbeat recorded. Meanwhile, Dutch artist Jennifer Tee, along with the director of a funeral parlor, is going through morgues and chapels to find the best place for her new installation. Also busy at work are Italian art prankster Maurizio Cattelan and a world Paralympic champion, as are the Mexican multimedia artist Teresa Margolles and a transsexual sex worker.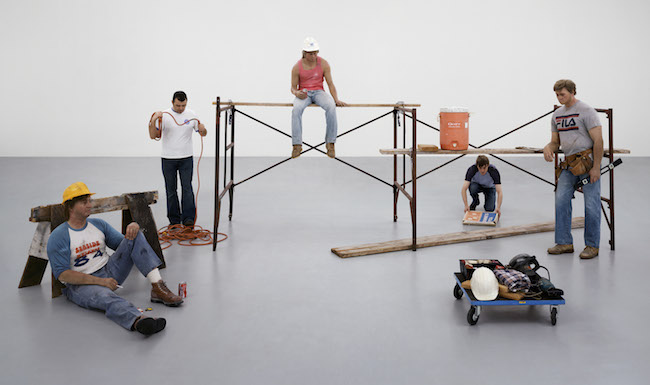 Sharon Lockhart. Lunch Break Installation, "Duane Hanson: Sculptures of Life", 14 December 2002 - 23 February 2003, Scottish National Gallery of Modern Art, 2003. Photo: © Sharon Lockhart and Manifesta 11
While the greater part of preparations are underway in Zurich, the central offices of Manifesta in Amsterdam are not in any way idle. Located in the Golden Bend (Gouden Bocht) neighborhood of the city, amidst a whole succession of Dutch cultural institutions lined up alongside Herengracht Canal, the grand old building housing the offices of Manifesta is seen as the heart and mind of the large-scale art event. Built in Amsterdam's "golden age" during the 17th century, and enclosing a verdant inner courtyard garden, the building has been partially given over to the hands of the International Foundation Manifesta by the royal family's philanthropic foundation, the Prins Bernhard Cultuurfonds. Inside, work is underway on not only this year's Biennial, but also on the following two – in Palermo in 2018, and in Marseille in 2020.
Hedwig Fijen, the founding director of Manifesta, has been responsible for planning and conceptualizing the Biennial ever since its inception in 1993. Under Fijen's direction Manifesta has been developed into the fourth most influential biennial in the world. Over this period, Fijen has vastly expanded Manifesta's operations with theoretical and educational projects including the Manifesta Journal, Manifesta Publications and the Manifesta Coffee breaks.
In the interview, she speaks about the successes and failures of the Biennial's curatorial models; about being ousted out of Cyprus; on the artists' boycott in Russia; about Switzerland's candid readiness to look at itself in the mirror; and on what a nomadic art event leaves behind once it has left...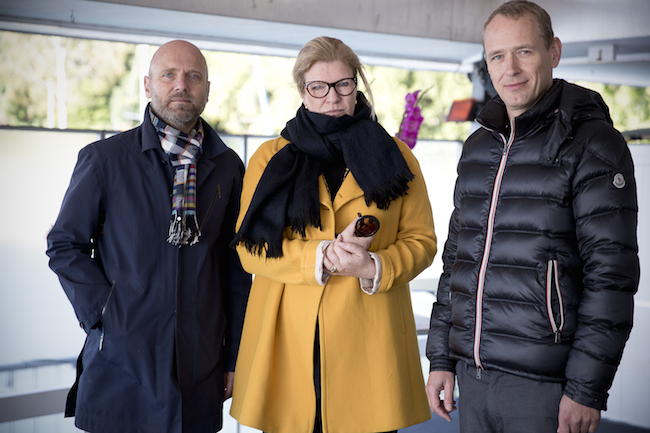 Peter Haerle, Director Cultural Affairs City of Zürich; Hedwig Fijen, Manifesta Founder and director of Manifesta 11; Christian Jankowski, Curator Manifesta 11 during the prees conference on 29.9.2015 at Seebad Enge in Zürich. Photo: © Livio Baumgartner
Usually, the whole art world's attention is focused on the curatorial institution, on the curator. What is your role as the director of Manifesta?
That's a good question, because Manifesta is the only research biennial in the world that is also nomadic. This means that the director has a different role than usual.
Every two years we have to think about how to select a city that is an example or a mirror to what Europe is today; so, the selection of the city is also a reflection of what kind of complexities we face in Europe. We do a lot of research before the curator comes in: we select a host city, and we think about what is the role of the host city – what we want a host city to be, and what we would like to change. For example, before Curator Christian Jankowski had been selected for Manifesta 11, I investigated Zurich in terms of what kind of a role it plays in Europe. What is happening in this neutral country in the heart of Europe, a country that doesn't take on any responsibility, but only benefits from the Europe that surrounds it? Currently we're organizing this kind of an investigation about Palermo; we do this before any curator is selected.
I also think about what kind of profile the curator, mediator, or architect is going to project. Sometimes I look to the jury for advice, sometimes I decide myself. In Manifesta, the curator is not responsible for the logistical organization; he or she is only responsible for the artistic content.
Also, since we don't have permanent funding bodies, a lot of my work goes into getting sponsors – every two years we need to find 7-8 million Euros from somewhere.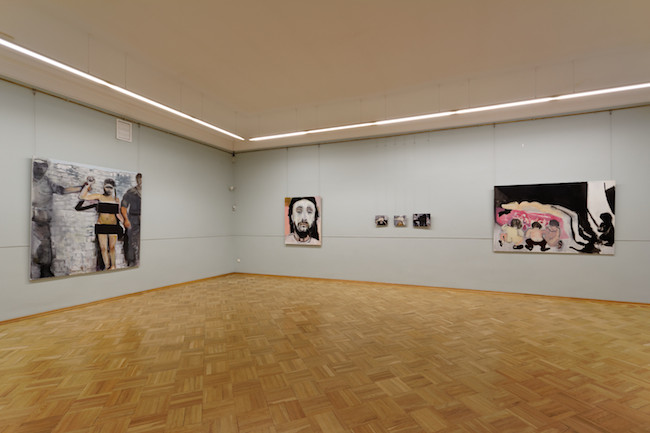 Marlene Dumas. Installation view at Manifesta 10, Winter Palace, State Hermitage Museum. This presentation has been made possible with financial support from the Mondriaan Fund and Wilhelmina E. Jansen Fund
Manifesta can be seen as an experimental laboratory for the practice of curation. Which curatorial methods can be traced back to having started at Manifesta?
For example, in the 90s, curators were invited to participate in a biennial only if they had already worked for at least 15 years in the art world. Manifesta was the first one to invite curators at the beginning of their careers; for example, Massimiliano Gioni, who is now very well known, had never done a show before – he got his start at Manifesta.
Read in the Archive: The "Action Critic". An interview with Massimiliano Gioni, Associate Director at New York's New Museum
Later on, we thought a lot about collectiveness – how can we work in various different disciplines. In the first few Manifestas, the curatorial collective groups were composed according to a disciplinary model; after the fifth or sixth edition, we started to think about moving on towards an interdisciplinary model. Could we put in curators who come from educational departments? Could we use, as curators or collaborators, people with political backgrounds or artistic backgrounds? Or even, as we ended up doing in Manifesta 7 and Manifesta 8 – what would happen if there was more than one curatorial team working on more than one subject?

Praneet Soi at Manifesta 9. Kumartuli Printer, Notes on Labor Part 1, 2010. Slide Show. Supported by: Mondriaan Fund, Amsterdam, Lalit Kala Akademi, New Delhi. Courtesy: Vadehra Art Gallery, New Delhi, Gallery Martin Van Zomeren, Amsterdam. Courtesy of the artist
In Manifesta 9, I introduced the trans-historical model – a method in which curators make interventions in a historical context, and start-up a dialog between contemporaneity and the historical.
Another model which Manifesta began (after having done five editions in different cities) is the one for which I had thought about how we could make much more use of having an educational level. [In 2003, the Manifesta Foundation founded Manifesta Journal, an international journal that focuses on the practices and theories of contemporary curating, www.manifestajournal.org – A.Č.]
A temporary art school was the central project of Manifesta 6, which was supposed to take place in Nicosia, in Cyprus. But unfortunately, the event was canceled three months before its planned opening.
Yes, the Biennial was closed three months before the opening by the local politicians, but the model in itself was interesting.
How can a biennial be turned into an art school? That was the question I posed to the curatorial teams: Can you find a curatorial model for Cyprus by not only producing an exhibition, but also having a long-term effect on the educational system?
That's what I am a little bit proud of – that we saw an opportunity for the curators to innovate, to experiment. And specifically, how can you do an experiment which is actually even able to fail? Failure is not always bad, I think – the closing of Manifesta 6 was the best European project one could have done because it proved how little collaboration there actually is in Europe in terms of educational projects. If the president of a country is able to close an art education event, that says something about the level of democracy in Europe. The act in itself was so political that, perhaps, it really was successful – in terms of highlighting the problematics and crises in Europe, that is.
Can there be legitimate curatorial models about which we can say – they didn't work, or they weren't all that successful?
Yes, definitely. Manifesta is a kind of experiment, and what didn't work is having multiple curatorial voices in one biennial. For example, Manifesta 7 and Manifesta 8 were very complex. This kind of a democratic model, with many different curators working together – it mostly made clear the fact that I have to act as a school teacher, trying to keep everybody in balance. So, after Manifesta 8, I said – We're putting a stop to this model; there should be one chief curator: one person who has the vision, the idea, and the strategy. He or she is going to take care of putting together the team, and sometimes we can help with that. This change of game was successful and worked great for Cuauhtémoc Medina, who created Manifesta 9.
Another thing that didn't work is that, in some of the Manifestas, there were too many venues; it was too large for people to grasp and fully understand. And starting with Manifesta 6 and 7, mediation was brought in because we wanted to reach out to an everyday audience, not only to professionals. But only starting with Manifesta 7, 8, 9 and 10 were we able to reach out to the local people in any great capacity.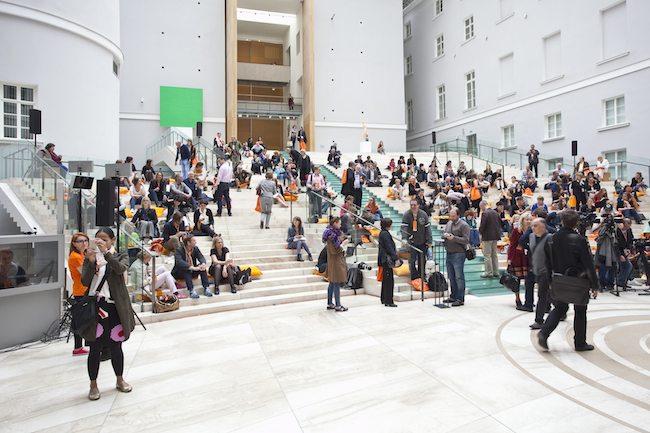 Manifesta 10. Opening days. Photo: Egor Rogalev
The previous Manifesta was held in St. Petersburg, and the city's political circumstances became a substantial challenge. There were artists who chose to boycott the event. Now, with the distance of time, how do you judge the St. Petersburg event?
In Russia, my statement always was – if we isolate these kinds of regimes, then people with different views (which still is 60% of the population in Russia) wouldn't even be able to express themselves. If we do not approach these people, do not show solidarity with the people who think differently and believe that there can be another kind of Russian society – then change will never happen. And it was very tough for us to keep this position because many people's thinking is very short-sighted – "We need to isolate, we need to boycott, we need to leave Russia completely…" But this is not the way to go. Our approach was: Let's intensify the dialog with Russia; let's convince people that critical art and artists have a voice in society – that artists, sometimes in a very playful and sensitive way, can say something about society.
We were attacked by everybody, and from every corner. Of course, we were very secure in the Hermitage (which is a state within a state), and the people who always supported me were artists. I liked what the artist Thomas Hirschhorn said: Don't ask anybody to defend you; Manifesta doesn't need to defend or to be defended.

Erik van Lieshout. The Basement, 2014. Mixed media installation: HD, color, sound, 17:19 min. Wood, color copies. Courtesy Annet Gelink Gallery, Amsterdam, Netherlands. Commissioned by Manifesta 10 St. Petersburg. With the financial support from the Mondriaan Fund, The Netherlands Film Fund, Outset Netherlands, and Wilhelmina E. Jansen Fund. Installation view, MANIFESTA 10, General Staff Building, State Hermitage Museum. Photo: Egor Rogalev
It is opportunistic to start a boycott because it is just a click on the bottom of a webpage, but Manifesta needed to survive in a very complex situation. Artists such as Francis Alÿs, Marlene Dumas, Erik van Lieshout – they knew very precisely why they were there, and they knew very precisely what role they had to play; they were extremely convincing regarding how the audiences reacted. 1.5 million people saw the show! And now we are investigating what impact it had on the people, on this small group of people.

Francis Alÿs. Lada "Kopeika" Project. Brussels—St. Petersburg 2014. In collaboration with brother Frédéric, Constantin Felker, and Julien Devaux. Commissioned by Manifesta 10, St. Petersburg. With the support of the Flemish authorities
How does a city's art scene change once Manifesta has been there? Can traces of Manifesta still be found in these cities?
Even as a nomadic biennial, we try to leave an impact. Some people say we function as a European start-up. We come to a city and work with the local communities to bring them something which they themselves will develop after Manifesta has gone. For example, even in Russia the art scene, by way of Manifesta, has changed – in terms of energy, of dynamics, and in terms of seeing the need to create institutions that can show contemporary culture. Now, five organizations there are building new contemporary art institutions. We don't know how they are going to function, but that fact that this is in response to the energy coming off of Manifesta – this is something.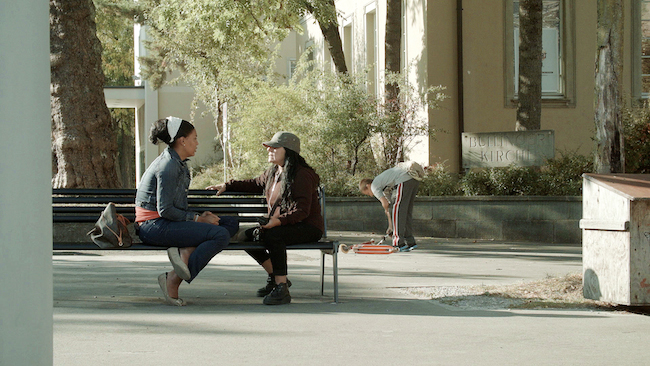 Teresa Margolles and Sonja Victoria Vera Bohorquez, transvestite sex worker. Photo: © Manifesta 11
Let's come back to Manifesta 11, in Zurich. A press release said that the Manifesta board appreciated the openness expressed in the Zurich bid and their willingness to invite Manifesta to take a critical position. I'd like to examine this term, "critical position" – it is common knowledge that Zurich is Europe's financial center, and that Switzerland symbolizes money and the power of money. Zurich tops the list of the world's most costly cities and symbolizes monetary inequality – one of the core issues behind many global problems. How, exactly, will Manifesta exhibit this "critical position", and how truly open is the government of Zurich to this criticism?
All of these contradictions in Switzerland are very strange. Zurich, especially, is a city of contradictions – it is a financial hub of the world, bringing together financial specialists from all over the world known for their tax evasion techniques and Zurich is the place of FIFA. But Zurich is also the city of Dada – an international avant-garde movement of last century; it is the city containing the most experimental museums, galleries, etc. Switzerland was neutral in the World Wars, but has it played a beautiful role in the history of Europe? No! We found out that some of the Swiss chemical industry produced the gas for the concentration camps. So you see, there are many different aspects existing at the same time, and these kinds of contradictions are, actually, quite interesting. A city doesn't have to be only good; a city can also be very negative.
What I liked very much about the politicians was that they said: Yes, you can be critical about us. Why would they say that? Then they said: It would be better for you to be critical of us, than for us to do it ourselves!
So, Manifesta will put a mirror in front of the citizens, showing them the contradictions of both Switzerland and Zurich.
The curator we selected – Christian Jankowski – came up with a proposal in which he said:
When you arrive in Zurich, people don't ask you who you are as a person; they ask you what do you do for a living. What do you do to make money? So, your walking ethos is more important than your identity. It's all driven by money.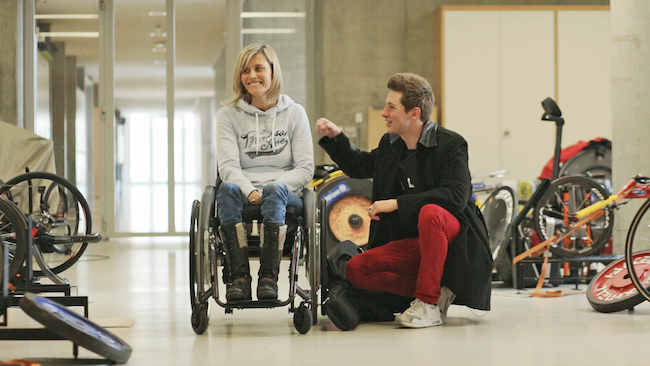 Maurizio Cattelan and Edith Wolf Hunkeler, former Paralympic athlete and world champion. Photo: © Manifesta 11
And that's why the theme of the biennial is "What People Do for Money". This title is wonderful because you can explain it critically – what do people do only for the money, and what do people do without getting any money for it; are there even any people who do something without getting any money for it? And in a broader sense, it's even more critical – it is about work. What we are asking ourselves in this Manifesta is – Is there a moment in which there is no longer any work? Robotization, digitalization, automatization… What will the world look like in 20 years? Maybe 50% of the people – not only in Switzerland, but also in your country – will not have to work. What will they do then? [The historical exhibition "Sites Under Construction", which will contain over 100 positions, is being co-curated by Manifesta 11 Chief Curator Christian Jankowski together with English curator Francesca Gavin. The exhibit will take up and explore the various ways in which current and historical working worlds have been portrayed in art. – A.Č.]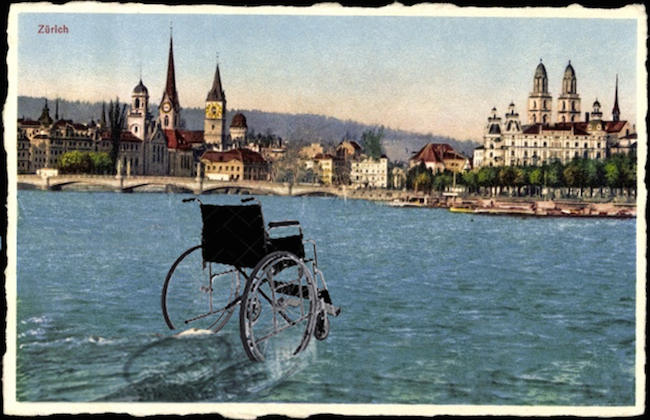 Maurizio Cattelan. Montage, Zürichsee, Wheelchair Postcard. Photo: © Maurizio Cattelan
Switzerland is also an interesting country because on June 5, 2016 (just five days before Manifesta opens), they are going to have a vote on implementing an unconditional basic income. They are going to decide if every Swiss person – rich or poor – should get paid the same monthly sum. Now, even in Holland they are speaking about this basic income; Germany has started experiments, New Zealand, too... A lot of scientists already know that the fourth industrial revolution is going to be about biotechnology – we could produce a lot of food without farmers working every day, automatization... maybe there will be cars without drivers... digitalization – we won't need banks – all financial systems will be digital. These are the questions that are being raised about the future of Europe's citizens.
So, this is why the work that we do before the curator comes in, is really important. We research very precisely what is happening in the country in question – what are the signs of the times, and what will perhaps happen in 20 years' time.

Manifesta 9 venue in Limburg
Could you please elaborate more on the choice of Christian Jankowski as Curator for Manifesta 11?
It's clear why we wanted Zurich, but why did Zurich want Manifesta? The Mayor of Zurich came to Manifesta 9, and said: How is it possible that all these miners in Limburg are participating in Manifesta? [Coal mining was an important business in Limburg immediately after the turn of the previous century. – A.Č.]
Well, that was because we got them involved by including their own heritage and memories.
Then she said: I don't understand – one out of four people in the city came out for this art show. How is that possible? Because I have everything in my city – the best galleries, the best museums, the most exclusive opera houses, but I have no audience. Can Manifesta help us to think up instruments with which to attract a broader audience?
We replied: Well, let's try and find out if we can. If we're given autonomy, if we can do whatever we need to do, then maybe it is possible.
Then we thought, if we do just a theoretical art show, as put together by a traditional museum curator, we won't win this war. Who could help us in this? And then I saw the work of Christian, whose work is always based on collaborations. During the course of his artistic career, Jankowski has collaborated with magicians, politicians, news anchors, Polish weightlifters, and members of the Vatican, to name just a few. He always works with other people. I thought, if we need to create an audience for contemporary culture, we need to find somebody who has already proved that he or she can do this.

Cabaret Voltaire. Photo: © Martin Stollenwerk
In addition, I liked the idea of using Manifesta in a much more performative way, making it more interactive; also, because of the reference to Dadaism. In Cabaret Voltaire, the birthplace of Dada, Christian will set up a real institution of performative art. To become members, artists must undertake the creation of a performance with a non-artist, but everybody who wants to go inside Cabaret Voltaire needs to make a performance.
Manifesta stands out with its program in which works specially made for the event are created on-site, expressly for the needs of Manifesta. What is going on right now, two months before the Biennial, in Zurich?
Yes, Manifesta is a research and production biennial. We produce most of the works together with the artists, at our cost. This is a very unique feature because there aren't many museums that are able to produce new works – for more than two million Euros – every two years.

Jon Kessler and Adriano Toninelli, watchmaker Officine Panerai, Neuchâtel, Switzerland. Photo: © Manifesta 11
This time Christian Jankowski and my team produced a list of 800 professions, and then 30 artists were invited to choose one of the selected professions and make an artwork together with a representative of their chosen profession. The works are not produced by the artists alone, but rather in complete dialog with a profession – which is an interesting phenomenon. We wanted to see what would happen – maybe new dialogs or new energies will emerge. Andrea Éva Győri from Hungary has been living in Zurich for the last three months already – she is drawing. Then there are artists who will be coming for three or four days, like Maurizio Cattelan and Santiago Sierra; Teresa Margolles has come six times already…

Jon Kessler. Mock-up of the installation. Photo: © Andrew Ohanesian
Do you believe that artists still represent the avant-garde sector of society – the sector that can be associated with progress?
No. I don't think so. I think everybody can be creative. I don't believe in this kind of separation of the artistic part of our society from the rest of the world. I think a banker can be extremely artistic and present many new ideas, some of which could also be heading towards the avant-garde. Manifesta specifically wants to collaborate with local communities, with grassroots organizations, with artists, professions, and people from all different kinds of organizations. We are not putting forward a group of artists as "the avant-garde"; I think art is for anybody who is creative and who wants to have a voice and influence society. This is this idea of Homo Ludens, from a book written by the Dutch historian and cultural theorist Johan Huizinga. He discusses the importance of the element of play in culture and society, and suggests that play is primary to, and a necessary condition of, the generation of culture.

Hedwig Fijen, Founder of Manifesta and Director of Manifesta 11. Photo: Livio Baumgartner
What would be three keywords that define contemporary culture? And what are the phenomena and manifestations of Manifesta that you would say are especially noteworthy?
Three keywords defining contemporary culture are: interdisciplinary, trans-historical, and inter-generational.
In Manifesta, different disciplines will work together. In this edition we're featuring the very much discussed French writer Michel Houellebecq, who is doing a very interesting project called "Qui est Michel?" (Who is Michel?). The French writer is debated because his last provocative book, "Submission" (2015); in this provocative novel, Houellebecq describes how Paris and France will look like in 2027 – it is under an Islamic regime, and Qatar rules France. At the moment, Houellebecq is receiving much criticism about it, and nobody knows how this strange French writer could give us such a perspective. That's why in this "Qui est Michel?" project, he is putting a camera inside his blood – in order to film himself from the inside.
Manifesta is also trans-historical. For Manifesta, the starting point is – What is the history of the city in relation to what Europe is today? The Biennial doesn't speak about contemporary culture as isolated from its historical context.
And the third aspect is being inter-generational. In Manifesta, we encourage artists from the second or third generations to work together with very young people, and for young artists – to reinvent the works of older artists.