The sound of rocks in my pockets
A conversation with artist Egill Sæbjörnsson, on things that matter
19/04/2017
In honor of Egill Sæbjörnsson being selected to represent Iceland at the 57th Venice Biennale, in February we met for a talk in his studio space in Berlin. The sign indicating that I had reached the correct meeting place was a well-dressed snowman in front of the art studio. Upon approaching it, the following phrase, commonly seen on signs throughout Germany, came to mind: "Kein Winterdienst. Betreten auf eigene Gefahr!" (No winter service. Enter at your own risk!). The snowman was as real as it could be. I don't know whether the artist had built the snowman himself, or if it was the work of the studio crew, but the snowman's sensitive style did somewhat resemble Egill's on that day.
I could not predict how the meeting would turn out, but I was quite sure that it would not be a scholarly experience. But it actually was. It was one of those coincidental meetings after which I have a new-found resolve to go on with further investigations. Much like me, in my academic studies, Egill, in his artistic practice, is very much interested in the phenomena of language, matter, and objects – or in other words, in things that talk.
Born in 1973, Egill Sæbjörnsson is a multi-artist based between Reykjavik and Berlin. Found objects, both natural and human-made, are the firm foundation of his oeuvre, while the new media help him blow new breath into his subjects. Digital skins are often projected onto objects, thereby creating an another dimension of meanings. What if objects could talk? Would they tell us the same thoughts that we project onto them? What if they are already talking, but we cannot understand them? Who is going to translate? With an educational background in drawing and painting, Egill Sæbjörnsson's playful approach to art is a kind of technological continuation of the more traditional media, and one which he uses quite successfully in his endeavors to examine the relationship between humans and the environment.
In the common area of the studio space, where we cozily sit down to chat, various foreign languages spoken by passersby are accompanied by the coded tweets of city birds. This builds up a perfect backdrop for our conversation on the forces of nature, and on the forces that we find in ourselves.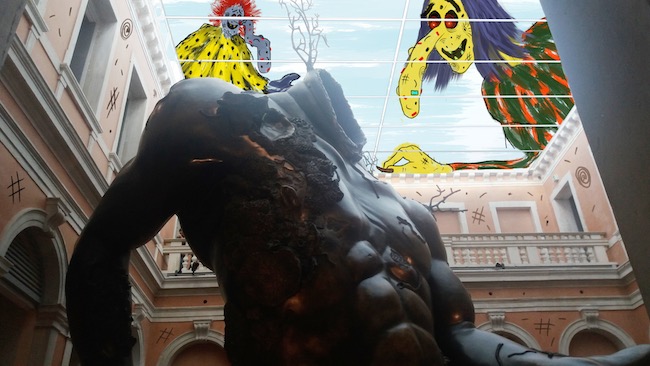 Out of Controll in Venice, 2017. Icelandic Pavilion at Biennale Arte 2017. Courtesy of the artist and i8 Gallery, Reykjavik
Since their arrival in Venice, trolls Ūgh and Bõögâr have been exploring the city and getting to know its customs, including drinking over 100,000 cups of espresso. As (wo)man-eaters, they have been feasting on locals and tourists, mostly along the waterfront of Piazza San Marco, enjoying the views across the Grand Canal. With their recently discovered love for art, they have also been visiting the city's many artistic attractions, including Damien Hirst's exhibition "Treasure of the Wreck from the Unbelievable" at Punta della Dogana and Palazzo Grassi.
If the coffee cups were bottomless, and if the trains would arrive and depart on demand, we could have gone on and on about the smallest things that have the greatest importance in our lives. About the things that matter. Introspectively, Egill pointed out the significance of the language of man, but above that, of our need to be more aware of the silent and tangible language of the seemingly trivial things around us. As well as our need to go beyond the lack of knowledge of literal or figurative meanings, so that we can realize how much humanity has in common, rather than how much separates us. This aspect is particularly relevant in respect to the history of the Venice Biennale.
Why are we meeting in Berlin instead of Reykjavik?
This is a good question... I've been here since 1999. I have no idea why I landed exactly in Berlin. Iceland is my home. Although, after 18 long years, Berlin has become my home, too. And the faces you meet for almost two decades... My whole life is here, the art studio... This departure has gone on much longer that I could ever have thought.
Back in the nineties, Iceland was a very isolated place. I promised to myself that I would explore beyond the island. I moved to Germany in December of 1998. I put my stuff in containers and sent them to Berlin. If you grow up in a relatively small place with a small number of people for a nation, you naturally want to open up the door and go out into the world. I have a house here and in Reykjavik; the latter I visit approximately eight times a year.
I can actually relate to that…
I think so. If you have spent all your life in Latvia, in Riga, you should long to see more of Europe – of the world, I mean.

Egill Sæbjörnsson. Mr. Piano & Mr. Pile, 2004. Performance and installation. Künstlerhaus Bethanien, Berlin. Courtesy of the artist and i8 Gallery, Reykjavik
How has life in Berlin influenced your creativity? How have you changed since coming here?
It has been such a long time. All of my working career, as an artist, has actually happened in Berlin. I have matured in many ways. In the very beginning, I hung out more with musicians than with visual artists. We hung out with Canadian musician Chilly Gonzales, and the electronic musician and performance artist Peaches.
Back then, I was also involved with music. That experience influenced me in one way or another. I can't separate the influences of Berlin. Back then, Berlin was a very open platform. Nothing was decided, and everybody was finding out who they were and what they wanted to do. Everybody, from art gallerist to artist. And from there on, all of them have grown and evolved further.
Can you describe the time when you realized that creating is something that you must do?
When I was in kindergarten, for some reason I was not able to establish friendships. I was a loner there. The teacher's aids would take the houses that I made out of Lego bricks and the pictures that I would draw, and display them on the shelves – I don't know if that was because they really liked them, or because they simply wanted to be nice to me. They would say – "Look at this! Egill made it." In my school years, I was also not very good at communicating with my classmates, but I always did well in art class, especially drawing. Thanks to my mum, I attended a school for the arts and dance several times a week, starting from the age of eight up until twenty. So basically, as far as I can recall, I have always drawn or made visual things. My earliest memory, actually, is of me playing with colored plasticine on the floor, at home.
This does not mean that it will make you a better artist. Because later in life, you may discover other things that interest you, and you might change the path you're on; but I continued. Maybe I will grow up one day, and stop being an artist...who knows? My formal education continued at College of Arts and Craft in Iceland, in the Mixed Media Department, where I completely quit drawing and turned instead to the making of videos, and computers.
Even though I had not painted for 20 or more years, now I find it very therapeutic, in a way. I recently finished a book, with painted drawings, as a part of the piece for the Venice Biennale.

Egill Sæbjörnsson. The builder inside the staircase, 2010. An in-situ piece at a private home as a part of "Coup de Ville" organised by Jan Hoet and Stef van Bellingen together with WARP in Sint Niklaas, Belgium 2010. Courtesy of the artist and i8 Gallery, Reykjavik
Why such a long pause before returning to painting?
I guess – stupidity. I was trying to do something smart with the media. But now, I'm painting again, and if done for oneself, it can be a mind-nourishing process.
Drawing and painting may have nothing to do with art. Drawing is playing with the environment and capturing pictures and motifs from it. I think that's how the cave paintings started. Drawing practice can be healing. Personally, the process of drawing calms me down. Do you draw?
I used to draw back in design school. But in my country, it is more about mastering classical drawing skills than exercising a more experimental approach to the medium.
Still?
Yes. In what state of mind do you usually reach for a pen to draw with?
I get inspired many times a day. Sometimes I write down my ideas in my phone, or record videos or sounds.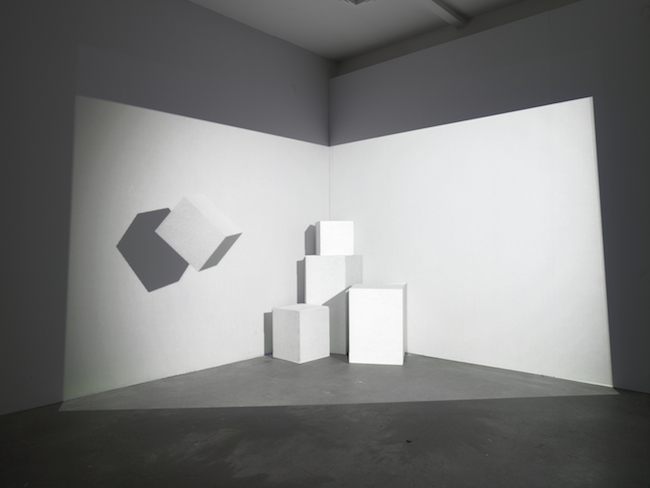 Egill Sæbjörnsson. Five Boxes, 2009. Single channel video projection, MDF boxes. Courtesy of the artist and i8 Gallery, Reykjavik
How has devoting yourself to new media art allowed you to develop your creativity?
Working with new media is like a technologically upgraded brush for a painter. Creating a moving painting is fascinating.
I must admit that some artists are in their heads too much. It is nice when art is about one's internal processes – emotions and reflections of life. But it is more complicated than that, of course, because of all of those ideas that you want to talk about, and how we interpret reality through the prism of our experience.
Since I work with video projections, I can see similarities in how we put meaning to everything around us. And the way in which we put meaning to things around us also has to do with how we feel inside.
I have a sculptural work – a creature that has two heads. One of them has eyes going outwards, and the other has just holes going inwards. With that, I tried to imply that people tend to look more outwards, or in other words, they're chasing goals outside of themselves. Our eyes are like the two horns of a sheep. Market forces allure us and control our choices, like tamed sheep grabbed by the horns. People want to have a certain image, to have a particular body type. They desire to have a lot of money, hoping that wealth will make them happy. Surface values have become more prominent, whereas inner values, and basic pleasure, is locked away from us because our eyes are turned away, and we are not connecting to our spiritual forces. This hunt for happiness from external factors – such as success, money, relationships – is blocking the way to connection and acceptance of the self, which leads to much more fulfillment. We have to also rewrite the idea of LOVE. In the 20th century, "love" was Humphrey Bogart and Ingrid Bergmann kissing on the silver screen. Everyone thinks that that moment, displayed on the silver screen, is the summit of what one can reach in terms of love. We have to teach people to love themselves, and then, perhaps, they will be able to have a loving relationship with the world, including with another person. This is a whole new concept of love for the 21st century: self-acceptance and a love of self, which will result in a deeper love for others.

Egill Sæbjörnsson. Original Handbags, 2008. 8 Handbags, video and sound. Duration: 06:30 min. Courtesy of the artist and i8 Gallery, Reykjavik
Do we lack a critical ability? Are we so easy to influence?
Yes, we are, and we like to play this game. I mean, we are easily influenced because we are open to it, and we're curious about other people. We are social beings. We need to know what others are thinking. The media is always telling us what the other millions of people want. Often by faking it, that is, making it believable for us...grabbing us by the horns like sheep. In the 20th century, there was a great desire to be popular amongst the masses. Part of it was infused by the understanding of PR – creating desires, and in that way, increasing the market, which was thought to create more jobs. But in the end, only a few people became rich while the rest stayed in the middle-class or became poor. Andy Warhol once cited someone else by saying "In the future, everybody will be world-famous for fifteen minutes." But I say – Let's be famous at home. You don't need to be publicly famous or visible in the media to be happy; all you need is to be famous at home. Be a family of one, a family of two, or three or four or more. Start with yourself and then let the love grow. The people close to you know you, if you know and show yourself. Knowing yourself is to accept yourself. Hang onto what you've got, says Kate Tempest. I agree, we've got to take our powers back...back from the "markets", and turn our backs to the allures of The American Dream. This idea is entirely contradictory to being famous in the world...which is what the Beatles wanted, Bowie wanted, Sinatra wanted, Cyndi Lauper, you name it. Yes, you may have a lot of money because of this fame, but even the money won't make you happy. It is like playing the most exciting video game, and then finding out that certain things don't lead to what you really want: The safety of feeling good and being in a truly loving home. Once you find out that you can be happy at home, you actually win the computer game. Let's see what the 22nd century says. Let's go there together, let's all be 120 and older.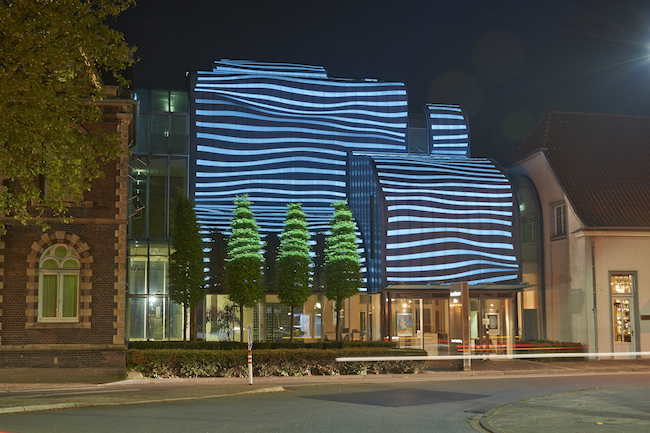 Egill Sæbjörnsson. Kaskade, 2014. Permanent site-specific light art installation on front facade of Kunstmuseum Ahlen. Courtesy of the artist and i8 Gallery, Reykjavik
Driving full-steam-ahead into the subject, and enjoying the working process, are definitely more important than an obsession with celebrity. Having a sparkle inside you, whether at work or after, makes you feel famous to yourself, even if you're just going down the street to the grocery store. This accompanying feeling of fulfilment I think is also called self-sufficiency. And who knows, this sparkle may kick-start the wheel that leads you to the peak of fame…
Yes, that is a beautiful picture… [We nod and take a good long sip of coffee, as if clinking glasses for success – E.I.]
Tell me about your studio space – is it both a physical and spiritual workshop? Do you have any particular work patterns or routines?
Besides me, this particular building is also occupied by other artists, photographers, and musicians. I run this place, and there are about 25 other people here doing their own stuff.
My daily life is a studio, in a sense. But this is the place where I have my team. Usually there is someone who works together with me – animators, interns… I may work on many projects simultaneously, and I need help to finish them. Currently, my colleague is working on hundreds of tiny clay spoons for the Troll's Coffee Shop, in Venice. Hopefully, no one will steal any before November.
I would. It is a super-authentic souvenir to bring back from Venice. [I receive a friendly punch on the shoulder for this joke – E.I.]
The kitchen is a common area. It is nice to come out here and meet other people who have nothing to do with your project. And being able to bounce your thoughts off of someone else can be very fruitful.
The interns may have just come out of art schools, and they're very new to the industry, but they're super bright. I appreciate getting to chat with them about the content of the works, and very often we end up being friends.
Of course, sometimes I need to be left alone. It is important for me to disappear somewhere in the outside world for a while. And to not be seen and not be watched by anyone. I like to work in the cosmos of my living room as well. Some flowers can grow only when nobody watches them, right? And some flowers must be watched to thrive.
Where do you escape to when you feel the need?
Just the other day I went to Venice, alone. I stayed there just for a couple of days, doing the Troll book as a part of the exhibition for the Venice Biennale.
That was a very special time. Another of my escapes is making music. I make music because it makes me forget the other things going on. I could compare it to playing the funnest computer game.
Sometimes my brother and I slip into fantasy character roles. My brother is a father of two, residing in Iceland. But every time we meet each other, we play these fantasy scenes again. We have done that since we were children, and still do it today.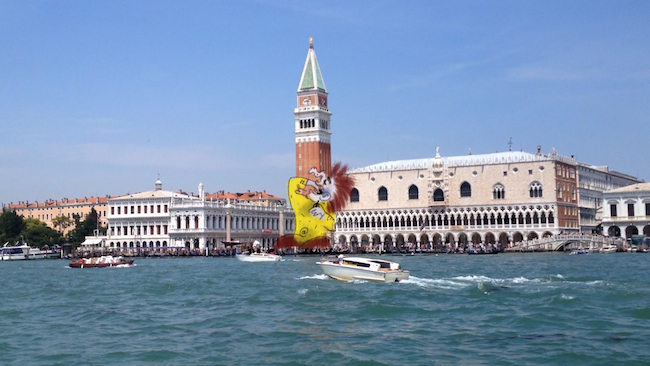 Ügh eating in Venice. Out of Controll in Venice, 2017. Icelandic Pavilion at Biennale Arte 2017. Courtesy of the artist and i8 Gallery, Reykjavik
Let's talk about La Biennale di Venezia – the 57th International Art Exhibition! VIVA ARTE VIVA is a Biennale designed by artists and for artists. What is the context of the Icelandic pavilion?
I like the approach of the Biennale's curator, Christine Macel. She is very interested in this very personal, kind of nerdy world of the artist.
The pavilion is going to be in Giudecca. For the exhibition, I am developing theses fantastic fairy tale characters. Ironically, at first, I thought that nothing could be more silly and old fashioned than this cliché of Iceland – trolls. They are so ugly and so uncool for anyone to make artwork about them.
The idea of working with these two trolls – named Ūgh and Bõögâr, who will represent the Icelandic pavilion in Venice – originated in 2008. I developed, or let's say, got to know, these characters the same way as in those fantasy games with my brother.
They are big and have a big, bad temper; they are very curious about art, and once, they even started to copy me by creating sculptures and video works; but they can't actually work on a computer because their fingers are too thick.
In Venice, I will let the trolls do the whole show. The exhibition will culminate in a large-scale and interactive presentation. Interactive in the sense that visitors can enter the two-story troll-like structures, sit down, rest, and enjoy a cup of coffee or sparkling water.
The trolls also love coffee now, so they wanted coffee in the exhibition.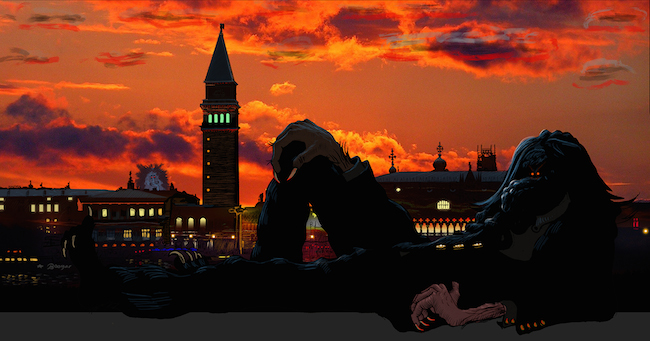 Out of Controll in Venice, 2017. Icelandic Pavilion at Biennale Arte 2017. Courtesy of the artist and i8 Gallery, Reykjavik
Is there a national identity in the context of global art? Can we distinguish it in Venice?
To say that there is no national identity in the context of global art would be a lie. There are national identities. If you break it down historically, there have always been groups of people organized into different countries. These groups have some things in common – a language, territory, history, etc. But most of the groups today have not existed that long. 1000 years or so, which is not that long of a period. All nations, at some level, have a history together. Nations have a lot in common with each other, more than we realize.
There is such a phenomenon as national identity, and you can definitely find it in art. It comes up organically, and you cannot do anything about it. As I experienced it in the nineties, there was a tendency to avoid national groups, and that was also a good way in which to show how closely we are connected. We have more things in common than things that set us apart.
I speak eight languages. All of them are European languages, therefore, I can easily see how they interrelate. Icelandic is very similar to Old English. German, Swedish, Danish, Norwegian and Icelandic all have the same linguistic roots. I also speak French and Portuguese. I see that Latin and Germanic languages are very closely related. I am very interested in word origins. The old capital of Afghanistan was called Kandahar, and the one today is Kabul. For most of us, these are just strange names and nothing else. We don't know what meanings they carry. The meaning of Kandahar – "nice to be here". When you break it down, "Kanda" in Afghan means nice or kind, and "har" – here. See how close the both words are to English? The word Kabul means a bird that says "ka". "Bul" means bird, and when we turn the "b" into a "v" - vul is almost like "Vogel" in German, or "fugl" in Icelandic and Danish. "Vol" is also French for flight. So in this way, we can see how the Afghan people are in the same family as us.
Homo sapiens has been around for 40 000 years. Most of us do not realize how long a time that is. Let's divide 40 000 years by 25, which is the average age of a woman's ability to bear a child. Homo sapiens has been around for only 6100 generations. All of humanity is extremely related. Just by looking at the language, you can understand how related we are, and also genetically.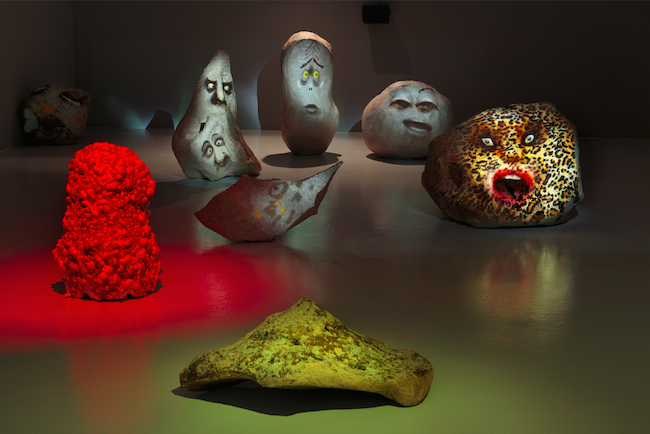 Egill Sæbjörnsson. The Egg or the Hen, Us or Them, 2011. 49 stones made of different materials, tripple channel video projection and multichannel sound installation, duration 37 minutes. Courtesy of the artist and i8 Gallery, Reykjavik
Have you ever thought about how much of your origins show up in your works?
I work a lot with stones. For me, it is just a coincidence. A rock picked up from the ground – for me, it stands for the most basic material on the face of the Earth; is non-nationalistic, and I can work with that. In Reykjavik, you can find rocks everywhere, just laying around, whereas in New York or Paris there are none. So, of course, that is a bit Icelandic, but incidentally.
What are your thoughts on the controversial closing of the previous Icelandic presentation by Christoph Büchel, in 2015?
I think it was a fantastic, strong piece. And to deny the Muslim culture is very ironic, especially in Venice. The city used to be a state which did a lot of trade with the Orient. Historically, Islam used to be very prominent in Venice. And nowadays, the Muslim world is their next closest neighbor. Regardless of whether the responsible authority in this case was the Catholic Church or the Italian government, to lock it out was a strange act. OK, maybe the piece was provocative for someone. In my opinion, it was provoking people to think. On the other hand, the shutting down of the exhibition was not the worst thing to happen. It just showed the real situation, and the act of shutting it down didn't make the piece weaker; if anything, it made the statement even stronger.
In addition to the main show of the Venice Biennale, there will be a project called "Unpacking My Library". This project will feature a list of the artists' favorite books. What are your favorite titles in your library?
The work for the Venice Biennale is very much inspired by the Moomins of Tove Jansson.
She is much more than a story writer – she was a grand-scale artist that will only be understood later...maybe now. I also love Pippi Longstocking and other children books. I read tons of other intellectual books, but none of them are as deep as the Moomins and Pippi.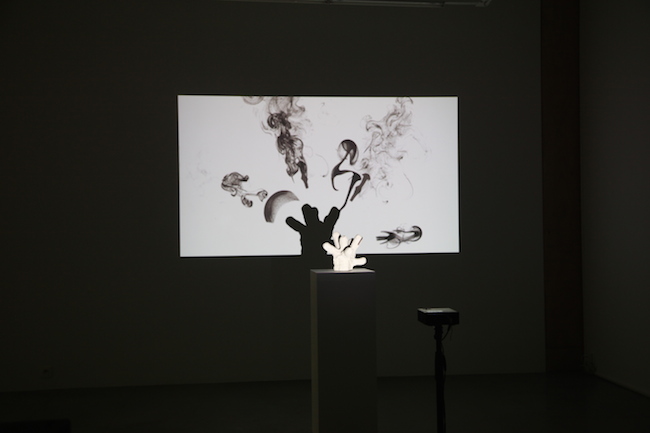 Egill Sæbjörnsson. Smokes, 2014. Installation in Hopstreet, Brussels. Courtesy of the artist and i8 Gallery, Reykjavik
Besides the upcoming show at the Venice Biennale, are you working on any new projects right now?
Together with Andreas Brändström, the director of Kristinehamns Konstmuseum, we're doing a project with refugees and unemployed people. I am actually going there tomorrow. The project is located two hours outside of Stockholm, in the small town of Kristinehamn. Foremost, we started to work with a group called Women Together.
The refugee project will take up to a year, perhaps up to three years. For me, this project is an art piece – an idea not unlike a big theater play. But maybe it will end up like a movement; I want to activate the initiative of the participants. I hate the words "refugee" and "unemployed". We are all the same. When I play a game and say "since we came here from Syria because our country was bombed", it gives me a feeling of all people being in one group. There is so much of a "besserwisser" [German for "we know better" – ed.] attitude present in Europeans...they think they are superior to us Syrians. Now I'm kidding, pretending I am from Syria. But I am.
We are going to make ceramic plates, cups and bowls, and furniture. We own a greenhouse. We're going to grow our own produce. We want to build a boat and go fishing on the lake. Beekeeping is also in the plan. We want to decorate the greenhouse with our handmade pottery. And open up a restaurant to the public, one where you can enjoy different cuisines from different cultures... We will create an atmosphere of a new and connected world. The state supports us greatly. We expect approximately 2000 people to participate in this project. We are a massive group.
Which creative medium would you like to pursue, but haven't yet?
A musical career. I'm a music lover.