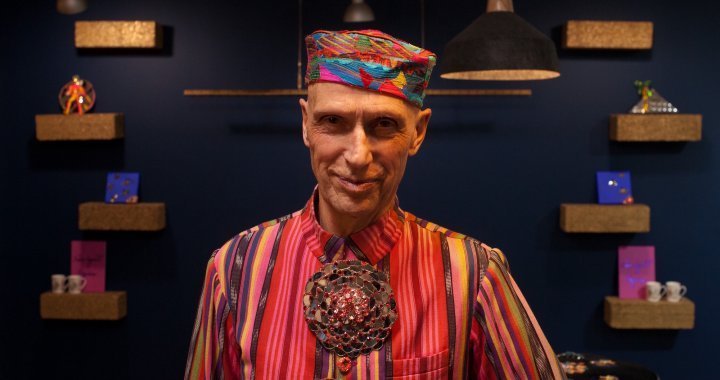 The fount of joy named Andrew Logan
A conversation in Riga with the British artist, sculptor, jeweller and eccentric
Sergej Timofejev
14/06/2017
'There is not a single thing in black in my whole wardrobe. I mostly wear orange, bright pink and green ‒ the colours of nature and joy,' says Andrew Logan, an artist, sculptor, jeweller, eccentric and philosopher of life. In Latvia his name is linked with the already legendary projects of the Assembly of Untamed Fashion, the events of which in the first half of the 1990s he adorned as a representative of an amazing vivid and colourful world where we were all going to end up, slowly but surely ‒ or so we thought. The assemblies have long since come to an end, and black is still the most popular colour today, in the early 21st century. The majority of guests at the opening of the small and exquisite exhibition by Andrew Logan at the BOLD concept store in Riga early in May were wearing black, while Andrew shone among them like a fountain of colour, like a raja's diamond, lavishing smiles on everyone.
During the couple of days that he spent in Riga, the artist managed to prepare and host the opening of his exhibition, present a talk at the Mūkusala Art Salon and visit a multitude of places with his old friend and brainfather of the Assembly of Untamed Fashion Bruno Birmanis. The energy he exudes is amazing and enviable, considering Andrew Logan's somewhat venerable age ‒ which I am not going to disclose; suffice it to say that he was born in late 1945 to a large family with six children (he was the third one). In 1963 Andrew started and in 1967 completed his studies at the Oxford School of Architecture. His room at 10 Denmark Street, where he lived at the time, Logan transformed into a space filled with cotton wool clouds, plastic grass and a papier mâché lamp in the shape of a giant daffodil. After his graduation, Andrew spent a whole year in the United States ‒ right during the peak of the hippie movement with their Flower Power, a slogan congenial to the young artist's soul.

Andrew Logan in the catalogue to the Ten Sitting Rooms exhibition in 1970
Andrew Logan created his first works in the late 1960s but earned his first professional recognition in 1970, when he created his room for the 'Ten Sitting Rooms' exhibition at the London Institute of Contemporary Arts that made quite a lot of waves; the space was somewhat reminiscent of his Oxford abode: the cotton wool clouds, plastic grass and daffodil lamp all ended up there. Around the time, he also met his first patron, his friend and inspirer, queen of the London bohemia Thea Porter, who commissioned his first sculpture ('a nine-foot silver lily') for her Soho shop.
And so started his career as a sculptor, leaving its impressive marks in various corners of Great Britain (like the 6-metre 'Millennium Pegasus' he made with his own hands) and other countries, even at the Mumbai airport, famous for its vast art collection at Terminal 2. Around the same time, in the 1970s, he started making sound installations, portraits from mirror pieces and his jewellery ‒ brilliant in every sense of the word ‒ which he initially did not sell but gave as gifts to his friends. In his multi-genre works Logan mixed camp, Pop Art and neo-Romanticism in a unique cocktail in which many see distinct notes of English eccentricity.
That is also what his website says: 'Andrew Logan belongs to a unique school of English eccentrics. One of Britain's principal sculptural artists, he challenges convention, mixes media and plays with our artistic values. Since its beginnings, Logan's work has depended on the inventive use of whatever was to hand. With flair and fantasy, he transformed real objects into their new and different versions. His artistic world includes fauna, flora, planets and gods.'
You could try and find all that in the details of his small but charming ornaments and jewellery in exhibition that took place in Riga, but I had an opportunity to talk about that with the artist himself, a wonderful English gentleman, an optimist and a man who is extremely attentive to everyone around him ‒ that is his credo. Fortified with cups of green tea at the bar of the BOLD store, we descended to the basement floor to sit down on a light green sofa, the cheerful colour of which Andrew immediately commented on.
I read your bio on your website, and it said that you were one of the 'English eccentrics'...
That's what they say, yes.
In your personal opinion ‒ what is it that links you with this movement or this group of figures in the English culture?
That brings to mind the 1920s, Virginia Woolf, for example, although there has never been a shortage of eccentrics. Perhaps it it because we used to be an empire. And they have been referring to me like that for ages. But you know ‒ these days, when I get on the tube, I would look to the left: everyone is in black; look to the right: the same there. Meanwhile, I am wearing something vividly red or pink, and I think: 'Oh! Some colour...' Because I love colour; I have always loved dressing up as if for a festive occasion. Also, I do not belong to any art group as an artist; I do not own a gallery.
You do have a museum, though!
Sergej, yes, I have a museum! Which makes me even more of an eccentric. (Laughs.) I am perhaps the first living artist to have a personal museum. It has been open for 26 years. My works are all about joy, happiness and celebrating life. That's my message. And that is what helps understand the museum. It is located in a wonderful place, where there are truly more sheep than there are people; there are green hills, rivers and lots of oak trees ‒ like in Latvia. And the museum is the legacy that I'm leaving behind. My works are held in collections, of course, although there are not very many people who really understand me. Rebecca Hoffberger from the American Visionary Art Museum in Baltimore is one of them; she has a collection of my works. She understands what they are about: the physical manifestation of the spiritual. They make people smile. I love colour, I love chic and glamour. And those are all absolutely natural things. Take a look at English trees right now, in early May: they are looking very stylish, absolutely luxurious. And all the plants! They come to us every year in full fig, at their prime and at the peak of their freshness. It's simply marvellous!

Andrew Logan. Black Icarus. 1999. Photo Courtesy of the American Visionary Art Museum
Perhaps what being an eccentric really means is knowing how to enjoy life? Not spending a fortune on your whims but knowing how to come out of a functional routine, to stop, take a look around and notice beautiful things...
People love reading about eccentrics. People generally love pigeonholing everyone according to their colour, gender, etc. Some people are fat, others are thin; some people are young, others are old. Although we are all simply living side by side, and that's it. Nevertheless, that's the way it works. It's like selling books. You will definitely want to read something about 'English eccentrics'.
However, if I think about people of this type whom I have happened to know... they simply spent their life just the way they wanted. And some of them were famous while others – not at all. And many were self-taught in some way or another. For instance, the postman Cheval from France, who spent 33 years building his perfect palace, Le Palais idéal, or the Italian immigrant in Los Angeles who built 17 fantastic futuristic 30-metre towers in his garden. You can call them eccentrics but they are simply people who followed their dream. Although there are also eccentrics who do not do anything at all except sneering at everything and who spend their life on the sofa...
I also think that the very term 'eccentric' serves as a sort of justification for people leading an 'ordinary' life. 'He's an eccentric, bless him.' 'She's an eccentric – what can you expect?' As in ‒ the matter is closed.
Exactly. Fine, he's an eccentric. That's it. Moving on.
Andrew Logan. Goddess. Early 1980s
I have read in a number of articles about your visit to an exhibition of ancient Egyptian art at the Oxford Ashmolean Museum of Art and Archaeology when you were just nine years old ‒ as a definitive moment that served as a sort of artistic impulse for you...
It is one of the oldest museums in the UK, and certainly one of the best. We lived nearby, in a distance of nine miles or so from there. And so we went to visit the museum. It has been modernised and glamorised now; back then, it was a dusty and poorly lit space. And there was this elongated room ‒ a hall with a display of ancient Egyptian art ‒ and I remember walking past a long row of mummies. For an impressionable young lad like me the day was a really memorable event.
And yet ‒ why is it considered a key moment for you? Almost a revelation... (Laughs.) What was it that impressed you so much?
It was all these faces in the pictures. Their eyes. The ambience of the place. Wherever we go, each place has an ambience of its own. This place (makes a gesture to encompass the room) has one. Back then, I lived with my parents; we were five brothers and an adopted sister. Our parents did not earn much, but I had a very happy childhood, and it is extremely important. One the other hand, we were quite a disciplined lot, and that is essential for an artist. If you don't have a sort of self-discipline instilled in you, you are never going to finish anything ‒ which means that no-one will ever get to see anything. I love the combination of discipline and play ‒ like they have at the Google offices where there are gyms and also all sorts of stuff to play around with. It seems that the world on the whole is moving towards play. I often go to India and visit Vrindavan where they have a major Krishna Consciousness centre. I am not that 'initiated' into all that, but I stay at an ashram with a family I have known for many years. And the local priest always tells me: 'You are born... and you die. What are you going to do in the meantime? Have fun!' I find it a pretty good idea. I would like the whole world to evolve in this spirit. We are born, we have a wonderful time, and the world only becomes happier from that.
But there are certain things that encumber us in this sense. Like capitalism, which makes us consume more and more. Although the alternative does not work, either. There must be a middle path somewhere.
Andrew Logan. Cosmic Egg. Courtesy of the American Visionary Art Museum. Photo: Judit Bozsá
India is an important place for you?
When I first landed there in 1982, I immediately felt at home ‒ like in that room with ancient Egyptian art. I completely dissolved in the atmosphere, in the feel of things. Everything I had studied and discovered for myself ‒ regarding colour and image ‒ everything already was there, in India. Or let's take all those installations that artists love doing so much these days. Go for a stroll in the streets of an Indian city ‒ everything is already there!
I always tell people who are about to travel to this country: you must retrain your senses, your perception. The touch, the smell ‒ if you are going to India, forget the whole thing and start from a blank page. There are a billion people living there. Think about it! It is a shock. (Laughs.)
I work a lot in India, and my largest pieces were all made there. 'Cosmos Within', for instance. It can now be viewed at the Mumbai airport where my friend Rajeev Sethi has gathered more than a kilometre and a half of art. That's amazing ‒ a museum within an airport, a sort of showcase for India, and I have been invited there, too.
You were originally trained as an architect…
Yes, I studied for five years in London, and then completed a course in America. It is a very useful kind of education that includes getting to understand things to do with sociology, structures, design. There are so many aspects. If you think about it ‒ imagine: what it must be like to come up with a sewage plan for a 90-storey building? Can you imagine the consequences if you make a mistake? And yet everybody thinks of it in a matter-of-course way, as of something self-evident. So you learn that sort of thing. And, of course, it helped me a lot with my sculptures, particularly the mobile ones.

Cover of the catalogue to the Ten Sitting Rooms exhibition and Andrew Logan's room in Oxford in 1968 (ibid.). Photo: paulgormanis.com
However, as an artist, you started with an installation, not a sculpture...
Yes, with a room for the 'Ten Sitting Rooms' project. Incidentally, it is this room that is going on view from 1 June at Buckland Abbey, a space owned by National Trust. A whole range of other works that are very important for me are also going to be there, like the first portraits or the 1977 'Golden Field'. It is a field of 4.5-metre tall gold wheat, exactly 76 stems, with mirror butterflies flying around them.
Mirrors, glass ‒ these are materials I have been working with all my life; they have amazing potential. And I am a really hands-on kind of artist. You know, many people just give directions on the phone, and they are very successful artists at that! But that's a whole different way... The moment of actual manual labour is very important for me, the interaction between the hands and the brain, the imprint it leaves on the work. In a way, it does limit me as to the number of projects I can realize, although I love making sculptures for public space. If I get commissions like that these days, I still deal with them myself ‒ with some assistance from other people, of course. And I like that, too; I love working with people, because living on your own in your studio can be quite lonely. A couple of years ago, my studio moved from London to a place near my museum, in Mid Wales, by a river. I work in a building that used to be a large mill; it is a huge space but also quite cut off from the world. There are very few people living in the vicinity. That's why there is a certain sense of loneliness there. You take a break, and there is no-one to exchange a few words with. It is impossible to do on the phone; besides, the mobile phone signal is not very good over there. You move around from one corner of the room to another, and you lose reception. So much for contemporary technologies... which I actually appreciate quite a lot but try and not use to an unreasonable extent. Including in my work.
Incidentally, I have made quite a few sound installations: 'Two Singing Trees', 'The Annely Record Player', 'Music Atmospheres'; they involved using the sound systems available at the time. I started doing them in 1972, with vinyl record players. And as the sound systems changed over time, I created new sculptures around them. Vinyl, then compact cassettes, CDs. Nowadays, you can almost set up a sound system in your fingernail but at the time it was a sort of challenge.
How did you find yourself involved in alternative fashion? Did it happen at a later time than these early sound installations?
No, it was around the same time. In the 1970s, when I lived in London, my first patron was the fashion designer Thea Porter, a missionary's daughter, a very well educated and intelligent woman who could speak French. She dressed the Beatles, Barbra Streisand, Elizabeth Taylor, that sort of clientele. And we became friends. She liked my work, so she commissioned from me several sculptures. I made a number of huge silver lilies for her shop and a palm tree with hearts hanging from it for her home. So I ended up in this world of fashion through Thea, although I have always made clothes ‒ just for myself.
The 1970s were an interesting time because fashion was seen as fun back then; no-one earned particularly big money with it. Models were designer's friends; no-one paid them crazy money. And when money does not play a huge role, the story is completely different. I met quite a few artists working in this field at the time, including Zandra Rhodes with whom we went on to create various things for many many years. I was with her here in Riga, during my previous visit in 1999, at the final Assembly when we had a show in the building of Latvian National Opera. That was great fun. We made these sort-of palanquins or something; the models were sitting on these things and men carried them onto the stage ‒ so the models did not even have to walk. They were sitting down throughout the whole show.
It must have been a pleasant fashion show for them...
And it was quite spectacular as well... So I was already very much involved in this world back in the 1970s. But the whole thing was still very casual at the time, there was none of this brand worshipping. Later, when things changed, in the 1980s, I distanced myself from this scene. And then in the early 1990s a new generation emerged. And that was also great, but the 1980s were a sort of transition period. In general, creating clothes is essentially a very creative and fun process, but it is definitely not always like that these days: there is so much stress in this area...

Video about Andrew Logan's shows at the first editions of the Assembly of Untamed Fashion in Riga
I think it may be partly related to what we were discussing earlier, regarding discipline. There is creative self-discipline, and then there are external influences that make you do certain things. The whole schedule of endless fashion shows ‒ spring/summer, autumn/winter. It is a kind of assembly line...
Yes. I know Rei Kawakubo, the founder of Comme des Garçons. She does not have any time off any more; she works 52 weeks a year. Incredible!
I, on the other hand, go to Goa every year; I spend there three weeks or so. In January. Lovely weather. On the one hand, it is a sort of recreation; on the other hand, it is simply being. People ask me: So what do you do there? ‒ I simply am there. It is important to simply be sometimes. What's the point of the whole rat race? You start to need that sort of thing after a certain age. Many people from the 1970s completely burnt themselves out. Why? In the name of what?
And this thirst for money... I can sort of understand why it was like that here, after the Soviet Union, following decades of total shortage of everything. But elsewhere... And I ask myself again ‒ how do we find this middle path?
Perhaps they have found it in Scandinavia with its democratic state socialism...
You mean Sweden? Or Finland? Yes, perhaps they have. But these are small countries. Would something like that be possible in India? Although there is a sort of democracy there. Everyone is their own boss in this country. It is different in China, you can very clearly feel the mass character of everything there, everything en masse. It's not like that in India. There is a fundamental difference. Everything is settled between individual persons there, and it creates a certain feeling of warmth.
I read that the tailor who makes your clothes also lives in India.
No, I have a tailor from Goa now. He is an excellent tailor. But in India you need to follow the whole clothes-making process very closely.
Because everyone is their own boss there?
Exactly! 'I just thought I could make this sleeve shorter.' I make quite a lot of waistcoats. The one I'm wearing right now was made from a shawl given to me by Zandra Rhodes. The patern was designed by her. Sometimes I also design things for my friends.

Fragment of exhibition by Andrew Logan at the BOLD concept store in Riga. Photo: Didzis Grodzs
You also started making jewellery to give it to your friends, didn't you? My colleague Una Meistare has worn your jewellery quite a lot at our editorial board meetings. So I have had opportunities to view them live, so to speak.
Oh, they are magical, I tell you! I always say that to people who buy some of the things that I make. Do you know how I create them? Unless it is a very specific commission, I simply sit in my studio and move along step by step, wherever inspiration takes me. I don't draw sketches to try and recreate the designs in the particular material. Everything happens very spontaneously. And that's why there is this energy to them, there is this magic.
I made my first pieces back in the 1970s, for Thea Porter, who was a star of fashion shows and nightclubs. And then for some other friends as well. It was only ten years later that I first started to sell them; before that, I simply gave them away. I think it is very important.
I have never in my life done any PR-ing and marketing, things that young artists are taught from the cradle these days. I believe that it weighs down your artistic freedom. You need space to breathe freely. It feels somewhat sad in London in this sense now. It is still a great city ‒ but so expensive! The young artists move either to Berlin or to the provinces ‒ Bristol and places like that. Because you cannot breathe in London. And it is very sad, because the city is losing its creative power. It is full of very successful people ‒ bankers and suchlike, but the whole thing is... quite boring. Creativity is what defines a place and gives life a meaning.
My mum used to say ‒ you must always have two pence: a penny for some bread to survive on and another for a rose ‒ for your life to have a meaning.

At Andrew Logan's exhibition at the BOLD concept store in Riga. Photo: Didzis Grodzs
Wonderful! But do you find that London is changing now after Brexit?
It has started to change. But it is a gigantic city, an entirety, a totality in itself, like New York or Moscow. Russia is Russia, and Moscow is Moscow. London is not the UK. It still has a certain drive; things are still happening there ‒ but it is going to change. On the other hand, Brexit is not a separate event; take a look around ‒ look at what is going on in the USA, at the rise of the right-wingers in France. It is a whole big wave.
But what can an artist do when the world is moving in a direction that he finds unacceptable?
A good question... Simply go on bringing into the world things that he believes in. You know, I recently spoke with some young people from an art college; they were all great kids ‒ but they have a reason, a motive for everything. This is like that because it has to do with the subject of sex and gender; this is like that because... What I told them was ‒ why not create something for the sheer joy of it? A reason is not necessary. If you have one ‒ fine, but it is all right if you don't.
I am leading up to an answer to your question. All right, so the world is changing. But why should it get in the way of us creating things that we want to create? I visited your National Museum of Art during this stay in Riga. In the Soviet era, people lived under a much greater pressure than today, and yet they created things that they thought necessary to create ‒ in their studios, in their attics.

Andrew Logan and Miss Zero (Sasha Frolova) at the Alternative Miss World contest in London in 2014. Press photo.
You in your career have also done your bit to influence the direction in which the world could be moving. I am referring to the Alternative Miss World contest that had ‒ and still has ‒ its own social agenda: bringing onto the stage those who have been denied an opportunity to do that ‒ who, for various reasons, do not fit the standards. You held the first of these events in your own studio in Downham Street in 1972.
The Alternative Miss World is a surreal happening for family entertainment. That's how we defined it for ourselves. And we have held 13 contests to date; by the way, the next one is coming in 2018 ‒ we are staging it at the Globe Theatre. We simply let people express themselves. We don't try to control everything; we don't have rehearsals of any sort ‒ it is a kind of organised chaos. And we are not labelling the event in any way. It is not a gay festival or whatever; it is just what it is, the Alternative Miss World contest. Gender, age and profession are irrelevant. We have had farmers, pub landlords, scientists, financiers. Andrei Bartenev took part in 1995.
Incidentally, in Russia, I think, they responded quite well to the contest; somehow, they seemed to grasp the significance of transformation ‒ in a very human and humorous light. I have no idea why.
It was probably back in the 1990s and early noughties, when there was a very energetic transformation underway in Russia itself. The current trend seems to be a conservative one.
Possibly. And yet in 2014, in London, the title of Alternative Miss World was won by Sasha Frolova form Russia. By the way, she makes incredible sculptures.
Two of my brothers and my sister have also taken part in the contest, so it is truly a family event. Quite an irregular one at that. It can take place once every five years ‒ or once every eight years. But the interval is five years at the very least, because a lot of work is involved. I make the crown myself and invent the ambience. It means six or so months of preparation for a single night. Although we do have lots of volunteers who are very keen to help; the event has already become something of a legend. And when it takes place, the whole thing feels very special. Completely magic. It is magical in the same way as the jewellery...
The jewellery is brilliant ‒ metaphysically as well.
We brought quite an interesting selection to Riga; there are some relatively old pieces among them as well. But it was not I who chose the pieces; it was done by my assistant who works in London, at our shop that operates more as an office. And it's a good thing. You have to know how to let things go. Simply let things happen. You know, they have a tradition in India: you have a career, a family, and when the children have all grown up and the family is not dependent on you any more, you tell them good-bye and take off into the world, travelling from temple to temple. You simply let things go, and that is how you end your life ‒ detaching yourself from everything you have achieved.
I do have a certain problem in this respect: my way of working, of creating sculptures, means that there are things constantly accumulating around me, great numbers of things piling up. It's a good thing that I have the museum ‒ although things are not going that smooth these days, because the whole system of grants has simply fallen apart in Britain. And not that many people are coming to see it; it is, after all, Mid Wales, not London. Although it's also not a bad thing in a way. You have to go on a sort of pilgrimage. Besides, I am generally a supporter of cultural decentralisation.
Well then, we seem to be approaching the final question. You have seen many things in your life, you have experienced a lot. If you had the chance to meet your younger self, the one from the 1960s, a student still ‒ what advice you would give him?
What advice... Follow your heart and do what you have to do. But think of your loved ones, of people who are by your side. Be kind to people. That's it, actually.

Andrew Logan at the opening of the exhibition at the BOLD concept store. Photo: Didzis Grodzs