Art is not just one history
An interview with Gregor Muir, Director of Collection, International Art, at Tate

25/01/2019
Having appeared several times on lists of the most influential personalities on London's art scene, Gregor Muir, the director of the international art collection at Tate, could be referred to as both a human encyclopaedia and human novel. In any case, his breadth of experience greatly exceeds that of most ordinary persons, including those with links to art. In the late 1980s, Muir graduated from the Camberwell Art School in South London with a degree in fine art, and in the 1990s, he plunged into the world of YBA (Young British Artists), becoming a chronicler, archivist and friend of the movement.
For a whole decade, Muir and YBA were inseparable, throughout moments of triumph and glamour as well as the depths of despondency. He documented this period of his life in the witty 2009 book Lucky Kunst: The Rise and Fall of Young British Art. The book is an autobiographical portrait of 1980s and 1990s London with a healthy dose of irony, but it is also a vivid story about how 'life is art' and 'art is life' and how Great Britain morphed from a country that 'just wanted fox hunting scenes and such' into a global metropolis of contemporary art.
Muir is also one of the rare people who has managed to step into almost all of the 'shoes' that exist in the art world's ecosystem, having risen from the non-commercial sector to the commercial (that is, galleries) and back again. He has worked as a curator since the early 1990s. In 1993 he curated the Lucky Kunst exhibition, showing artwork by Gary Hume and Sam Taylor-Wood and eventually inspiring the title of his book. In 1994, he curated the Liar exhibition in Hoxton Square, which featured the work of Cerith Wyn Evans and Jake and Dinos Chapman. In 1997 Muir opened the Lux Gallery, and from 2001 to 2004 he was the Kramlich Curator of Contemporary Art at Tate Modern, where, among others, he curated the first moving-image show, Time Zones, as well as the In-a-Gadda-da-Vida exhibition with Damien Hirst, Sarah Lucas and Angus Fairhurst at Tate Britain.
From 2004 to 2011 Muir was director of the prominent Hauser & Wirth gallery in London. He then served as the executive director of the Institute of Contemporary Arts (ICA, 2011–2016) in London, where he was responsible for attracting funding and also for the centre's extensive programme of exhibitions. During his time at the institute, it organised exhibitions devoted to Tauba Auerbach, Isa Genzken, Judy Blame, Zhang Enli, Richard Hamilton, Bruce Nauman, Juergen Teller, Betty Woodman and others. Parallel to the positions listed above, Muir has also actively continued writing (Dazed & Confused, Parkett, Frieze, etc.) and has led a variety of public conversation programmes, including Frieze Talks in London.
In 2017 Muir returned to Tate, this time as Director of Collection, International Art, replacing Frances Morris, who, after ten years in the position, was promoted to director of Tate Modern.
'Tate Modern opened at the point when the YBA movement was beginning to fall apart, and it was interesting how Tate Modern picked it all up and took everyone forward,' said Muir during our conversation, which focused on the YBA period as well as his vision for developing the Tate Modern collection. We met in his office at the museum, which is located between the now iconic Herzog & de Meuron-designed Tate Modern building and the museum's new addition, the Blavatnik Building, which opened in 2016. A bookshelf occupies one whole wall of the small office, but it holds only a small part of Muir's impressive collection of books. Except for another bookshelf at home, he says with a laugh that the rest of his book collection is currently stored in 80 boxes.

Gregor Muir. Photo - Alice Lubbock/alicelubbock.com
This may be an odd question to ask you considering your current position at Tate, but ever since I read your book Lucky Kunst: The Rise and Fall of Young British Art, I've been wondering how you managed to stay among the living during all those years of YBA excess?
[Laughs] It was a really interesting period, because back then every day seemed to be an adventure in London. It all started in a really down-at-heel, downbeat, derelict London with a cloud over it, but it ended up being a little bit like the London that we have today. We're sitting in what London became – the Tate Modern and this energy for contemporary art. Initially, the more radical contemporary art projects were taking place almost like university projects. It was all a bit downbeat; there was a very elite world around Cork Street – the Francis Bacons and the Lucian Freuds of this world, all of whom were of note – but the work was inaccessible and expensive. The whole thing was exclusive. And so this movement of the Young British Artists, the YBAs, mimicked some of the strategies of the New York downtown art scene in the early to mid-1980s, and by the late '80s, Charles Saatchi was showing works that he had been acquiring from that period.
We would go to Saatchi's gallery in North London, which was this enormous white shed -a converted warehouse that had been beautifully redesigned by architect Max Gordon. That was where we, as students, saw for the first time works by artists like Donald Judd and Bruce Nauman. I remember on one occasion going to a showing of Jeff Koons' works – the basketballs and so on – and it was like children looking at a sweet shop with wide eyes. Everyone wanted to recreate it, and so YBA was born out of a mimicking of this sort of 'high-end salvage' strategy that Saatchi had adopted – transforming an old warehouse into what felt like the best contemporary art museum in the UK. It was a very impactful, minimal space. Our version of this was to takeover old warehouses, offices and shops, paint them white and put on contemporary art shows, all on the cheap. The artists of that time were kind of integrated into these spaces.
You have to remember that London back then was very dull, very quiet; much of it, like the East End, was in a kind of ruin. I remember how you could take a walk through the East End and go into empty warehouse zones. Margaret Thatcher had been closing down hospitals, and you could even go into these old, abandoned hospitals. So, it was unusually exciting from the point of view of space – all of which is now, of course, completely gone. There was the sense that you could have the space in which to produce and present art.
People might say, 'Hang on, there's always been art in East End warehouses.' But what I noticed about my particular generation is that they were quite good at promotion. They were oddly professionalised; they produced well-designed catalogues and would mail out invite cards to hundreds of people. There was a kind of strategy behind it which lifted it up from the more obscure approaches that had been in place before. For lack of a better word, it was 'deregulated' art; it followed a path that was similar to the rave culture running alongside it, because people were using the same buildings for clubs and illegal parties.
So, it mostly became like a trans-Atlantic phenomenon, because in downtown New York artists already had, of course, made use of old warehouses as their spaces. And when it came to London, it entered into this particular landscape, which was one of ruined, British industry. It mixed with a kind of urban melancholy. Back then, you would die coming back to London from New York, because New York was very active – it had its clubs, night life, street life, you-name-it life… If and when you came back to London, you'd be crying within two hours because there was nothing to do here. The culture at the time was such that anything interesting at all was coming from New York. It was seen as a dazzling citadel where all ideas and culture and interesting new things were coming from, so there was this sense of exchange. It was very, very, very expensive to fly to New York, but then there was this man named Freddie Laker, who came up with the first discount airline, and suddenly club kids were going to New York – it wasn't just businessmen on Concorde but a completely different clientèle.
I think it was, in a way, part of this post-modern 'salvage culture'. It's actually best summed up by Charles Jencks, when he talked about adhocism: the idea of re-using things towards other ends – a kind of recycling. Essentially, people had decided to 'recycle' these warehouses and industrial spaces toward many things, one of them being art shows. It was the summation, in a way, of the Freeze exhibition by Damien Hirst in the old London Port Authority building, where artists were, basically, trying to recreate Charles Saatchi's beautifully designed shed in St. John's Wood, a decidedly more affluent area of London. Seeing this beautiful minimal art in this beautiful minimal 'shed', I think a lot of young artists – certainly of my generation – felt things were possible and thought 'We'll do that. We'll just go off and do it by borrowing the keys to these buildings that are lying around unused.'
And that became, as it were, my first role as a curator: to go into an estate agent and ask for the keys to a property in Soho. They'd literally give you the keys out of a drawer because they simply couldn't do anything with these properties – there had been a complete collapse in the property market. In London there was a recession the likes of which I had never seen, which resulted in Oxford Street being for the most part boarded up!
It was a very different London back then, but I think the energy that came out of that pushed through and provided the energy to open up new galleries, new restaurants, new clubs, new bands…new everything. In a way, that was the road that led to Tate Modern, because public interest in art rose exponentially in this period. It was similar to the way in which the public enjoys what we call the 'red tops' – The Sun and other tabloids that print outrageous headlines. The artists, of course, were quite canny and knew how to play that to their advantage. They didn't have to spend their whole lives trying to get a show on, say, Cork Street with the establishment and the elite – they managed to find a way to bring attention to themselves through other means. Aided, of course, by Saatchi and others who saw the potential of bringing it to the media. As it gathered momentum, it became an extremely exciting phenomenon.
I know it's probably frowned upon now… I don't know if people look back on that period with much respect, but I do recall that there was a little bit of a feeling like being swept away by it all, because it was a world of possibility. That optimism of the '90s is so totally gone now. It's a shame, because it was such an unbridled optimism in which you felt you could go out all night and still wake up early because there was so much potential to change things. Everything was socially mobile and fluid. No longer was it that moment when working-class people stayed working-class; there was a sense that you could move around. You couldn't exactly change your income or your class overnight, but there was a social 'mingling'. I think that sometimes this is what happens in interesting periods: when young and old, rich and poor – and in this city, at that time, upper-class kids and working-class kids – could all inhabit the same space. There was also another fluidity – a cultural fluidity in which fashion, art, music, club culture and so on intermingled. You didn't know just the artists; you knew the musicians, the restaurateurs, the club owners…it was like 'a mosh pit of desire'.
It was exciting and an amazing period that came undone, partly thanks to the then-Labour government. Tony Blair came along and started to 'join in', which proved rather awkward, like watching your dad dancing. And then Blair completely sold out to Bush and the Republican party in a way that no one could have predicted. You never would have thought that a left-wing Labour government would enter us into the Iraq War. It just didn't make sense because, up until then, we felt like we'd finally achieved a degree of independency, especially in relation to America, which had remained culturally dominant for so long. It felt like we'd found our feet, and that Britain was being recognised around the world for its artistic contribution. And all that, I fear, got sold down the river. The nineties was a really fun time, and yes, I'm still alive, as are many others. Sadly, some didn't make it. It was an incredible period.
In the last chapter of your book, you write that you were sitting in the grass at Damien Hirst's luxury country retreat in your ill-fitting suit with your shoes off, chewing on a piece of long grass and thinking about how far he'd come, and it occurred to you that it was finally time to start looking out for yourself. Time to get real. What are the main life lessons you learned witnessing the rise and fall of YBA?
Someone criticised me for saying repeatedly in the book that I had no money…and I still don't [laughs]. I should have thought about that. The thing that you learn is how fleeting it was… There was a proximity to people doing really great things, and I think that comes rarely. That's not to say that I don't meet interesting people now, but back then…I remember when I would literally look out my window and into Alexander McQueen's studio and see Björk walk by – she had a love of London at that time. You would spend your day hanging out with these amazing artists. I knew it wouldn't last forever, but I was amazed at how fleeting it was. Now, various artists among them have moved into so many different areas in different ways, and some of them have moved on from what was like an interesting form of Arte Povera to become more involved in money-making.
Consequently, the memory of it changes and distorts, but when it was in its pure essence – by which I refer to the period of about '86 to '93 – there was a unique strand of artistic production here that was very unique and very exciting to see. Now when I look back, I wonder what I got so carried away by. I see some of those works now and think 'What on earth were the artists thinking?' Some works stand the test of time, but not all. That's what you learn. What you're seeing at the time, no matter how great, will change and may not be valued the same way ten years hence. I can't explain that. There would be moments when I'd walk into a gallery and see things for the first time…and I make a point about this with the Damien Hirst 'fly' piece (A Thousand Years), which seemed absolutely amazing to me at the time… I wouldn't wish to deride it now. I also remember seeing the Chapmans' Hell, too. These were extraordinary works of art, but my point is, how do you support them now? In what structure? Do you have to do a show about the '90s, or do these works exist in a continuum? In certain cases they do, and I think that some works will probably survive and last, very much so. I also like to think that the Chapmans' Hell will take on neo-mythical status over time, having been lost in the famous Saatchi warehouse fire...
Some artists were a bit like one-hit wonders. Some I can't believe, because I felt that they had it all and then they threw it away. You'd get your fingers burned just by looking on and liking some of the others, and then they'd just go off and do something down the line, and you'd be like 'What are they thinking?' Some have become celebrities…some I cannot see out of the context of being a celebrity. I see them still doing things, making things, but I just think that's funny… There are very few who held art right at the centre; some of them spun off the track, some maybe created too much of a 'pocket' for themselves and didn't come out of it.
I also make the point in the book – which is probably the only theoretical/political/social point of merit – that we, myself included, were coming out of free art schools. I really did come from no money, but I was middle-class compared to some of the other artists; people like Damien Hirst were coming from really serious working-class backgrounds. It was the moment when a generation of working-class artists came through and became popular and well known. It will be interesting to see how this country goes on to treat its artists who are not from comfortable positions. To get a studio, to go to art school, to be an artist now, in this city, from certain backgrounds, it's impossible. It's gone. I went to art school because it was free – literally. You'd sign a piece of paper, turn up, and then spend three years playing pool and drinking beer and occasionally make a painting. I just get the feeling that that isn't possible anymore.
There were other factors at that time, too. Many of us could 'sign on', that is, get a government cheque that would enable us to live. Once you were signed on, you could get a flat because the council would help support the rent – it would literally give you money to give to a landlord. This is unthinkable in the present. When I think of younger creative people now, they're without a safety net. We had support systems that were supplied through social services. But there's this kind of feeling now that you have to be safe – you can't take a risk. As I all too often find, people now think more in terms of start-ups – should it turn out to be an interesting project, they go straight away to figuring out how to make money of it. I get it, but at the same time, it's fundamentally changed. There's been a massive shift, and it's probably the end result of that period. London transformed, it was redeveloped, and then in came all sorts of international wealth. Now I don't even recognise the city. I was born here, but I get out of tube stations now and I'm like 'Where am I?' Anyway, it was a very fascinating period.
And it was very short, actually.
Mick Jones of the Clash once said that punk lasted just one hundred days, and I think that there's this kind of culture to conform very quickly and sporadically, partly like ships coming into harbour and then unloading and going back out. It's a very London thing. There was a time when things could just literally happen because it was quite an internalised culture.
Memories tend to change over time. Is that the main reason why you wrote this book? To document the history you witnessed with your own eyes?
Yes, to just quickly get everything down. I didn't want to do it through an art publication, like a vanity thing, because the point was to release it as a publication in the recognised 'world of publishing' and soft-back books. I feel that the first release is not so good…there was a slight hitch with it. The second one has the cover with me trying to kill Tracey Emin with a gun, and then the one after that is with Tracey Emin and Damien Hirst on the cover, which is the most recent one. It was published in Poland. Artists in Poland asked if they could reprint it in Polish, and I momentarily became a well-known writer in Poland, for one week [chuckles]. They asked me over to do a talk, and they said the review of it was quite unbelievable. That was quite funny.
Writing the book was a risk, because I didn't want to offend anybody, but I also knew it could. It was difficult because of certain artists (one, whose name I won't mention) who always wanted me to write about them (if they could, they would've written the book). It was a risk, and I didn't show the manuscript to anyone. If I had shown it to just one person, it would have been picked apart – the book would never have happened. I had to literally print it and make it into this book, and it got picked up properly, as it were. But I hated it, because the day it came out, people would buy a copy, look at the index and read their bit. To try and get the whole period into a book was such an effort. There was no internet. I couldn't look up stuff, even when I was writing it. I wrote it from about 2003 onward in bits and pieces, you know. Even now, I can't find out stuff about that period online.
I'm probably the only person who has written about this. Probably 98% of the names in the book are no longer to be found anywhere else. My hope is that when they're all in retirement, when they really have forgotten, they'll pick it up and read it. There's one bar in Soho that I mention – it's the stuff of legend, I think – and maybe one day someone will say, thank God someone wrote about that. It's all gone now. There's very little to rescue from that period because now the art world has gone back to being conservative, conventional in its ways. It likes to think it isn't, but it is. There's no more social mobility; the art world is only affordable for certain people, and consequently, it's not being as representative as it could be, although this is starting to change again.
But at that moment in time, it was the most important British art movement ever. I mean, looking back, the level of press interest – with artists becoming truly famous – was extraordinary. I'd be in a bar where people would just send over bottles of champagne to Damien... He was like the local hero... But now it's all old and had lost in time, which is fair enough.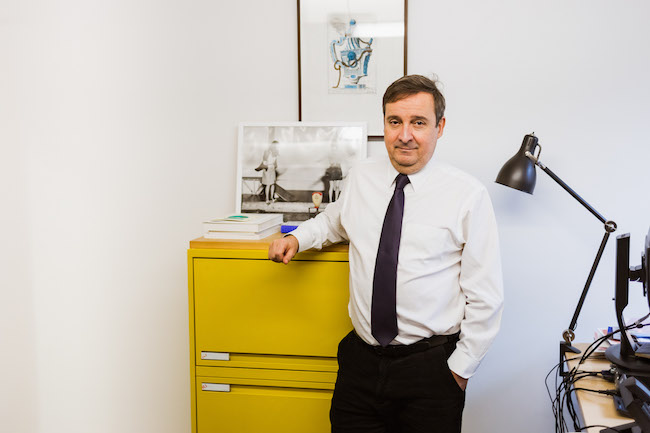 Gregor Muir. Photo - Alice Lubbock/alicelubbock.com

I like that in the book you characterise London in the '80s as 'a decade with bad breath'.
People have really responded to that line. It was. That's the one bit of poetry in the book. It should be have been better written and there should be have been more poetry. What I was doing was trying to balance factual points. I was so not an art historian at that point, and I'm not now, either, but back then I really wasn't. And I have to say that's the way it was.
All most people saw was the period of the yuppies on TV – people drinking champagne in suits and whatever. But it wasn't like that at all. That was in a small pocket of society, literally a square mile of this country, which is the City. London had awful class conflict, you know. Sloane's [The Sloane Club, a luxury member's club – Ed.] and West London versus working-class people in the East End – absolutely binary. It was quite depressing. People have tried to tell different stories about London in the '80s, but it was still recovering from the war, and the infrastructure in the east was nonexistent. It was up to us to change it. I think the line in the book that I like the most is 'from [Conservative politician Michael – Ed.] Heseltine to Hirst'.
The other confusion is that people thought we were like 'Thatcher's children'. But that was the biggest insult, because we hated Thatcher. In fact, we were more desperate than Thatcher's children; we had to make something for ourselves, otherwise we would've had nothing. I'm so glad I'm here because of it. If anything, we were doing it to upset and disrupt Thatcher, not support her. There, in that moment, I would now be saying to you 'We have to go to this opening' and all sorts of other interesting events, etc. The police actually raided one opening I went to because they thought it was a rave party. Hundreds of people were there; there was nothing else to do. And you know, those works, which are now in galleries, back then were in sheds and warehouses. There's a little bit of me that wants to show a Damien Hirst spot painting on an old brick wall so that people can actually see how minimal it looked back then. Instead of a white wall, which is what Damien and everybody else wants. In a sense, the background culture was far messier, ruinous and decrepit.
I do worry about it now, as I get older. Maybe all of this wasn't healthy, by which I don't mean the 'fun' part everyone wants to talk about, but rather literally being in those old buildings. They were full of asbestos, very bad dust and so on. If anything, I'm amazed I survived that. Now, of course, they're called 'lofts' and everyone has a nice time and a telephone line… We didn't have anything like that – it was minus ten degrees, and you'd have to build something in the corner of the building to just be warm. I remember Gary Hume would put a tent in his studio, in which he also lived every winter, because the studio was a garage. You could barely go outside; it was colder inside those sheds than it was outside. His tent had a heater inside, and since it was the warmest place, we'd just dive into there. We literally did drink vodka and stay up all night to stay warm and do stupid things…
A question about your current position. What do you see as your main role and responsibility as the Director of Collection, International Art, at Tate?
When I was a teenager, I'd come to Tate and spend the best part of an afternoon sitting in the Rothko Room with the Seagram Murals, which were at Tate Britain, then the only Tate in London. I would walk around the galleries, picking up the history of art – a history that was told in a certain way by certain people. That meant I saw art in terms of impressionism, abstract expressionism, conceptual art, German expressionism… It was very much like a process of osmosis in which you're told 'this is the story'. You don't know how much you're taking on board, but it becomes 'the official history'. You grow up with it, thinking that's how it was. And then, of course, you start to step back from it and question it…
The one thing I like about joining Tate Modern presently is that I'm joining at a point at which we're engaging in the idea of the transnational. It's not just international – you need just two nations for something to be 'international', whereas transnational is a very different project. It talks about global artistic exchange, and that's fascinating. I think that the whole point of the collection now, in terms of building a memory, a knowledge of art, is to show that it has a life well beyond the so-called canon of American and European art. It's filled with exchanges, and as the world has in recent years been leaning in a certain direction (which some refer to as nationalism), I think that the great thing about Tate Modern is that it can welcome the world to itself. It's showing, for the first time, a broader picture that goes across many regions and tells multiple histories.
I don't think art is just one history – I think it's many. And it's going to be about many people as well. It's not just about one kind of artist – it's about people from different communities and backgrounds and traditions, and their stories have yet to be told. For example, referring to indigenous/First Nation art or Sami/Northern Scandinavian art, there are many artists who have yet to be heard and who have been overlooked, in my view. In many respects, there is a need to reform the collective memory about what art is, and it should mean more to more people and be able to speak many languages.
It's been extremely exciting and interesting to see that 20th-century story, which holds incredible work and artists who must continue to be respected, but at the same time, they could be joined by other stories. To tell the story of art beyond national borders – about how artists exchange ideas, interact with each other, and copy and borrow and steal and move around the world with each other – is going to be a very important picture to present. I don't feel that story has been told enough, and nor do some of my colleagues. We feel the need to show how complicated things really are. We want to try and explain that in the process, and we want to help people find clear ways to interpret this particular reading of art, but to tell it from a certain perspective that's transnational and that is a collection which, I hope, will continue to regender itself away from being the sole reserve of predominantly white men. Perhaps by engaging more with art and society and the ways in which artists don't just primarily produce decorative objects but can – and have – increasingly addressed politics and various social issues through art.
I think there's this sense that the decolonising project is ongoing, and you can never just remove the colonisation project that proceeded us; it still is very important to be seen 'recalibrating' everything away from a certain preserve. I think that's what we're doing here, but I think it will take some time. It will continue the project that Frances Morris [the former Director of Collection, International Art, and now Director of Tate Modern – Ed.] would like to see, which is that sense of really showing great possibilities in art – not just the 'Castelli reading' of art, but the actual potential for artists in the world and in a local community as well. It's very much a local and international picture, but I think that with Tate Modern being in these centres – Liverpool, the artistic retreat of St. Ives – but certainly where Tate Modern sits in relation to London, it's in itself a transient city that has many communities. It has many visitors, of course, but I feel it also has a greater chance of integrating than most cities I travel to. There's a phenomenal spectrum of people and artists and individuals who come here from all over the world for many reasons. And so the museum is also a reflection of that – the idea that we can show art from regions not everyone is expecting.
We have various acquisition committees, as I'm sure you know: Asia Pacific, South Asia, Africa, Middle East and North Africa, Russia, North America, Latin America… We have funds to acquire works in Australia, and we have funds for our international council members through Tate Modern and Tate Patrons to acquire work both locally and throughout Europe. So it's an incredibly broad collecting strategy with which we're able to achieve regional acquisitions – it's not just lip service. We manage that through annual allocations for all these regions. Tate Americas Foundation allows us to buy work from Canada through North America to Latin America. I would suggest that the primary purpose of all that is not just to show the spread of international modernism and to be able to chart it, which is key, but also to show how contemporary art is not just something that exists in Chelsea, New York, etc. No one's saying this, but at the same time, it's interesting to see how contemporary artists in other regions around the world relate to their own histories, their own modernisms. In certain cases, everything has been moving at different speeds and people are at different points, and it's very interesting to see this across the committees.
In the meantime, considering the fact that there's so much money in the art market today, collectors are definitely more powerful now.
I think they are, but what is also important to take into account when we talk about these committees is that all the individuals kindly donate money, but it's our curators who establish our priorities and the absolute needs of the collection. Tate is very strong in that sense – it has its strategies, it assesses its own needs, its own priorities, where the gaps are, where things can be researched in-depth for the future, and so on. In that respect, it's very focused, and it's really asking its supporters to help with that process.
Needless to say, I think that the collection displays around the Tates are genuinely an incredible thing for the nation – it's 'the national collection'. Tate receives extraordinary numbers of visitors every year to see these free displays, which are works that have been acquired by the public and continue to be accessible to the public, for free. There is an extraordinary job to be done. Every time I leave the office and walk down to the galleries to look around, it's incredible to me how many people visit. The museum remains important.
As I said earlier, the country has benefited from the period of the late '80s and '90s. It feels like although the YBAs never continued en masse, they nevertheless created the setting for greater appreciation of contemporary art in this country – they 'handed the baton over' to Tate Modern. Tate Modern opened at the point when the YBA movement was beginning to fall apart, and it was interesting how Tate Modern picked it all up and took everyone forward. It was extraordinary how it embedded an appreciation of contemporary art in a country which, up until then, had just wanted fox hunting scenes and such. Now it was almost as if the people were demanding contemporary art, and especially international contemporary art. It's phenomenal how it's become interwoven with the society around it.
When speaking about the role of museums today, Fondation Beyeler director Sam Keller recently told me in an interview that he believes the museum is like a forum: 'It's a place where people can actually exercise their civic rights.'
I always feel that way about the Turbine Hall – as a place to express civic rights, because visitors can bounce off the walls. It really is one of the last venues of that kind and of that scale, where you can walk in and be with anyone from any part of the world and have this type of social experience without the confines of religion, without the confines of it being a train station or some kind of music festival. It really is incredibly open. I'm often amazed by how it becomes this kind of place where people meet each other.
In terms of the collection, the idea of the transnational is taking root and hopefully will prove compelling for everyone. Right around the time of the opening of the Blavatnik Building, this wonderful extension, there was a moment when the size of the part of the collection on display increased by 60% – more than ever before. At that point, seeing all of these works from around the world made people consider doing more in this sort of global sense.
This summer, you were in the Baltic States on a research visit with the Tate Russia and Eastern Europe Acquisitions Committee (REEAC). Did you find anything interesting in the art scene there? Anything that stood apart from other European regions?
Yes, two things spring to mind. One, in Vilnius, the paintings by the female painters (Elena Urbaityte, Egle Velaniškyte, Audrone Petrašiūnaite) involved in the abstract expressionist movement – and it was only women, which was interesting but absolutely fantastic. In Riga, I thought the tapestries by Romans Suta were fantastic – they were among the most interesting things I saw, astonishingly good. This, for me, was like treasure.

Gregor Muir. Photo - Alice Lubbock/alicelubbock.com