"I'm against perspective"
An interview with Czech artist Stanislav Kolíbal
Monika Čejková
15/07/2019
A leading Czech artist, Stanislav Kolíbal has captured the imagination of viewers at the 58th International Art Exhibition of La Biennale di Venezia with a retrospective entitled Former Uncertain Indicated in the Czech and Slovak pavilion. Kolíbal made his first appearance on the Czech art scene at the outset of the 1960s as one of a small number of artists who both liberated Czech sculpture from traditional forms and rejected the Social Realism promoted by the Communist regime. Instead he opted for an approach combining the dematerialisation of sculpture with articulations of installation art.
Stanislav Kolíbal is a self-taught sculptor, initially studying illustration at the Academy of Arts, Architecture and Design in Prague, which he followed up with stage design at Prague's Academy of Performing Arts. His early period is represented by stylised figural torsos; after abandoning this approach and following a short creative hiatus, he began work on a sculptural assignment for the building of the Czechoslovak Embassy in Brazil as part of an architectural competition and embarked on the journey of abstract sculpture. Kolíbal's main theme is order and its constant disruption, eliciting emotions of tension and instability, as characterised particularly by his artworks up until 1988. At that time, he took up a residence in West Berlin and started working on fixed wooden constructions.
Under the Communist regime, Kolíbal belonged among artists with limited exhibiting opportunities because of his abstract artistic bent. He was finally served with a complete ban after a solo exhibition in Milan in 1973, which remained in force until 1980. Despite the political regime's efforts to isolate him, Kolíbal's work made headway in the West. He took part in the international exhibition Sculpture from Twenty Nations at the Solomon R. Guggenheim Museum in New York (1967), the show Between Man and Matter at the Metropolitan Art Gallery in Tokyo (1970), as well as putting together three solo shows for the O.K. Harris Gallery in New York (1980s). Despite his adverse circumstances, Kolíbal's Prague studio was visited by important figures of the art world, including the artist Frank Stella and the Italian art historian and gallerist Arturo Schwarz.
In Venice, the extensive body of work of the ninety-three years old artist is presented in the form of a retrospective. Besides Kolíbal's quintessential artworks from the 1960s such as Labil (1963), the show includes drawings from his residence in Berlin in 1988, an entirely new in situ drawing on the wall of the modernist building and an object placed in front of the entrance to the pavilion. My conversation with him not only revolved around the Biennial, which is a mere episode in his long artistic life, but in particular it focused on him as a person and on what he's managed to achieve during a career spanning close to seven decades.

Stanislav Kolíbal with his model of exhibition "Former Uncertain Indicated" for 58th International Art Exhibition of La Biennale di Venezia. Photo: © Michaela Karásek Čejková
After the Munich conference on the cession of the border regions of Czechoslovakia to Nazi Germany, your family was forced to leave its native town of Orlová and relocate to Ostrava. What was that like for you? You were only thirteen at the time.
It was quite a nasty experience. We were homeless for fourteen months and had to live in a shared lodging house in Ostrava. It consisted of one room – a former school room where eleven families lived together. Although, the school was near the Dům umění (House of the Arts) which I used to visit. Besides that, in the local library I discovered a book that turned out to be of key importance for me during that period: Současné malířství (Contemporary Painting) by František Kovárna. I copied various passages from it. Both fundamentally helped me to get my bearings. That was my preparation for studying at university level.
Ostrava was one of the poorer cities, whose environment and surroundings bore the scars of the steel and mining industries which were in operation here until 1992. How did this environment affect you?
I concerned myself greatly with this reality during the war when I was sent to work in the Ostrava mines after completing my gymnasium studies. As well as putting on my mining garb, I used to carry a sketchbook into the mine shafts and even made drawings while working. I also used to draw while looking out from the fourth floor of our apartment where we lived during the war. I drew the city outskirts, I was interested in courtyards full of discarded objects, the streets and warehouses in our environs. In fact, I actually grew up in this environment.
On various occasions you've also mentioned the significance of your experience with poverty within the context of your artistic practice. In your own view, how does your work reflect that experience?
We were impoverished as a result of the world economic crisis in 1929. My father was a locksmith employed in one of the mines. Because of the crisis he was only given work twice a week, which came to eight days per month. Then the following month another locksmith would work his shift, they took turns, so he only worked every other month, and that sort of thing. It led to a situation when we didn't even have money to buy bread.
Those were my formative circumstances that somehow shaped me for life and of course they also infiltrated my work; my use of materials, for example. I couldn't buy any, so I used things that had been discarded and that I found. The simplest things that surrounded me became valuable.
As a sculptor, you're basically an autodidact. You studied graphic art at the Academy of Arts, Architecture and Design in Prague and stage design at Prague's Academy of Performing Arts. What led you to study these subjects?
The local painter J.V. Sládek advised me to apply to study graphic design. In his view, sculpture was a discipline that carried with it a lot of existential strife. At the time, I started making headway as an illustrator. For example, my illustrations were exhibited as part of an exhibition of the Ostrava Artist Group who were all professionals whereas I was only a seventh-grade secondary school pupil. That brought me my first commission to illustrate a book by Boris Pilnjak, but after the war it couldn't be published anyway, for political reasons.
But in the end, you embarked on the career path of a sculptor anyway…
I completed my studies at the Academy of Arts, Architecture and Design in 1950. Not without complications, however, given by the political situation following the Communist Coup in February 1948. From then on, illustrations awaiting publication had to be approved by Ministry of Culture committees. And when they rejected my illustrations to accompany a book of poetry by Mickiewicz to be published by Vyšehrad, I decided to study stage design at the Theatre Faculty of the Academy of Performing Arts.

Disappearing Shape, 1967, acrylate, 102 x 67 x 56 cm. Photo: © archive Stanislav Kolíbal
It seems to me that your graduation work from 1954 – the stage set for the play Uncle Vanya by Anton Chekhov – foreshadows your later relationship with the colour white. What do you think about that?
Already while I was working on Chekhov's short stories, I used white in my illustrations as a complementary element to the black drawings. That was perhaps the beginning of my admiration for the colour white. Notwithstanding the fact that white as a colour was so distant to our life in a mining community. For my first exhibition of sculptures in Nová síň Gallery in 1967, I wrote a short essay that began with my admiration for the ceiling, which is white and in such sharp contrast to our environment.
In 1957, you went abroad for the first time as part of an artists' union trip to Greece. What made the greatest impression on your back then?
I had a great admiration for Greek sculpture. Back then I was working on my first torsos with arms akimbo or figures in motion etc. What surprised me, however, was the Archaeological Museum in Athens and its collection of bronze age art. I was captivated by Cycladic Art which originated on islands. At the same time, I discovered Christian Zervos' book L'art des Cyclades published that very year. I bought it with my savings.
So, you were already working on a series of abstracted figural sculptures before your trip to Greece?
Yes. I had discussions about them with my artist friends. For example, Zdeněk Palcr considered my sculptures somewhat nonsensical, for him they lacked volume. One of my figures in motion only touched the floor with the tip of the foot, otherwise the whole figure was floating in air. In becoming familiar with Cycladic Art, I found confirmation of the fact that it was also possible to approach art in this way.
I also discovered a theoretical basis in the work of the already mentioned František Kovárna, who defined two currents in Czech sculpture – Myslbek's and Bílek's. That of Myslbek rests on volume, whereas Bílek's on outline. Kovárna thus emphasised that sculpture can be founded on outline during a period, and he did so at a period with a yearning for the metaphysical.
Your artworks, however, extend far beyond the boundaries of sculpture, however. They involve painting, drawing, sculpture and architecture. What, then, is your own definition of sculpture?
In marrying the sculptor Vlasta Prachatická in 1953, I got into the milieu of my wife's sculptures. She made portraits, which was a theme I didn't relate to, but I started casting and shaping my work which brought me be back to my beginnings when I was deciding between drawing, illustration and sculpture. That's how the period when the human figure became my theme came about.
Nonetheless, the figural theme stayed with you only for a certain period and through abstracting it you arrived at pure abstraction.
You know, that was later on. I abandoned the figural theme in 1961. And I started concerning myself with tasks given to me by my architect friends. The architect Jan Šrámek, for example, who called on me to take part in a public competition for three artworks for our newly built embassy in Brasil. The assignment for those entering the competition was to design a forty-metre wall running through the compound. I opted for the form of pure geometry. I saw the essential sense of my participation in involving art in architecture not in the form of some kind of decoration, but rather as its inherent component.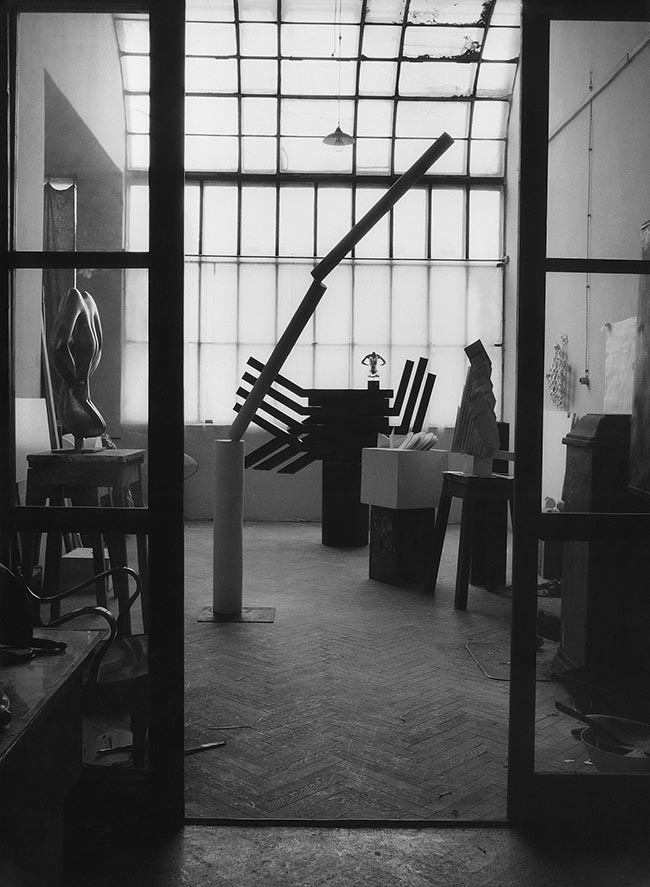 Studio view at Prague 6, Dejvice, 1963. Photo: © archive Stanislav Kolíbal
You were part of the art grouping UB 12 whose first exhibition in 1962 had a dramatic fate. What impression did it make on you when it was closed down, allegedly because of its abstract nature, then reopened and subsequently re-installed?
Well, you know, we saw artists as fighters, willing to take on obstacles that were put in their way, for example. A hurdle doesn't mean that an artist stops working. On the contrary, obstacles can nurture artists towards defiance and to put up greater resistance, and we didn't give anything up and tried to get our own way.
Which of your artworks from the 1960s do you consider fundamental and why?
For me, 1963 itself was fundamental. That's when I started working on the sculpture and bas relief for the embassy in Brasil, as I've already mentioned, even though they were never actually produced. Those designs became the starting points for my subsequent work. I also consider my 1964 work Labil (Labile) fundamental, which is composed of four hemispheres leaning on each other.

Labil, 1964, plaster, 53 x 53 x 36 cm, one element. Photo: © archive Stanislav Kolíbal
At the end of the 1960s you started working with installations. You made careful interventions in space with strings which had already appeared in your bas reliefs. What did this line of approach mean for you? Why did you start using them?
My first string is from 1970 – it's part of the bas relief work Něco končí uprostřed (Something Ends in the Middle). I made it on an old piece of board which I found in the studio; it was left behind by my predecessor. It's a frame with two inlay panels with slits in places and I put a piece of string in one of them. And to contrast that I stretched a thin thread between two nails next to it. One collapsed and the other stretched taught, finished and unfinished. That's the frequently recurring idea. That led to other linear, string drawings. I'm interested in the moment when a line isn't drawn, but rather stretched between two nails. And it can be torn off. And so, I also started using the strings in space.
What does space mean to you?
By studying stage design, I was "launched into space" and I had no choice but to work with spatial relations. In the play Romeo and Juliette, I dealt with the relationships between motifs – a column and the wall that Romeo climbs over to get to his Juliette. That provided me with so much practice that all of my installations from the 1970s until the work Stavby (Constructions) is actually based on this experience. I started with drawings, and maybe I'll be ending with drawings.
What role does perspective play for you?
I'm against perspective. Perspective is only one way of depicting space.
Where did your passion for geometry come from?
I don't know, I was a bad descriptive geometry pupil and I got Ds in maths. So that I wouldn't have to retake the exams, my class teacher, who liked my drawings, gave me extra lessons in private.
You often talk about the influence of the modernist sculptor Alexander Calder; how did you become familiar with his work?
One time when I came home in 1956, the woman janitor handed me a parcel with a catalogue from Calder's exhibition at MOMA in NYC. It was more like a stitched and in it I found a photograph from his first exhibition in Paris. Calder had a habit of making drawings and then he converted the drawings into wires and suspended them in space. I was captivated by the weightlessness of his objects. That was a great encouragement for me together with Cycladic Art – the tendency against the heavy sculptures espoused by my friends. Calder also made illustrations, for Aesop's fables, for example, which helped me when deciding whether to illustrate Stromy pohádek (Trees of Fairy Tales). Thanks to Calder I decided to approach the illustrations in my own way, more freely and abstractly.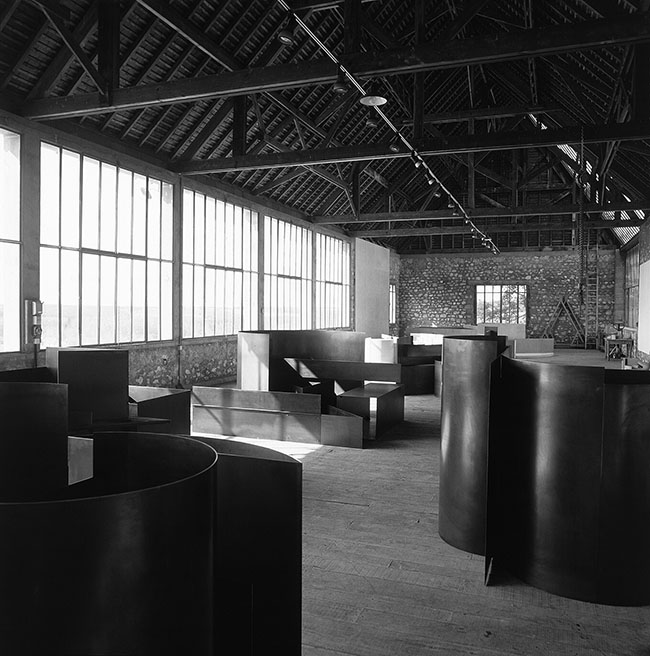 View of the Studio of Alexander Calder with Stanislav Kolíbal's Structures, Saché, France, 1992. Photo: © archive Stanislav Kolíbal
In the past you've often mentioned his concepts mobile/stabile. Even so, you set yourself apart from them with emotions such as uncertainty and instability, you work with fragility, and there is something fragmentary that weaves its way through all your work. Is that your main theme?
You could say that it was a theme from the 1960s until 1988 when I was given the opportunity of going to West Berlin on a stipend and started working on Stavby. Back then I abandoned the idea of uncertainty or instability and, on the contrary, I started looking for something in those edifices that grows into a stable constellation, something that can appeal to a person through its order.

Construction No II, 1988, wood, 100 x 245 x 155 cm (Museum moderner Kunst Stiftung Ludwig, Vienna. Photo: © archive Stanislav Kolíbal
Do you think the fact that the fall of the Berlin Wall was drawing near may have been the impulse?
I wouldn't say so, no. It was more the new environment, where I could do whatever I wanted. It was in complete contrast to what we had been living in for forty years. Even so I was surprised back then – and this is something I don't like to talk about – by the fact that even though I suddenly found myself in a milieu where no one was controlling me, no one was telling me what to do, it also had many shortcomings. It was the first time that I saw many homeless people who had nothing to live on and it brought me back to the feelings I had when I was a child.
Could you tell me something more about the 1967 exhibition Sculpture from Twenty Nations at the Guggenheim Museum?
In 1966, Edward Frey came to Prague and he was recommended twenty studios to visit. Karel Malich and I caught his interest. He chose Stůl (Table), half abstract and half symbolic. At the same time, the work contains the important question of time and destruction.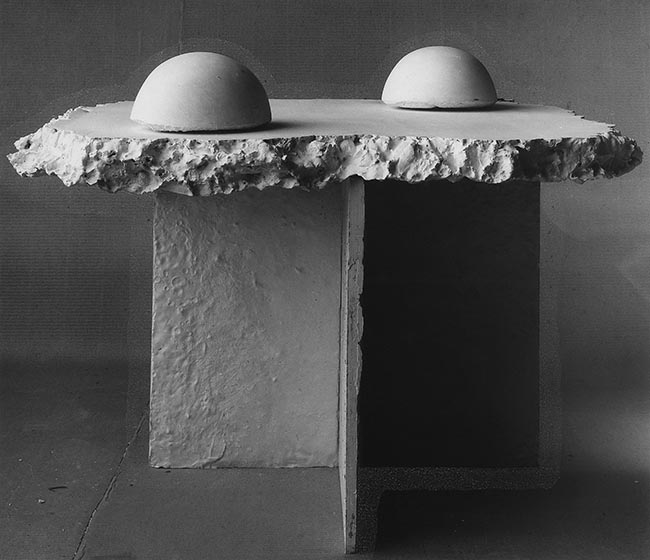 Table, 1965, plaster, 83 x 120 x 95 cm. Photo: © archive Stanislav Kolíbal
Where were you when the occupation started in August 1968.
I was on the island Korčula in Vela Luka at a symposium on mosaics.
Did you think about the possibility of not returning?
There was no question of me not going back. I felt bound to my family, artists, people who were worse off than me. People who'd been imprisoned or even physically liquidated.
Paradoxically, it was after 1968 that you presented your work abroad many times. You had a solo exhibition in Milan (1973) and you were presented as part of group shows at the Metropolitan Art Gallery in Tokyo (1970), the Centre G. Pompidou in Paris (1983), the Guggenheim Museum (1987) etc. When did people become interested in you abroad and how did they contact you?
The Tokyo exhibition came through Artcentrum. Despite the deteriorating political situation, I could send my work abroad until 1973 when my solo exhibition was held in Milan's Salone Annunciata Gallery. My artworks stayed there, several pieces were purchased by Arthuro Shwarz, for example. Then I was banned until 1980, when Artcentrum became a part of the Foreign Trade Ministry and it took me off the blacklist. So, my work could be sent to New York.

Link, 1969, iron, jute, plaster, string, wire, 61 x 40 x 120 cm (Solomon GR. Guggenheim Museum, New York). Photo: © archive Stanislav Kolíbal
Is that because the central bodies of the Party saw your work as a potential source of financial gain?
Yes, Tuzex received money from the artworks sold in NYC.
How was the ban served on you?
It was just something they told me at the Artcentrum. There was nothing in writing.
Nonetheless you somehow managed to get around the regime and present your work abroad even before the ban was lifted. What was your strategy?
Sometimes I made artworks abroad. In 1975 I was invited to take part in the ROSC exhibition in Dublin. That was a show of artists selected in Europe. I went to Rome where Achille Perilli provided me with a space and even paid for material. From there the artworks were transported to Dublin where they were put on show.
Did you not have regrets about not being able to attend the exhibitions in person?
I regretted not being able to go to Osaka where I my work Pocta Japonsku (Homage to Japan) was on exhibited in our World Expo pavilion. I offered to pay for the trip myself, but the office of the General Commissioner didn't even allow that. What can you do?
How did you make a living during the Normalisation era?
When I was banned from exhibiting both at home and abroad, I made a living by illustrating books.
In 1979 you travelled to the US for the first time, what was the reason you decided to undertake this trip?
Meda Mládková suggested to me that I should take part in the competition for the decoration of the Czech Chapel in Washington. But the members of the committee decided to give the commission to someone who'd emigrated. They didn't want someone who'd stayed and lived under the Communist regime to do it.
What impression did New York make on you?
I found NYC extremely interesting, I knew some of the galleries from magazines. That's why Meda Mládková and I headed to the Galeria Leo Castelli. I showed photographs of my stuff at the O.K. Harris Gallery, for example. Its owner Ivan Karpov found them interesting and so he came to see me in Prague. In the end he put on three shows of my work during the 1980s. As soon as I got to Berlin, however, I started looking for a way to present myself in Europe.
You've had a long-term interest in artists' texts; could you describe how the renowned De Arte came about?
At one time people kept quoting one particular statement by Georges Braque, but no one published his notes in a complex way. I knew about the writings of Alberto Giacometti and others. And so, the idea came to me to publish texts by artists. I approached Martin Souček who owned the publisher Arbor Vitae about it. I selected the titles, edited texts and prepared the concept. The edition started coming out in the 1990s and the last, thirtieth, volume in 2016.
Do you write your own texts on a continual basis?
I write texts all the time. You could say that I'm compelled to write. A certain event necessitates a written formulation, for example. I never wanted to publish my texts, but I was persuaded to do so. In the end, the De Arte edition ended with a selection of my own texts – O čem a proč (About What and Why).
How did your texts originate?
I came to my studio one day and there were invitations in the post box to exhibitions organised by the artists' union, which I didn't go to. But the reverse sides of the invites were good for making notes. And so, a whole convoluted mass of aphorisms and notes came about which I first published on the occasion of my show in Deichtorhallen in Hamburg in 2000. These aphorisms are also part of the catalogue of the Venice Biennale exhibition. It includes an important statement presented in Japan in 1970, for example. Or the already mentioned text about the lamp and the ceiling, which was part of my first solo exhibition in 1967 etc. These aphorisms feature throughout the whole catalogue.
It could be said that with your art you attracted the attention of a number of important people connected to your art discipline. This year you put together a project for the Venice Biennale together with the Austrian art historian and curator Dieter Bogner. You decided on a retrospective – what inspired you to make that decision?
My idea for putting together a minor retrospective, of all things, was in part based on the fact that shortly before his death Giacometti showed his work in Venice. At the exhibition he also presented his older work. Or Georges Braque, who was awarded the Golden Lion for his project. I'm trying to connect to the tradition of the Biennale, a competition between nations. In 2014, the Jewish Museum in New York exhibited my work from the 1960s. It was a project reacting to the landmark 1966 exhibition Primary Structures where I wasn't represented, however. Why shouldn't I exhibit these older artworks in Venice, then? That's why we used Labil (Labile), Pád (Fall), Mizející tvar (Disappearing Shape) etc. and interconnect them with newer works such as drawings from Berlin or an entirely new wall drawing.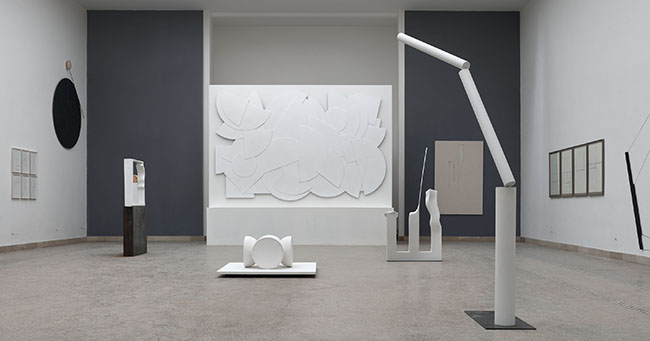 Stanislav Kolíbal. Former Uncertain Indicated. 58th International Art Exhibition of La Biennale di Venezia. Photo: © Martin Polák
When selecting the artworks, were you also thinking about a dialogue with the architecture of the pavilion which was designed by Otakar Novotný, the architect considered to be the founder of modern Czech architecture?
Yes, I designed an object in front of the pavilion which looks like a drawing and interconnects with the design of the pavilion entrance. For example, it intersects with its door which is decorated with six iron rings.

Stanislav Kolíbal. Former Uncertain Indicated. 58th International Art Exhibition of La Biennale di Venezia. Photo: © Martin Polák
The Venice Biennale is a presentation of contemporary art from the entire world, does it still make sense to divide art by nation? Hasn't art become cosmopolitan by now?
I think it has an internal logic, even though today someone can be born here and live in Buenos Aires, NYC or anywhere else in the world. It's a tradition that has its own logic which doesn't necessarily have to be transcended.
Do you follow current developments in your field – installation and sculpture?
Not very much, and I also have a somewhat unusual, strange impression that what is being done and created now mostly can't bear comparison with the work of the second half of the twentieth century.
What are you planning at the moment?
I prefer not to make plans, even though I have received various offers for exhibitions or collaborations with galleries abroad as a result of the Venice Biennale project. But nothing specific has been arranged so far.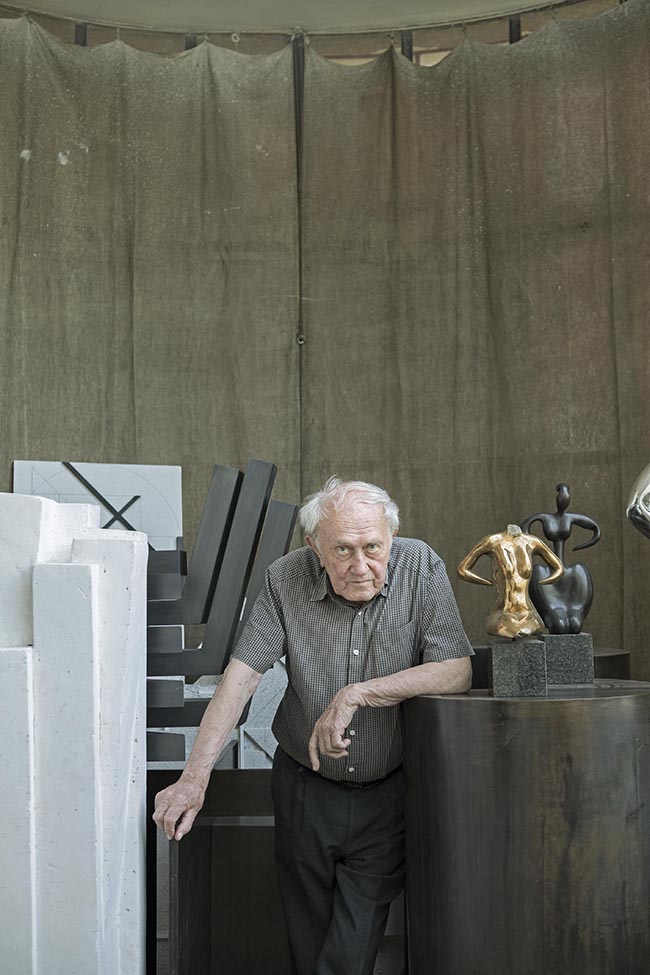 Stanislav Kolíbal. Photo: © Michaela Karásek Čejková
Translated by Marek Tomin