Art has always been in the outdoors
An interview with Madeleine Bessborough, the grand dame of British sculpture, the director and founder of the New Art Centre Roche Court
27/08/2019
It's hard to imagine a more idyllic place – surrounded by lush, green hills strewn with grazing cattle. Puffy, white clouds slowly and contentedly slide by in the blue sky, and out across the grass, jutting straight towards the 100-year-old ash tree, someone has drawn a grey line of rocks, like a streak of lightning slashing the meadow in half. British sculptor Richard Long's environmental installation Tame Buzzard Line (2001) lies in the landscape as harmoniously as if it has always been there. Later, on the New Art Centre website, I read: "To make his art, Richard Long sometimes walks hundreds of miles through some of the most beautiful wilderness landscapes of the world. (..) The art he makes from these walks takes the form of photographs of sculptures made along the way, map works and text works. The sculptures, often of simple lines and circles and made with the material of the place, mark his presence within the emptiness. These works may be absorbed or disappear over time by natural forces and the elements."
Long's sculpture is only one of the many works of art in the New Art Centre's sculpture park. The almost fifty other artists who are currently exhibiting, some are just beginning their careers while others are already established, classic names, including Barbara Hepworth, Anthony Caro, Michael Craig-Martin, Angus Fairhurst, Gary Hume, Allen Jones, David Nash, Gavin Turk, Nina Saunders, Barry Flanagan and Anthony Gormley.
The New Art Centre Roche Court is located about a two-hour drive from London, near the picturesque city of Salisbury, which is known for its magnificent 13th-century cathedral, as well as the ancient monument Stonehenge nearby.
While the average tourist probably cannot imagine finding an art gallery here, seemingly in the middle of nowhere in Wiltshire, the New Art Centre is an iconic destination for professionals and anybody interested in contemporary art. Its founder and soul is the British grande dame of sculpture Madeleine Bessborough, and, although it began as an art gallery, it has over time transformed into an educational project and is the culmination of Bessborough's more than sixty years of active work in the art world.
It all began with the art gallery that Bessborough opened in 1958 on Sloane Street in London. An innovative concept for its day, it served as a platform for young artists who had just finished art school. Bessborough was just barely twenty years old herself, short on means but full of determination, and the gallery quickly became a pioneer in its niche, blazing a trail for many a future luminary on the British art scene.
Due to rapidly rising rents in the city, Bessborough closed the London gallery in 1994 and moved it to her husband's property in the countryside. Thus, by taking the gallery (and also art) outside of its conventional environment, she began a whole new era in the art history of the United Kingdom. The New Art Centre still operates as a commercial gallery, but alongside this Bessborough has created a social project, the Roche Court Educational Trust, through which the gallery's profits are channelled into the maintenance of a special art education programme. One of its cornerstones is ARTiculation, a national public speaking competition for students aged between fifteen and nineteen. ARTiculation, whose final takes place at Clare College, University of Cambridge, encourages young people to communicate confidently and to express their ideas and opinions about art. Already more than one thousand students from fifty schools around the United Kingdom have applied to the competition this year alone, which will be judged by Sir Nicholas Serota, recently Head of the Tate Gallery and now Chairman of the British Arts Council.
At the heart of the New Art Centre's sculpture park and art centre is a house built in 1804 for Admiral Lord Nelson. It has since been joined by three new buildings – the Gallery, the Artists House, and, most recently, the Design House – all designed by Stephen Marshall, who at the time when Bessborough first approached him about the project was still a very young architect. All of the new structures have been built in harmony with the existing architecture, both functionally and aesthetically. Through their large windows they interact with the surrounding landscape, thereby allowing the artwork to breathe and converse with the environment and the changing seasons. There is a noticeable lack of hierarchy in the architecture as well as in the way the artwork is displayed; the old mixes with the new, traditional sculpture with the experimental, thus giving Roche Court a special kind of life (and artistic) energy. It embodies Bessborough's conviction that art must be a part of everyday life instead of locked away in a gallery or museum. Her gallery and park are open seven days a week, and entry to the New Art Centre is free of charge.
Considering her stately bearing, it's hard to believe that Bessborough is now over eighty. She is still the soul and energetic centre of this place. And she still offers young artists a rare opportunity in light of today's art market – the opportunity to show and sell their artwork in an environment that another would definitely have devoted to loud, bold names. Her voice radiates precision and determination and no verbosity whatsoever. She cannot retire, she laughs, because she lives here. And then she goes on to tell me about her next project, which is linked with science and is a sort of continuation of ARTiculation in a different capacity: "You know, we're all persuading our children to do science, but they're very inarticulate about why an aeroplane doesn't fall out of the sky or about physics and chemistry. They've got to be able to explain themselves to their fellows, and science is, in a way, much more difficult to explain than visual things. But scientists have to be able to communicate with artists why they want to do something and why they can help and why they can make the world a better place. I've already started a conversation with a few scientists, but I'm old and I can't go on. I hope that some young person will run with the idea, and I think they will."
Throughout our conversation, Bessborough is accompanied by her faithful companion, Theo the Great Dane. The size of a large roe deer, his back reaches up to my waist and, without doubt, he has the most intelligent eyes I've ever seen.

In the Park at Roche Court. Antony Gormley. Another Time XII. 2010. Photograph: New Art Centre
While I was walking through your sculpture park today, I remembered a conversation I had with sculptor Tony Cragg a couple of years ago. He said that, "Sculpture is a bit of a new reality. That's what I think is exciting. The idea of expanding the idea of reality we have around us." What does sculpture mean to you?
We all have talents, and we all have ways of expressing ourselves as human beings. But I think artists have a particular way of doing that; they're given a particular language to work in. Art's a language that not everybody speaks. And so therefore our whole point is that we ask the most interesting artists who are working today whether we can have their work in our park or in our galleries. We have four spaces that they can choose.
And then we're a commercial organisation as well; we sell their art to pay for hosting groups of children here. We have a big educational trust. We have thousands of children who come, and we haven't got any facilities except the park and the views on that and the art. But we tell them you've got to learn to look, think and speak. I'm not sure if it's the same in Latvia, but here, with all the phones and so on, all children spend their whole lives looking into the palms of their hands, which is a terrible way to live. You've got to stretch your eyes.
I was talking to a very interesting eye specialist the other day, and he said he's quite worried about how human beings are developing. In a lot of the cases, the eyesight of the young at the time that they're 11 or 12 has just deteriorated. Long-distance sight is much poorer than it used to be. We're actually only focusing on things very near us. We need to focus on what's around us as well as what's in the distance.
I always remember as a child being taken by a very famous architectural correspondent. His name was John Betjeman, and he was also a poet. As we walked down the street, he used to say, "Look above the shop, because then you can find out what the High Street used to look like." You could find out what used to happen in this or that particular building, because it wasn't always, say, a veg shop; it might have been something else. And it's this learning to look behind things and beyond things and inside things that I passionately believe in.
Here at the New Art Centre we also run a project called ARTiculation, which is designed to speak about art. It's a competition for youngsters aged 16 to 17 who haven't begun studying at university yet. We have heats all over Britain in conjunction with local museums. We do it with schools in Manchester, Gateshead, Cornwall, Birmingham, Bristol and also London. Children are selected to talk about art in front of an adjudicator. First they have a local competition, then we have semi-finals in London, at the National Gallery, the Courtauld for example, and then the finals are at Cambridge University. There's always a famous artist on the jury, such as Antony Gormley. The prize is a book. That's all – an art book. The meaning of the competition is stretching ideas and speaking in front of an audience.
I think learning to speak is extremely important. My mother was a very good public speaker, and she used to talk a lot about education. So I learned from her that it was important to be able to string two words together. Because even if you apply for a job, you may have to have an interview and you have to perhaps appear before six or eight people. And you want to be able to walk into that room with the confidence of being able to talk about something and without worrying about how to appear in public. So, articulation is a very good beginning to all that, but that's just one section of what we do here.
The other section is...I used to have a gallery in London for years. I started it in 1958, and it was a place where young artists straight from college could show their work, because in London in those days – in the late 1950s and 60s – if you were a post-student, nobody offered you anything. You struggled, and eventually perhaps you had an exhibition in one of the very few galleries. But there were no shows for young people, and we were one of the first places that you could come in and say, "Look, I've just left St. Martin's or the Royal College, and this is my work..." Then we'd go around the studios and we used to put together exhibitions. And we had a charity with very distinguished trustees like the head of the Tate Gallery Sir John Rothenstein; we had Sir Kenneth Clarke, the then chairman of the Arts Council; we had Sir Robin Darwin, who was head of the Royal College of Art. We had all sorts of people, who all thought it was a good idea and gave their name to it.
Then through the 1960s and 70s it became very difficult, because everything in London got more expensive. We started off with a tiny rent of 400 pounds a year. But then the rent went up and up and up, and we lasted there until the mid-90s. The owner of the land offered us a new lease, but it was far too expensive.
So then we came down here. My husband farmed here, but we only had the house and the park. So he suggested, "Why don't you specialise in sculpture, because you're very interested in that, and use the park to have exhibitions?" So that's how we started. As we didn't have any place to show drawings or anything, we decided to build a gallery. We found an architect called Stephen Marshall, who was young and completely unheard of at that time. He built our main gallery space, a second called the Artists House and, just recently, also the Design House. They're all spaces to show different aspects of art.
Because we've been going so long, we have a very wide audience. I used to go to art fairs, but I'm too old now! And anyway, I think it's a terrible direction that it's all going in – I think it's bad for artists. It's using art far too much as a commodity and not as an integral part of life. But, because we've been here so long, we have strings of people coming and we have collectors from all over the world.
Just last week a young gallerist in London rang me up and said, "I've got my best collector coming from America, and I'd like to bring him down to Roche Court, but I'm not sure we've got time." And I said, "What's his name?" He told me, and I said, "Oh, well, he just walked past the window as I'm sitting in my office." He'd come straight from Heathrow to here, because people know that because I've been around for so long we have the best Modern British art. I mean, we've always shown Cornish art, and then we've moved with the middle generation like Robyn Denny and other people. In the meantime, we've kept up with new things as well. It's important for us to show what's going on today and the general context, the fact that it's all built on a sort of pyramid of what's gone before. We have just selected a new creative director, who's brief is to join the last 50 years of art to the next 50 years.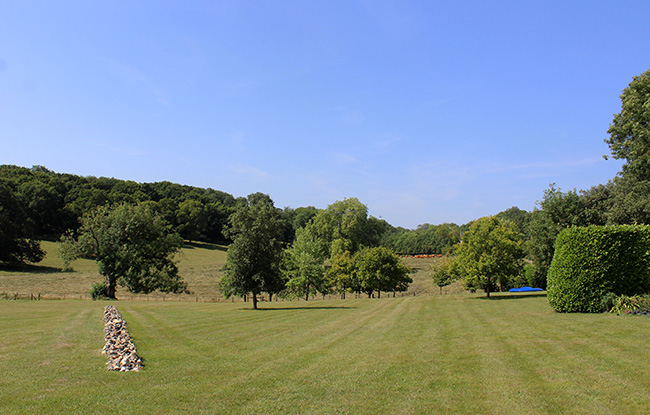 Lower Lawn in the Park at Roche Court. Richard Long. Tame Buzzard Line. 2001. Photograph: New Art Centre
Tell me a little bit about how your own journey with art started.
My father was in the Army, and my mother was always interested in education. She was one of the first women to win a scholarship to Cambridge. After her degree she taught in what was known as new Village Colleges, which were established just after the First World War. The population was increasing, so they had to build new centres for education. A very clever and imaginative man called Henry Morris was the education officer for Cambridgeshire. It was his idea to build distinguished centres which would be used by the whole community. For example, the college in Impington was designed by Bauhaus founder Walter Gropius in cooperation with British architect Maxwell Fry. It was Gropius' only British project.
Henry Morris recruited various Cambridge graduates to teach, and the colleges became centres of excellence, which taught children by day and parents in the evening. My mother was tremendously interested in the whole movement, and used to talk about it a lot.
Then the war came. I was brought up in Cornwall, and then my family moved to near London. When I was twenty I had an idea of starting a gallery for younger artists. I found a partner, whose name was Caryl Whineray, and we built the gallery together.
In your lifetime you've experienced the time when the art world in London and Great Britain was very small and also its expansion today.
It's very interesting when you think that Ernst Beyeler started the Basel Art Fair in 1970. Being in Switzerland, he thought he could draw the whole of Europe together. The gallery first showed there in 1972. I remember one year we took Cornish artists; Peter Lanyon, Roger Hilton and Patrick Heron, and we didn't sell a single picture. Nobody who walked past our stand was interested. So, it was a tough world, with European art competing for an audience. It was before American contemporary art had been introduced to Europe.
An interesting statistic was that the first art fair in America was in Chicago in 1980; with nothing in New York yet. We took part in the Chicago fair for many years, and also the first art fair in the Far East, in Hong Kong. But we were tiny, and it was a tremendous effort, as I was having my children at that time.
And then you decided to stop attending Basel.
Art Basel decided that we didn't meet its requirements, because, according to their rules, galleries had to be located in cities. We were a sculpture park and no longer had a space in London, I think this was wrong. It coincided with the pressure from America to show in Europe we changed our allegiance to the fair in Brussels, which we have taken part in ever since and it is more convenient for most of our European clients.
The art world has changed enormously. Selling art is about situation as well as destination. For example, our neighbours the worldwide gallery Hauser & Wirth in Wiltshire, now have an international gallery for exhibitions, a restaurant and a shop, and lots of activities for the neighbourhood which has enhanced a rather sleepy Wiltshire town. They also have a space in Los Angeles with a kitchen garden and a restaurant.
Our clients always used to be age 50 and over; now, as everybody knows, the people with the money are people who are 20+, and they don't want to be sold art in an old-fashioned way, a man with a bow tie showing you around and a price list. They want excitement and a new way of looking and exploring how it fits in their lives. So, all these galleries are acting in a completely different way. And it's fascinating, and about trying to give everyone everything.
When you compare your beginnings in London with nowadays, do you think there's any difference in what people are searching for in art?
I don't think so. I think people want to connect and understand. We all have five senses; there's a language of music, and there's a language of vision. Obviously, I think that, in one way, the world of vision is becoming smaller because of the way we look at television and the media. We don't go to exhibitions so much anymore.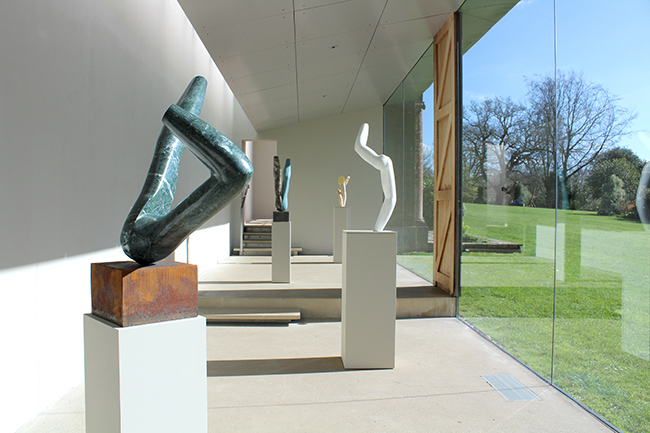 Main Gallery at Roche Court. Installation View. Gary Hume Exhibition 2019. Carvings from 2006 onwards. Photograph: New Art Centre
Do you think so?
No, I don't think we do. But there are more of them. So, in a way, I wonder where the audiences are – they may all be at the blockbusters. But I know that gallery audiences are smaller; galleries as buildings have less footfall that they used to have.
Because everything is available online, and you can just scroll through Instagram and see what they have. But then at the same time I think people are trying to reconnect with nature and the beauty of nature. And from this point of view, the role of sculpture parks is becoming more and more important.
You go back to whatever period you like, and some art has always been in the outdoors. And it's very interesting, because sculptors like Anthony Caro, whom we got to know in his old age, never liked to have his work outside. He felt the outdoors competed with it. But then we had a wonderful exhibition here, and he was thrilled. He thought the sculptures looked better than they had ever looked.
You have here also an amazing piece by Richard Long.
Our relationship with Richard has gone on for ages. I mean, that piece has been here a long time and it's a part of the landscape and it's wonderful, it adds to the landscape. He came here and sat on the steps with me, and we chose where the line of flints should be.
Have most of the sculptures in the park been made specially for this place?
I commissioned Richard for the Tame Buzzard Line when he used to have a lot of work here. But we sold many pieces, and they are sited in other places.
In a way, one of the directions you work in here is trying to connect younger artists with older artists.
Yes, we do. And we always ask artists showing here like Michael Craig-Martin, to give time to our educational trust. So Michael came here last year and sat on the lawn and talked to 100 children about what it is like to be an artist. Edmund de Waal taught children about what clay is, which included collecting, cleaning and washing it. So they all join in, and I think the artists love it, because when I first started in the 1950s, they all taught in art schools and so they had a connection with the next generation coming up. Now very few teach.
Firstly, art has become much less important in the school curriculum. And secondly, the teaching profession has changed. Art schools today don't let you have just a couple of days of teaching; they make it so that you have to be there all the time, and that obviously doesn't suit many artists. And another thing is that artists make much more money today than they used to. They're much richer, they're completely different. And they have people working for them. It's very peculiar.
You've experienced the era when the art world was small and deals were done by handshake alone, as well as the so-called market bubble and the exponential rise in prices for the work of certain artists. In your experience, what determines the price of a work of art? Is it just the amount of money that people at a particular time are willing to pay for a particular piece?
Money plays a much larger part in the lives we lead, and it's much more important than it ever used to be. People live in more expensive houses, they wear more expensive clothes, they eat more expensive food. Everything is more expensive. One of the reasons the art world used to be quite so tame is that for instance after the war we had only fifty pounds a month as travel allowance. Nobody was allowed to spend more than fifty pounds abroad. It was like that until the mid-1960s, and there's very little you can do with only fifty pounds. Nowadays everything has changed.
But could you say, for example, that this or that piece of art is too expensive? How can you value it?
You can't. At least I don't think so. There is supply and demand and a lot of media hype. I think there will probably be a great art crash. But I don't know. Maybe not. You can never tell.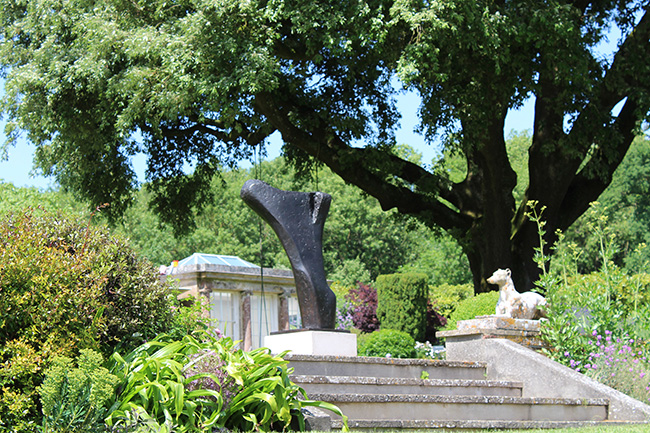 Under the Holm Oak at Roche Court. Barbara Hepworth. Torso I (Ulysses) (BH233). 1960. Bronze. Photograph: New Art Centre
You've been running your educational trust for already ten years. That means that the first generation of children who participated in it are already grownups. Do you know how many of them have become involved in art?
They're all doing different things. I mean, they're not all artists, but actually a lot of them do apply to work in museums and galleries. What worries me is that we as a nation pour money into our galleries and culture. For instance, a big grant for Tate, a big grant for the Royal Academy, but that's all being cutting back. Who's going to look after these museums? It can't all be rich children who've had a good education and can afford to take a job in a gallery for very little money. We've got to spend more money on creating the next generation of audience. Hence, our interest in ARTiculation.
I had an interesting discussion with Gregor Muir, the director of collections at Tate. He spent his early years with the Young British Artists and has documented this period of his life in the book Lucky Kunst: The Rise and Fall of Young British Art. He's absolutely convinced that young British artists in the 1990s in some way paved the way for the emergence of the London art scene as it is today. And also for Tate Modern. What do you think about of the impact of YBA on the British art scene?
In 1960 there was a very brilliant man called Sir William Coldstream, an artist and art teacher who ran the Slade School. He was asked by the government to do a report on art education. And that was the moment when art schools, which used to be small little establishments, expanded all across Britain. All the provinces had good art schools, and money was put into them; so, there was a great interest in art education, which hadn't been there before. Up until then, art wasn't thought of as a viable profession. You can't be a penniless artist. But then, with the blossoming of art education, the world of creative industries and galleries started. So it became a viable way to earn a living. I think it was that sense of drive after the war, and that changed the whole feeling. The number of times I've been asked by parents: "You know, I've got quite a clever child. Should she do painting, should she do art? How will she ever earn a living?" Now you can say, well, if you're good, you can actually earn a better living with art than by being a lawyer.
You've not only educated children and had great relationships with artists, but in some way you've also educated a few collectors as well. How do you feel nowadays about the responsibility of a collector? Does a collector have a certain responsibility?
I think that collectors do have a responsibility, they are the work of arts custodian, and have a duty to keep it in good condition. We ask the owner to give us first refusal if they wish to sell the work in the future. We always like to keep track of whatever we believe in and sell, and that applies to everything. We're very grateful if you'd let us know what you're doing, because if it's somebody whose career we're building up, we'd like to be involved, and we know and we feel that we can nurture the artist. We always enjoy keeping in touch with the artists that have shown here.
Do you think of yourself as a collector?
No. Just as an "enabler".
Do you agree that all good art should end up in a museum?
No, no, no. I don't believe that at all. I think museums are an interesting aspect of life. But I think that having art in your own house and having it be a part of your daily life is much more important for your family and your children and your children's children. That's much healthier.
Art is everywhere right now. Social media is full of art, almost everyone's going to museums, exhibition openings, biennials, art fairs and at least buying a poster. Art is trendy now. But how strong is the voice of art itself in our society? Especially in the challenging times we're living in now. As we know, many artists are working on the border between art and social activism. For example, Olafur Eliasson, who's showing at Tate Modern. Do you feel that art has an impact, does it have the power to change anything?
I think art gives you a sensitivity and a sense of what are the real things in life that matter. I think it gives you an ability to be more sympathetic to others. I don't think you're a selfish person if you collect art; I think you communicate better. But what I'm very keen on, or what makes me very sad, is seeing the breakup of, say, a big American collection or somebody who's started a collection and built it up. They could be very rich or not very rich at all, but I think it's terribly important that these collections aren't just turned into money or turned into a museum. I think it's very important that people understand why people bought things, so you can understand the generation that went before you.
For instance, look at St. Ives. That's a connection with the beauty of the island we live on. We're an island surrounded by the sea. We had Turner, we had others, and Cornish artists responded to this extraordinary peninsula that juts out into the ocean, and that, I think, has been great for making people understand the beauty of the sea. I think art has taught people about the value of landscape.
And does art still have a voice?
Absolutely. But then it's also other things, like ceramics. What Edmund de Waal does is use the dimension of porcelain to make incredibly beautiful and very spiritual statements. Nobody thought you could do that in ceramics, but you can.

In the Artist House. Madeleine Bessborough with Theo and work by Edmund de Waal and Barbara Hepworth. Photograph: New Art Centre