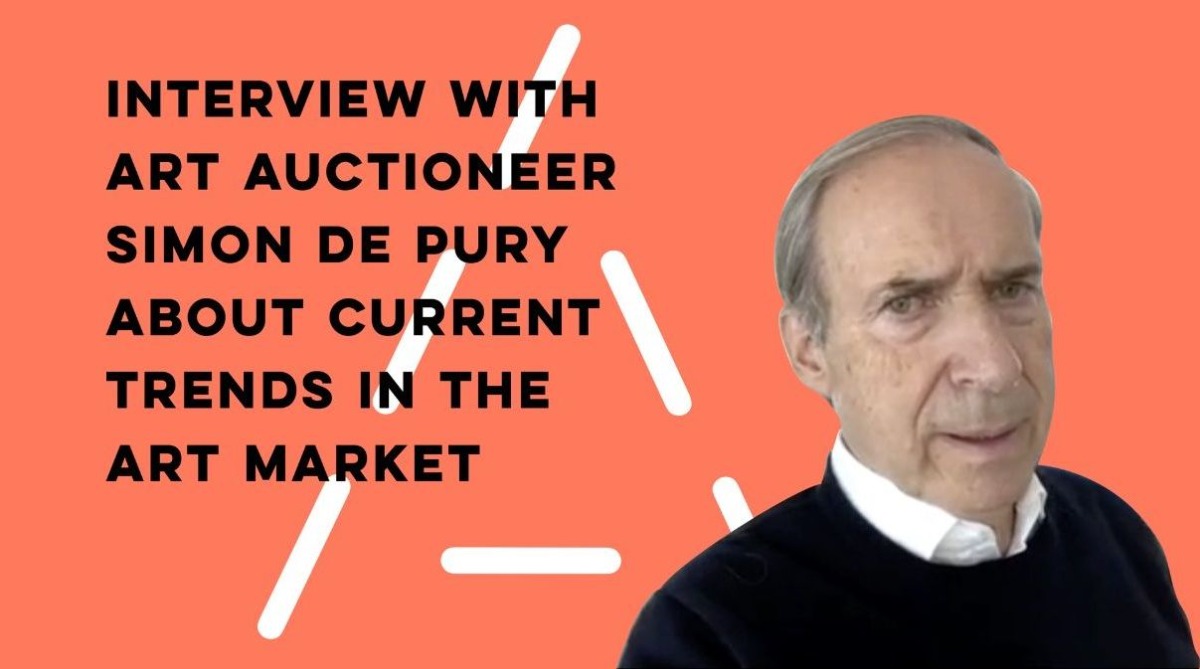 The New Possibilities in Art Collecting
A video interview with legendary art auctioneer Simon de Pury about current trends in the art market
Although a legend himself (he has been instrumental in hosting some of the most legendary art displays and auctions since the 1970s), in 2021 Simon de Pury is nowhere near (a mere) honourable citizen from way back when – he bursts with energy and is still the number one auctioneer in the art world. Royal families, gigantic corporations and charity initiatives alike seek him out when they need to raise money for an honourable cause. No one else taps the auctioneer hammer quite like he does! As this interview shows, this success has a lot to do with Simon's relentless curiosity about new things and life itself – be it collaborating with rapper Tinie Tempah in the NFT field, making a guest appearance on the hit TV series Emily in Paris, or... de Pury soaks up information from every field as he stays at the top of his game.
The following conversation is about both collecting art and democratising the art market. "I believe that just like everybody can listen to high quality music on Youtube, so every person should have high quality art in their homes." You might be surprised at the option Simon offers!
Be inspired – I surely was!
A short overview of the contents of the interview, with timecodes for easier navigation:
1.45 / It's so much easier for collectors to follow what's happening today if you use Instagram. Instagram is the best way to discover new talents. Instagram is the new "street".
4.19 / Today, anybody can buy a tiny fraction of Banksy's artwork.
4.53 / Democratisation of the art market.
6.56 / The average age of the collector is going down dramatically.
9.28 / Art should not be a little club for high-net-worth individuals.
10.29 There is acceleration in the evolution of taste.
10.51 / A truly outstanding artwork will remain very rare.
12.37 / We will see more and more bridges built between the digital world and the physical world.
13.00 / Museums that sit on important artwork they cannot sell could sell it as an NFT.
13.05 / NFT art is a way for museums to create badly needed financial resources.
14.25 / When my 10-year-old daughter grows up, she will not hesitate for one minute in investing her money into something that exists only digitally, including art.
14.40 / Hybrid is the way to go.
15.05 / I recently saw a very conservative collector being seduced by NFTs in New York.
16.00 / I am curious to come and see the next Riga Biennial.
16.55 / Events like biennials create a pretext to go to places like Riga and the Baltics.
18.20 / To say that nothing interesting happens in art anymore is ridiculous! Art never ever stops!
18.35 / Creativity never ever stops. The criteria change, though!
19.40 / Some collectors are good at collecting art from their own generation, but with the following generations, they don't get it right anymore.
20.00 / There are collectors in their 90s who still have a pulse on what is relevant in art.
20.40 / You always have to stay in it. You can't say: I'm going to take a break now.
21.00 / Every Friday I listen to Spotify to see what new music has come out: dance, hip hop, classical, etc.
21.35 / Elton John is on top of the charts right now because he never stops following what's being done in music.
22.10 / You have a lot of artists who have five years of brilliance, and the rest of their lives is simply repetition.
22.25 Art needs a mind where you constantly question yourself in order to remain attuned to what is important.
23.20 / The most important thing for a young collector is to see as much art as possible.
23.50 / Try to identify what moves and excites you when starting as a collector.
24.25 / There are ways to start to collect without spending a lot of money.
24.40 / Art collecting is not linked to the size of your purse.
25.40 / When you have unlimited means, it's even more problematic to keep a sharp focus in collecting.
25.50 / I admire people who have loads of money and still are able to buy the best in art.
26.00 / Having a lot of money when collecting art is dangerous because it does not help in focusing your mind.
26.30 / At the end, it all comes down to being curious.
27.05 / Even if children don't like to be dragged into museums, it has a positive effect in the long term.
27.45 / Education is the key factor in developing your curiosity – not just for art, but everything!