«My aim is to promote a sense of community and collectivity»
An interview with David Ashley Kerr, a new Director of LOW Gallery in Riga
David Ashley Kerr is a curator from Australia who recently took over Low gallery in Riga. David moved to the capital city of Latvia around the time when the pandemic started. These past two years, while settling down in Riga, haven't been easy for him. In this interview we talked about his roots, what inspires him in Latvia and the programming of Low which will be presented at the gallery in the near future.
The Russian invasion in Ukraine on February 24 has shaken the world, including the art world. How is Low responding to this situation? What should an art institution do?
This ongoing situation with the war in Ukraine has permeated our everyday life, making it very difficult to focus on day-to-day life and work. While it often feels frivolous to continue on producing art, one must show the world, and the region, what a free society looks like, and culture is one of our greatest tools we have in which to do so. Institutions have a responsibility to position themselves against tyranny and war, and their platform can serve to support those in need, and denounce those who perpetrate others. Showing solidarity on social media is one thing, but it is important and necessary to try to do more tangible acts to assist Ukrainians fleeing their homeland – and also Russians who are against Putin and want to leave Russia. Low recently teamed up with its older sister, 427 Gallery, to hold a fundraising event for Ukraine. I had been planning a screening at Low with Ukrainian artist duo Yarema & Himey, but disappointingly I didn't get State Culture Capital Foundation funding for it. The artists, young men based in Kyiv, sent me their video artwork from their city the day bombs began to fall on it. And, watching the work again, which documents young people at a famous Kyiv rave event, it felt so tragically poignant and immediate. So I combined resources with 427 and we held a screening of the work, selling drinks by donation, and raising funds for a local charity organisation who is assisting Ukrainian refugees arriving in Latvia.
While larger institutions and initiatives have been able to raise more through donated art sales, which is excellent, it felt equally important and valuable to promote a sense of community in times like these. Social cohesion heals and helps us collectively process grief, loss, and trauma. And speaking of trauma, the discrimination and misunderstanding of Eastern Europe by large parts of the world, and Europe itself, is something particularly disturbing that has become more evident during this war, shining a light on outdated or false perceptions, attitudes and histories. If there is anything to gain out of this tragedy it is perhaps a stronger pivot by the West towards this region out of both solidarity for the Ukrainian people, but also to all countries who were colonised by the soviet imperialist experiment.
David, you moved to Latvia when the pandemic started. How's your life been here?
Well, given it has only been a pandemic version of Latvia, this is not an easy question! Although I am no stranger to the bureaucratic machinations of moving to new countries as a non-EU citizen, it has felt particularly difficult moving here, which is likely a combination of the ongoing pandemic, but also the absurdity of some of the rigid systems in place here. Latvia is not exactly a pro-immigration country, despite having a declining and ageing population. But! I have slowly met some very good people, and have been slowly able to integrate myself into the art scene here, thanks largely to those people.
What draws you to Latvia?
I've never seen so many brilliant off-site exhibitions than I have in Latvia. It speaks to the versatility and drive of Latvian cultural producers, but also to the sheer volume of unused and vacant spaces, which are often vestiges of the soviet era or collateral from the 2008 financial crisis. Large-scale off-site visual art productions like RIBOCA and LCCA's Survival Kit, along with countless projects by independent curators in Riga and provincial Latvia, represent huge logistical feats. And there are just so many talented artists emerging out of the Baltics! They are the first to fully take advantage of the mobility enabled by EU membership and often spend time in central and western European art academies, but upon returning, most seem to find it difficult to maintain a global profile.
Can you tell a little bit about yourself? Where do you come from?
I grew up in a soldier settlement scheme farmhouse in rural Australia, close to the southernmost tip of the mainland, in the south east of the state of Victoria. We had a few hundred cows and the work was hard, with severe droughts in summer and floods in winter. But my parents worked even harder to ensure my brothers and I were educated well and didn't have to take over the farm. So, I naturally went to art school (haha) much to their bemusement, but ultimately it was only art and philosophy that made sense – to be able to pose and answer the kinds of questions I had always asked. I moved to the big city (Melbourne) and initiated galleries with other artists and producers and facilitated projects, later moving to Europe after finishing my PhD. I continued to curate independently, working with and for galleries, did some writing and artistic research projects, and now here I am in Riga!
Low exhibition SECURITY PATTERNS Miķelis Mūrnieks & Karlīna Mežecka, curated by Žanete Liekite. Photo: Filips Smits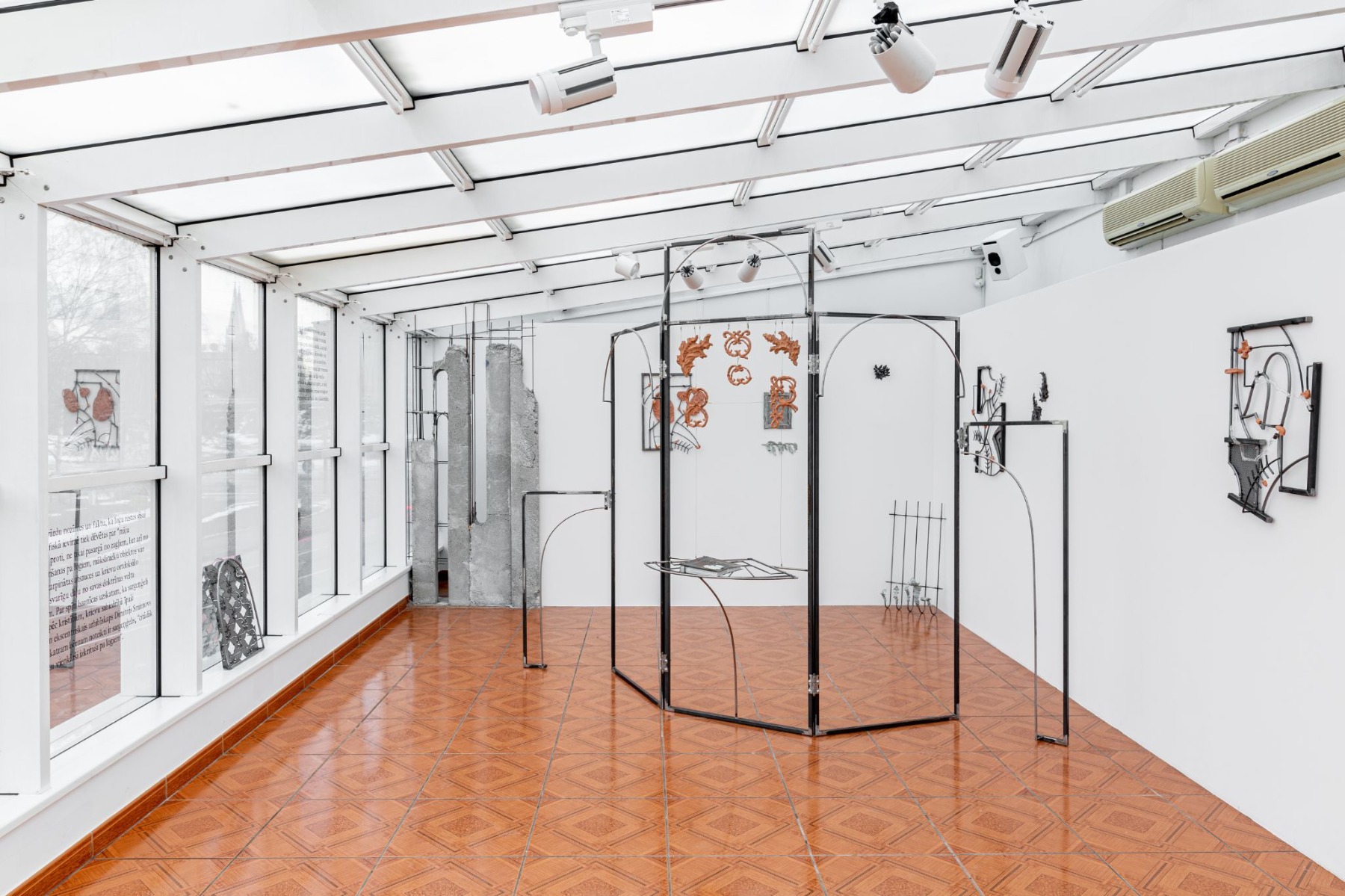 You've taken over the directorship of Low Gallery recently. What do you hope to achieve with Low?
I am hoping to use my global network to enable local and regional artists to reach a certain level of autonomy, to ensure sustainable careers for this emerging generation. Artists here don't have the same breadth of access to state and private funding that other wealthier nations enjoy, nor is there any semblance of a diverse art market here. So my aim is to bring them to the market, so to speak, through a series of gallery exchanges with spaces further abroad, starting in October with a gallery exchange with SHEBAM!, a commercial gallery supporting female artists in Leipzig, Germany.
Has it been easy taking over management of the space as a foreigner? What kind of challenges do you foresee?
Well, running a non-profit art space in Latvia brings its own share of unique challenges that I hadn't encountered before in Australia and the rest of Europe! I have never worked so much yet earned so little monetarily, and the gallery "runs on the smell of an oily rag", to use an Australian idiom. As an outsider and quite possibly the first person from outside the Baltics (and the EU) taking over an independent art space in Latvia, I hope at the very least to preserve the legacy and underlying manifesto of Low in not losing sight of local specificities. Challenges I foresee are getting enough local funding for my programme. In my experience around the world with state funding bodies, one should only ask for what one needs, but here it is apparently commonplace to ask for double, and then receive half of that, which is wrong in so many ways! Other challenges I foresee are learning the language, the tax system, and laws here that seem to be making stuff up as they go along, making it hard to pay arts workers equitably, and earning my accountant more than anyone!
Education program, Low Gallery, February 2022. Photo courtesy of Low
Can you reveal any plans about exhibitions and/or artists that Low is aiming to work with in the future? Are there any themes or topical subjects that you feel are important to cover?
Aside from my gallery exchanges, which are more time- and labour-intensive than putting on shows of local artists, but ultimately bring more to those same artists in attracting curators and gallerists to their studios here, I am putting on a broad range of in-house group exhibitions, as well as inviting other producers in. My inaugural in-house show is an exhibition of international artists on the theme of labour and its representation, called New Beasts of Burden. Subsequent shows range from hosting a Riga Pride exhibition and panel discussion about safe spaces for minorities, to a show celebrating the 15th anniversary of local publishing house Kuš!, as well as phasing in various public programmes for children, workshops with university and school-age students, and some live radio-streamed music events when the summer eventually rolls around. After all, we have no residential neighbours!
But in all seriousness, in what often feels like a very hyper-individual and hyper-competitive epoch in the pandemic and post-digital present, my aim is to promote a sense of community and collectivity, and to create a safe space in Riga for critical social and cultural discourse. It can sometimes feel like the Wild West here, with things moving backwards and forwards at the same time, but there is a generation here gently pushing change through nuanced, subversive action, and it feels important to be able to try to support that in my own small way.
Can you share what has surprised you in art recently? What tendencies do you see in art and where do you think it's going?
There has certainly been a lot that hasn't surprised me, with a slew of white male artists continuing to enjoy their privilege among a range of other self-congratulatory behaviours that are indicative of just how far we are from a more egalitarian society. Given certain pandemic discourse, I can foresee the eventual reconfiguring of public space through physical and temporal (i.e. digital) artistic intervention, which can obviously turn political pretty quickly as well. As offices and small businesses become (more) vacant space, so too has wealth and gender disparity been laid bare and in the open. I also see more trans-humanism in light of the post-digital turn and the conflation of public and private. Unfortunately, this also means a pandering of museums towards the popular blockbuster, to shows that foremostly entertain and, well, make a good selfie opportunity.
David Ashley Kerr. Pictured artwork, Karlīna Mežecka, 2022