How long can this all last?
An interview with Ukrainian artist Daria Kalashnikova
Ukrainian artist Daria Kalashnikova admits that her creative expressions have always been about changing the narrative of her surname. Kalashnikova's main weapon, or rather the way she expresses her feelings and intentions, is herself. As the artist once said in an interview: "I have realised that for someone who has lived the life of a refugee for eight years, the only way to truly talk about what is happening is through oneself. You have to move all the time, and the only means you have, the only friends you have, are your own body and mind." Since her arrival in Riga in May 2022, Daria has used her own mind and body as her only "survival kit" for artistic expression. Remarkably, in this short period of time she has held a solo exhibition, The Trait of Tireless Freedom, at the European Union House, and has made an international name for herself with the emotionally charged art performance How long can this all last?
Designed as a cycle of continuous actions that the artist repeats until her physical strength is exhausted, the performance was first shown at the Starptelpa Performance Art Festival, then at the Riga's Summer of Courage and Joy festival and at the international contemporary art festival Survival Kit 13. The performance went on to tour European art festivals. On the eve of Ukraine's Independence Day, Daria performed the spectacle at the National Museum of Art in Kaunas (the 2022 European Capital of Culture); the video version of the performance was selected for the exhibition Courage. Created in Ukraine, which took place last September in Kyiv. In February of this year, the performance opened the Latvian National Museum of Art's exhibition Dismantling the Wall. Latvian Art 1985—1991, which tells the story of Latvian contemporary art processes during a period of intense socio-political change. The next performance is planned for the beginning of summer, when Riga will host pianist Andrejs Osokins' Freedom Festival, which this year, due to Russia's military aggression, is dedicated to Ukraine.
Born in 1989 in Luhansk, eastern Ukraine, Daria Kalashnikova is an artist, political activist and former artistic gymnast. Daria launched the Euromaidan movement in Luhansk in 2013. After the first Russian occupation in 2014, she moved to Kyiv, where she worked until 2019 in the Parliament of Ukraine as an assistant and advisor to MP Mustafa-Masi Nayem and the Cabinet of Ministers of Ukraine, as well as an advisor to Yuriy Stets, the Minister of Information Policy of Ukraine.
Kalashnikova has a master's degree in economics from Volodymyr Dahl East Ukrainian National University, has completed a course on the history of classical art and architecture at the Cultural Project Educational Centre, and has studied theatrical directing and script writing at the Performing Arts School Snoghoj in Denmark. Since May 2022, Kalashnikova has been living in Riga.
Her conceptual artworks on the war in Ukraine were selected for the 2022 Art Biennale of the Republic of Northern Macedonia as well as for the online gallery Brave.ua.
In your performance, you let your body speak about how it perceives and feels the war. How did the first rehearsals of the performance take place? What were the "first drafts" like?
The first rehearsal of this performance took place at 5 am on February 24, 2022, without prior preparation. I woke up in my bed in Kyiv from the sound of an explosion at Zhuliany airport, which is located in the city and not far from where I lived. This episode from life underlies the performance in which I seem to wake up from an explosion every day.
When I heard the explosion, I didn't immediately check the news sites for information about what had happened. I had previously worked as an advisor to the Minister of Information Policy of Ukraine, so I understood that journalists need time to write solid material. To understand what has happened, emergency services have go to the scene, assess the situation, and give an evaluation. All this takes time, so I took a break before checking the news websites. But besides the fact that I am a former politician, I am, of course, human, and I was scared. To calm myself down, I began to do a "sun salutation", a repetitive cyclical set of yoga exercises. Therefore, cyclicity became the second idea that was introduced into the performance at its first "rehearsal" on February 24, 2022.
When I finished doing the cycle of exercises, I learned from the news that the war had begun.
In May, I came to Riga and asked the Latvian Center of Contemporary Art to organise a performance demonstration. I sent LCCA the script and a video of the rehearsal filmed at home. The director, Solvita Krese, looked at my application and said that my performance was like the prayer that is done at the holy Mount Kailash in Tibet. During each performance, I remember Solvita's comparison of this performance with the prayer in Tibet. I believe that this performance is my prayer for Ukraine.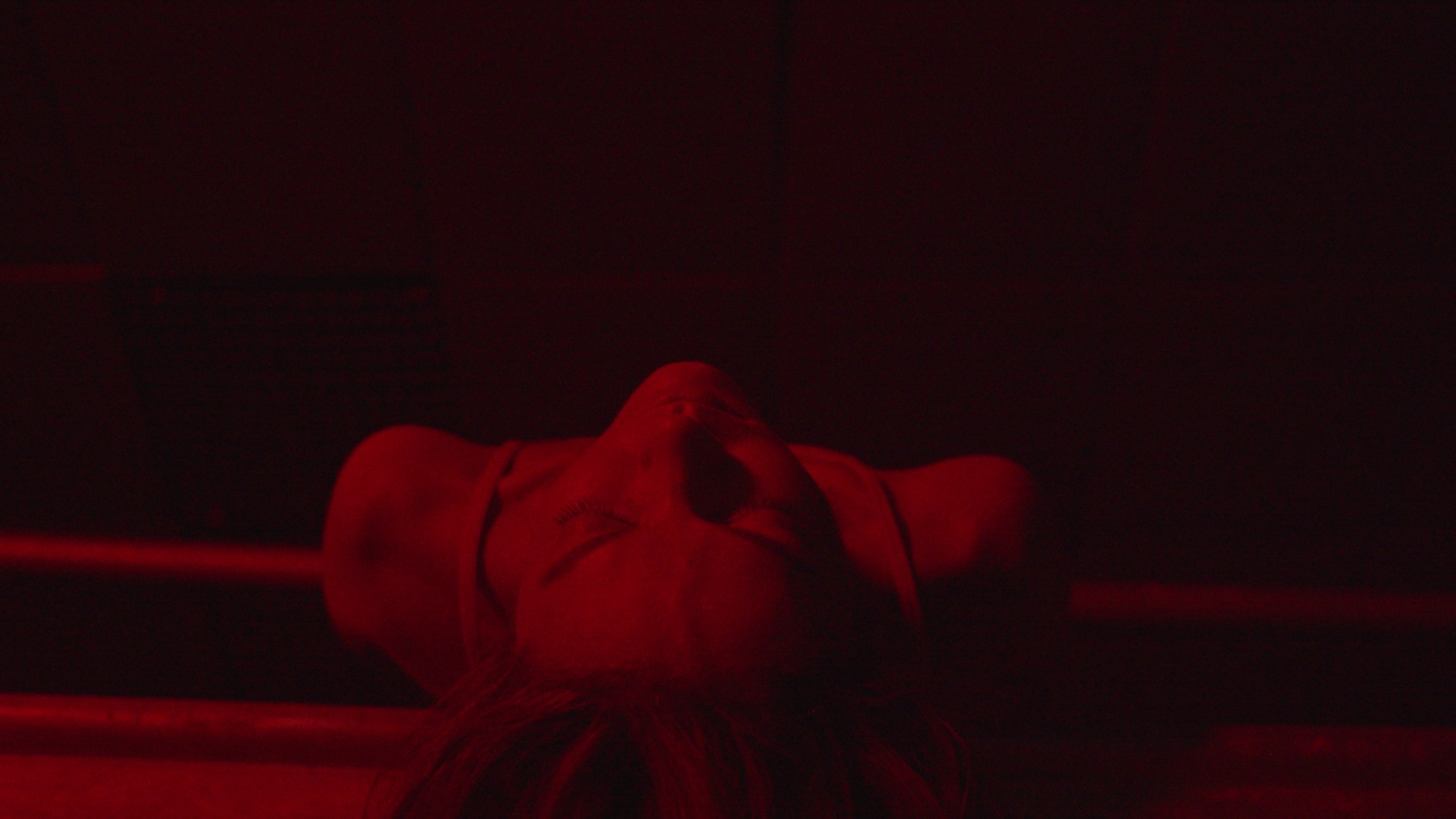 Where do your thoughts go during the performance? Which situations are the ones that you repeatedly allow to "pass through" you?
For me, each day of the war, starting from the very first day, is filled with memories of what my country and I personally experienced on that day. Now I, like every Ukrainian, have my own chronology — it differs from the Gregorian calendar in that we count the days of the war. The day of the performance at the National Art Museum of Latvia will be the 345th day of the war. During every performance, I remember where I was on each one of these days — bomb shelters, cities where I had never been to before the war but where I had now evacuated to, trains, buses, and moving to Riga. I remember the days when after after a larger shelling, I waited for hours to receive a message from my relatives in Ukraine to know that they were still alive. I remember the tragedies that happened on each of those 345 days, which city was bombarded, and how many people died that day. I hear the dates and remember the days when I learned about the death of my friends and those close to me.
Performing in Latvia, I think about the fact that it has two Independence Days: Independence Day on November 18, which was then lost as a result of the Soviet occupation; and the Day of the Restoration of the Independence on May 4. I believe that Ukraine will have one Independence Day — on August 24. We remember the Holodomor of 1932-1933 during the Soviet occupation, and are therefore doing our best at defending our independence in today's war.
My native Luhansk has been occupied for nine years, as well as Crimea, where I spent my childhood in a Crimean Tatar village near Bakhchisaray. The task of Ukraine is to restore its borders and to return peace to its land. As a person born and raised in Luhansk, I know that in the Donbas and the Crimea, the return of the Ukrainian government is very much awaited because it will bring peace.
At a time when human attention spans are much shorter, durational performance art takes on a new meaning — it challenges not only the artist but also the viewer. This aspect made me think of a certain similarity that performance art has with war, namely, that there are the people who are actually involved in the war (i.e. "the artist"), and then there are the remote observers ("the viewer") who are watching it on TV, social media, etc.
Today Ukraine is showing the whole world how to live through and fight in the war. To watch or not, to learn from our experience or to ignore it — that is the choice of the viewers. But it is worth remembering that if you neglect the experience of Ukraine, you may one day have to learn from your own similar experience. I sincerely do not wish anyone to have such a personal experience. Therefore, I suggest the viewer adopt our unique Ukrainian competence in 1.5 hours. It's easier than living through a year of war.
When I first showed this performance in June 2022, it lasted 30 minutes; at the time, it seemed very long to me. I understand that during my long performance, people get tired of the monotony — they want to go to the toilet, check notifications on their social networks, make a call, or go out for a smoke. In general, nothing unusual — just live their daily lives. But it was precisely this luxury of everyday life that I felt a lack of while sitting in a bomb shelter in Ukraine. I want the audience of the performance to understand what wealth they have. During the performance, they can touch the hand of a loved one sitting next to them, and after the performance, they can call their relatives and say that they love them. Perhaps, after this experience, they will appreciate every minute of their lives and the lives of their loved ones. Moreover, I hope that they will stop procrastinating. At least that's how the war affected me.
In the increasing duration of the performance, I also see a parallel with the war. The citizens of Ukraine did not expect that the war would go on for so long. We thought it would be a sprint, but it turned out to be a marathon. Since we do not know when it will end, we must just move forward in the hope that the finish line will soon be reached. At the same time, we strive to live every day with dignity because we do not know if it will be our last.
I, like Ukraine, do this for myself, because I am the most interested person in the continuation of my life.
Previously in Latvia, the audience cried and applauded, chanting, "Glory to Ukraine!", whereas in Lithuania, after the performance in the museum, there was a deathly silence. I did not immediately understand what the reason was behind it but looking closely at the people sitting in the front row, I saw that their hands were trembling. Then they started crying and we all just kept silent. It was like a very long minute of silence in commemoration of the victims of the war.
In your performance, as you count down the days since Russia invaded Ukraine, you challenge your body's physical abilities. How has the emotional shock of war challenged your body? How does the body's memory store this stress?
The body and the psyche will never forget the experience of war. For nine years I have not watched blockbusters, thrillers, or films with murder in them. I am anxious when I am in a stadium, at a holiday fair, nightclub, or other crowded place. I always think about the evacuation route [in case of an emergency]. I understand that all these are the consequences of the trauma I experienced back in 2014, when the war began in my native Luhansk.
Over the past nine years, I have learned to use this traumatic experience as a skill. In 2018, during the Champions League Final in Kyiv, I was a volunteer at the stadium. I spent several weeks preparing by studying first-aid, spectator evacuation routes from the stadium, and so on. Thanks to that training, I became calmer because I now know what to do in a crisis. Unfortunately, many things from everyday life can become triggers for me. Arriving in Riga in May 2022, the very first morning, I woke up with fear. It was caused by noise — sanitation workers were picking up rubbish from the containers in the courtyard. They did it with such a loud roar that it resembled the sound of shelling, and it scared me.
I have very similar feelings during thunderstorms; in order to fall asleep during a thunderstorm, I need to go into the bathroom and sleep there. Staying in a windowless room is one of the rules during shelling, so I am calmer there.
Thanks to working with a psychologist and doing all the breathing and physical exercises prescribed by competent specialists, I know how to cope with fear and panic if they come on. I also know that this is for forever. I will never stop being afraid — I have just learned how to deal with this fear. Just like Ukraine has learned to cope with fear during every day of the war. We are a brave people, which is why we have chosen BRAVE as a symbol of our struggle in this war.
You've said that when you write and paint, you show your former self, not your current self. Whereas in performance art, a lot depends on the atmosphere at the moment of creation. To what extent can the same performance differ at each execution of it? I know that your performance is based in the discipline of artistic gymnastics, but in such an emotionally rooted performance, the mind and emotions can play tricks on you…
Somewhere deep in my soul, performing reminds me of a carefree childhood. As I became older, I turned to professional sports and participated in international beauty pageants. At one in 2001, I had a co-participant from Yugoslavia on stage with me (back then there was such a country). I remember that she was very different from the other participants — she was extremely purposeful. For our final category, we had to answer the questions of the presenter, and the girl from Yugoslavia could not — she burst into tears and left. I went on stage after her and did not cry; I performed very well and won the contest.
Now I am 33 years old, I am going through the second war, and I continue to perform in public. But every time, at the end of the performance, I cry. It seems to me that this difference is significant. I cry at the end — from what I have done during the performance, and not at the beginning from a fear of starting. In my performance, I am inspired by the courage of Ukraine — it is handling the crisis, so I can handle it too, because I'm Ukrainian. But truly saying it is very difficult for me, as well as for my country.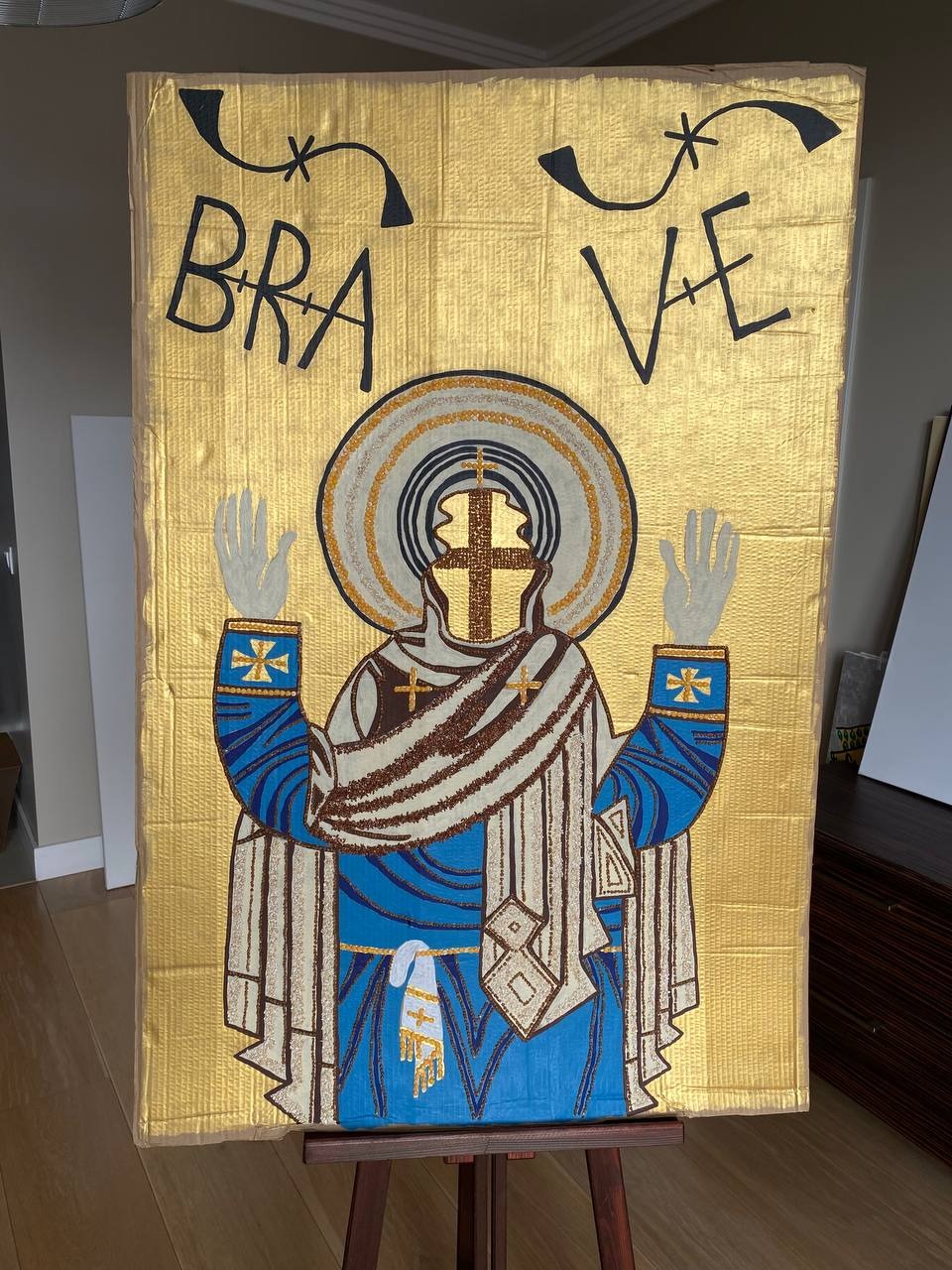 You have repeatedly underlined your belief that the future is in your hands. Where do you find this confidence that your "hands", as an artist, are strong enough? Perhaps it is rooted in your earlier political activism, which proved that change is possible?
I believe that the triad is the most effective: the army, the economy, and the arts. Each part of this triad is equally important for Ukraine, and it can also be extrapolated to the life of an individual. When I apply this model to myself, the "army" is discipline, control, and competence; the "economy" is the entrepreneurial vibe and the skill to act; and the "art" is to be vocal about your thoughts and feelings, and to explain your motives and behaviour to other people.
I think that in the execution of these three points lies the success of Ukraine's policy as well as my personal one as a contemporary artist.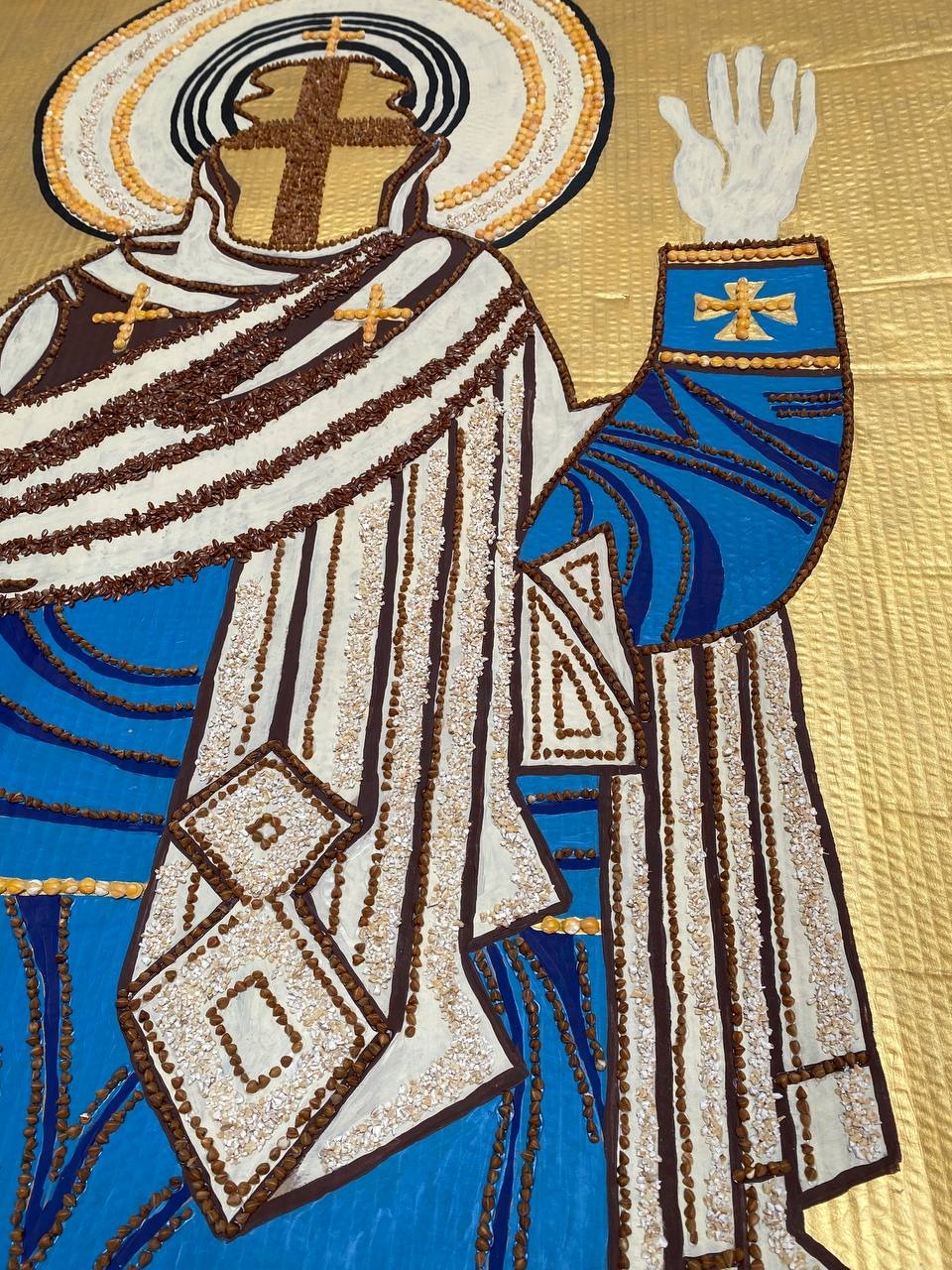 You have said that after eight years as a refugee, the only way to truly tell the story is through yourself. The only means of expression are your body and your mind. Self-confidence is a powerful tool. What else?
Action. The most powerful weapon in war and art is action. Only by acting can I overcome fear and achieve my goal.
I decided to use my body as a performance tool when I was looking for a universally understandable language in which to formulate my statements. The viewer sees that I'm getting tired, and with this, I dispel the myth that war becomes easier as you're experiencing it — the myth that one can get used to war. Yes, Ukrainians are indeed Superhumans (this is the name of the Ukrainian Hospital for war injuries), but we are mortal. The understanding that death is very close encourages me to act. To act in politics and Ukrainian revolutions, so that life for the next generations is better. To act in art – to inspire the viewer to remember the value of every day of their life, and to feel that they have the power to make a difference.
Artists have an uncanny ability to sense the change in the air before it even takes physical form. What do you feel?
I feel that the fight against evil is a task that will take a much longer time to solve than the length of my life. But this battle cannot be avoided; you can only artificially protect yourself from unpleasant content, so I choose to fight this fight the way I can.
I made my personal choice back in 2013 when I organised the pro-European Euromaidan revolution in Ukrainian Luhansk, which is located 40 kilometres from the border with Russia. Then I made a promise to myself to do everything in my power — to be kind and sympathetic, and to protect people. This is what I try to do today in Riga. I am grateful to the people of Latvia and Riga for their help and support for Ukrainian refugees. When I went to the refugee support centre in August 2022 to receive a food package from the Red Cross, I saw a high wall of cardboard boxes that contained these food packages. At that moment, I wanted to lean on this wall to feel its support. Having received my food package, I asked the Red Cross volunteers for a sheet of cardboard and, when I arrived home in Riga, I drew a modern reproduction of the Oranta icon on it.
The original Oranta is depicted on a thousand-year-old indestructible wall in St. Sophia Cathedral in Kyiv. She has been protecting Ukraine for eleven centuries. To depict the ornaments and details of my modern reproduction of the icon, I used cereals and seeds from the food basket for refugees.
The way Ukrainians succeed every day in the war against evil confirms our bravery, which is why I wrote "Brave" on that icon. In the image of Oranta's face, I used motifs from the Ukrainian folk doll called "motanka" — they are made as toys/protective amulets for children. I want to draw a mural of Oranta in Riga so that it protects Latvia, and so that the Ukrainian refugees living here can rely on their amulet at a difficult moment in their lives.
Performance "How long can this all last?" by Daria Kalashnikova at the Latvian National Museum of Art's, 2023. Photo: Dmitrijs Suļžics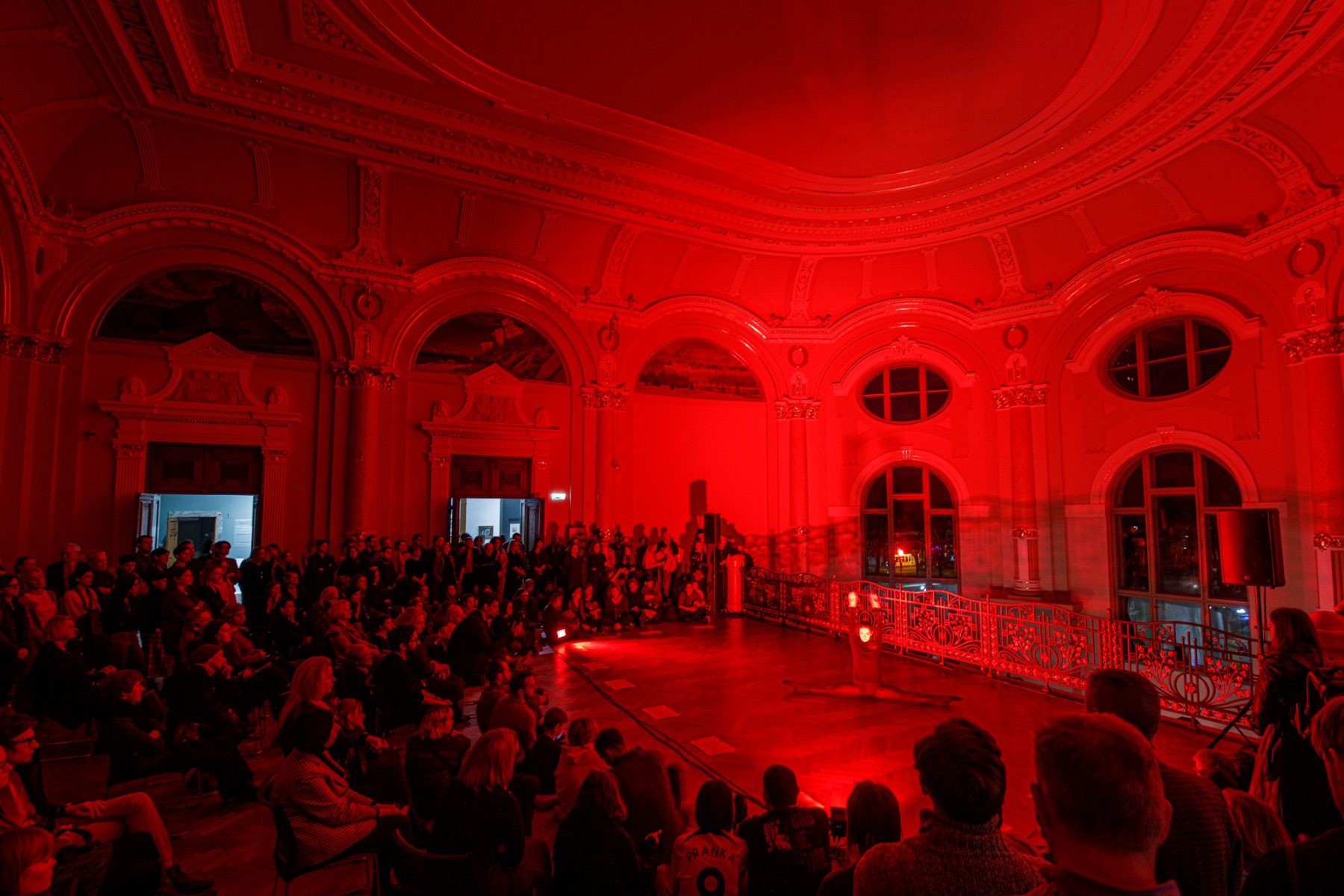 Photo: Dmitrijs Suļžics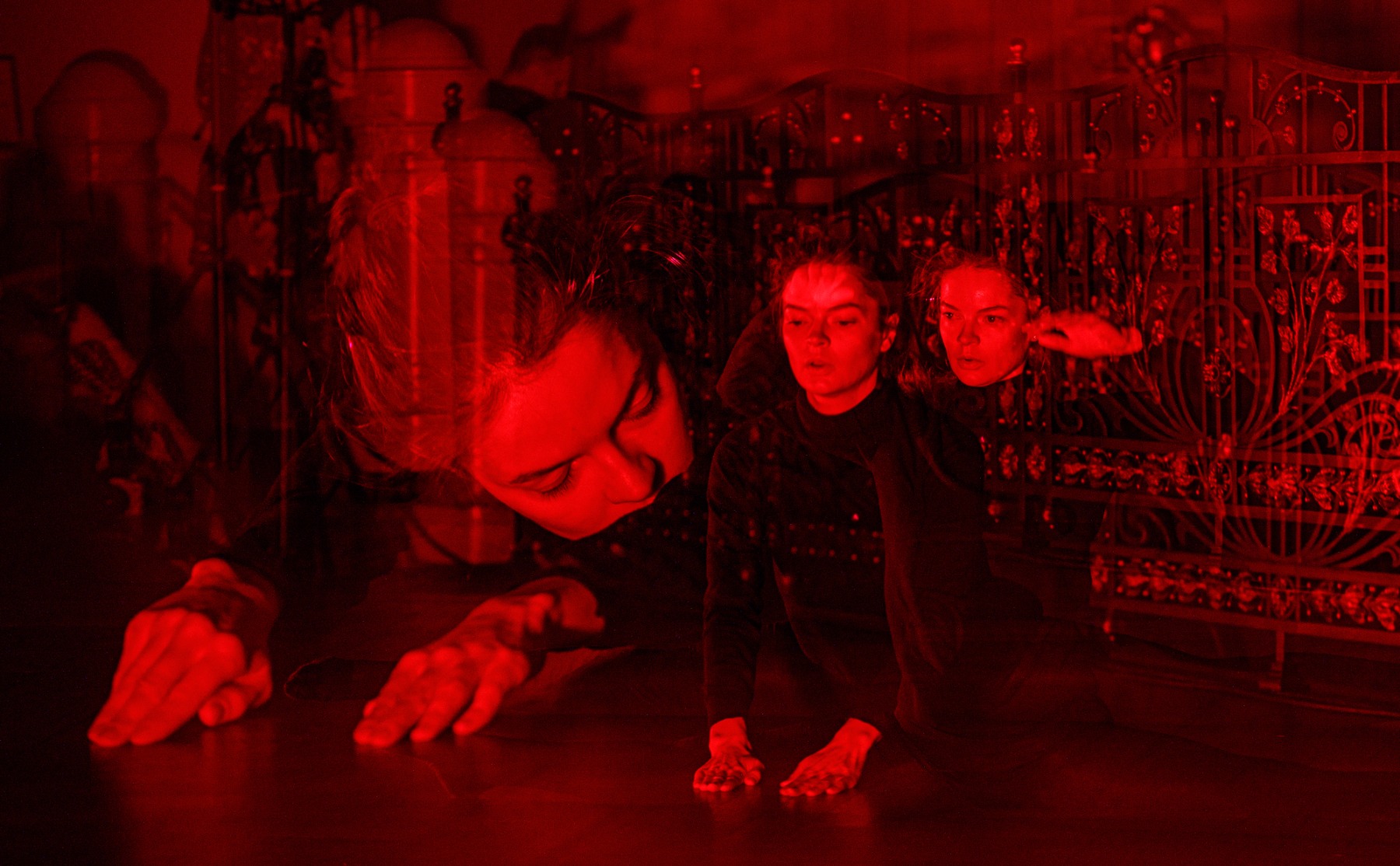 Photo: Dmitrijs Suļžics
Photo: Kristīne Madjare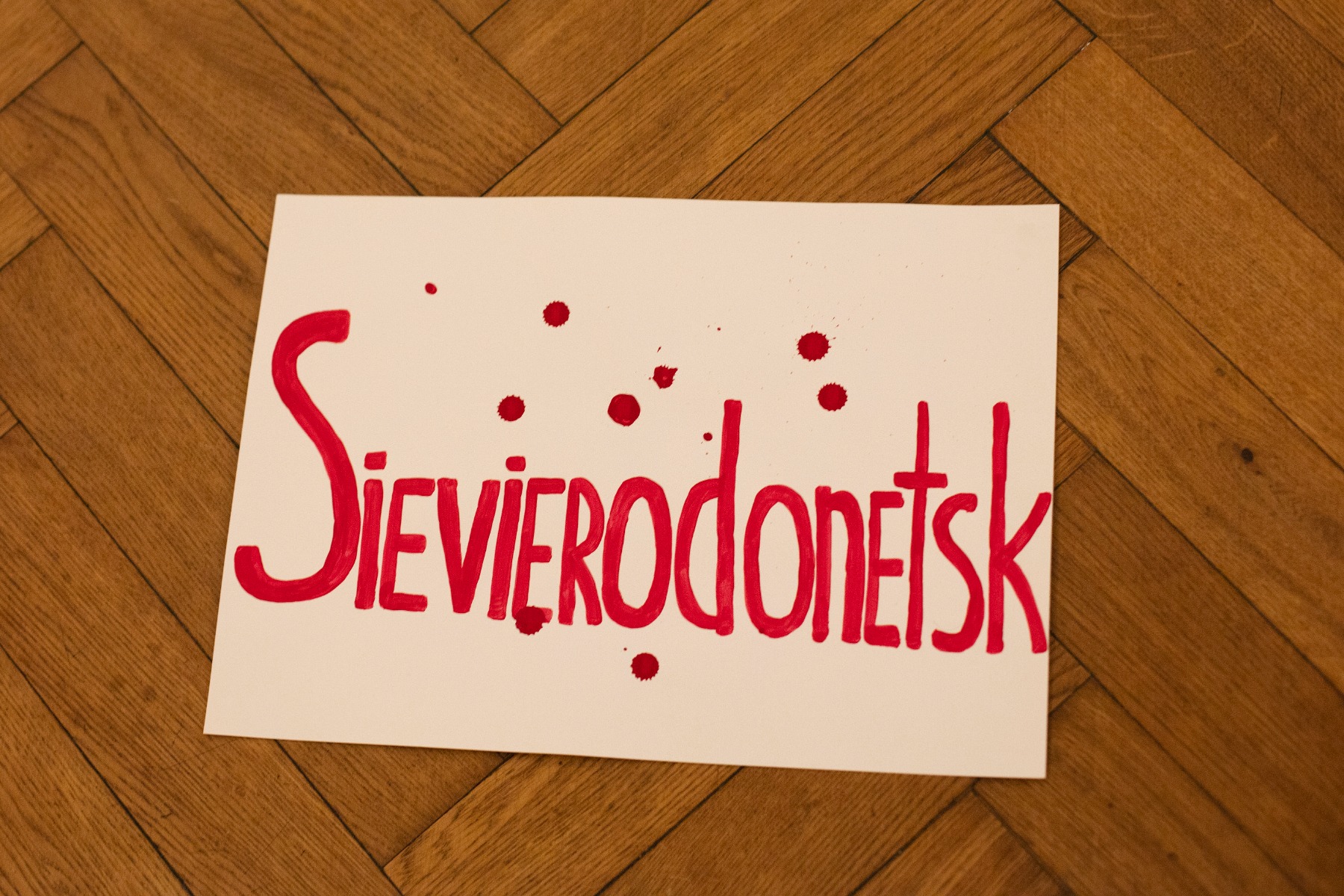 Photo: Kristīne Madjare
Photo: Kristīne Madjare
Photo: Kristīne Madjare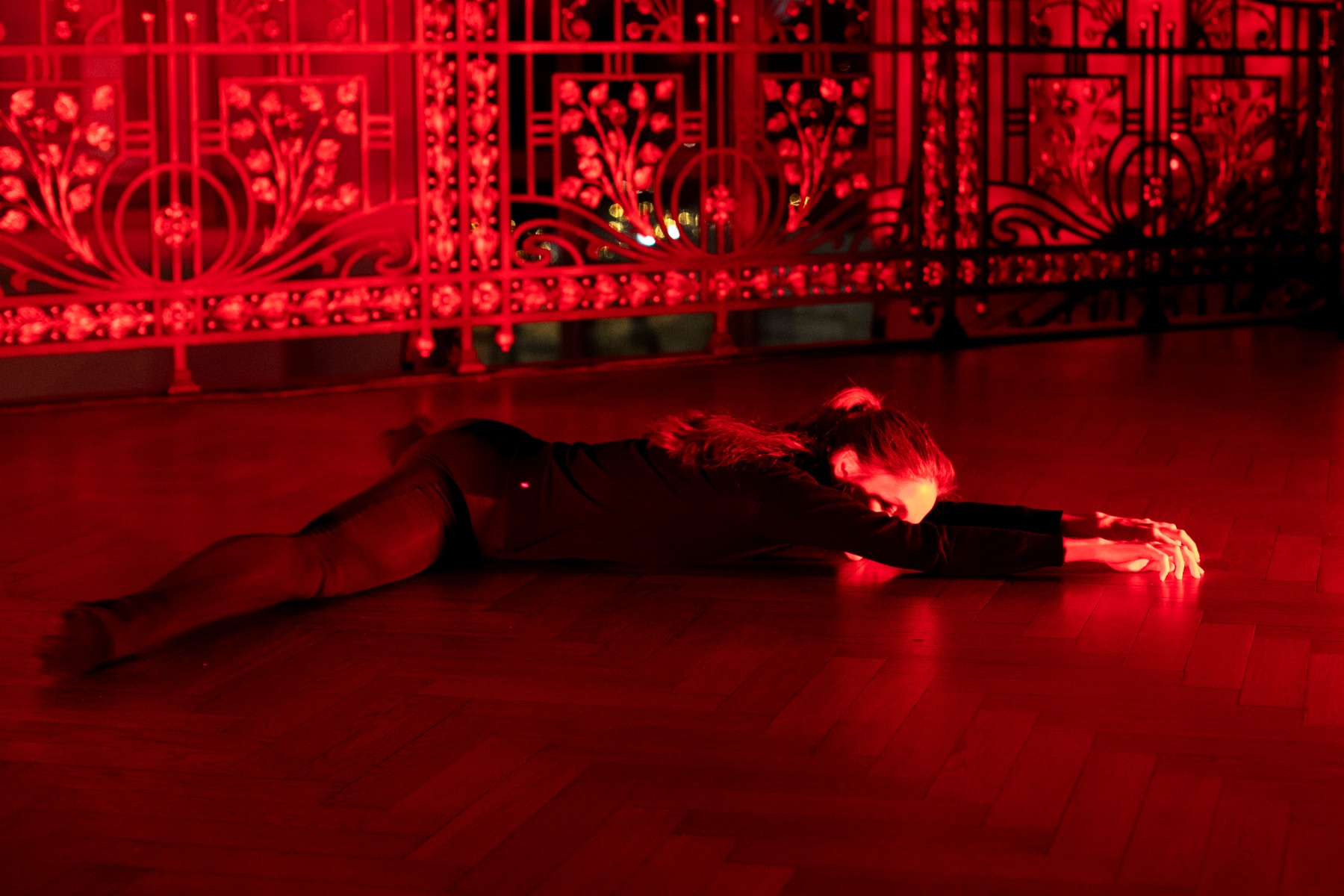 Photo: Voldemārs Stāvusis