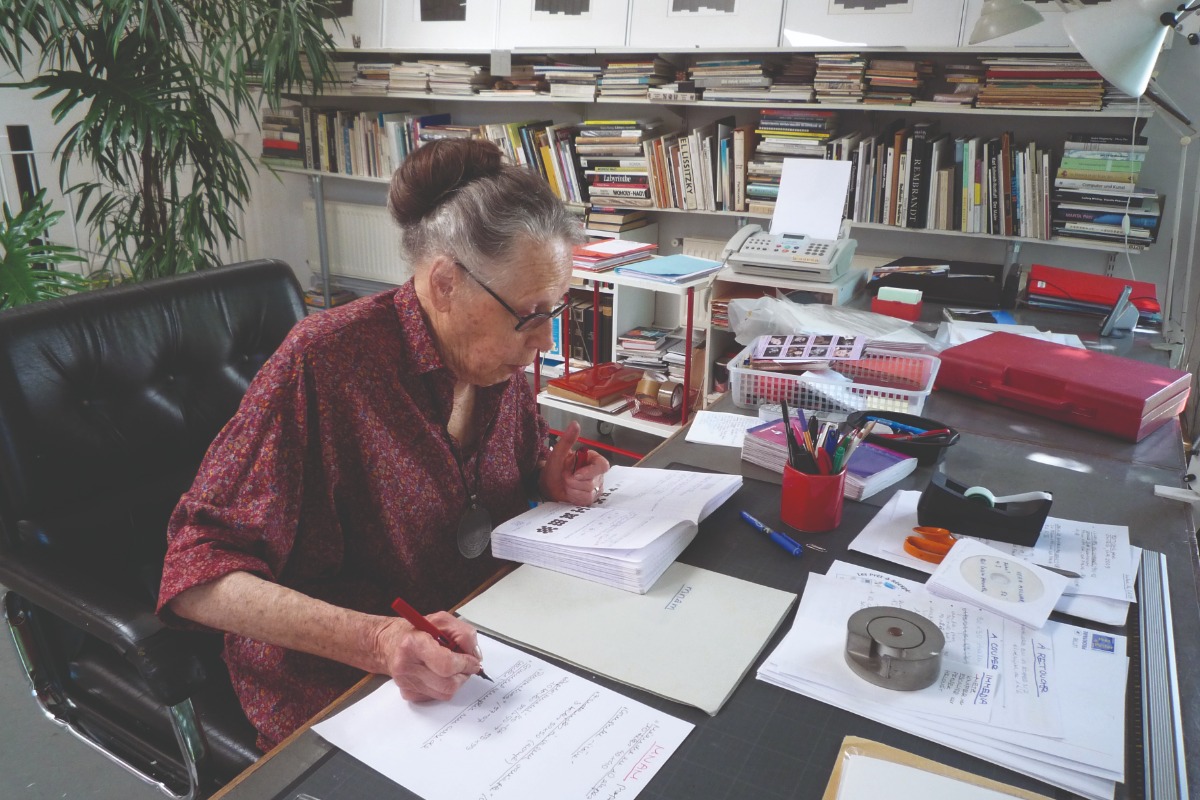 99. Visiting Vera Molnar
A conversation with computer pioneer Vera Molnar shortly before her 99th birthday
On January fifth of this year, Vera Molnar, one of the pioneers of computer art, born in Hungary and living in Paris since 1947, celebrated her 99th birthday. I had the unique opportunity to visit her at the end of November 2022, shortly before her landmark birthday. For the last two years, her home has been the Maison de Retraite Médicalisé, a private retirement home where Molnar has her own room, and which is also her studio.
When we – Molnar's long-time friend, art historian Julia Cserba, and I – arrive at the appointed time for our visit, 4:30 p.m., Molnar is sitting at her desk, working. She urges us to remove our face masks, a relic of the Covid period that is still required upon entering the nursing home. Molnar is wearing a reddish orange knitted cardigan that matches the red frames of her glasses; her long, thick grey hair is pulled back into a ponytail, revealing a high forehead. Accents of reddish orange also dominate a print pinned to the wall – a poster for Molnar's exhibition held at Galerie Berthet-Aittouares in the summer of 2022, and which featured 40 of her collages. In experimenting with the computer, she frees her works from any constraints and introduces "a hint of disorder" into their seemingly mathematical geometric precision.
Vera Molnar. Hommage à Dürer, 2022 / Courtesy of the Galerie8+4
Simple series of motifs repeat in Molnar's works – circles, crescents, endless variations of lines and seemingly truncated squares – embodying mastery and at the same time, a hypnotically calming order in chaos. "To put surprise in monotony and symmetry, I think that's what you have to do in life, let a little air in," Molnar said in a 2018 interview with Vincent Baby conducted shortly after she had received the AWARE 2018 Outstanding Merit Prize organised by AWARE: Archives of Women Artists, Research and Exhibitions.
"It's the first time I've met someone from Riga," she tells me with a smile as I sit down on the sofa next to the table. On her desk is a pile of papers; the top one says: Tableau flottant pour le 99ieme anniversaire. Molnar smiles and says that she is currently playing with the number 99. She wishes to celebrate her birthday with a new work – the number 99 floating in a black pool. The shape of the digits was inspired by Architype Albers, a typeface created in 1926 by German Bauhaus artist Josef Albers in which he reduced the forms to purely geometric elements – the square, triangle and parts of a circle – thereby creating an unusual stencil-effect typeface.
Vera Molnar. Hommage à Kepes, 2022 / Courtesy of the Galerie8+4
In the pile of pages on her desk is also the typeface's alphabet. Molnar says she is experimenting with small formats for now, but at the same time dreaming of something very big. She still draws herself, but it no longer looks good because she gets cramps in her hands every now and then. Usually she thinks of an idea, but has it executed by someone else. "I have a brilliant assistant because he understands what I want." The two have been working together for 15 years.
When asked what the number 99 means to her, she says: "First of all, graphically – it's very beautiful. Secondly, physically – it's difficult. 99 is something very poetic and magical."
As we converse, Molnar asks whether the war in Ukraine is complicating our lives. On a shelf nearby I spot a jar of pickled cucumbers; I don't ask where they come from, but in this room they give off a warm sentimentality and suggest continuity – Molnar's connection with Budapest is still alive. Her mother's muse was Alma Mahler, and she loved art. The family lived in what was then the most fashionable area of the city – designed by Bauhaus students, and they also had a summer house on the shores of Lake Balaton. Built in the Bauhaus style, it was the only truly modern building in the area. At the age of 16, Vera Molnar decided that she wanted to live in France, and eventually she fulfilled that goal – after completing her studies at the School of Fine Arts in Budapest (1942–1947), she moved to Paris. She co-founded several important French experimental groups, including Groupe de Recherche d'Art Visuel (GRAV) in 1960, and Art et Informatique in 1967. For a long time her favourite café in Paris was Le Select café in Montparnasse, where she met, among others, a number of legends of the art scene of the time – Brancusi, Kandinsky, Fernand Léger, and Victor Vasarely. In 1976, she developed the Molnart software with her husband, the artist François Molnar (1922–1993). She was a professor of fine arts, aesthetics and art history at the Sorbonne from 1985–90.
Vera Molnar laughingly says that "you can't narrate visual art", and asks if I'll be in Paris this weekend – through February 11, Institut Liszt, the Hungarian cultural centre in Paris, is hosting an exhibition dedicated to her 99th birthday, RE-RÉ-RES – Hommage à Vera Molnar, a collection of her latest works. They embody constant rebirth and reincarnation as Molnar interprets and rephrases her favourite forms and motifs, demonstrating their almost infinite possibilities of variation. And her own endless capacity to generate surprise in the seemingly familiar, while also surprising herself.
Vera Molnar. Transformation en diagonales, 2022 / Courtesy of the Galerie8+4
Her work combines the touch of the hand and the detachment of the machine-computer, a kind of hybrid that also aptly describes the times in which we live. Before the computer came into her life, Molnar experimented by writing programmes by hand and rearranging shapes on a grid, calling her method "machine imaginaire".
"I've been working on imagining programs – inventing very simple programs – and I carried out each of the steps by hand, one after another, as if they were done by a machine. I used to do Constructivism – influenced by Malevich, Mondrian and Morellet – and before that I did Cubist painting. Cubism, as a painting style that is figurative but also constructive at the same time, helped me. It facilitated the passage, and pushed me to where I am today."
Vera Molnar. Transformation en diagonales, noir et blanc, 2022 / Courtesy of the Galerie8+4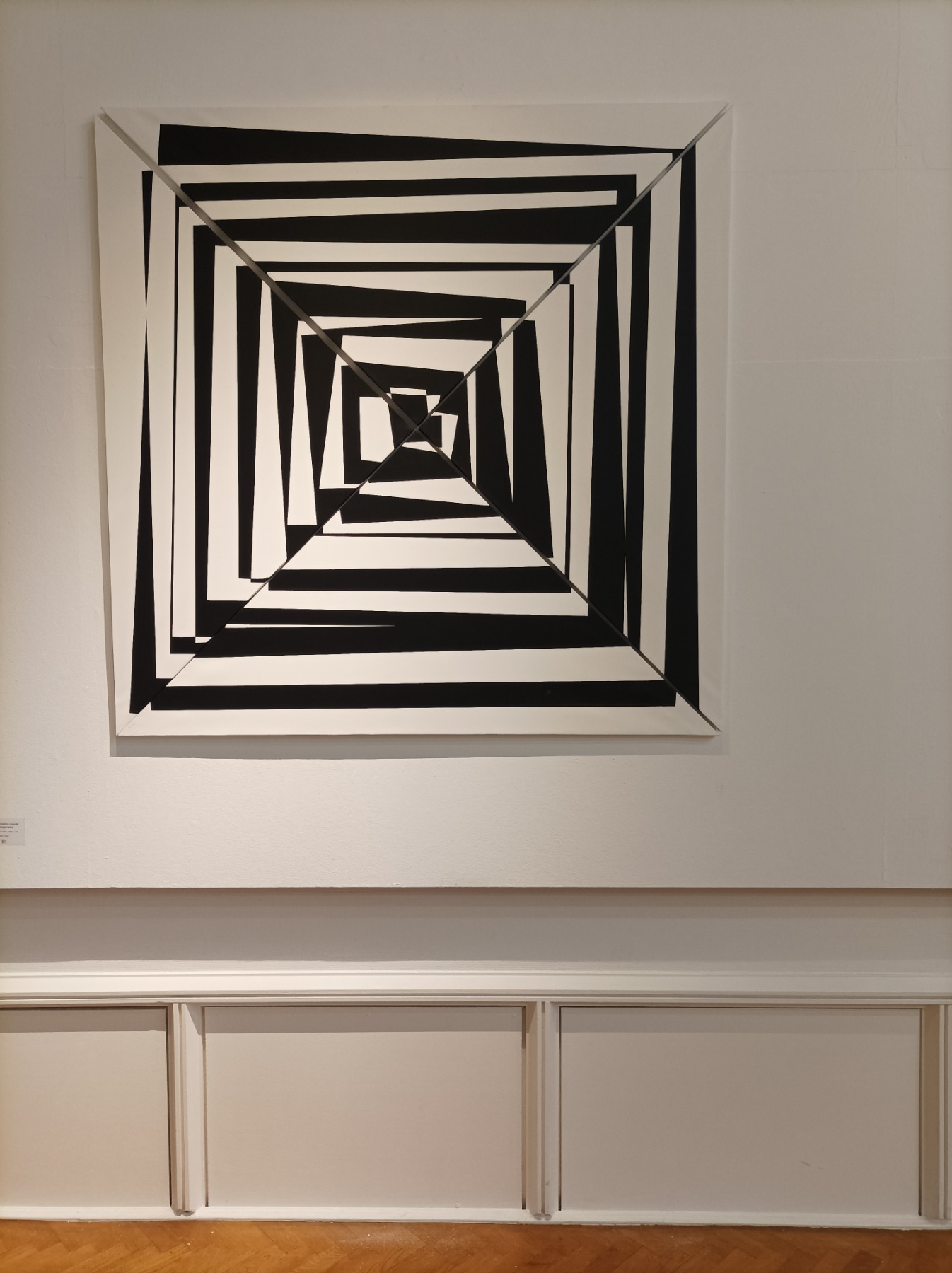 Molnar has been engaging with the potential of computers in art since 1968, when she first had access to a computer at a Sorbonne research lab. She learned how to program in the rudimentary language Fortran, which gave her the freedom to feed the computer countless algorithmic variants and to print repetitive geometric shapes and abstract images with a plotter printer.
When asked to recall how she felt when she first saw a computer, she says: "I was already prepared because I had heard about it. I knew it existed, but when I saw it for the first time, first of all, I quickly realised that, for me, it was going to be a faithful servant who would work as I wanted and when I wanted – as someone who is not in any trade union or political party. And secondly, I was at a crucial moment. I started working on the computer when there was no visualisation, it was just a big machine without a screen."
At that time, only scientists had access to computers: "We were only given seconds to use it because there were very few computers. Not like today. I remember arriving one morning at the computing centre of the University of Paris, where I worked illegally. I had no right to be there. I saw the computer, and on it there was a little TV screen. So I asked the assistant, what is this? And he said, it's a new IBM gadget, and it's going to go out of fashion soon. But I had this feeling, it's not by seeing the computer but by seeing the screen; I understood that, for me, it was going to be a dialogue, and I wanted it. It's like an assistant but very fast."
Molnar has always emphasised that she is attracted to artificial things – man-made, not natural. "I love everything artificial, because art means artificial. Because a lot of what we make up in our heads – which is part of who we are and is natural – often works against us. Unfortunately, war is also among these things. So, the more artificial it is, the happier I am."
Vera Molnar. Transformation en diagonales, noir et rouge, 2022 / Courtesy of the Galerie8+4
In the 1960s, Molnar was accused of dehumanising art. "Works of art do the work themselves, they don't need to be explained. They are made to be put on the wall and looked at. They all have the same purpose, whether it's a drawing or any other art form," she says. Asked if and how an artist's brain differs from a computer's "brain", she smiles: "The brain can do billions of things, while a computer can only create what we have already invented with our brains. We command it. So it depends on us, and we do not depend on it. It is like a servant. And there are people like me who like the artificial, and who have a good relationship with the computer, and can work with it. But the computer doesn't dictate anything, it doesn't impose anything."
In marking her 99th birthday, Molnar developed an innovative performative protocol to create a series of NFTs entitled 2% of Disorder in Cooperation. Once again, she reaffirms her ability to unerringly feel the zeitgeist.
She has repeatedly acknowledged that just as there is artificial intelligence, there is also artificial intuition. What is the role of intuition in the process of creating art? And how present is it in the process of creating computer-generated art? "It is almost the same thing. It's hard to explain. You have tried 1,000 and 1,000 things, and chance can suggest things you haven't thought of. It's like intuition – all of a sudden you have an idea and you say, well, this is good! Let's try it like that. And that's intuition or chance."
Humour is ever present in Molnar's speaking style, and her voice is young, although at times she breathes heavily and it is obvious that her body is no longer keeping up with the creative energy that is flowing through her. She apologises for getting tired quickly and, leaning against the cupboard, looks for an orange book – the aforementioned conversation Vincent Baby had with her. Maybe I could find something useful in what she told him, because she doesn't have the strength to repeat things again and again.
At the end of our conversation, when I ask her what she has realised about herself while making art, Molnar says: "The truest thing I have realised is that I don't know anything. I know nothing of anything. There are very beautiful lines in the monologue of Goethe's Faust:
Ah! Now I've done Philosophy,
I've finished Law and Medicine,
And sadly even Theology:
Taken fierce pains, from end to end.
Now here I am, a fool for sure!
No wiser than I was before:
Master, Doctor's what they call me,
And I've been ten years, already,
Crosswise, arcing, to and fro,
Leading my students by the nose,
And see that we can know – nothing!
That I learned well because I had many doors opened, and everywhere there were questions and no answers. This monologue from Faust inspires me a lot, and I think I will do something with it at some point in the future. I don't know what, yet."
Is a person's life also an algorithm? "There are always surprises in life. I always think about it, and they tend to be good and bad," she says. Then she asks if I'd like to take a picture together with her.
Title image: Vera Molnar