Humor nurtures love
An Interview with Swiss Artist Claudia Comte
Claudia Comte seamlessly blends the whimsy of classic American cartoons with the refined aesthetics of modernist sculpture when contemplating a posthuman world. Since her artistic debut in 2007, when she first wielded a chainsaw to craft a cactus sculpture from wood, her creative practice has been dedicated to raising awareness about the climate crisis. Through her exhibitions, viewers are transported to a realm where the magnificence of nature flourishes independently of human presence, offering a glimpse into a world that may unfold after humanity's potential extinction.
Rather than instilling fear with dystopian scenarios, Comte's installations, whether set against the backdrop of the Saudi Arabian desert, integrated into natural landscapes, or gracing the walls of the Museo Nacional Thyssen-Bornemisza in Madrid, serve as playful invitations to rediscover the enchantment of nature and reconnect with our environment.
Claudia Comte. Even Cacti Can't Take the Heat, 2023, Lehmbruck Museum, Duisburg (DE). Photo: Gunnar Meier
This interview takes place shortly after the launch of her latest book, "After Nature: Cacti, Corals, and Leaves". This artist's book offers an in-depth exploration of Comte's repertoire of shapes and materials, shedding light on the meticulous process of creating her works. Comte's sculptures, inspired by cacti, corals, and leaves, facilitate connections between diverse ecosystems, including deserts, oceans, and forests, undergoing intriguing material transformations in the process.
"Her work is distinguished by her profound fascination with the memory embedded in materials and her deep understanding of the intricate relationships among diverse life forms. She acknowledges the memories harbored by materials, containing within them the wisdom of their environmental contexts. For instance, wood retains a lasting 'memory' of planetary climate conditions for centuries. Claudia Comte's art expands our perspective on the environment, the vital role of oxygen, and the transformative impact of planetary conditions on materials—evident in every pattern and object."
Claudia Comte. Underwater Cacti, 2019. TBA21–Academy Residency, Alligator Head Foundation in Portland, Jamaica / Commissioned by TBA21–Academy. Photo: F-Stop Movies
Your latest book is titled "After Nature: Cacti, Corals, and Leaves". Does "after" signify what remains after nature's destruction or serve as a model for learning? How did this book come to fruition?
The publication is a collaborative endeavor with publisher Patrick Frey, with whom I previously collaborated on the book "40 x 40" a few years ago. This time, our collaboration resulted in another enriching experience. The book showcases my repertoire of cacti, corals, and leaf shapes while offering an in-depth look at the entire production process – from working with wood and chainsaws to 3D scanning, marble production, animations, and the digital realm. My inspiration is rooted in observing nature; it serves as my starting point and the foundation for all my work.
Claudia Comte: After Nature, Museo. Nacional Thyssen-Bornemisza, Madrid (ES) / Commissioned by TBA21 Thyssen-Bornemisza Art Contemporary. Photo: Stefan Altenburger
Your publisher mentioned at the book launch that he doesn't trust cacti because they exist between object and living being. Why do you, hailing from the Swiss countryside, have faith in them? Why did you choose such an exotic form as the cactus for your sculptures, and what symbolism do they hold for you?
Cacti could symbolize a potential future, as we grapple with increasing aridity. The clash of global warming leading to both droughts and floods has left our world in a precarious balance. We've lost touch with our natural surroundings, and like many, I'm deeply concerned about our planet's future. So, the cactus symbolizes dryness and the absurd future we're heading toward. Imagine a world so parched that only cacti can endure, although, paradoxically, scientists suggest some temperatures may become too hot even for cacti. This year witnessed record-breaking global temperatures once again.
Claudia Comte. The Big Pink Marble Cactus, 2021, Pink Portugal marble, 319 x 160 x 57 cm. Photo Nicolas Gysin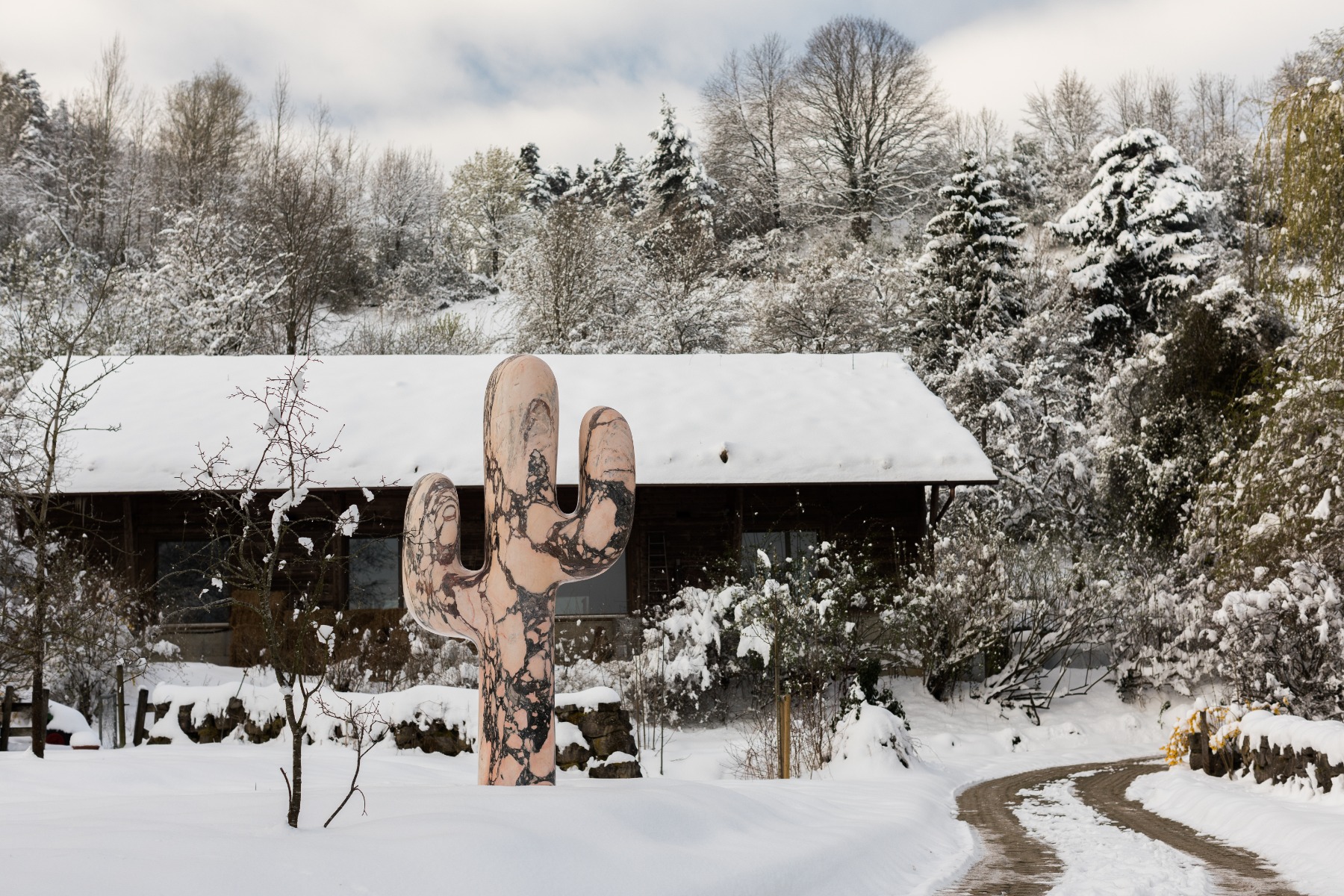 Although your sculptures evoke a posthuman landscape, they also carry humor and even sentimentality.
Each cactus possesses a distinct character, named after family members, friends, studio colleagues, curators, or individuals who deeply interest me. For instance, the tall pink cactus in my painting studio bears the name of Jérôme Sans, a curator I've collaborated with recently. Anthropomorphism isn't limited to my work; I'm also fond of characters like the White Rabbit from "Alice in Wonderland" – embodying human behavior as an animal. When crafting wooden sculptures, I utilize fallen trees nourished by soil, sunlight, and water. Forests and oceans, through photosynthesis, collectively provide all our oxygen – a reminder that every breath links us to these natural realms.
Claudia Comte. The Big Marble Fire Coral (four long fingers), 2021, White Michelangelo marble, 285 x 168 x 77 cm Photo: Pablo Gómez Ogando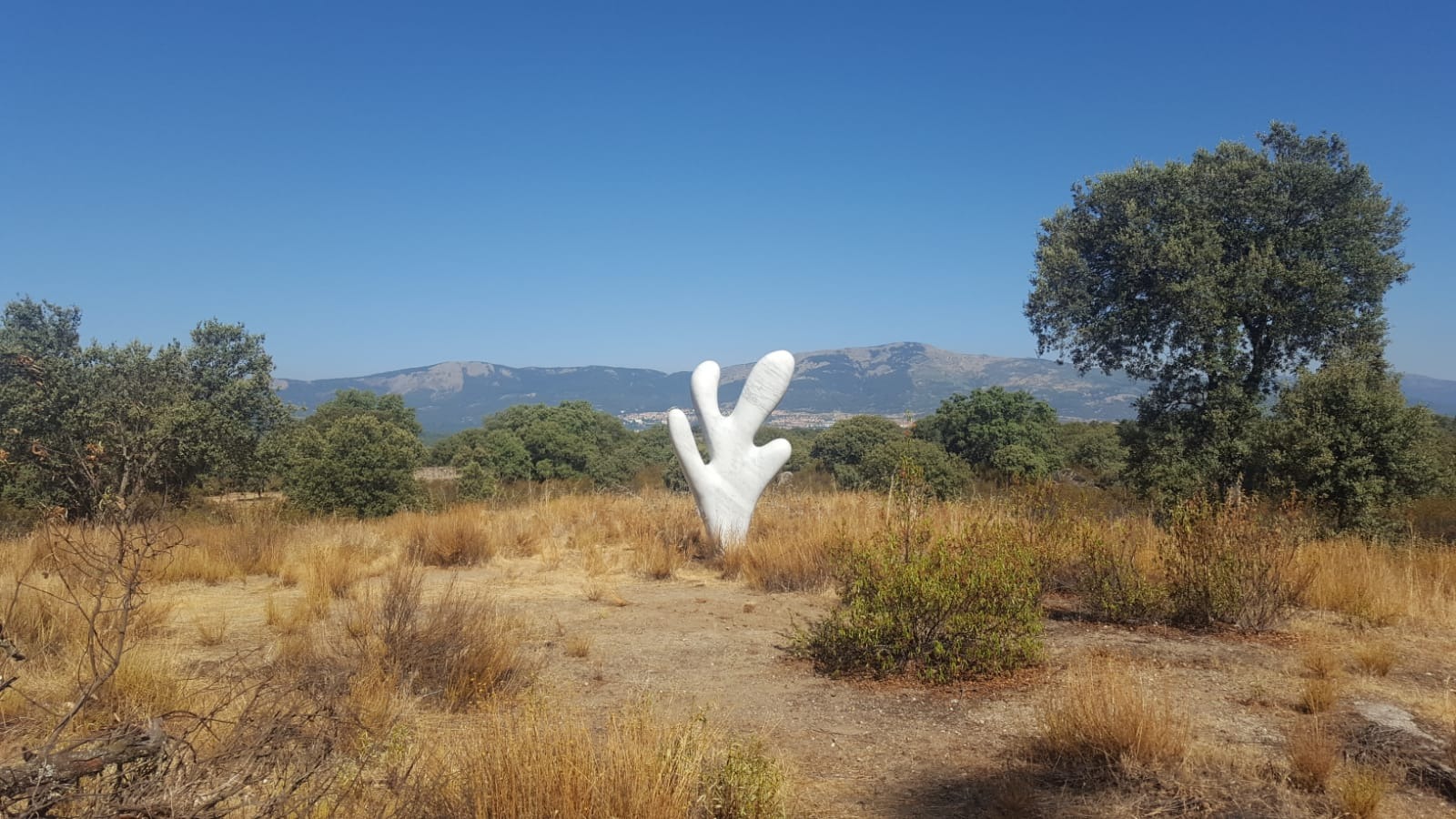 Your work features unmistakable references to cartoons and the Wild West.
My childhood, enriched by video games and American blockbusters, heavily influenced my penchant for the cartoonish. I grew up in the countryside, observing animals, insects, and plants, shaping my present interests. At the age of ten, a family trip across the United States revealed that the landscapes from cartoons were indeed real – particularly the iconic cactus form. In 2007, I picked up a chainsaw for the first time during art school, crafting my initial cactus sculpture. Since then, I've ventured into diverse forms of abstracted sculptures.
Claudia Comte: After Nature, Museo. Nacional Thyssen-Bornemisza, Madrid (ES) / Commissioned by TBA21 Thyssen-Bornemisza Art Contemporary. Photo: Stefan Altenburger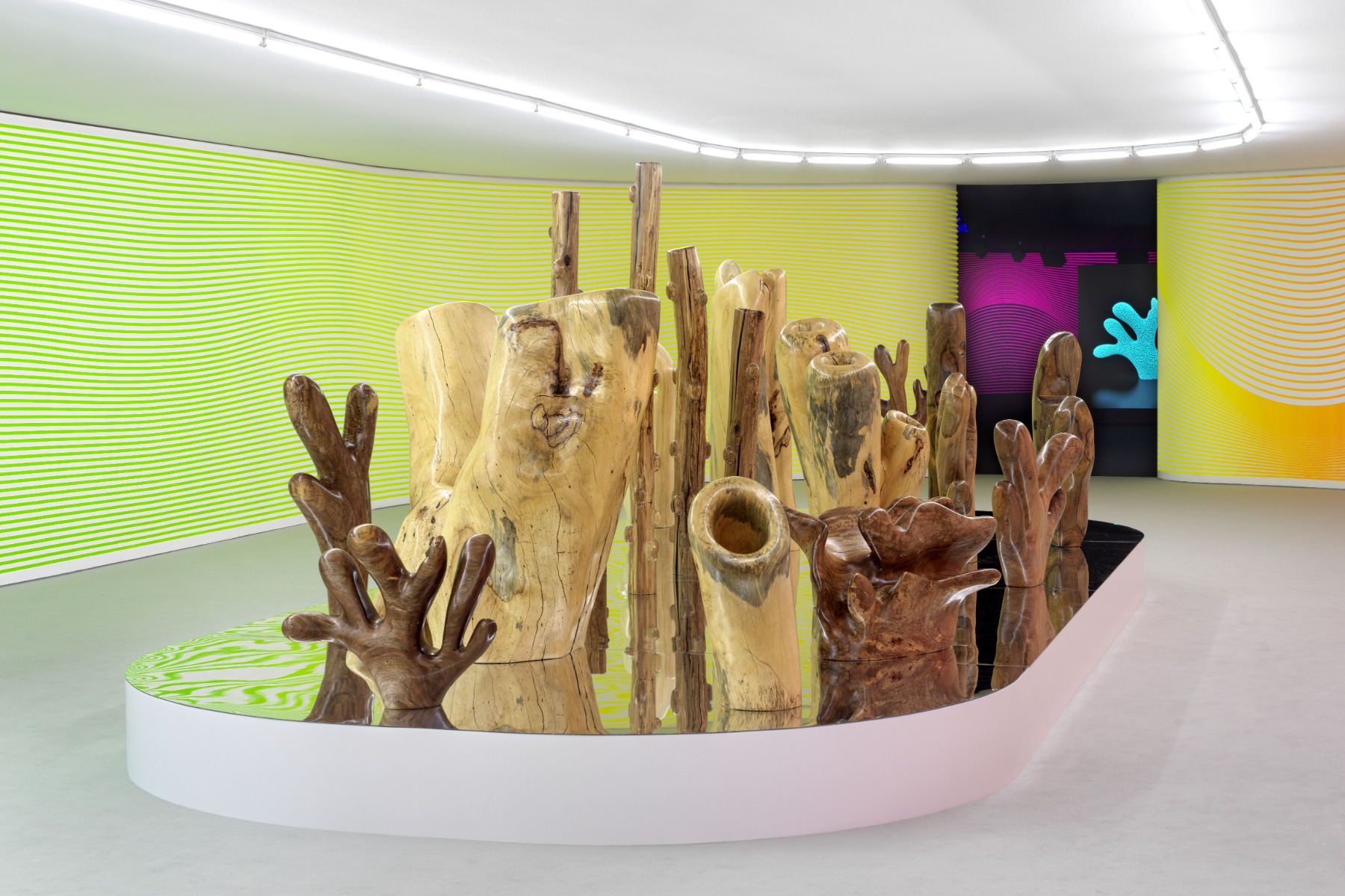 Your sculptures predominantly employ hard materials. Why this preference for density?
I find great fascination in sculpting from a single block of material. Wood, my material of choice, combined with a chainsaw, unveils the hidden life within, exposing intricate veins. It's a practice I was recently engaged in just moments before our conversation. Using natural materials is equally vital. Wood isn't just a lifeless block; it's the product of trees that have grown over many years. The trees I employ are typically over a century old, surpassing our own lifetimes. None of the wood I use is freshly cut; I work with fallen trees or those offered by lumberjacks. Ceramics and bronze also feature in my work, dispelling the need for carving from a block. Ceramics involves clay and assembling materials, while bronze, an alloy of various metals, offers its distinct qualities. Marble, on the other hand, emerges as enormous blocks from mountain quarries, boasting a rich history. Some marble contains fossils, offering glimpses into its million-year evolution. My preference for marble extends to crafting coral sculptures, a process akin to completing a circle.
Claudia Comte. Marine Wildfire & Underwater Forests, Gladstone Gallery, Seoul (KR). Exhibition view. Photo: Jeon Byung-Cheol
Claudia Comte. Marine Wildfire & Underwater Forests, Gladstone Gallery, Seoul (KR). Exhibition view. Photo: Jeon Byung-Cheol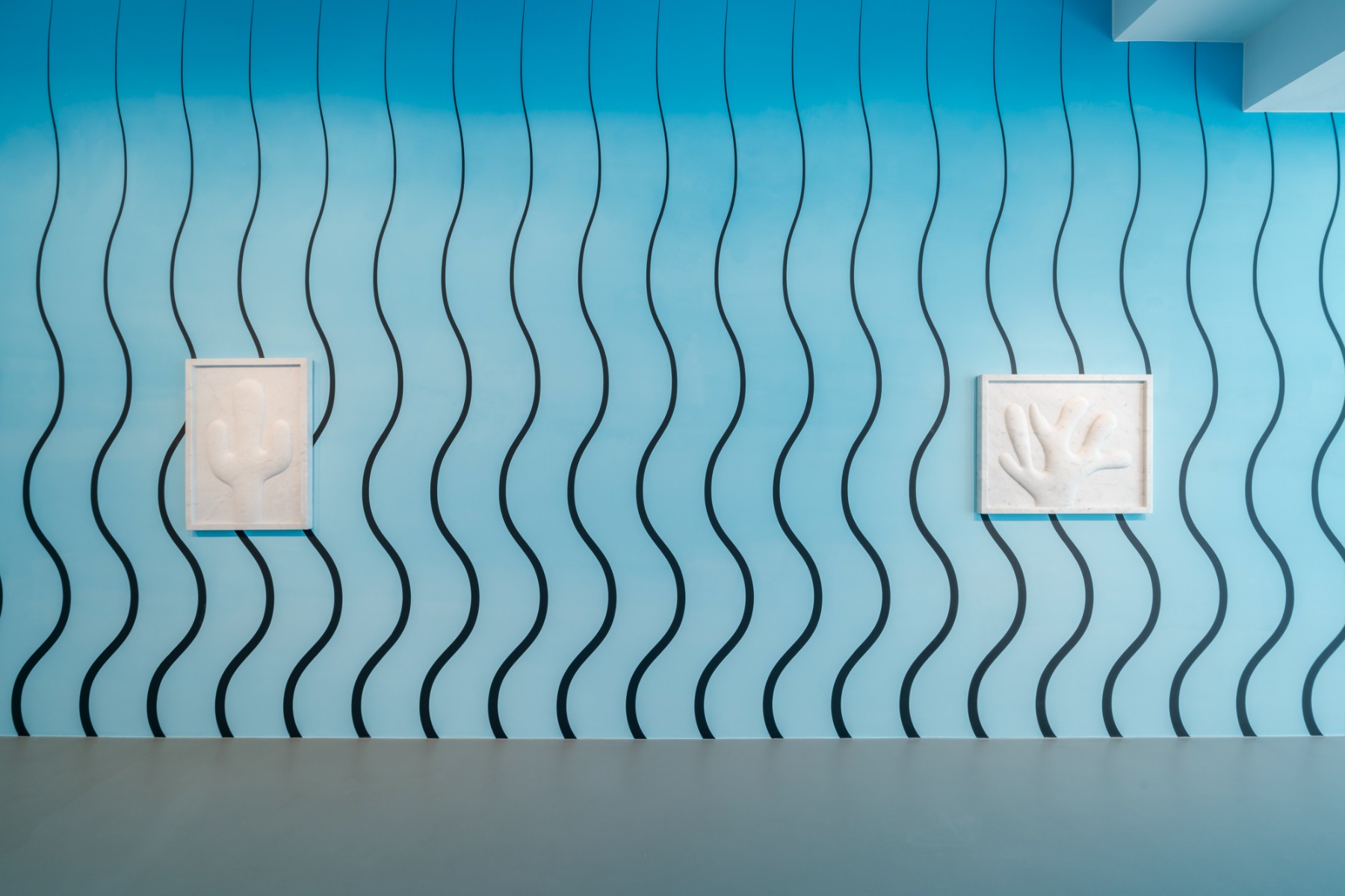 Do you have a preferred type of marble?
Nearly all the marble I work with hails from Carrara. I prefer it not to be pure white but to contain veins that reveal its inner structure. Among my favorites is black marble with golden veins, found on an island near Carrara. Pink marble from Portugal also holds a special place in my heart.
Your shapes often evoke those of Jean Arp and other modernist sculptors. Which artists do you engage with in your work?
I've been drawn to Constantin Brancusi's work from an early stage. During an artistic residency in Paris, I visited his studio near the Centre Pompidou. Barbara Hepworth is another influential figure for me, especially her early work in large-scale stone sculptures. Henry Moore is not to be overlooked either. I feel a kinship with them concerning biomorphic and geometric shapes, the golden ratio, and the harmony and balance of form. There's a timeless, universal language of shapes originating from ancient times, still relevant today.
Claudia Comte: After Nature, Museo. Nacional Thyssen-Bornemisza, Madrid (ES) / Commissioned by TBA21 Thyssen-Bornemisza Art Contemporary. Photo: Stefan Altenburger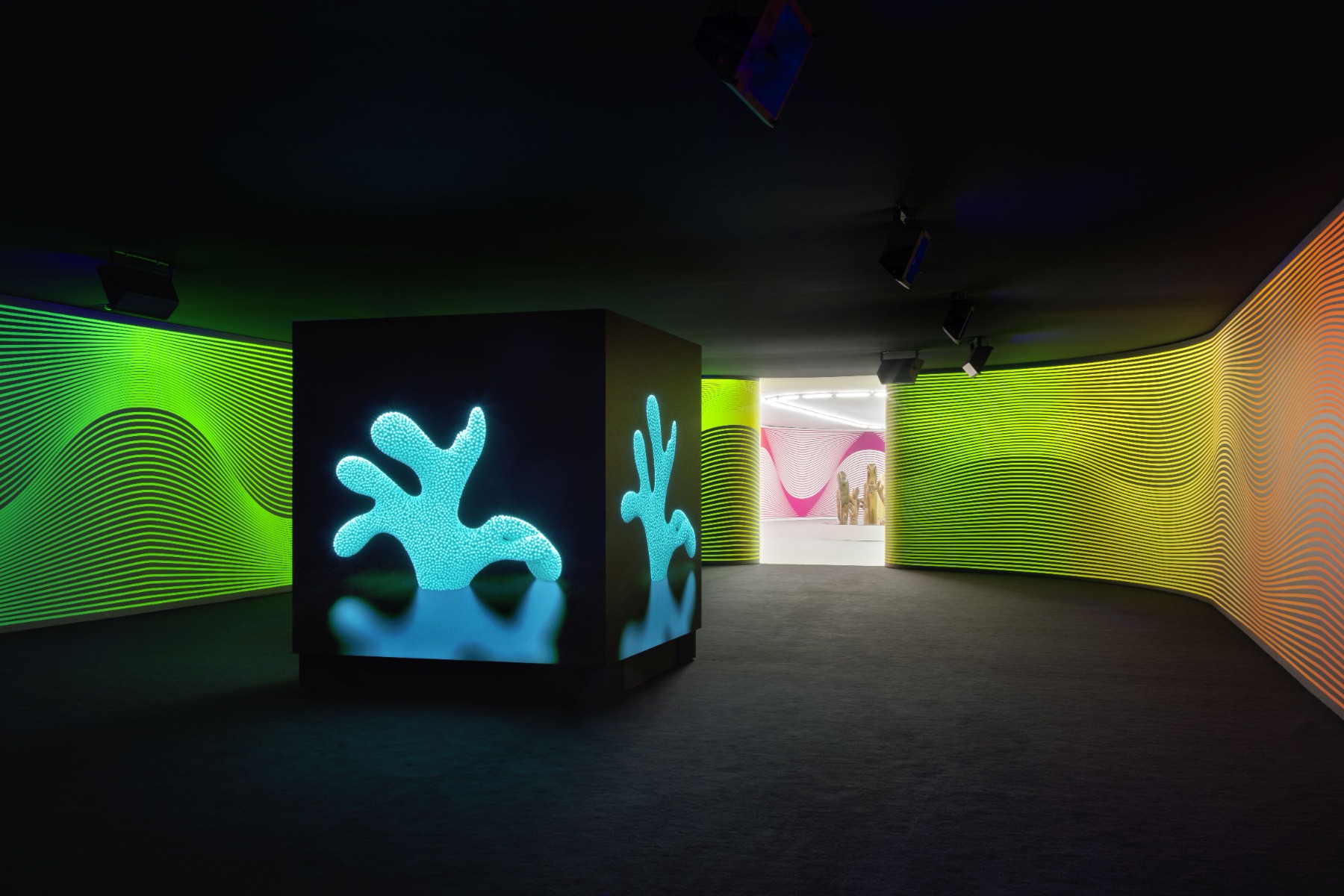 Claudia Comte: After Nature, Museo. Nacional Thyssen-Bornemisza, Madrid (ES) / Commissioned by TBA21 Thyssen-Bornemisza Art Contemporary. Photo: Stefan Altenburger
I recently saw a Monika Sosnowska exhibition at Zentrum Paul Klee in Bern, where she expresses disillusionment with modernist forms and, through that, hope for a brighter future. Do you believe that modernist forms can serve as a catalyst for human betterment?
Hope for the future exists, but hope alone won't save us. Action is paramount. Our connection to the natural world and animals has dwindled, and that's why it's crucial for me to create organic, gentle, and inviting shapes. Shapes that beckon to be touched, hugged, and cherished.
Claudia Comte. HAHAHA, 2014, 18 epicea trunks, 600 × 4000 × 40 cm, 600 × 40 × 40cm each trunk, Bex & Arts triennale, Bex (CH). Photo: Gunnar Meier
Claudia Comte. HAHAHA / Performance with Sculpture. The large-scale sculpture was activated with a performance, and later video work, that records HAHAHA being set alight while two pianists play a rendition of La Dance Macabre. Photo: Gunnar Meier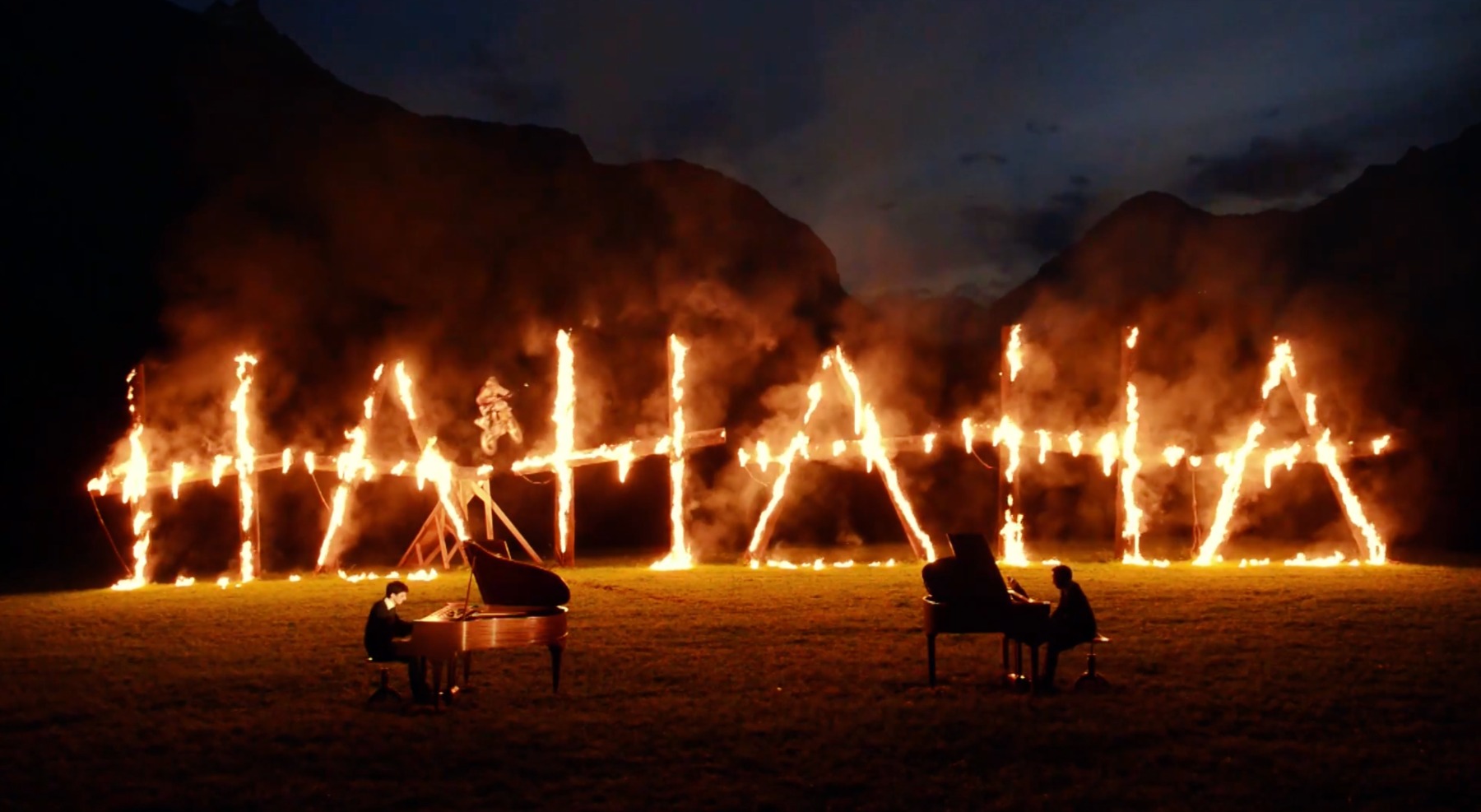 Your trunks, placed from Roskilde Festival to Art Basel and the desert in Riyadh, seem to be a message to humanity.
You're absolutely right. I initiated the trunk series in 2013, with words like "HAHAHA" etched into the landscape using massive tree trunks. Language is a potent tool for conveying ideas. My trunk installations often revolve around geometry, incorporating palindromes – words that read the same forwards and backwards – and onomatopoeia inspired by comics. For instance, the "ME WE" piece, installed at Roskilde Festival, is a quote, albeit a brief one, from Nelson Mandela. It's both an anagram and an oxymoron, emphasizing unity and collaboration. Initially intended for one year, it became an enduring symbol of the festival, especially as the event faced cancellations due to COVID. This summer, I was invited to activate it, organizing a competition between teams of lumberjacks to build a zigzag structure using trunks.
Claudia Comte. ME WE, 2019, 16 Spruce trunks, LED, wood platform, 800 x 3300 x 240 cm, Roskilde Festival, Denmark Photo: Kim Bech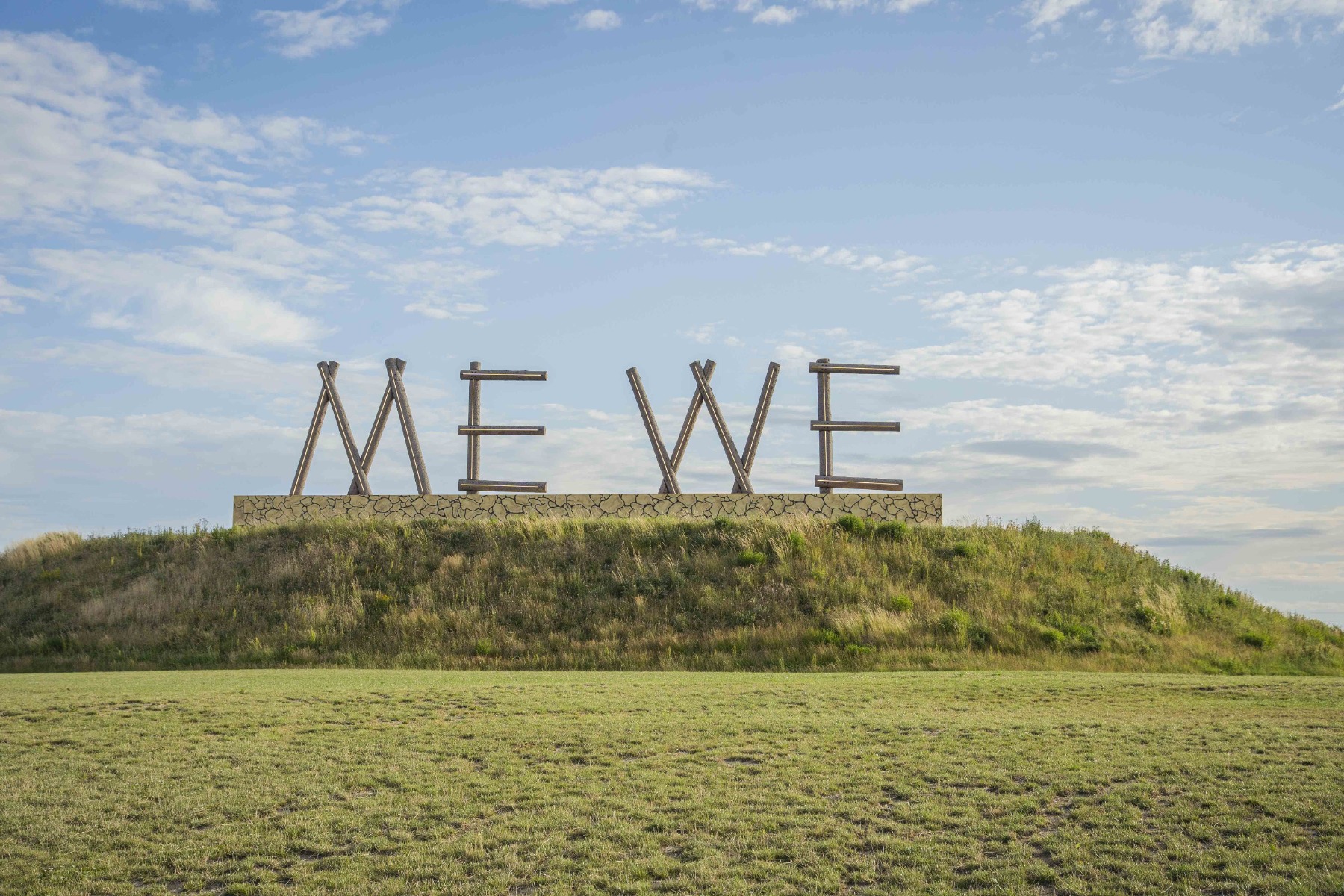 Claudia Comte. ME WE, 2019, 16 Spruce trunks, LED, wood platform, 800 x 3300 x 240 cm, Roskilde Festival, Denmark Photo: Joakim Züge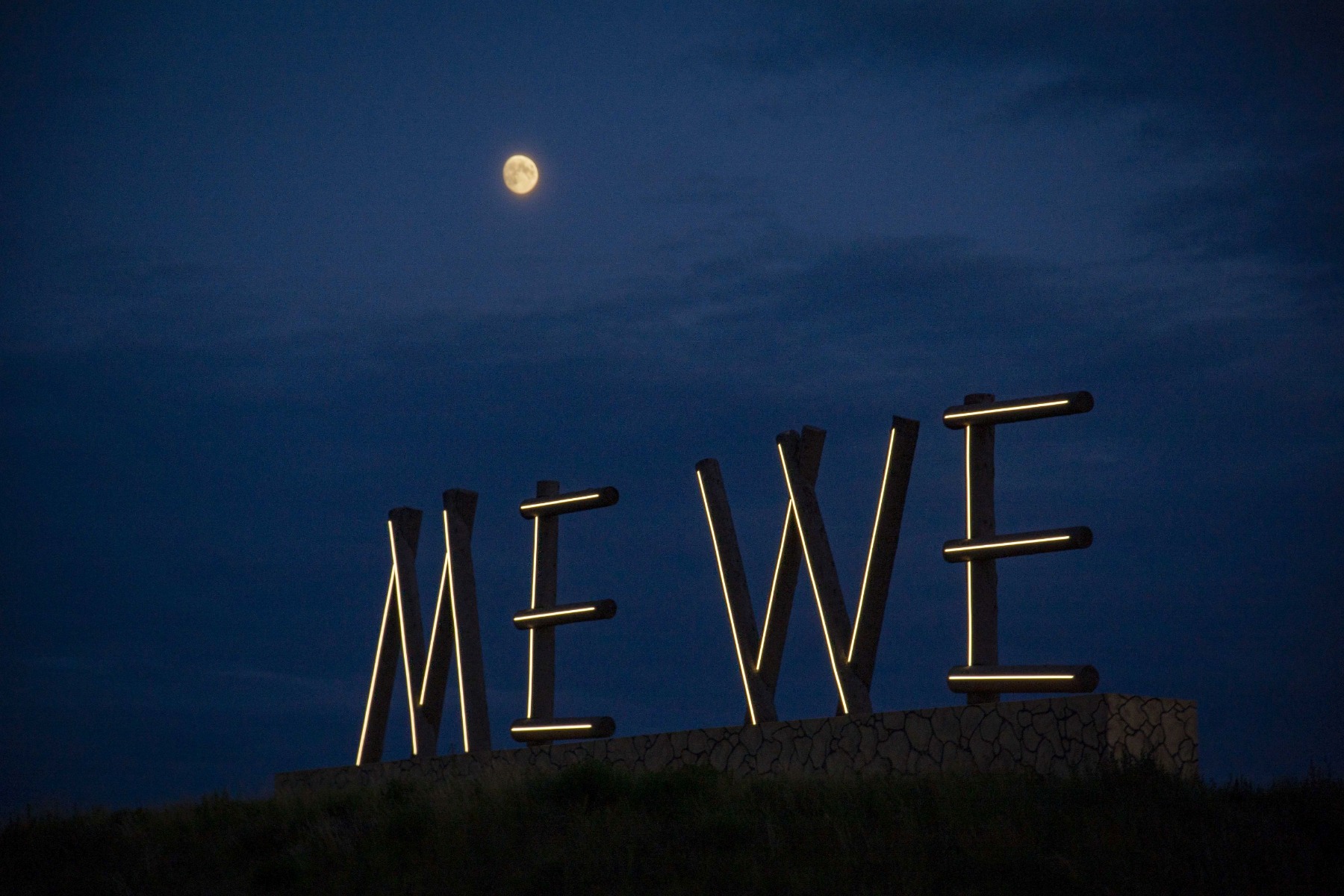 Tell me more about the activation of your sculptures.
I aspire to draw people into my installations and my universe to convey different ideas. For example, I once set the "HAHAHA" (2015) sculpture ablaze in a performance. In 2014, I had the opportunity to create a giant board game in Gstaad, featuring a chessboard set on an actual hockey field with people maneuvering my sculptures. My dance performances accompany large-scale wall paintings, exploring micro perspectives of nature: the movements of snakes, the patterns of leaves, or sonar waves, to name a few. Most of these activations are captured on film, and one day, I hope to showcase them together.
Claudia Comte. The Interview Painting Ensemble (mise-en-scène in 12 Acts). Art Basel Parcours, StadtCasino Basel, Basel (CH). Photo: Gunnar Meier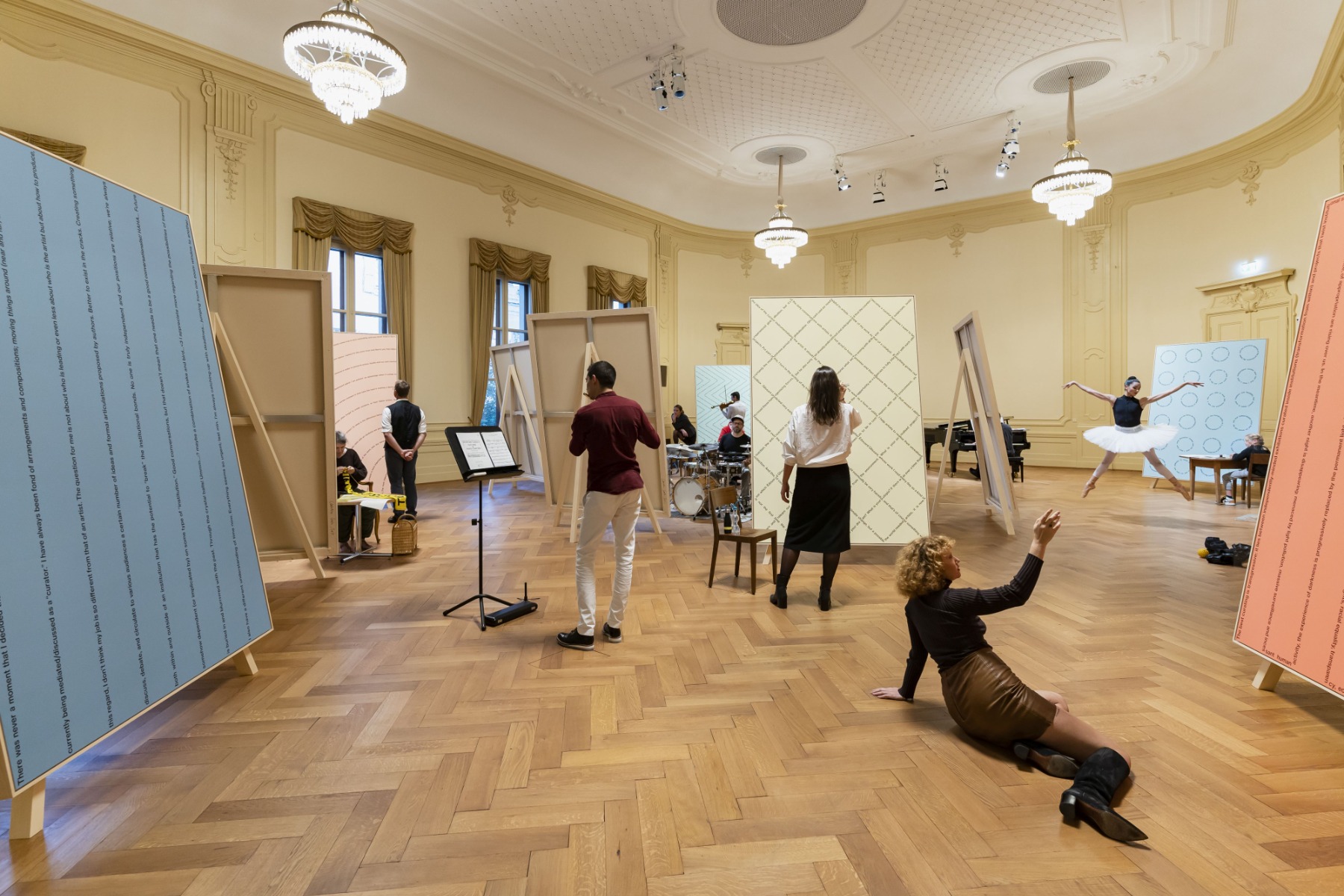 Your Art Basel 2021 Parcours exhibition featured paintings with accompanying text activated through performances. It felt like a Gesamtkunstwerk.
Indeed, I aimed to provide a multi-layered, cinematic experience. The standalone paintings represented the curators I'd collaborated with during the COVID era, their interviews painted in black letters on canvas in a distinct pattern against a specific backdrop. The paintings were meant to be read literally. The exhibition was an immersive extravaganza of performances. I selected performers to accompany each painting for activation. For instance, an opera singer accompanied the Interview Painting of Hans Ulrich Obrist. Instruments were scattered throughout the room, including a grand piano for curator Carolyn Christov-Bakargiev, who directs Castello Rivoli. The grand piano, always commanding and sonorous, resonated with her vibrant character and interview. The result was a week of continuous performances, with something different unfolding each time you entered the room. Every evening, from six to seven, all the performers united in a harmonious cacophony. We recently finished editing the film of this remarkable project.
Your work often expresses laughter in various forms. What does laughter represent for you?
Laughter comes in many forms, and "HAHAHA" encapsulates them all. Some laughter echoes the sinister laughter found in American comic books, like the Joker's maniacal cackle, symbolizing the absurdity of our world. We see it in big corporations and governments seemingly laughing at the harm they inflict through wars and pollution, especially as we grapple with the climate crisis. Yet, it's also a reflection of us, acknowledging the situation but not doing enough. Humor, however, is an essential part of our humanity. It brings joy, which we need for life, compassion, and love. Humor nurtures love, our most profound need.
So, your book "After Nature" isn't solely about the end; it's also about hope. It reminds us to care for our planet, ourselves, and embrace love. Thank you, Claudia.