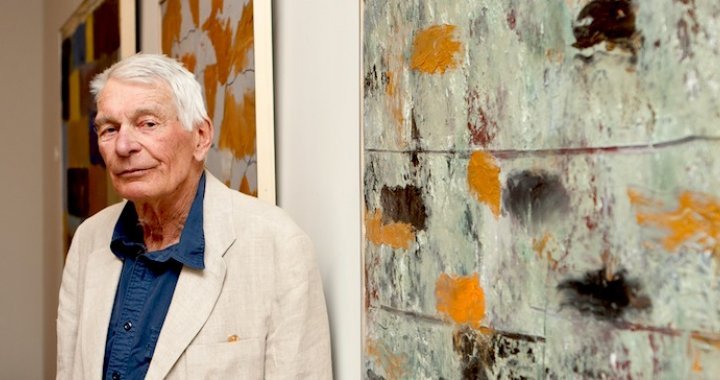 There's no Point in Analyzing a Painting

26/06/2012
Photos from the archives of "Māksla XO" gallery
The exhibition of expressive paintings done by Laris Strunke (1931), the Swedish-based Latvian painter, was on view at the "Māksla XO" gallery (Riga) through June 26. Sculptures created by Eva Lange, Strunke's wife, also make up part of the exhibition. But on July 24, the esteemed artist will have a solo show opening in Gotland. It will be dedicated to the paintings done over a period of 50 years, because "that is exactly how long I have been painting here", says Laris Strunke, who has been spending his summers in Gotland since he and his parents put to shore here with their refugee boat during WWII.
Laris Strunke's father was the great Latvian painter Niklāvs Strunke, who's own talent did not throw shade on his son's success; quite the opposite, actually. Laris Strunke is now looked upon as one of the most well-known expressionists in Sweden, and he has also made a name for himself on the international field. This is exemplified by his having received the Prince Eugen Medal (2001), the Egon Lundgren Medal (2002), and in Latvia – the Order of the Three Stars, 4th class (2003).
An interesting aside is the recent presentation, at the Latvian National Art Museum's Label Fund, of a "souvenir" connected to the Strunke Family, made by the Latvian footwear label ZoFa. In the most literal sense, the shoes made by the designer and architect Elīna Dobele allow for art to "go out onto the streets" – their shape and color having been inspired by the painting "Person Entering a Room", done by Niklāvs Strunke (1972), and which has now become part of the Latvian cultural cannon.
As I meet with Laris Strunke and Eva Lange, we are surrounded by their works, set up at the gallery "Māksla XO". Both artists keep glancing out of the gallery's windows with worry, hoping that the rain won't ruin their last walk along the Latvian seaside before returning to Stockholm. Strunke gives the interview in Latvian, while I try to translate the questions to Lange in English; occasionally, in a soft voice, Strunke explains a few phrases to her in Swedish. Colorful paint drips have left spots on Strunke's sneakers, trousers, jacket and hat.
What does Gotland mean to you?
Laris Strunke: Very much, because Gotland has been a primary source of inspiration for me for most of my life. Which is why I can safely say that I have matured through this city.
(To Eva Lange) At the opening of the exhibition, you mentioned that you have gained great inspiration from Latvia's natural environment, saying that it's mood is in line with your state of mind.
One might say that the natural environment of Latvia and Sweden are similar, but they really aren't. In Latvia, nature is entwined with fairy tales and stories. In addition, I was attracted by the artists here, who have lived in an independent country for such a short time. It sounds paradoxical, but I learned from them what it is to be free, and only then could I creatively unwind. I'm really thankful for the context that I came to realize while in Latvia.
[Addressing Strunke] Your paintings have been displayed in industrial settings, in "white cubes", and even in the wilderness. How does the environment influence a painting's story?
It does so very much! Works of art are dependent on lighting, but in most exhibition spaces, even museums, good lighting can be a problem. Ideally, the light would come from the ceiling, or the sky, not from the side. Windows are often a hindrance, because they blind with their brightness. Even illumination is the best. I once had an exhibition in a huge greenhouse, not far from Stockholm – in a 900 m2 room without any dividing walls. The ceiling and the outer walls were from glass, and here my dream came true – that the paintings would not hang from walls, but that they would be in the light... In addition, the view would change along with the position of the sun: you had to see the same exhibition in the morning and in the evening; and during the day, when it was cloudy and when it was sunny – the exposition was constantly changing. I should mention that my work has also been displayed in very, very dark settings, revealing that that can also be done. When a person can barely see anything. Once, in an old and empty riding school, the atmosphere was like in a basilica – cavernous, heavy, dark. But I liked it so much that I thought – the eye will adapt with time. At first, you can't see anything, you're like in pitch blackness, but gradually, paintings begin to emerge – much like in southern churches.
Do you both see a dialog going on between your works? At the gallery "Māksla XO", they have been displayed together.
Eva Lange: I think that we're like flowers who's roots feed from the same soil, even though I work for hours, while Laris works swiftly.
Laris Strunke: I've never thought about it. The wish to see similarities might arise here, in the exhibition, but otherwise... Ordinarily, I don't even see what Eva is doing in her studio, and when I'm working, she's not around. I think that's very good, even natural, not to think in categories like that, trying to find something related. But what is, is.
But if you get stuck in the process of work, don't you have the desire to show the painting to someone you can trust, to get a different viewpoint?
Laris Strunke: Well, I don't know... I'm a painter and Eva is a sculptor. There's a big difference; and the way that Eva approaches art is unusual, even for a sculptor.
Unusual in what way?
Eva Lange: In art, I try to achieve a high level of minimalism. It's like saying just the last three words of a thought. But it takes a long time to find them.
But this isn't the first exhibition that you've done together?
Eva Lange: This isn't the first, but definitely the last (laughs). I don't like having paintings by my sculptures, and Laris prefers spaces without sculptures.
Laris Strunke: We are strong individually. Plus, we have so many pieces that it begs the question – why should we have to share a space?
Eva Lange: Then there's the point that an exhibition takes a lot of work and time. And if we both have to prepare for one at the same time, that's just too difficult. It's best if we can take turns supporting one another.

Laris Strunke. Mūri ainavā. (A Scene With Walls.) 2012
[Addressing Laris Strunke] Do you first form a "vision" of a painting, or is the work thought up during the process itself?
I don't think like that. There's no point in an artist analyzing his own work. What do I have to gain? Nothing. It doesn't interest me.
What are you interested in?
For the painting to come out right! (laughs) And how does one do that? I don't know. If I did, I could start manufacturing. I've been painting for more than 60 years, I've taught students, but I still don't have any idea how one must work for a painting to come out right.
Eva Lange: I don't think it's essential to analyze methods because the main thing, I believe, is the ability to bring about your inner visions. If the results turn out to be special, unique, different, than that is thanks only to your inner world. I believe that it is backwards for an artist to set as his goal the wish to be different. It's more important to be honest.
[To Laris Strunke] You don't like to analyze how you work, and as I've read, you're also not interested in studying your creative history. But are you interested in art history in a broader sense? In what others have achieved?
No, only when I was young – then I had an interest. And I was also interested in medieval art.
Eva Lange: I do think that art history is exciting, especially in the ancient world, when man first touched clay to make something from it. But in contemporary art, it's worth finding like-minded artists, because it's important that you not feel alone.
[Addressing Laris Strunke] If you don't try to find inspiration in other works of art, do you look for it in nature?
Not really... The most important thing is what I see. That's the answer. And I can see it in nature, or somewhere completely else; the main thing is my ability to find it, and that can be developed. For instance, if I played the piano, then studying a virtuoso would do me no good. I have to figure out for myself where the black keys are and where the white ones are. In the works on display in the gallery "Māksla XO", I've painted crumbled buildings, foundations, ladders, walls – things that people build, and not so much nature. Geometric shapes that people have created; maybe that's what interests me...
Eva Lange: I still think it's important to come into contact with the great artists – they prove that art has power. In addition, they invigorate – so that you come out of the exhibition skipping.

Click on images to view them full size
[To Laris Strunke] What are your most vivid memories of your father?
Already as a young boy I helped him carry his paints and easel. Even later, when I lived on the southern shore of Sweden, but he in Italy – he would come to visit me and he would paint nature scenes. I remember that then, too, I carried his paints and easel, and it was my job to set everything up. It was at the seaside, on the cliffs, and the wind was blowing, so I got the idea to anchor the easel with a hanging rock. I searched for a rock, for some string, and – what I remember and what impresses me the most – is that my father started to draw before I had even done all that. He didn't wait. Painting was more important than the whether or not your easel would stand up or not.
Another notable memory is from the time when I was studying at art school in Stockholm. I was quite satisfied with one of my paintings – very constructive, simple, geometric. And my father comes along and says: "The boy is going through an abstract phase." And I think: "Ooohhh... a phase!" Until I finally realized that he was right.
These very important awards that you've received – do they mean anything to you?
I think not. At least my paintings don't get any better because of them (laughs). They are more likely to mean something to others; although it's hard to say what it would be like if I hadn't been recognized at all. Recognition is good, but does it change anything in my life and my works? Definitely not.
When, in the palace, the King of Sweden handed me the Prince Eugen Medal, I decided I shouldn't discriminate against his highness. The king asked me what my plans were. I answered something, and then I asked: "But what are your plans?"
Eva Lange: It's completely forbidden to touch the king. You can be shot on the spot for that. And when Laris asked the king his question, he sort of put his hand on his shoulder. But not quite, there was still a distance of a few millimeters.