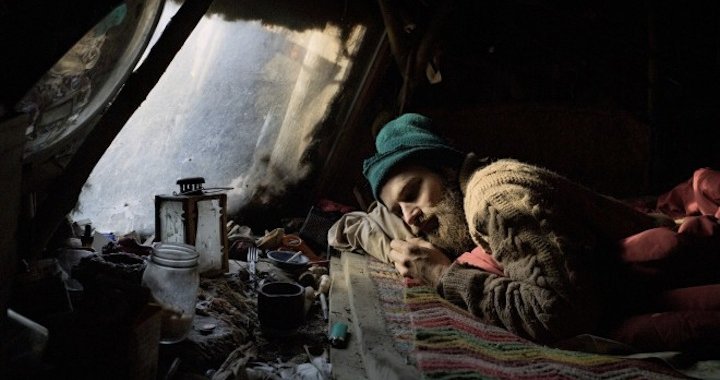 Once upon a time there was a photographer, a historian and a writer...
Interview with Aurélie de Lanlay, executive director of the Arles photography festival

30/08/2012
Until September 23, the city of Arles in the South of France is hosting the annual Rencontres d'Arles, a photography festival which has proven itself to be rich in imagination and energy ever since it was established in 1970 – when three friends decided to create something wonderful, and succeeded. Photographer Lucien Clergue, writer Michel Tournier and historian Jean-Maurice Rouquette confirmed the importance of individuals for each initiative, leaving all the mundane concerns of daily life in the background, to be solved sooner or later in the flow of relentless creativity. Nowadays, this seems hard to believe.
This summer, the Cēsis Art Festival in Latvia was visited by executive director of the Arles photography festival, Aurélie de Lanlay. This is the young Frenchwoman's first year in the executive director chair, but the enthusiasm she radiates when talking about Rencontres d'Arles suggests that Arles has already become one of the most important points in her life – just like it was for the trio in 1970. Not always does everything run smoothly (this year's event also had its share of harsh criticism), but the Arles festival, almost incredibly, manages to balance two scales – firstly, growth towards becoming a festival of global status and secondly, relentless joy and ingenuity charged with enthusiasm.

Aurélie de Lanlay. Photo: Katrīna Ģelze
Tell me how you got involved with the Arles festival. Do you live in Arles?
It's significant that you ask, because I only arrived in Arles three months ago. Before that, I worked in the exhibition organisation departments of several Paris museums, including the Centre Pompidou, the Museum of Decorative Arts, and others. I have also worked in Senegal, mostly on my own projects. When I submitted my application for the job at Rencontres d'Arles, the views I expressed turned out to be similar to the ideas of the festival's director, François Hébel, and he decided to take me on. This is not just my first festival, but also a very special edition, since we are celebrating the 30th anniversary of Arles L'Ecole Nationale Supérieure de la Photographie (National School of Photography in Arles), founded in 1982. Several of the school's graduates are taking part in the festival this year. It is so interesting to see how with the same education, they have taken very different directions. I think this shows the importance of a strong foundation of knowledge, in order to be able to pursue one's own individual style confidently later on.
As I understand, education is an important part of the festival, and not just this year.
We must step back a little in history. Rencontres d'Arles was founded in 1970 by a photographer, a historian and a writer. It was a pronouncedly informal festival with a freethinking spirit. Initially there was neither a budget nor exhibition spaces. However, in spite of everything, it continued being held each year. 10 years later the fathers of the Arles festival had the idea of establishing a photography school, to form a new community of photographers and give them the chance to get a proper grasp of all the basics. As a result, the President of the time, Francois Mitterrand, agreed to establish the National School of Photography in Arles. This was something completely unprecedented, since educational institutions of such a level are usually located in Paris. The school became the festival's younger sister, since it grew out of the initiative of the festival organisers.

Olivier Metzger. Untitled. From the series Smile Forever. 2012
Returning to the educational activities – creative workshops have been held since the early years of the festival, with the aim of developing a family of photographers. At the time, the concept of creative workshops came from the USA. It was still something unusual in Europe. Debates were also held to give photographers the opportunity to publicly express their position and let opposing views collide. This tradition is still maintained. We have programmes for both professional photographers and enthusiastic beginners. Since 2000, a department of education is being developed, which invites over 10,000 students from all over France to Arles. They come each September for 15 days. The education department works on a principle of experimentation. Instead of teaching students to become photographers (they learn that anyway), we give them the opportunity to learn how to "read" images and understand the colourful cascade that surrounds them every day.
Rencontres d'Arles was created without a budget, is held every year and is now world famous. It sounds like a fairytale. Do you think something like this would be possible nowadays? Is money a key factor of success? Or even today, are there more important factors in creating a success story?
In my opinion, for festivals like this, the primary issue is not money, but the director. This is the correct order in which to think. Charismatic individuals who care about the festival are key, especially if a festival is small and on the road to growth. In 2000, Rencontres d'Arles was on the verge of extinction. The French Prime Minister of the time, Raymond Barre, asked Hébel to return as director. Hébel had organized the festival in 1986, when he was about 25 years old. He arrived young, full of dreams and enthusiasm, and included colour photography for the first time in the festival's history. At the time, this was an extremely provocative move. This festival also saw Martin Parr's first solo show, while the next year it hosted the European debut of American photographer Nan Goldin. After that, Hébel left the post of director, having been invited to the Magnum agency. As I already mentioned, he returned in 2000, when the festival was barely breathing. Hébel put all of his energy into its recovery, and he is still doing so now. Success can also be measured in numbers. While in 2001 the festival had 9000 visitors, this has increased over the years to 84,000 in 2011. There were 12 exhibitions in 2001, and sixty in 2011. The budget has also seen a considerable increase in four or five years. François Hébel believes in working with private companies, not just public organizations. Another source of income is tickets. They are not cheap, but this increases the budget, and we become independent. Speaking of personalities, Hébel has a clear vision of the budget strategy, as well as of the festival's artistic side – he knows very well what he wants and how to achieve it. And he is constantly thinking about what we could do better – how to transform the festival in order for it to grow.

Brigitte Bauer. Untitled. 2011
Forced by circumstances, the Arles festival has organized exhibitions in churches, industrial buildings and all sorts of other urban spaces. How did it appear then in a wider context? Was holding a photography exhibition in the city streets something uniquely new?
A freethinking spirit was characteristic of the times. I would rather highlight the fact that the festival endured and was held every year, no matter what – that was something new. And it spread further and further into the city. When the festival was established, it was very small, but kept growing every year. Little by little, Arles became a city of photographers. As the festival developed, creative workshops were held, and 10 years later, the photography school was established, bringing young photographers to live in Arles. The entire city has become a huge space for discussion, especially in summer. The talks continue outside the festival venues, in cafes, for example. There will always be a photographer sitting somewhere nearby.
If the festival was created in Paris, I doubt such an intense environment of photography would have developed.
Yes, it definitely wouldn't be the same. No matter how much I love Paris, it is different there. You go to an exhibition and talk to the people you are with, but when you go out into the streets, you won't instantly meet a bunch of like-minded people with whom to continue the discussion. Arles' trump card is its size - similarly to Cēsis, which becomes a city of art for the duration of the festival. Rencontres d'Arles has long allowed photographers to invent and develop their own unique methods of presentations. For example, you could see an exhibition in a church, and then come outside and see posters glued along its walls, which is another show in its own right. This is extremely inspiring for both photographers and spectators.
Can any new or novel format of displaying photography be singled out at Arles this year?
We have to look for new solutions each year. This year, I could highlight the exhibit by Israeli photographer and director Amos Gitai. We offered him a very large and beautiful 15th century church as a venue. He hit upon the idea after entering the church and experiencing its aura. For the first time in the history of the festival, we decided to open an exhibition at night, when it is dark, instead of during the day. The show is open from 8PM to midnight. Of course, I'm not trying to present this as a unique new way of exhibiting art, but it was a first for us since we usually don't open shows after sunset.
So routine and a classic approach are not favoured by the festival?
It depends on the photographer, as some actually prefer a more classic format, and we are happy to provide it. We don't seek innovation as an end in itself, but rather as a way to address problems.

Grégoire Alexandre. Untitled 3, studio. 2010
Which would you like to accentuate as the central exhibitions of this year's festival, that visitors should definitely see?
There is an extremely beautiful exhibition by the famous Czech photographer Josef Koudelka (1938). It is also taking place in a church, where 80 photographs from his "Gypsies" series of the 1960s and 1970s are being shown. This is the first time that all 80 of the photographs are being displayed together. The emotionally powerful images really make you feel as if you were there.
In the city centre, there is a show by young French photographer Grégoire Alexandre (1972), a graduate of the Arles school. He has previously worked with fashion magazines and took part in the Arles festival already in 2008, when he was chosen for a show by Christian Lacroix, the well-known French fashion designer – who, by the way, was born in Arles. The design of this year's exhibition is quite special, since the photographs are framed, but not hung on the wall. Instead, the work has been placed along shelves and leans against the wall. No clues have been provided on whether the photographs are from the fashion world or the artist's private life. All are presented as equal. Alexandre emphasizes that he also approaches the world of fashion with his own personal vision.

Photo by visior of Les Rencontres d'Arles, Valerie Raynaud. From Facebook site of the festival
The array of exhibitions that have found a home in a 19th century warehouse building also stand out. The diversity of the shows is truly stimulating. In one room, you have the chance to see documentary photography, in the next – video projections, while in another – photographs charged with artistic flights of fancy. It is precisely this diversity that provides such a thorough creative rush.