Kristi Kongi: Playing in the "House of Color"

05/08/2011
Kristi Kongi (1985) is the new blood of Estonian painting. Since 2008 she has had five solo exhibits, though the young artist's works have been featured in fifteen group exhibits since 2005, when she began her studies at the Tartu Art College.
This has been a special year for Kongi. After three years of study at the Estonian Academy of Art, she has earned a master's degree in painting, and her creative efforts in the studio have won her the 2011 Young Artist Award, presented annually by the Young Art Union.
Alongside her studies and painting work, Kongi is also an instructor at the Tartu Art College and teaches art to children at an art school.
During a conversation with , the artist revealed what she has learned from children and talked about her recent infatuation with colorful things and paintings rich in colors—her games in the "house of color."
Can you really spot an artist in a small child?
Five- and six-year-old children are unbelievably creative. I have learned about this creativity from children. If you tell them something, even just a word, or if you ask them a question like "What is a house?" they immediately start to form a narrative. They have a ready-made story—one that was born in their minds, their little world. And they reveal this work completely honestly, sincerely, and truly.

From the exhibit "Transformer", 2010. Photo: Stanislav Stepashko
As an artist, I wish to be honest in my painting too. I want a true story to be in each of my works. A soul. I look for this soul in works by other artists as well. They don't necessarily have to have a specific narrative, just a story somewhere in their depths.
I saw your works at a meeting place for artists in Tallinn's Old City, the café Must Puudel. They are works to which your gaze always returns and lingers, I think because of the charge of energy in the colors. Tell me, what do colors mean to you?
I like to notice colors. When I'm outside the house, I always search for new color combinations, new fragments. Colors give me new energy. Yet that is enough for me. I perceive the wealth of colors with my eyes, but I certainly don't have to live in colors. Nor do I wear colorful clothes. The only brightly colored objects in my apartment are the paintings I created myself. Hmm...maybe because all the others arrive in my world of color, my other apartment…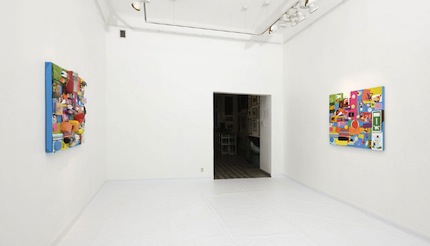 From the exhibit "Transformer", 2010. Photo: Stanislav Stepashko

Tell us, please, about this apartment and your color projects.
Everything began with my previous project, the exhibit Transformer at the Tallinn gallery in 2010. I used a table—this very mundane object, on which we usually just put things—as the basis of the installation. On it I put a wide variety of objects. The function wasn't essential, only the color.
I look down from three floors up, while someone else—whom I had asked to help me—changed around, moved, and added to the objects on the table, until I found the most colorful arrangement, which was so colorful that it could practically hurt your eyes. Then I removed the legs from the table, and the still life installation I created was placed on the wall. Based on this, I made a painting with a 1:1 ratio. My aim was to see whose color intensity would be greater—the object or the painting.
From the exhibit "Transformer", 2010. Photo: Stanislav Stepashko
Right now I'm working in an apartment that I rent. I repainted the walls in vivid colors, put up bright curtains, choose chairs, tables, and shelves and began to fill them with colorful things. I created a real madhouse in which to abandon myself to my passion and love—painting.
Now I'm busy with painting. I constantly find new fragments of colorful space, and continue to gather colorful objects. I always remind my guests to bring some too.
Kristi Kongi's studio
I adore shopping centers, on account of their wealth of colors! If I see a colorful object that I think I need, I definitely have to get it. I try to constantly find new thing to make me crazy and inspire me.
Are there any figures in art that particularly inspire you?
It's wonderful that the artists I considered (and still consider) to be authorities have become my instructors, and I've had the chance to see how they work. When I started to study at the art college, I marveled at the Estonian artists Kaido Ole and Marko Mäetamm.
But now I'm looking at things in an international context, too. I like Japanese artist Tomoko Takahashi, and the American artists Jeff Koons and Julian Schnabel. Yet in general I'm interested in how any artist works.
I spend lots of time in the studio. That's the best place and time to be. Painting gives me lots of energy, and also demands a lot of energy. When I'm at home, it's hard for me to jump out of what I do; I can still dream about it all night long. It's tiring, but also fantastic.