The Paradox of Speed and Stillness. An interview with Hans Ulrich Obrist
An interview with Hans Ulrich Obrist

10/05/2013
Produced with the support of ABLV Charitable Foundation
To be at least slightly acquainted with the international contemporary art scene, is to know the name of Hans Ulrich Obrist. The Swiss-born co-director of one of London's most well regarded public art institutions – The Serpentine Gallery – has taken an active role in planning the gallery's exhibition programme since 2006. But the title of "world-famous curator" has already belonged to him since the 1990s, when at the age of twenty-three, he arranged his first exhibition, "World Soup", in his kitchen. As Hans Ulrich Obrist never cooked, it made sense to exhibit the German artist, Hans-Peter Feldmann, in the fridge, while the work of British artist Richard Wentworth ended up in the sink. Although the exhibition also included works by Christian Boltanki and Fischli/Weiss, "World Soup" lasted three months and attracted only twenty-nine visitors.
Ever since that first exposition, Hans Ulrich Obrist has been known for discovering "the new rules of the game" – new ways of curating exhibitions and bringing art and the contemporary audience closer to one another. This search has lead him to many unconventional projects, including the creation of the Robert Walser Museum, a migratory vitrine that began in Switzerland, and Do it!, an instruction-based project in which Hans Ulrich Obrist tempted artists – such as Marina Abramovic, John Baldessari and Dara Birnbaum – to contribute a set of guidelines to be interpreted by other artists around the world. Thus far, Do it!, which celebrates its 20th anniversary this year, has been Hans Ulrich Obrist's most widely-travelled exhibition, with 300 artists officially having participated in it.
My thoughts are also with Do it! as I'm trying to find the location of the interview with the prominent curator. This time, however, the loose guidelines, which would allow space for various creative interpretations, have been replaced with precise directions on how to efficiently locate my destination – the offices of the Serpentine Gallery. I am guided down a narrow street in Central London, through an iron gate and up a black staircase, until I finally stand in front of a door with a sign saying: "No signage outside". The other side of the entrance feels just as curious. Every possible surface of the small white corridor and the meeting room is covered with countless volumes of books and magazines on art. It takes a while before I finally meet the star curator and, as soon as he rushes into the room, I am even more convinced that Hans Ulrich Obrist does possess an unquenchable energy and thirst for art. He also doesn't waste any time. He talks fast, linking the conversation with the works of numerous artists, curators and philosophers.

The Serpentine Gallery Pavilion 2013, which has been designed by multi award-winning Japanese architect Sou Fujimoto, will be unveiled in June. By collaborating with AECOM as the engineer and technical advisor, Sou Fujimoto intends to produce a very complex structure made up of more than 20 thousand individual elements. The Serpentine's annual Pavilion tradition began in 2000 and until now these Pavilions have been designed by such leading industry professionals as Ai Weiwei, Frank Gehry, Oscar Niemeyer, Zaha Hadid and Olafur Eliasson. In 2006 the Pavilion was designed by Rem Koolhaas and under its bright-white dome began Hans Ulrich Obrist's legendary 24-Hour interview marathon.
You have often said that you knew that you wanted to become a curator since you were seventeen years old. Why a curator? Why not an artist, or a dealer?
It's an interesting question. As a teenager, I got really obsessed with art. It started because Switzerland has a very intense landscape of museums. I grew up in the region of Lake Constance, or Bodensee [in German]. Nearby, you had the wonderful 19th century Museum of Winterthur. You also had Zürich, where the great Harald Szeemann curated exhibitions in the 1980s. Not to mention cities like Basel, Bern and Lucerne, which at the time had a very dynamic museum scene. Switzerland is a very federalistic country. It doesn't have one centre. Everything is taking place everywhere. Art is everywhere. It's a polyphony.
As a kid, I was going to all of these museums and I eventually developed an obsession with art. I discovered Alberto Giacometti, and that became my first fixation. Every day I went to Kunsthalle Zürich to study him. Later, I discovered Fischli/Weiss [Peter Fischli and David Weiss], and they were the first artists I spent more time with. It's urgent to talk about them, as now we have just installed their rocks in the park in front of the Serpentine Gallery. It's an equilibrium. I was so fascinated to be in their studio as a kid, and that's when I also decided that I want to do this for life. I wanted to work with great artists, to be close to them. Then I started to think – what would be the best way of achieving that? I never really thought of myself being an artist. There was, however, a possibility of curating and developing exhibitions out of this proximity with the artists. I was not really interested in the business side of art. It was not an option. I wanted to work with artists on the content of the art. It was a very obvious decision. It just happened.
Do you still feel the same, or are you now contemplating moving into the more commercial side of the art world?
I've never been in the commercial side of art. I work in a public institution. I curate biennales. I am always in the public sphere. My connection to the world of money is that today, we have to fundraise. That wasn't the case at the beginning, but now everyone has to fundraise to make one's exhibition. In the 1990s, my whole trajectory was publically subsidised platforms, but at a certain moment after 2000, it became obvious that fundraising plays an important role. It had played a very big role in the Serpentine Gallery and, as I became the co-director of the gallery with director Julia Peyton–Jones, suddenly it became a very important question for me – how do people fundraise? I learned how to do it, and it's now an important part of my practise.
How would you define what is a curator today?
The curator is an enabler. It is a catalyst. It's a trigger. It's somebody who makes things happen. Sometimes he is even a producer. There was a time, in the 19th century, when a curator was somebody who took care of objects. If it was an artwork, the curator had to hang it on the wall and take care of the collection. He was a caretaker in some way. Although a curator is still a caretaker, today we live in a situation in which the artists are not just creating objects. Today we have quasi-objects, non-objects, performances, films and time-based art. This has lead us to an expanded notion of art, which in turn, has brought an expanded notion of a curator.
Today, curating is generalised. It involves a lot of different aspects. For me, the most important thing is proximity to the artist. When in the 1980s I told my parents that I'm going to be a curator, they thought that I was going to study in the medical industry – because of the word curare – to cure. A curator was a perfectly obscure concept at the time. It wasn't a household word. Now, of course, everybody knows what a curator is. It's a completely current notion. Today, we have more and more information; we live in an age of exponential growth of information, so that the way in which we navigate this information becomes more and more relevant with each passing day. That's why even websites, blogs and shopping lists are being curated.
Joseph Beuys once said that in this experimental notion of art, everybody is an artist; but now, 40 years later, we can maybe say that everybody is a curator. In this sense, curating becomes interesting to more people. I have written a lot of books on curating, which 20 years ago would have been specialised literature for a few thousand people in the art world, but now they are distributed all over the world – to designers, architects and even scientists.

Artist Peter Fischli next to the sculpture Rock on Top of Another Rock, which he created together with the long-term companion David Weiss. The public sculpture was unveiled in March across the Serpentine Gallery, in Kensington Gardens, and it will be available for viewing for an entire year.
You have been known to test the boundaries of curating. What is your responsibility as a curator? Do you have any responsibilities?
The responsibility of a curator is to built bridges between the artists, the curator, and the public. The idea is not to build just one bridge, but to create many extensions. You cannot put just one highway where the viewers might come through; you have to build many, many links with society. There should be a civic responsibility towards what Gilbert and George called "art for all". You want to give the best to a maximum number of people, but at the same time, to not loose the quality by making things populist. You want to do something which is accessible to everyone, but to give everyone the best, the most refined, the most sophisticated.
I think the role of a curator is to be with art and an artist, and to look and look and look again. I think the responsibility to look is an important one. There has to be a deep dialogue with an artist; otherwise, you cannot curate. I have often thought about how can art enter civic society, and what is the social contract of art. It is the utopian station in many of my shows. It's an unlimited responsibility.
Do you have a formula by now on how to spread art to a maximum amount of people, while still maintaining its quality?
I think that if there would be a formula, it would be very boring and I would probably stop. I always thought that there has to be this big excitement, as if you are doing something for the first time. One should never lose that big excitement when curating a show. Each show has to be like the first show, so that it does not become a routine. You always have to go to new territories and do something that you have not tested and experienced before.
Early on in my projects I met all of these great artists, like Gerhard Richter, and they became my mentors. One of them was Christian Boltanski, who taught me that the only way to do exhibitions is to invent new rules of the game. I think there cannot be a formula because, if I had a formula, it would become a routine; it would become a mass production. My exhibitions are developed for a specific context. It takes a local consideration, not just a global one. It's a dialogue between the local and the global. That's why I don't have a formula.
In 2008 you did a book about formulas, in which you invited many practitioners to give you their formulas. I assumed that you also had one.
I was really curious to find out if some people have a formula. I would say that my formula is this attempt to change the rules of the game; it's an attempt to always come up with new exhibition models that would connect the past, the present and the future.
I guess another part of the formula, if there is such a thing as a formula, would be the principle of mondialité. Obviously, globalisation is the driving force of our time and, whether we want it or not, you, I and everybody else who lives on this planet in 2013, is exposed to ever-increasing forces of globalisation. This is not the first time that globalisation has struck. Globalisation has existed before, during the Roman age. But today, however, we are certainly experiencing the most extreme form of globalisation, and to which the art world is also being exposed.
Obviously, one of the key questions for a curator in the 21st century is – how do we cope with negotiating the interface with the ever-increasing forces of globalisation? In this regard, Édouard Glissant has been the key for me. He was a philosopher and a poet, a culture historian and a visionary from Martinique, who defined the notion of mondialité – which is the French word for a global dialogue that increases diversity. Obviously, the downside of globalisation is that very often, the differences disappear and things start to look the same everywhere. I always aim for this mondialité, to increase the differences, but to not refuse the global dialogue; because today, it gives us opportunities that the previous generations didn't have. We are able to have a dialogue across national boundaries, across continents. Art is no longer a thing; it's a global dialogue, and I think it's our duty to take into account this polyphony. It is very fascinating how, all over the world, we now have a polyphony of a centre. I think it's our duty to increase that polyphony, and that's why Edouard Glissant is so useful. I read Edouard Glissant every morning – it's a way to start the day and to never forget what it's all about.
Do you actually have time to read?
Yes, I do. I read during early morning hours, on trains and I read on airplanes. It's important to find time to read. There is never a day in which I don't buy a book.
You are known for your fast pace-of-life, but do you think it's even possible to be everywhere and still stay concentrated?
I suppose it's always a negotiation between distraction and concentration. Astrologically, I am a Gemini. Obviously, Geminis have this infinite, insatiable curiosity, which can also be a distracting aspect if one is interested in everything. Yet, at the same time, it's important for me to stay focused.
I have an Interview Project, parallel to my curatorial work, and this project has kept my reading habits quite tuned-in. It's made me become an eternal student. I always want to learn. I don't want to be in a position where I suddenly know everything. It would be the beginning of the end. I stand by the idea of being a student for all my life, and by learning every day. An interview is a great format for that because whenever I would interview someone, I would dive into their books. That also leads to moments of total concentration, when one is completely "de-linked" from everything else.
I read thousands of e-mails every day. So, I suppose we need both – we need moments of linking, and moments of "de-linking". It's become a negotiation to liberate time. I don't think I would be able to write a book if I was disconnected. I couldn't go and write in the mountains. It wouldn't work. I need parallel stimulation from the outside world. I have an infinite curiosity. I want to see everything. I want to know everything. But at the same time, we are over-stimulated by the amount of information, and we need ways of "de-linking".
I don't answer the telephone anymore, and that's a great relief. I used to be very interrupted by it. I answer e-mails, but I don't answer the telephone – unless it's a scheduled important call. We have to choose which of these methods of communication to use. Several hours a day I have silence, in which I don't communicate at all. I just write and think. It's about how we liberate time.
Does the Interview Project, which now consists of more than 2000 hours of recorded conversations, liberate you from your curatorial work?
It's my garden. I started to work in a public realm very early, and I was in my early twenties when my curatorial work became well-known. Although it started in my kitchen – my first project – I soon went on to work on these big platforms, when I started to work with Kasper König. When you are so young, you see it as a big explosion. It is a little dangerous, and one can burn-out. That's when I thought – how am I going to handle it? I arrived at this problem quite early on. So then, one of the leading German artists and a great teacher, Thomas Bayrle, took me aside and said: "You can only survive this – and continue do this for 30, 40 or 50 years – if you have many secret gardens; many gardens in which you can find inspiration and nurture your thoughts." That's what gave me this idea.
I always had this encyclopaedic drive. I have done interviews with scientists and architects, but in the beginning, they didn't appear in my curatorial world. I just did it for pleasure. I would go and see these people all over the world and, little by little, they entered my work. I have always had these gardens which I cultivate, and where I get a lot of inspiration. There are always things that I just do. It has been really good advice from Thomas Bayrle. I am very grateful to him.
What do you think makes a great interview?
What makes a great interview? I suppose you have to listen. My questions are usually very short. They are more like catalysts.
You also have to cover things that the person hasn't talked about before. We have a tendency to repeat ourselves in interviews, to tell the same stories. I think this is true for everyone. The question is – how one can get over that? I am being interviewed every week by magazines or newspapers. Very often, I learn a lot about my own practice from these interviews. It's extremely helpful. Not only does it help you articulate your ideas, but it also makes you think about things you have never thought about. I suppose that's the aim of a good interview.
I think one of the key things is to know someone for a long, long time. Usually, in the first encounter, you are just getting to know each other, but over the years, things can develop. Particularly with artists. Very early on, architects learn to speak about their work. Architects always have to take part in competitions; they have to present their work to the public, and they have to defend it in front of the city. And curators have to communicate as well. A curator is permanently speaking in public. There is not a single day in which I am not giving a public talk. I have to communicate, but for an artist, this is not necessarily something that they do. It's not their main activity. It's not that artists are shy – that would be a cliché. Francis Bacon was uncomfortable in talking about his work. He refused interviews, but over the years, when being interviewed by David Sylvester, he lowered his guard. David Sylvester was the only one who managed to talk to Bacon in that kind of way. I think that over the years, conversations tend to develop.
I've known Gerhard Richter for 25 years, and we had done many interviews. After all this time, we finally did a really long interview, and it happened to be about all of his books. Suddenly, we could talk about everything – how he met Polke, how he started his photographic paintings – all these things that you couldn't ask an artist who has already explained it a thousand times. Through that one angle, you could access everything. It was the ultimate interview for me, but it took 25 years to get it. Today we live in an accelerated life, but at the same time, it is unbelievably slow. Curatorial activity is a paradox of speed and stillness. The relationships and the dialogues with the artists evolve over so many years.
There are many curators who keep their distance from the artists. How close should the relationship between a curator and an artist be?
I can only speak about myself – it's extremely close. It's very symbiotic, and out of this proximity we develop the project. I would be reluctant to make that into a rule. You've got art historians who say that someone who writes about art doesn't necessarily have to meet the artist. I guess that's true with historical curators. You have wonderful curators who work with deceased artists. I work with living artists, but there are great curators who work with the past.
For me, the artists are the most important people in the world. At the same time, it's interesting to curate the past, particularly in the age of the internet, where we have more and more information, but we don't necessarily have more memory. This production of memory is also interesting. Some curators are able to get a completely new grip on the past. There are many ways in which to work.
You have frequently found gaps in the market and filled them for the sake of your own curiosity. One such project was the book "A Brief History of Curating." But was there actually anything new that you realised about the process of curating, through this project?
Oh, yes. Pontus Hultén, who had done a poetry exhibition in Stockholm, gave me the idea to do a poetry marathon: to work with poets and artists in order to investigate what's the connection between literature and art today. That was a rather straightforward inspiration.
Walter Hopp told me that one of the most gratifying things for a curator is when you are in a position to know the artist so well that you could do the greatest museum show of his or her work. I thought it was an interesting idea. I was always doing group shows; I had never really done solo shows, so around 2000, I started working on that. Ever since then, I've done dozens of solo shows featuring many artists of my generation.
I would say that I have learned a lot from these predecessors. It's a continuum. It's an on-going story. Sometimes people think that curating is a very recent profession. It's been around for a long, long time. It's just that history hasn't looked at it very much. I think it's very inspiring. I don't think that my practice has been directly related to Szeemann or Hopp, but all of these people inspire me in some way.
When you are very young and you have a huge desire – an appetite, or even an obsession – but you don't really know where to start, I think the most important thing is to have a mentor. That's even more important than going to a university. Everyone should find a mentor with whom he or she can learn on the job. I have had two amazing mentors - Suzanne Page in Paris, and Kasper König in Germany. They are the two people from whom I have learned the most.
What were those lessons?
I did a lot of shows with both of them in my early twenties. I had just done my kitchen show when Kasper Koning invited me to work on a big exhibition and to do a book with him. I had no experience, just a passion for art. So, thanks to him, I learned these things. We did a painting show, "The Broken Mirror", and a book, "The Public View". I really learned the craft from him.
Suzanne Page invited me to work at the Musée d'Art Moderne de la Ville de Paris. From her, I learned how one curates and directs a museum, how one builds a collection. She also taught me how to make an exhibition programme, which has specific rules. It has to do with how you sequence exhibitions – a young artist should follow an older artist, or a Western artist should follow a non-Western artist. All of these things you have to put in order, and only then it starts to make sense. I could never have learned that at school. I needed to learn it on the job. For the 21st century, it's very important to have mentors.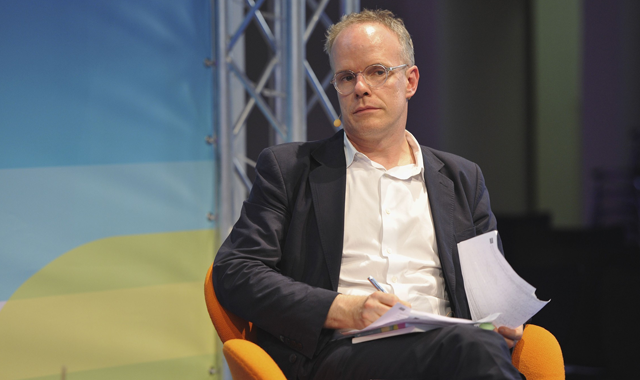 Hans Ulrich Obrist cultivating his interview "garden". Photo: Sascha Baumann
Do you think that this is also the key to your success – having had so many mentors?
I don't know. I've always done what I've had to do. It's an urgent mission, or a desire. That's also why there really isn't a recipe, besides the fact that one follows one's passion. I would definitely agree that without these mentors, I couldn't have done what I did. Then again, I couldn't have done anything without the artists, either.
I think we have an art world because there are artists. I believe in a very artist-centred world of art. In the middle there are artists, and around them there are curators, gallerists, critics, writers, magazines, art schools, collectors and, and, and… I learned a lot from the artists. But I also gained something by going outside of the art world. David Hockney has often said that you need to take a detour to get somewhere – by which he means that if he wants to reinvent painting, he makes a film, for example. Then he can paint again. I needed to go into science and architecture to reinvent curating. Detours are the key.
(Someone from the office of the Serpentine Gallery walks in and informs Hans Ulrich Obrist that there is an important phone call waiting.)
I've got to run. It was a pleasure to talk to you.
(He rushes out of the meeting room.)