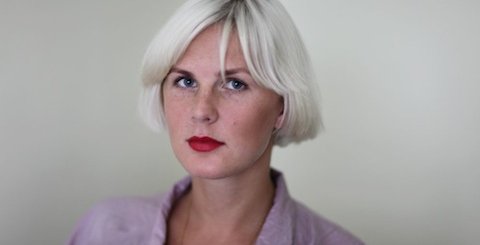 Curator Maria Arusoo

22/08/2011
Maria Arusoo is an art critic, curator and artist (Marusoo) from Tallinn. Currently based in London where she graduated from Goldsmiths College of Art. In Tallinn Art Space Kunstihoone she is curating a large scale group exhibition "Continuum_ The Perception Zone" with such world famous artists as Olafur Eliasson, Martin Creed, Bernhard Leitner, Spencer Finch and many more. The opening of the exhibition will be this Thursday, August 25. Exhibition is open through October 2.
When and how did you come to the idea of this group exhibition?
The first impulse was in 2010, in Berlin, when I visited the Olafur Eliasson exhibition at the Martin-Gropius-Bau gallery; it left me with a haunting feeling of its physicality.
In May (which, in my memories, somehow feels like February...), I was sitting at Goldsmiths Library, reading texts about the production of subjectivity, suspensions of perception, capitalism and schizophrenia, and trying to focus on my two final essays and MA dissertation, but, as always, if I need to concentrate on an upcoming deadline, I get all these other project ideas running in on what I want to focus on, all at the exact same moment. So, instead of writing my essays, I decided to take a trip to a curatorial concept field, sort of my way of day-dreaming. I never actually believed that Tallinn Art Hall board would select my project for their program. I did it more for my own pleasure of creating a concept. And, as I needed a big space for this certain idea and I knew the Tallinn Art Hall rooms well, it was good to imagine it there. But, here I am, more then a year later and this utopia seems to be coming into being.
Tell us more about the curatorial concept of the exhibition.
"Continuum_the perception zone" is an active production of space, an exploration which deals with the perception and development of spatiality; how the visitor interacts with architectural surroundings and how art becomes a mediator.
It is the continuum where space is constituted differently – the spatial perception which allows the viewer to be in the position whereby he can experience his surroundings and, as a consequence, the controlling of them is shifted, the familiar frame of references is distorted.
I am interested to create an enviroment where one can sense the exhibition in a physical way, become aware of one's presence and space around him or herself. Where the binary object-subject relationship between the visitor and the artwork is distorted, and any preconceived notions of three-dimensional space need to be rethought.
Please give us an insight into the artworks that will be exhibited in Kunstihoone.
All of the artworks in "Continuum_the perception zone", rather than merely occupying exhibition space, inhabit the architecture of the art hall, absorbing its infrastructure and engaging its spatial logic; at the same time, they delete their architectural references, so as to reach the inner space of the visitor.

Martin Creed. Work No. 227, the lights going on and off
Each artist engages the space in which their work is located and sets up the transition to the next space. Somehow, this exhibition moves along the color spectrum, starting off with the transparent visions of the Estonian meta-artist, Kiwa, who will exhibit his sound piece, which was made for the contemporary art museum Kiasma, in Helsinki, during the Äänen Lumo Festival for New Sounds 2010. "Infinite Numbers of Artworks" hints at a Marxian reading of the whole system - if all works were the same (just another number), some sort of fetishization or mythification must take place to individualize, differentiate or over-value this or that "art work number 000001". It relates strongly to Martin Creed's working method. Concerning Creed, I am happy to be exhibiting his legendary Turner Prize-winning "Work No. 227, the lights going on and off", set in the main hall of Kunstihoone, which provides it with an "openness". It is a simple and beautiful light installation that works with the idea between art and reality, and what constitutes art.
The young Estonian artist, Toomas Thetloff, continues with this less-is-more conceptualism by placing his readymade, called "Displaced Air Particles", in the middle of the the rear end of the main hall, where there is a little tablinium with an illuminated glass ceiling. Thetloff's work creates a content-related exchange; his installation is a system of constant transformation, concentrating on a narrow airflow which creates a transparent space inside of the existing space.

Ceal Floyer. Videoinstallation "Peel"
The video projection, "Peel", by Ceal Floyer, relates to the space in which it exists at the same time as it physically uses the space. The deceptive simplicity of Ceal Floyer's video work creates a subtle shift in the white, empty gallery wall, which appears to peels away from the color gray to an identical shade of gray.

Olafur Eliasson. Your Uncertain Shadow
From Floyer's monochrome video construction which simulates a diminishing wall, one moves on to colours when reaching Olafur Eliasson's playful installation, "Your Uncertain shadow". It is a room full of flickering colors, and the movements of visitors create shadows on the wall.

Bernhard Leitner. Serpentinata
Bernhard Leitner, who works in a realm between architecture, sculpture, and music by conceiving sounds as constructive material and architectural elements which allow a space to emerge, will exhibit the sound installation, "Klangspiegelgang", which deals with "corporeal" hearing.
Spencer Finch's room is the darkest one in the exhibition. "Shadows (after Adget)" emits the polychrome grey light of shadows photographed by Atget almost 100 years ago and revisited again in 2007. There is tension between the objective investigations, the subjectivity of perception and lived experience, endowing Finch's work with a melancholy that comes from what he describes as "the impossible desire to see oneself seeing".
From the Bristol-based artist duo, John Wood & Paul Harrison, there will be a work from the Tate collection – "Twenty-Six Drawing and Falling Things". It consists of 26 video etudes of recorded experiments in which the human body is used as a tool to explore spatial boundaries.
And in the final and last room of the exhibition, there will be a work by Daniel Kemeny & Marusoo. "Ultimate Encounter Zone" consists of a mixdown of the sound material that has been recorded all over the art hall and an immense quantity of white light, in which the architecture of the space will loose its power and suggest the absence of borders.
All of the artists participating in "Continuum_the perception zone" have a particular sense of humor towards both their work and reality, which taken together creates a playful and inspirational environment in Tallinn's Arthall and in Kultuurikatel.
An important part of "Continuum_the perception zone" is the private showing on the 25th of August, where there will be a five-hour-long sound performance session by visual and sound artists from Estonia, Chile, Italy, Egypt, England and Austria. I am really interested in transforming a classical white cube into something else, and I am happy to work with artists who will create special sets of sounds for this event. There will be performances by Kiwanoid, Benjamin Altermatt, Nathia Scalota & Leila Fatma Hassan, Raul Saaremets & Chris Long, and Franz Pomassl will present new material from his record, "Surplus Ships" .
What should visitors prepare themselves for?
One of the bases for the artworks selected was the goal to bridge the gap between the viewer and contemporary art. "Continuum_the perception zone" doesn't expect the visitor to have pre-knowlege or to be prepared before entering the gallery space.
It is spatial exploration, which unfolds through a subjective encounter with the artwork.
Tell us about the preparation process, as it is an international group exhibition. Was it hard to fulfill the initial idea of bringing world-known international artist to Kunstihoone? Did you have to change something during the process?
Well, I have to say that I guess I have been enourmously lucky and everything went even better than I could have ever wished. Of course, as the overall process has lasted more than a year, there have been some changes, but the basic structure with which it all began has remained the same.
In the first months, I was working a lot with the concept and did research. I had a certain central idea consisting of a few artworks and an image of the environment I would like to achieve, and around that I started to build the overall exhibition.
I love this playful process – how each added artwork shifts the dynamic of the concept.
I started off working alone, without any assistance, and a few of my poor friends were the only ones to whom I told my megalomanic ideas, which at first seemed a bit too utopian, especially in an Estonian context. But as I said, luckily, I got to contact the people who were interested in my concept and wanted to collaborate. Thanks to their positive response, the initial exhibition grew and grew and ended up at the point where I was able to show a body of works by well-known international artists, together with those of the younger generation.
In a rather late state of exhibition preparations, I decided to start collaborating with the young Estonian gallery, Temnikova & Kasela, and they have been amazingly helpful. It is one thing to share organisational issues, but another thing entirely to create an all-important dialogue, which opens up the perspective even more. Actually, it is about sharing – sharing the experience, sharing the knowledge.
The last two months have been just crazy – I'm totally over-worked, but I love the intensity – it is exciting and I hope that this dynamicity will continue.
What was your thesis about?
My thesis in Contemporary Art Theory at Goldsmiths College was about the problematics of contemporary image making, focusing on the scenography of power and questions of spectatorship, using Renzo Martens' film, "Enjoy Poverty- Episode 3", as an example. The overall questions looked at in my dissertation were about the formation of the subjective, the dramatisation of inter-subjectivity, and the inter-subjective dynamics of spectatorship. It found its footing in Ranciere's theory of the emancipated spectator and concluded with the idea of the implicated spectator.
My tutor, Kodwo Eshun, was a canal to internal knowledge, I must say, and this helped me to combine all of my desires, which were (and still are) film and contemporary art and the question of the reception fields on both sides.
Two of your "identities": the Curator Maria Arusoo and the artist Marusoo – do they both get along well? Are they friends or do they fight each other? :)
I am always in a really complicated situation when I have to add some title before my name or have to introduce myself in certain terms. I consider myself, first of all, as an artist... or, if it wouldn't sound so pretentious, I would say visual thinker. All of my projects start off from some visual concept and, in time, it becomes clear as to whether I should form it into an exhibition, a performance, a text or a curatorial project.
The curator, Maria Arusoo, and the artist, Marusoo, have a similar platform, but rather different approaches to it. Mostly, they get along really well, although this is the first time for them appearing in the same project... and actually, they have a third party as well – the performance duo, "mariaUNDmaria" (together with Maria Juur), so there is something about linguistic identy games that they all like to flirt with.
If it's not a secret - tell us more about your own artwork that will be exhibited in the exhibition.
I consider this work as a visual commentary of the exhibition as a whole, or a sort of immaterial concept/concept without words. It is a collaboration with the Berlin-based Swiss artist, Daniel Kemeny. We both have been interested in experimenting with content-related exchanges and the dynamicity of artworks. We had thought about collaborating for a few years already, and now it has reached its logical conclusion. With the installation, "The Ultimate Encounter Zone", we aim to investigate the processes by which knowledge and understanding are acquired through experience. The moment when the spatio-temporal encounter with the physical world becomes distorted, collapsed, and extended between the viewer and the artwork. This work embraces the space through sound and light, as aesthetic and affective realities in themselves. Subverting the visual with the auratic, the installation reverberates an echo to expose scale as one of architecture's most operative devices.
Do you like darkness?
I love light. And darkness is the deepest light.
Ouch, that sounded a bit new-agey.
But actually, I am interested in the ultimate spectrum of light and how something so immaterial can materialize.
What are your plans for the future? Will you stick to your interest in light and sound installations? Or maybe you have some other horizons in mind that have yet to be conquered?
I do have too many ideas which I want to force into a short timeline.
My interests are not so object-based, so I guess that for a while, I will continue with the medium of sound/light/video and the text medium... it is more about the concept itself that I am interested in, whatever medium it comes out of. I think, for a little while, I still want to explore the relationship between space, artwork and the reception field, and its possibility of transforming knowledge.
From a practical side, I need to figure out, ASAP, where I'm going be based geographically, but it all depends on upcoming projects, of course.
In terms of already fixed plans, sometime soon we want to do another gallery exhibition and a few performances with "mariaUNDmaria". We're thinking of collaborating with the New York duo, Dexter, and also with the Estonian meta-artist, Kiwa.
My next curatorial project will be the Cyprien Gaillard solo show in Tallinn, in spring 2012, and an exhibition about Copying, somewhere and at sometime in Vienna.
There are so many horizons in my perspective, all of which I am looking forward to conquering, but for a while, I'll continue to focus on the exhibition, "Continuum_the perception zone".