Photos: "Distances and Destination" by Algis Kasparavičius
Audrius Karečka
27/07/2015
Photos: Audrius Karečka
- Algis Kasparavičius "Distances and Destination" -
The contemporary art gallery "Si:said", Klaipeda
July, 2015
Algis Kasparavičius (born in 1975) is one of the most intriguing active Lithuanian artists. Since graduating from the Vilnius Academy of Arts in 2005 where he had studied sculpture, he has been holding personal shows and participating in group exhibitions in Lithuania and abroad. He began his career with the theme of things versus non-things setting out to explore their boundaries, but eventually the turned to the inner world and existence of the man. A person as a social being seeking opportunities of communication and co-existence; criticism of the global supply dictated by individual choices from the perspective of existence; search for meaning or challenging the raising of the question of existence per se – all of these issues stand out from the range of Kasparavičius' works created during the past five years. Often his works reflect and analyse the destructive manifestations of the contemporary society as acquired working principles, aims and measures camouflaging the human authenticity and different choices. The viewer is invited to set out on a journey through artistic objects that are perceived as reflections of the real life due to their symbolic identifiability. Close interrelations between the objects invite to get engaged and to create or discover personal stories. Slight irony found in most of Kasparavičius' works does not allow to get stuck in negative development and offers to join forces in the search for ways out and in seeing phenomena of the world with sympathy. Deep poetic feeling based on philosophy and religious studies as well as faultless precision of the works produce immersive atmosphere for knowing and contemplating the pieces of art. Kasparavičius keeps experimenting and looking for new consonances of materials choosing rusted metal, concrete, rock, glass, recycled paper, and wood for his works.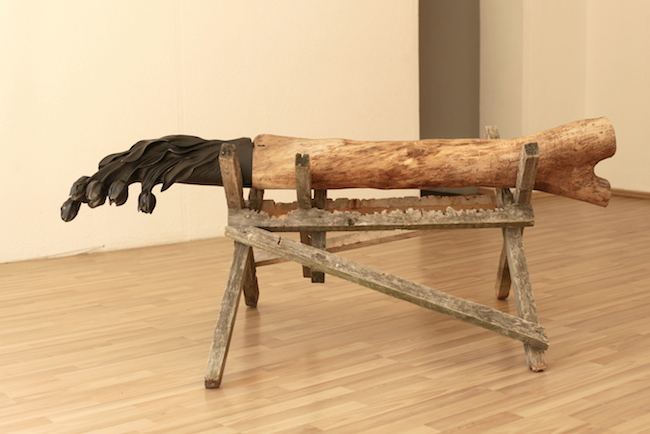 According to the author, the installation "Distances and Destination" was inspired by the space of the "Si:said" gallery. The artist weaves the room into his installation as an obligatory and important element, an integral part of the story, and essential context where objects of art are determined by their interrelations and well as their relations to the location, and provoke reflections on personal experiences. Kasparavičius renegotiates the relationship between the process and the final result. Distances between being and seeming, between creating and imitating. What is the nature of these distances? What are the obstacles when attempting to cover them? What are they, and do they exist at all? Perhaps many things are simply invented and created in order for us to avoid collision with our own authenticity? Why do we do this? Fear and flight from our authenticity create repetitive roles and make us perform rituals, invented and negotiated necessities which cost us our time that we only have in limited quantities.
Although the exhibition features a lot of black colour and may raise thoughts that it speaks of the most difficult and uncomfortable issues, such as the finite nature of human life, decay, and death, in reality the authors prevents us from lingering in negative interpretations and rather offers confrontation with personal choices. Are we one of those life imitators with polished black shoes living under regulations enforced upon us, rejecting our own authenticity and identity, being the authors of the result we see? Are the only things of worth in life are constant polishing and semblance trying to fit in with the standards acceptable to the society? Distances that we try to cover and that we admire as necessary and universally accepted without realising and reconsidering what we aim for, or seeing from a safe distance that there is no way we can make it past the 2-meter high or 2-meter long wooden barrier.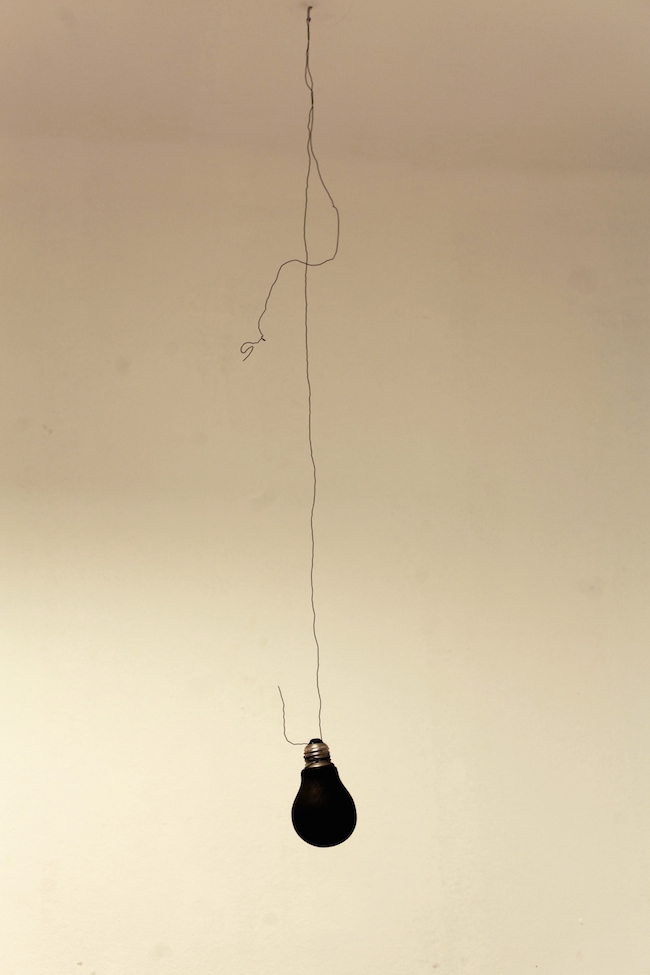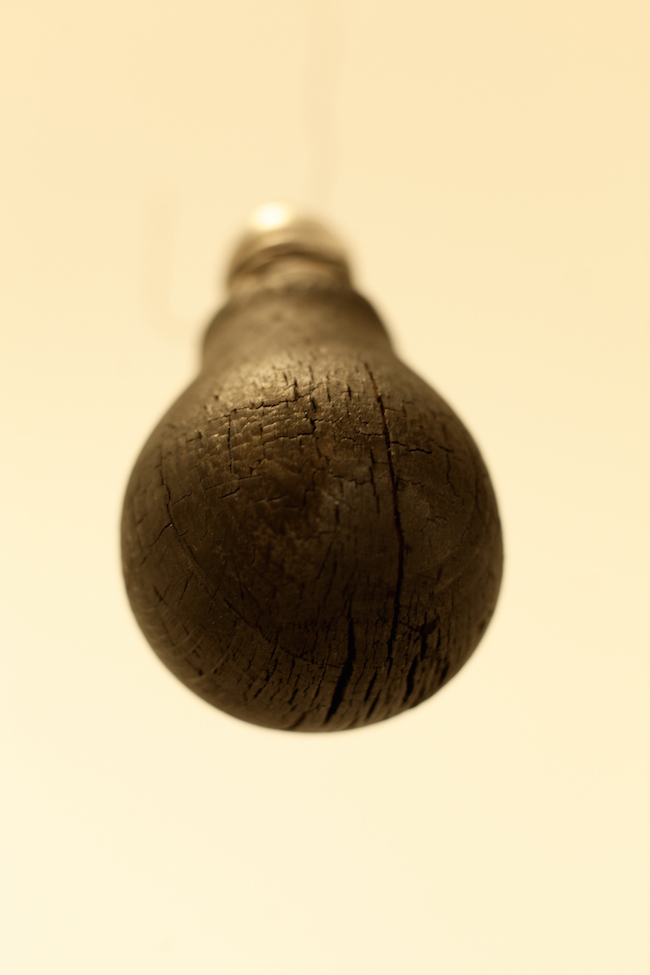 What remains of us between the footprints we want to leave, the multiplication of our own images, the words unsaid or unwritten? Who could be interested in that? Barely visible letters, fragments of colour prints witnessing someone's glory and truth cannot defeat time that turns everything into a grey mass. We have no resistance against it. The stories of families, relatives and friends subside and fade in time. And all that remains is our own focused attempt to perpetuate and give sense to ourselves, but these attempts will merely find their place in the same grey mass of other people's memory. Two empty paintings speak to us of our fate and legacy in time and invite us to renew ourselves and fill these forms with our own content.
A burnt-out light bulb can light up again. A luxurious chandelier is an attribute of wealth, a decoration assembled from fragments and sharp shards reflecting other lights, but without its own source of light. A bouquet of black roses as a phase given meaning by the act of cutting that we would like to finish, as a result, but not the one we had expected. The exhibition bursting with existential content invites to search for individual interpretations and sacrifice due attention and time by sitting own on a woodblock and to reconsider personal distances and destinations.
Galerija "si:said"
Galinio Pylimo g. 28, Klaipėda
www.facebook.com/Sisaid-gallery