Between light and darkness

16/04/2015
Martin Parr, Souvenir
Fotografiska, Stockholm
Until June 7, 2015
Andres Serrano, Redemption
Fotografiska, Stockholm
Until May 17, 2015
As usually they have the lights dimmed to a minimum. And there are too many pictures. Every part of the walls is covered with them, as if the mere number would help to get the message across. Fotografiska, a privately funded institution for photography soon celebrating its fifth anniversary, holds on firmly to its exhibition signature. But they don´t seem to be aware that this recipe doesn´t fit all.
Especially with two so different photographers, as the British Martin Parr and the American Andres Serrano – you simply can´t put them in the same box and hope for the best. Serrano needs the dark as much as Parr feeds on the light. To show their photographs with the same concept is counterproductive, and this time it´s to Parr´s disadvantage. The prevailing obscurity turns every picture into a relic or a precious icon worthy of our devotion. That suits Serrano just fine, since he´s deeply engulfed in producing images of death, while Parr is all the more into depicting everyday life. But with a twist, that is.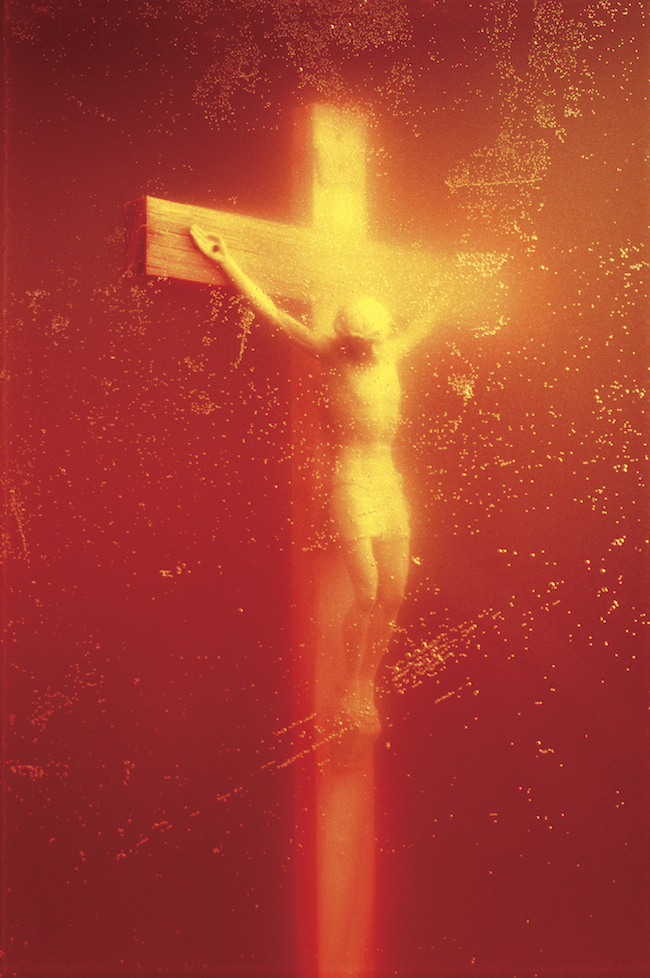 Piss Christ, 1987. © Courtesy Andres Serrano & Galerie Nathalie Obadia, Paris/Brussels
Andres Serrano is famous – and infamous – for having submerged a crucifix in piss. That was already back in 1987, but the image has stuck with him ever since. No wonder, since Piss Christ really has become a modern icon. It somehow encapsulates the tension between the secular and the sacred, a violent feature of society that only has increased since. But it´s only through the title that the fluid surrounding the holy figure can be identified, you could never have guessed it just from looking at it.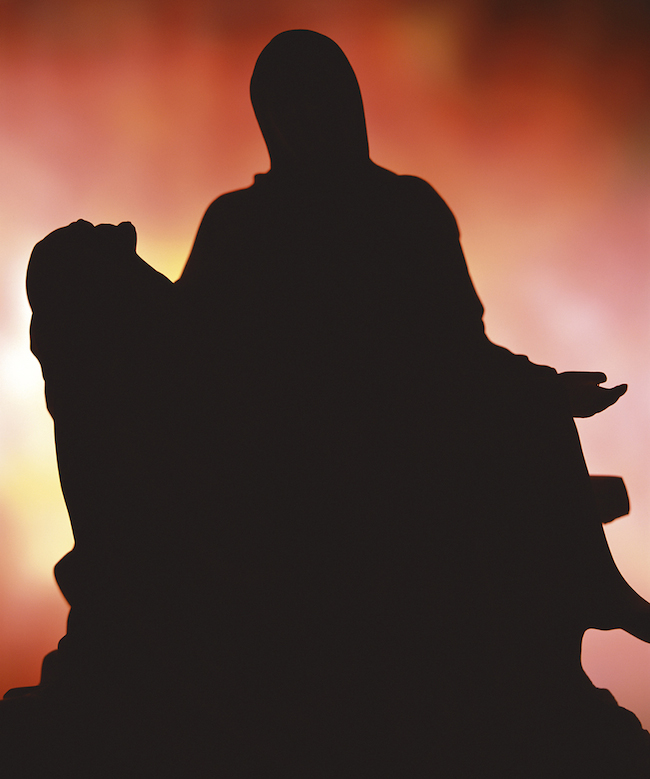 Pieta - Holy Works, 2014. © Courtesy Andres Serrano & Galerie Nathalie Obadia, Paris/Brussels
The light in Serrano´s photograph is heavenly, as in most of the pictures he´s made. He draws on inspiration from his catholic upbringing and from the Baroque tradition of portraiture and still life, where the contrast between light and darkness had religious connotations. Whether Serrano is depicting other bodily fluids, such as blood and semen, homeless people, members of the Ku Klux Klan or simply dead bodies at the morgue, he always makes them seem consecrated into a higher order. Beyond the impulses from old religious imagery, Serrano's elevated picture style is a somewhat stiffened remnant from the postmodern era that he took part in formulating.
Martin Parr is the opposite case altogether. He delves deep into the consumerist lifestyle of the British working and middle classes, with images that are totally upfront and often humorous. Nothing holy comes in sight. Parr´s photographs are all about people´s daily lives, and his camera draws – extremely – near to them eating, dancing, swimming or just relaxing in the sun. We are outdoors in the sunlight, with people and objects hued in bright blue, yellow and pink. Maybe they are too bright? People are captured as members of a collective force in Parr´s photos, doing silly things in groups that are too big. Yet every individual seems somehow to stand alone, isolated from the crowd. To make this modern condition visible in such a straightforward way is truly remarkable.

From The Last Resort, New Brighton, England, 1983-85. © Martin Parr / Magnum Photos
You´re not supposed to want to be a part in Parr´s pictures, although you immediately recognise the setting. You identify with the photographs with a sort of distanced immersion. Parr´s photographs make you laugh inwards, but there´s an uncertainty as to what or who you´re smiling at. Is his a cynic or simply a realist?
Maybe it is up to Parr´s skilful technique? He seems to know exactly when to press the shutter release, as you can see in the photo of the small fly that uninvited sits on a woman´s big white hat. Or as in the picture of the man about to dissolve in the modern abstract painting, with his shirt printed in a related pattern. His photos are full of similar decisive moments.

Knokke, Belgium, 2001. © Martin Parr / Magnum Photos
If Parr seems to be up for a laugh, Serrano is dead serious. While Parr scans off our public life, Serrano looks into our private realms. Parr depicts our collective identity; Serrano takes pictures of the existence in its particularities. To be able to view their artistic practices at the same time, as at Fotografiska, makes room for interesting comparisons that sheds light on both.

Virginian Dragoon .44 Magnum. © Courtesy Andres Serrano & Galerie Nathalie Obadia, Paris/Brussels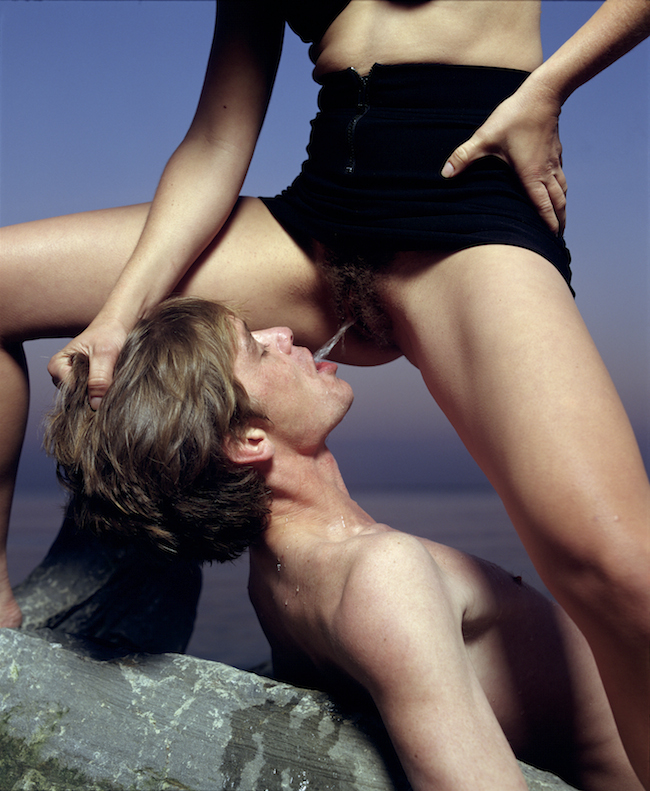 Leo's Fantasy, 1996. © Courtesy Andres Serrano & Galerie Nathalie Obadia, Paris/Brussels

Klansmen (Grand Dragon), 1990. © Courtesy Andres Serrano & Galerie Nathalie Obadia, Paris/Brussels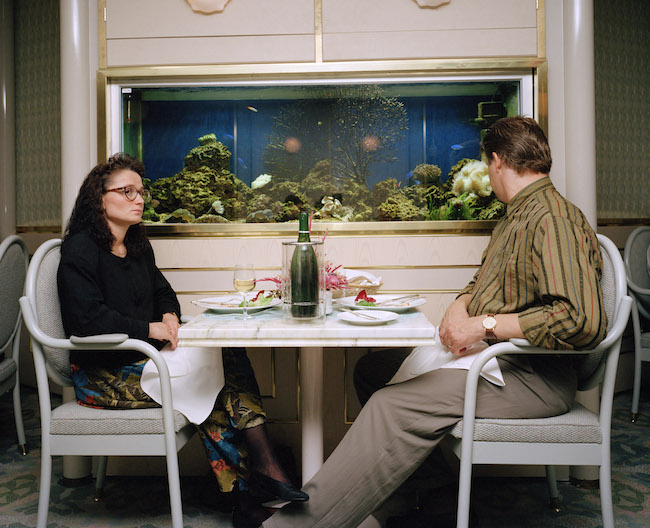 From Bored Couples. On board a ferry from Helsinki to Stockholm, Finland, 1991 © Martin Parr / Magnum Photos

From Luxury, Galway Races, Ireland 1997© Martin Parr / Magnum Photos

From Think of England, Eastbourne, England, 1995–99. © Martin Parr / Magnum Photos