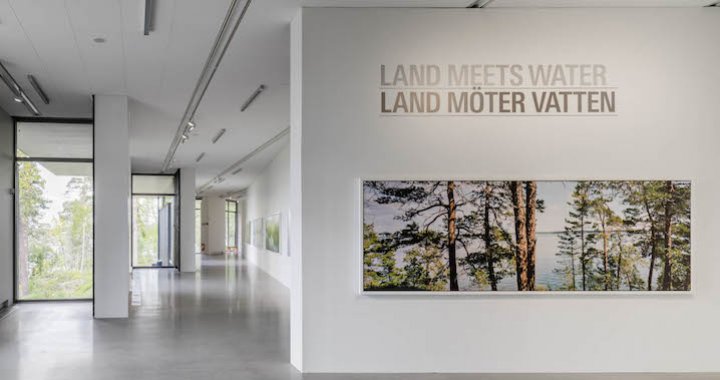 Review: Land Meets Water at Artipelag

12/06/2015
Land Meets Water
Artipelag, Stockholm
Until September 27, 2015
The overall idea behind the exhibition Land Meets Water is rather simple – to show photographs of nature where "physical encounters between earth, mountain and water" take place, as Artipelag´s director Bo Nilsson states in the handout. The topic originated of course from the surroundings of this rather voluminous art institution, situated as it is amongst the pines on the rocks and near the water in the archipelago of Stockholm. The reason for selecting this particular subject matter – of a pristine nature untouched by human hands – is also its recurring representation throughout the history of photography.

Olaf Otto Becker. Háifoss waterfall, Iceland juli, 2000. © Olaf Otto Becker
Accordingly, the site and the theme in combination was the inspiration for guest curator Peter Galassi, former Chief Curator of Photography at MoMA in New York. He has gathered as many examples as he could possibly get hold of from Scandinavian but mostly American photographers working from the 1860´s to the present. Galassi previously had a deep knowledge of the great American purists like Ansel Adams and Edward Weston, and the even earlier photographers Timothy O´Sullivan and Carleton E. Watkins, but he knew little of early Scandinavian photography from the nineteenth century. Names like Karl Fr. Andersson, Carl Curman, Knud Knudsen and Lotten von Düben – one of the few women represented in the exhibition – were new to Galassi, but when he saw their photographs he immediately recognised the historically prominent theme.

Hendrik Zeitler. Surtesjön, 2007–15. Photo: Jean-Baptiste Beranger
During the press preview Galassi stated that he wanted to make a "celebration of nature", and that he therefore needed to exclude all signs of mankind. Once we humans get into the picture things start to get sordid and messy, he seemed to reason. The focus is immediately on pollution and destruction of nature, instead of the more aesthetically pleasing exhibition we are presented with at Artipelag. One could naturally argue with such an insular view of the world today, but this is after all what Galassi set out to do.
The walls are covered with surprisingly similar photographs from this wide time period. Everywhere you see there´s rocks, waterfalls, lakes or oceans. The surface of the water is calm and smooth, mostly due to the long exposures that were required of the old photographic techniques. For the most part the formats are also rather small because of earlier technical impossibilities to enlarge the negatives. It is only in the room with contemporary photographs that we see colour and the big prints we´re used to these days.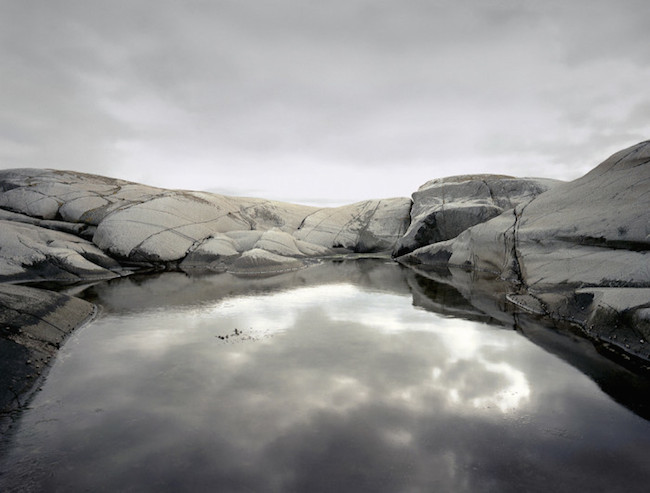 Jim Bengston. #1 Kålstangen, Portør, Norway, 1992. © Jim Bengston
But those recent pictures are definitely not the most thrilling in the show. On the contrary, their predominantly shallow perfection looks uninspired and more in tune with something out of a tourist brochure. The lightning is flawless, the tranquillity is splendid, and the atmosphere is virginal – but these are pictures of a distanced nature, paradoxically drained of every trace of life.
In comparison, the older material feels more vibrant and alive, and it conveys a curious eye – both to nature and to technique. In a time when the camera was a new invention it provided a fresh look on the world, and that gaze is present in the photographs somehow. They make room for a more graphic perfection that allows for mistakes and blurs to coincide with the novel way of exploring the world. Take Carleton E. Watkins photographs from Yosemite in the American West for instance, with its fuzzy edges and rounded picture frame, or Lotten von Düben´s somewhat tilted stereoscopic view of a mountain in northern Sweden. These are poetic renderings of the world.

Olafur Eliasson. Photo:
But there are moments in the exhibition when photographers from different times start a dialogue. A beautiful and rather evocative relation opens up between Olafur Eliasson´s contemporary photographs of volcanic springs in Iceland and Knud Knudsen´s Norwegian waterfalls from the late 1800s. The artists use photography to present a collection of similar vistas of nature in a parallel fashion. Knudsen almost appears as an early conceptualist besides Eliasson.
And this is precisely an element that otherwise is missing in the exhibition. There are some truly amazing photographs here – especially amongst the older ones – but the overall impression you get is repetitive and a bit tiresome. It´s like seeing the same picture over and over again. Nothing much happens.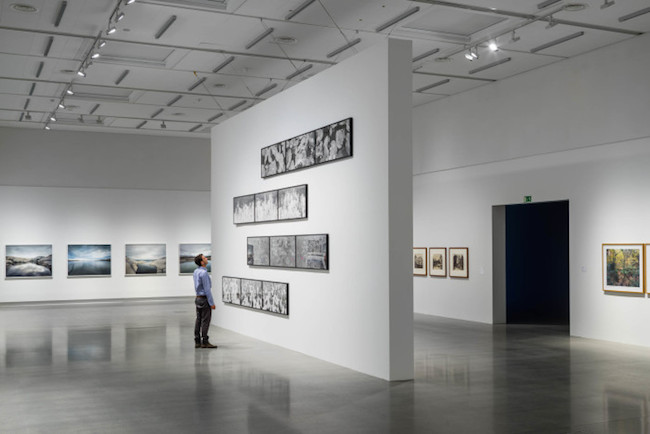 Photo: Jean-Baptiste Beranger
Why didn´t Galassi put the historic photographs in perspective by inviting contemporary artists that are working with a representation of nature in a more investigative manner? But Land Meets Water is still worth a visit because of its many early examples from photography that even now evoke a sincere innocence.