Ragnar Kjartansson at Palais de Tokyo in Paris

07/12/2015
- Ragnar Kjartansson -
Palais de Tokyo, Paris
21 Oct 2015 – 10 Jan 2016
Palais de Tokyo is an immense and energetic contemporary art institution in Paris, situated alongside The City of Paris Museum of modern art. The architecture of the two buildings is of the same kind, but mirrored to each other. If the museum looks like a conventional institution, then the Palais de Tokyo is more of a stripped down structure that surrounds the exhibitions. There´s is simply not much that stands in the way of experiencing the art, which gives openness and a welcoming impression. Four exhibitions are on here simultaneously, one of which at the moment is by the Islandic artist Ragnar Kjartansson.
Situated in the building´s vide basement, Kjartansson´s exhibition "Only he who knows desire", consists of four major installations; including tableau vivants, theatrical props, paintings, videos, and water colours. The exhibition is spread out over a large area almost without any walls, only increasing the institution´s easygoing atmosphere. Kjartansson´s art definitely helps in making that feeling even more profound, since it´s characterized by a humorous approach, though soaked with an air of sentimental melancholia.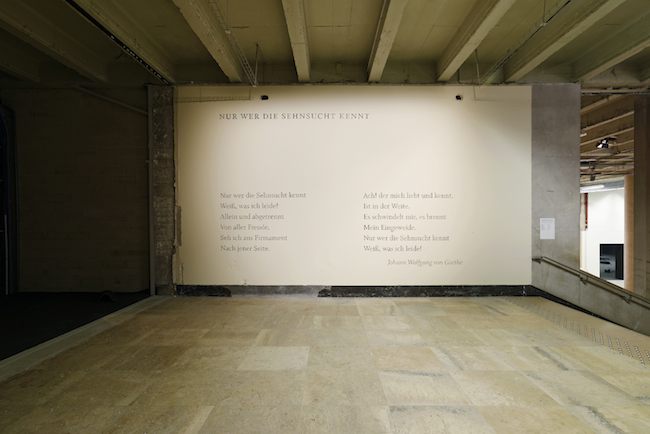 Ragnar Kjartansson, exhibition view of « Seul Celui qui Connaît le Désir », Palais de Tokyo, Paris, 2015. Photo: Aurélien Mole
Kjartansson himself – and sometimes his family – is often at the forefront of his art. One video in the exhibition shows him with his mother, a professional actor, spitting him in the face. The screens are shot with some years in between, so this gruesome activity has been going on for quite a while. In a 2009 performance, when he represented Island at the Venice Biennale, he acted the role of the painter making a portrait of a male friend every day for 6 months. Included in the exhibition at the Palais de Tokyo are four paintings of another friend made while reluctantly listening to the song "Take it easy" by The Eagles, over and over again. This is as much a performance in its own right as a staging of Kjartansson´s artistic lifestyle. The four paintings become a kind of encapsulated memory, from both life and art.
Other scenes with the sort of ongoing endurance that Kjartansson´s art involves are showing on video screens hanging in the air; a woman is swimming in a small pool while her overexcited dog is barking at her, a couple are cuddling in bed, there´s some children playing and a house burning to the ground, and so on. These slices of everyday activity have a relaxed presence, but it is their ordinariness that makes them so intriguing.

Ragnar Kjartansson, Bonjour, 2015. Coproduction Palais de Tokyo ; Festival d'Automne à Paris. Exhibition view « Seul Celui qui Connaît le Désir », Palais de Tokyo, Paris, 2015. Courtesy of the artist and Luhring Augustine (New York); i8 Gallery (Reykjavik). Photo: Aurélien Mole
The same could be said of "Bonjour", a spectacular installation with an enlarged dollhouse of sorts, complete with lots of furniture and even a couple of actors. The man and the woman go about the business of their daily life. They smoke and seem to ponder their solitude. But once in a while the two meet at the little fountain in the square. The French classic chanson "La Mer" is constantly playing, so there´s definitely romance in the air. But nothing happens, no action evolves between the shy young couple, and this is typical of Kjartansson´s representations of elongated mental states. They just keep on going, repeating themselves endlessly. It makes no difference if there´s real people involved; the setting stays the same, as if the whole arrangement – including the man and the woman – is looked upon as scenography.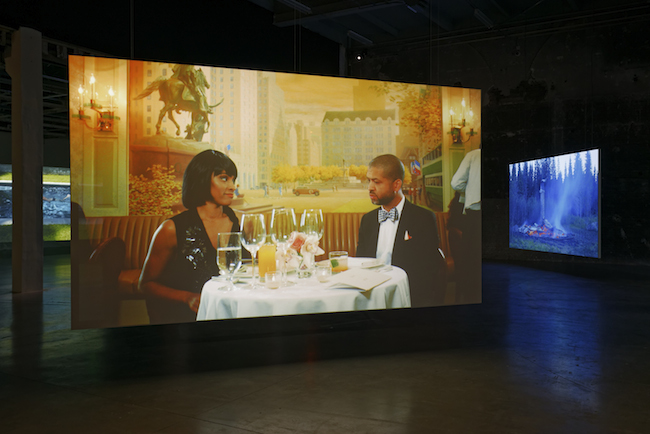 Ragnar Kjartansson, Scenes From Western Culture, 2015. Commissionned by Thyssen-Bornemisza Art Contemporary, Vienna. Exhibition view of « Seul Celui qui Connaît le Désir », Palais de Tokyo, Paris, 2015. Courtesy of the artist and Luhring Augustine (New York); i8 Gallery (Reykjavik). Photo : Aurélien Mole
Next to the installation with the house, is a large group of free standing paintings depicting snowy rocks and mountains. They are another example of Kjartansson´s predilection for theatrical sets. Seen from behind they reveal their true nature as props, supported with weights and the raw back of the canvas exposed. The group of paintings could have been taken from one of Caspar David Friedrich´s romantic landscapes, one of the many cultural icons in use here. The rocks are painted in an indolent, slack style, but that is part of the deal. They´re not meant to come across as masterpieces, just supposed to be convincing enough to drag the viewer into their gloomy and desolate spell. These are illusions without delusion.

Ragnar Kjartansson, Omnipresent Salty Death, 2015. Exhibition view « Seul Celui qui Connaît le Désir », Palais de Tokyo, Paris, 2015. Courtesy of the artist and Luhring Augustine (New York); i8 Gallery (Reykjavik). Photo: Aurélien Mole
In "World Light – The Life and Death of an Artist" (2015) Kjartansson has staged a novel of the Islandic author Haldor Laxness. It deals with the struggle and sorrows of an unfortunate poet in search of beauty and love. Kjartansson has selected scenes that are repeatedly initiated though always interrupted. But since the recording goes on we see the little chit chat and preparations between takes. Kjartansson appears in the video dressed in a white smoking jacket, putting on his usual attire of the crooner, and acting as the storyteller and director. He seems rather misplaced and doesn´t seem to care that much when the recordings go to a halt. It is a normal state for him. And one that shows Kjartansson´s unusually unproblematic attitude to art making. It is just to give it another go.