Latvian contemporary ceramics duo SkujaBraden's exhibition at Panevezys Civic Art Gallery
Aurelija Seilienė, art critic
Edited by
17/01/2017
SkujaBraden "Curve Increased"
Panevezys Civic Art Gallery, Panevėžys (Respublikos 3)
Through February 26, 2017
People say that one can find great miracles in the most unexpected of places. In the northeastern region of Lithuania, far from its center, is an important international crossroads connecting Eastern and Western Europe, known as the Hanseatic line. Panevezys Civic Art Gallery lies on the corner of this crossroads, from where it has made Lithuania known all over the world through its International Ceramic Symposiums featuring the new state-of-the-art Ceramic Pavilion; here one can currently see the exhibition Curve Increased, by the Latvian artist duo SkujaBraden.
Panevėžys Civic Art Gallery and the new Ceramic Art Pavilion
Panevėžys Civic Art Gallery's focus and purpose is multi-directional: preparing fine- and applied-art exhibitions, organizing international events, and maintaining the permanent exposition of their contemporary ceramic collection. Founded in 1990, the Gallery held its 21st Panevežys International Ceramic Symposium in 2016, organized by Director Jolanta Lebednykienė.

Panevežys Civic Art Gallery Pavillion. Photo: Evaldas Ivanauskas
This symposium occupies a unique position among events dedicated to ceramics in Lithuania, for the Gallery houses more than 600 pieces of large-scale chamotte ceramic pieces created by 164 artists from 35 different countries (including ceramic art stars like Philip Cornelius (USA), Rimas Visgirdas (USA/LT), Kirk Mangus (USA), Giancarlo Scapin (Italy), Makoto Hatori (Japan), Pēteris Martinsons (Latvia), and Aldona Jonuškaitė-Šaltenienė (Lithuania)). Panevežys holds the only collection of this kind in Lithuania and the Baltic States, one that reflects not only local and transient trends in contemporary ceramics, but also a ceramic continuum through the sharing of ideas, visual peculiarities, formalistic features, and new developments of form. In order to show the collection in a better light, a new modern building was created and finished in December of 2015 – the Ceramic Art Pavilion.
The Panevežys Ceramic Art Pavilion houses the permanent collection that has been created over the last 21 symposiums, and in 2017 the space was opened up for working artists to create solo exhibitions within the main collection. The idea for this came from SkujaBraden's brilliant conceptual works.
Artist in the spotlight: SkujaBraden
SkujaBraden (Inguna Skuja and Melissa Braden) are already well known in Latvia, but for Lithuanians they are exotic, new, and even shocking. The heart of their creative center lies somewhere in the gray space between communication and miscommunication. This space of "the unknown within the known" is a product of intuition generated by these two antipodes. The two artists say they are interested in finding and creating what can be born from two people having different understandings. Surrendering to the continual possibility of mistakes and confusion comes naturally to SkujaBraden, so it was not surprising that over the course of planning the show in Panevėžys, misunderstandings arose. However, these were quickly resolved, and it led to yet another viewpoint revealing new meanings and possibilities. Although the original exhibition, Medusa's Laughter, was held in Old Riga's Bastejs Gallery and then Biržai Museum, upon coming to Panevėžys it had to be changed because only sculptures could be presented there. The specifics of the exhibition space do not allow anything to be hung on a wall – sculpture is singularly shown here, by itself, and the main exhibit has evolved simply from the many sculptural pieces. So, SkujaBraden were left without the other compositional elements that they had created to accompany their ceramic works. The original presentation has transformed from a unified statement into singular components, and that has forced the artists to look at their creation quite differently.
SkujaBraden's ceramic pieces have a peculiar flamboyancy, and they stand in quite stark contrast to the larger, permanent exhibition which is made up of the International Ceramics Symposium's collection of works. Although any kind of protest can be perceived as an absolute denial of norms, SkujaBraden aren't fully categorical, and they follow the idea of a reasonable opposition to tradition. Many feminist ideals are held in their works, but these are mostly combined within the expression of forms reflecting feminine features.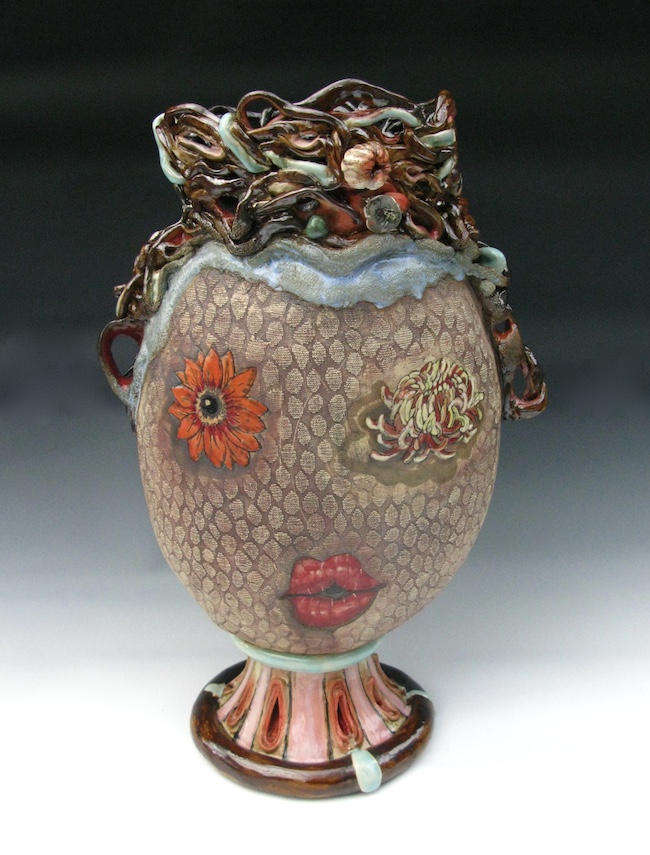 SkujaBraden. Flower Face vase, 2016 (stoneware and porcelain)
The intentions of SkujaBraden are found within the forms, and can be attributed to the drawings on them and the acute attention to detail – such as the color and design that play off of a sleek form that combines the aesthetics of ugliness and beauty, all in one. Their large porcelain vase, Life and Death, highlights a centrally-placed skull that sprouts flowers like Mickey Mouse ears as it floats on a collar of hand-sewn sacks resembling voo-doo dolls; also illustrated on the vase are juicy female genitals with fingers in them, feathers, and a springy worm that (like a Jack-in-the-box) props the image up above a foreground of black flower silhouettes. The piece suggests death, but it is more about life.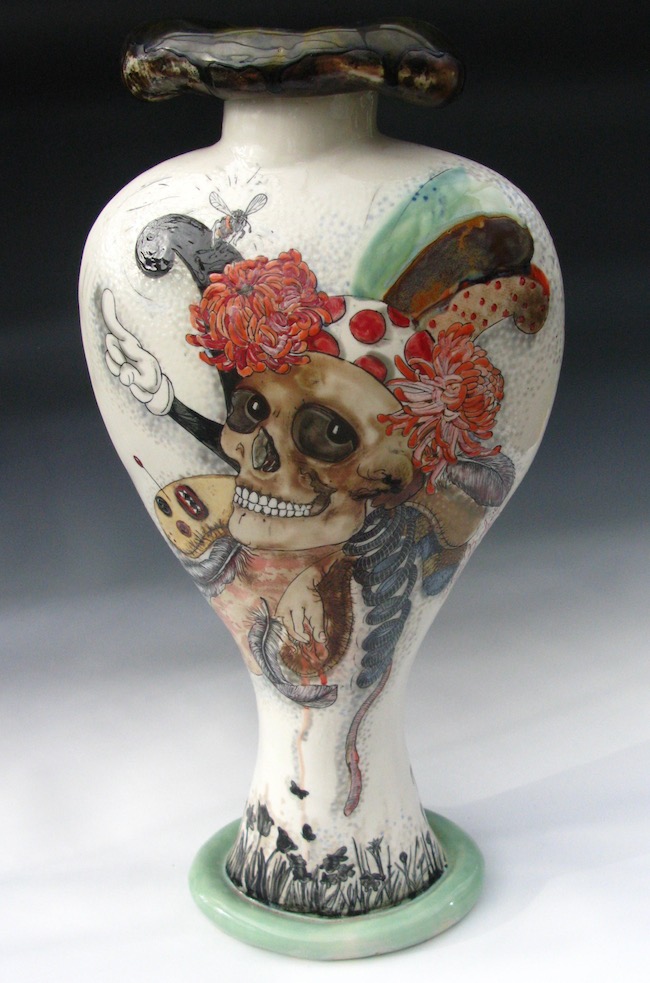 SkujaBraden. Life and Death, 2016 (porcelain)
Additionally, it immediately brings into question the outdated perceptions surrounding ceramics – basically, the idea that if something is made from ceramic material, it is a craft. In our modern-day society, a statement like this may seem pointless, but the perceptions among Lithuanians and people from other European countries – regarding artists who work in ceramics – indicate that the break between the fine arts and the applied arts is only gradually diminishing; in addition, a sense of discrimination against ceramic art is still the norm in fine arts' communities. In this case, SkujaBraden believe that contemporary ceramics (and their own works) are conceptual art, and they do not dive headlong into denial. The motif of a vase, which appears often in their works, is a statement of the idea that conceptualism and pragmatism can form a useful symbiosis. Upon first look, pieces like Flower Face Vase, Life and Death, and Latvian Austerity do not resemble or remind one immediately of a vase – sometimes just the title, or the flowers placed in it, speak about the work's true function.

SkujaBraden's work All Seeing One, 7 eyed Buddha sculpture (2010), in the recent ceramics exhibition organized by Arterritory.com in the eyeglass/optical salon Take a Look, in Riga
Every artist, like every spectator, has their own individual interpretation. In my opinion, this version of Curve Increased, regardless of how it was described at the exhibitions in Riga or Biržai, does not reflect a one-sided denial of established norms. Rather, it speaks about the positive attempts to resist them – and not by destroying the old, but by creating something new. Negative things have been converted into positive qualities, and without any shame in regards to their peculiar curvature. In its journey from Riga to Biržai, and then on to the Panevėžys Gallery, this presentation of works has, indeed, increased the exhibition curve.