With the future in sight
A review of Four Rooms with a View at Vartai gallery, Vilnius

20/11/2018
What do you think qualifies as an interesting exhibition layout? Or more precisely, what criteria must be met for an exhibition to be called, in your opinion, interesting? Putting the usual categories aside – preferred themes, favourite artist, the latest crowd-pleaser, etc. – what do you think it is that gives the event value? I must admit that after giving this question much thought, I just kept coming up with even more questions...and eventually came to realise that a well-argumented answer may never emerge. What is what? What kind of role does the artist play in this world, and what kind of role do their works play? How much power is wielded by such phenomena as reviews, the principles of visual repetition, and cyclical recurrences (the latter being rather commonplace in the art world)? These sorts of inner and, as yet, unanswered questions arose after I had viewed the exhibition Four Rooms with a View, currently ongoing through November 30 at the Vartai gallery in Vilnius. The exhibition's curator is Daniel Marzona, an internationally recognised expert on Minimalism and Conceptualism.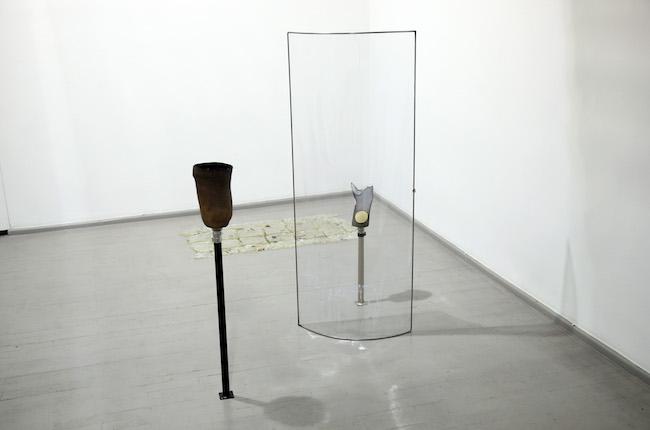 Second skin, 2018. Photo: Ramūnas Danisevičius
This is one of those 'white cube' type of exhibitions in which the secret lies hidden in its title. Four Rooms with a View is a theoretical group-work symbiosis of five artists and four exhibitions, in which each individual's artistic approach has been given emphasis. Spelled out a bit more bluntly, each of the gallery's four rooms have been assigned to one artist or artist duo, where they have been given free rein to create their own solo show; taken together, all four rooms create a unified 'view'. Marcona, who came up with the idea for the exhibition and initiated its realisation, admits that he gave the artists complete freedom to interpret the space, thereby becoming authors of not only the works, but of the whole tableau in which the works are contained. He follows a similar principle in his Berlin gallery, Daniel Marzona Gallery, in which he, as one would expect, only shows things that he likes himself. Moreover, he does it with great respect to the artists' creative intent. To the broader public, Marzona is also known as an art theoretician and the author of the books Minimal Art and Conceptual Art, published by Taschen. This, along with the fact that Daniel's father, Egidio Marzona, is one of the world's most influential collectors of minimalist and conceptual art, leads one to assume that these two styles of art are the younger Marzona's specialty, and also the foundation of the exhibition in Vilnius. However, Four Rooms with a View is not exactly a story of past legacies, but rather a message about contemporary art that is fresh and current. Which is precisely why it is also a story about each of the exhibition's participants and their personalised interpretation – an exhibition within an exhibition.
Towels, 2018. Printed latex, silicon belt, foam. Photo: Neringa Vasiliauskaitė

Watcher, 2018. Stainless steel, silicon, rope. Photo: Neringa Vasiliauskaitė

Hanging, 2018. Steel, stained steel panels. Photo: Ramūnas Danisevičius
The exhibition starts off with works by Neringa Vasiliauskaitė, which were shown earlier this year under the title of repeat and remain again and again, at the Städtische Galerie in the German town of Villingen-Schwenningen. The first thing that catches the eye are strange-looking objects that appear to have been folded and rolled, yet look like granite. Upon closer inspection, it becomes clear that the work, titled Towels (2018), is made of a textile material. The next works, made of printed latex rectangles, are even more interesting. Titled Tablecloth (2018, two works), it consists of printed textile wrapped with a belt and placed on a thin slab of granite that has been attached to the wall like a shelf. On one hand, it's a complicated assemblage of diverse materials that likely encompasses a broad array of allegories and figurative meanings. On the other hand, it can be perceived as a tablecloth with an interesting print and which has had a belt attached to it for some functional purpose; in the latter case, the tablecloth's positioning and placement are no longer all that relevant. By offering up two possible interpretations, here arises the problem of 'what is it that makes something a piece of art'. If Tablecloth is meant to be a physical paraphrasing of an idea, then it is art. But is Tablecloth also a piece of art if it is simply a tablecloth that has been placed in an exhibition hall? It turns out that Vasiliauskaitė has, in her creative journey, chosen to fuse together both interpretations. She is, of course, more interested in the diversity of the materials, and how different combinations of them can reflect an idea. At the same time, Vasiliauskaitė is playing around with the viewer by creating the comforting feeling one associates with familiar objects. In this sense, even more fascinating than the tablecloths is the work titled Watcher (2018) – a vertical stainless steel rod, from the top of which hangs a thick silicone cord. Looking much like a piece of intestine, the cord trails down to the floor and its excess length ends in a small coil which, by now, gives me the distinct impression that it could almost move on its own – like a worm. This last ovservation is due to the cord's shape, its greyish pink colour, and my own memories of alien horror films in which such rubbery tubes usually turn out to be organs containing evil embryonic beasts who wish to scourge the Universe. This motif of hanging tubes continues in the stainless steel work Hanging (2018), in which the artist seems to have turned her attention towards absurd mythology and deceptive freedom. Metal tubing is stiff by nature, and so the work's seemingly flowing shapes and the impression of its parts being movable are only illusions.

Second skin, Heavy stomach, 2018. Photo: Ramūnas Danisevičius

Second skin, Leftovers (detail), 2018. Photo: Ugnius Gelguda

Second skin, Sleepwalker (detail), 2018. Photo: Ugnius Gelguda
The next room contains the group work Second Skin (2018), by Andrea Zucchini and Anastasia Sosunova, in which the artists analyse interpretations of various skins. This part of the exhibition also makes use of different kinds of materials, including bits of rubbish that have been embedded in glass. In this case, the rubbish consists of pill packages, twigs, dry leaves, and random pieces of plastic and metal rubbish. Skin is presented not only according to its bodily definition, but also as experience that has accumulated from various layers that have left an influence. Being at once fragile and protective, the skin is the layer that receives the most direct contact, in terms of both outside physical experiences and internal emotional experiences. Through their creative collaboration, Zucchini and Sosunova have created an aesthetic paraphrasing of both contemporary identity and how important the influence of a capitalistic environment is on society. By paying divided attention to the concept and the final result – for example, taking a closer look at the debris embedded in the bumpy glass – an effect akin to that of realistic painting is elicited. The viewer is simultaneously aware that it is only a rendition of reality, but also disbelieves that it is not real based on our instinctive human nature. Subsequently, this leads one to think about how far the boundaries of our reality go, and at what point do they come into contact with the visual arts. Perhaps that is why it is better to perceive the objects as part of a set of installations, without going into a deeper analysis of individual elements.

Johannes Wald. Exposition view. Photo: Auguste Petre

Laura Rutkute, Daniel Marzona and Julian Heynen next to Johannes Wald work. Photo: Ramūnas Danisevičius
The third and fourth parts of Four Rooms with a View feature Johannes Wald and Aron Mehzion, respectively. Despite the fact that each of these artists has developed his own signature style and uses artistic forms of expression that mutually exclude one another, they both share the same sense of monumentality, as well as an affinity for the aforementioned Minimalism and Conceptualism that once flourished in the 1960s. In addition, they are both represented by Daniel Marzona Gallery, which may be of no significance, yet does give one an idea of the aesthetic value scale with which the curator works. Wald's 'solo show' consists of an arrangement of three objects that reflect the basic elements of sculpture and the various conditions affecting it: time, movement, and emotions. Mehzion has chosen to show several two-dimensional sheets/boards – black, white and dark copper in colour – from the series Passage (2016). The sheets have very fine drawings or etchings on them that are seemingly random yet very precise. In the centre of the room is the piece Piège de l'apparition I (2018), which roughly translates as 'not done with your hands': a vertical pane of clear glass has been placed between two symmetrically identical models of the human hand, giving the appearance that that the two hands reaching towards one another are actually just one hand reflected in a see-through mirror. Why is it that these two artists bring to mind the works of Frank Stella, Sol LeWitt, Carl Andre and other minimalists? Perhaps because, unlike the other artists represented in Four Rooms, Wald and Mehzion are not afraid to consistently keep to tradition, and, to a certain extent, 'reincarnate' according to the requirements of today's contemporary art. This does not in any way mean that Neringa Vasiliauskaitė's or Andrea Zucchini and Anastasia Sosunova's works should be judged as being lesser. It's quite the opposite, in fact – this contrast between the works, which may not be immediately perceptible at first, is exactly what this (and any) exhibition needs to make it interesting to the viewer.

Aron Mehzion. Exposition view. Photo: Ramūnas Danisevičius