Art Made Vulnerable: Baltic Circle Theatre Festival, Helsinki
23/11/2018
Since my first visit 9 years ago, Baltic Circle has undergone some changes familiar to art contexts: hybridisation, and decentralisation. From an inner-city festival presenting elite international theatre works – mostly at Helsinki's Q-Teatteri or around –the festival has evolved into a multi-nodal set of events, deliberately staging works in the peripheries of the city, and relocating its Festival Hub in the post-industrial wasteland/playground of Cirko since 2016. The programming, likewise, has moved from a mostly capital 'T' theatre into a variety of arts and modes of performance, and including installation in gallery spaces and site-specific works. The theme of the festival this year from Artistic director Satu Herrala is "Vital Vulnerabilities", centres around the adaptable yet perpetually fragile human body, as well as the vulnerabilities connected with ecosystems, and unpredictable futures.
This year, almost no work in the 10-show program and parallel discussions followed a conventional theatre process. The closest perhaps was All the Sex I Ever Had, a work from Canadian-German group Mammalian Diving Reflex, which involves putting 6 hand-picked local seniors on the stage to talk about their sex histories. The work has toured extensively and was first developed in 2012 but it still packs a punch, offering the metaphor of a life told through sex, and with heavy elements of death. The participatory elements (a town hall forum with the audience where we are asked provocative questions such as "have you ever slept with a married person?") further deepen the anti-spectacle feeling, making it seem less a work of theatre and more a social experiment in sexual liberalisation. There is a strong dramaturgical hand at play, however, creating a controlled narrative arc which manages and balances the stories of the participants, ensuring that the subject of sex can be explored from a position of safety.
Kate McIntosh's Worktable is an installation from an artist working mainly on stage. Located in Emma Museum of Modern Art in Espoo, the work sees the public undertake a process of deconstruction and rebuilding of objects that's inspired by the 2011 Christchurch earthquake and the laborious and emotional reconstruction in its aftermath. Invited to choose our own object to take apart, the work explores our emotional attachment to materials – as McIntosh states, "shifting the focus from performer body to the body of the audience and objects". The work explores our attitudes toward order and control in the material world, which can be interrupted at any moment by nature, and previously solid structures atomise around us. It's an unstable ontology that is at odds with the playful nature of the participatory work, which attracts audience of any age whilst drawing on McIntosh's frequent speculations in the stability and fragility of constructed reality.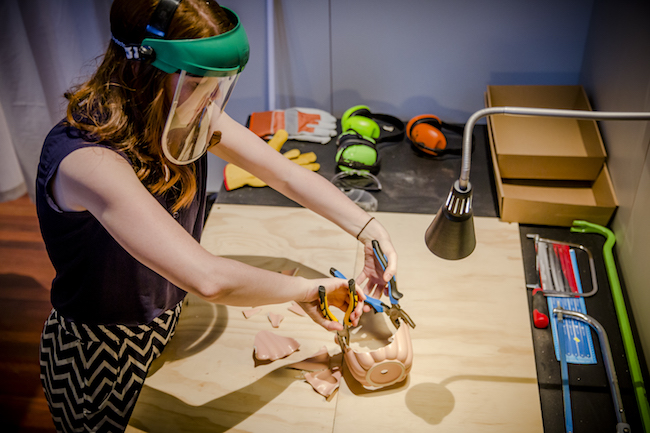 Bryony Jackson/ Arts House
Two works from Australian artist Angela Goh, Uncanny Valley Girl and Desert Body Creep, sit firmly in the world of contemporary dance. The works both imbue objects with meaning from their openings, and essentially follow an identical pattern as the artist proceeds to utilize the objects on stage until the performance ends. The solidity of the body here is in negotiation with the objects around it – in Uncanny Valley Girl, the body is brought into question by the figure of the 'fembot', which utilises various technologies and personas, pointing to a certain vulnerability of the (female) body. Goh's performance itself, though, is anti-fragile, putting up a brittle façade as she glares at the audience expectantly from the beginning, and offering a resistant, unshakeable counterpoint to the threat of violence, as well as a refusal to the easy perception of vulnerability as weakness. It's a trope carried over from Desert Body Creep, a performance more concerned with object-oriented ontology and the body's ability to be consumed and reborn within particular geographies. For both performances, it's their premiere in Europe outside their native Australia, and adds a direct feminist discourse into a festival that operates with minimum 50% quota of female, non-binary or trans artists (with this year's festival seemingly well over this mark).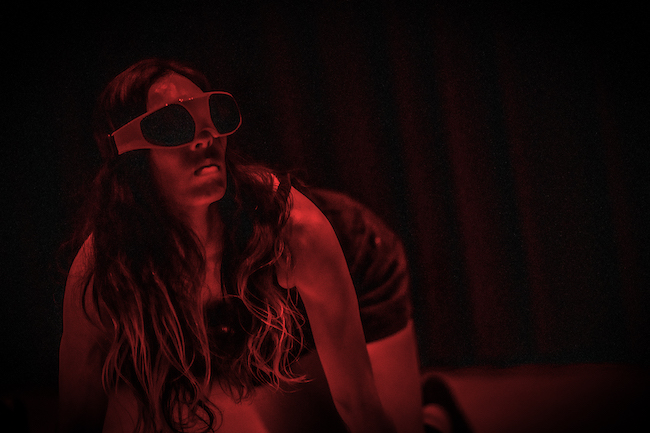 Photo: Tani Simberg
It's a position that is becoming increasingly common in festivals internationally, but one that Baltic Circle was active in advocating long before subjects like sexual harassment in the theatre and LGBT+ rights gained today's sensational level of international media coverage. The remainder of the programme may sit within this frame as well – with shows like Katariina Numminen's choreographed Asu (Näyttämöloru) and St Petersburg-based Pop-up Teatr's Death at Work offering entirely different treatments of the body and identity, one focused on costume and the other on existential issues arising from death. The latter attempts a more direct communion with the local community, Finland being one of the oldest populations in Europe, and seemingly perpetually occupied with mortality.
The festival is not theme-led – that is, it's not artists responding to an open call. The depth of work surrounding the theme of Vital Vulnerabilities should therefore be taken as a litmus test of theatre art practice today, concerned with the body as a site of negotiation for defining performance (and non-performance). Festivals like Baltic Circle put at risk the humanist project central to theatre through exploring new territories, but in doing so, challenge existing discourses of the stage as a metaphor for the human condition. The difference between 'actor' and 'prop' collapses in the face of contemporary re-thinking of human and non-human agency.
In this sense, Baltic Circle presents a version of theatre that concerns itself with the possibilities of collaboration with other art forms and spaces outside the black box and the proscenium arch, discarding conventional forms of cultural power in favour of a more adventurous and low-brow internationalism. In a context of inevitable continued funding cuts for culture in the midst of the neoliberal project, the festival offers a model for how theatre might collaborate together in solidarity with other art forms, to build new narratives of trust, togetherness, and exploration. Far from weak, the position is best summarised by Herrala's opening to the curatorial statement "Hard times call for gentle acts" – a promise to fight fire with water, and not fan the flames.