Nomadic movement in the rococo hall
Two main galleries in Nizhny Novgorod, Futuro and 9Б Gallery, organized together a nomadic exhibition «What's the Address?» by Alisa Yoffe
20/01/20
Alisa Yoffe, a famous russian paintess, loves creating black petroglyphs, labyrinths, blobs. This is a kind of borderline state between an abstraction and subject painting. Yoffe's style makes us to remember the experiments of the first and second waves of modernism. This style (rhythmical black pulsations on the dazzling white background) wasn't created simultaneously. In Alisa's biography, the logic of semiotic sign systems was collapsing under the pressure of an obstinate, incompliant element of spontaneous pictorial moves.
Maybe it happened so due to understanding that every structurally-shaped system brings a threat in the tradition of the post-conceptual pastiche. On the one hand, a painter can turn into a captive of it. On the other, such a system can be easily appropriated by official ideology considering a certain matricity of methods and conclusions – that's exactly what happened to postmodernism.
Yoffe values open project that avoids any coincidence with doctrinaire narratives, whether it's a feminism, marxism e.t.c. Alisa is a nomad... This is her luck as an artist and our luck as an audience. No thought ever turns into a stand or a slogan by itself. There is no dictate of clear expression. Blobs of Alisa's art are swimming in nomadic dream. And it's woven dream patterns are embroidered by the imagination of the spectator. Here comes to mind a famous quote paraphrased by Boris Strugatsky: «To understand is to simplify».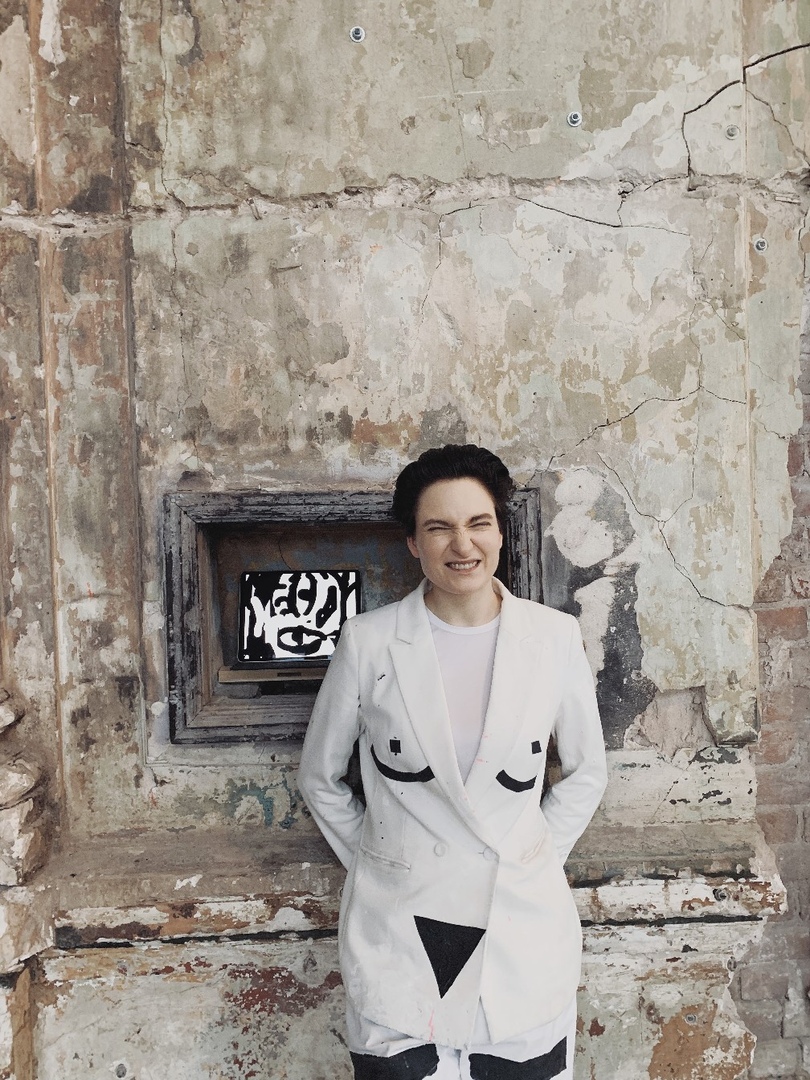 The nomadic lifestyle is often associated with gypsies and Bohemia. But not only that. It can also be associated with nomadic thought-forms roaming through intellectual and artistic discourses. In an intellectual space it's appropriate to mention a principle of nomadology formulated by Deleuze and Guattari in 1970's. The world alienated from hierarchy and sedentism likens itself to a risome brought up as a network of anarchistic communities as an alternative to government and it's suppressive functions. The nomadic performative movement is like tumbleweed – it opposes itself to repressive acts made by government. That's makes the nomadology a form of resistance.
Underdeveloped, blobish images also inhabit an art of silent protest distant from manifestation hegemony and authoritarianism. Splattering clumsy slackers are waiting for the viewers' eyes, brains and feelings to assemble them into something meaningful. In Art Brut aesthetics Alisa Yoffe is certainly close to there is an image – an phantasm. Bloobish essences as well, these monstrosities with naive, childish eyes inhabit the postwar paintings (end of 1940's – the beginning of 1950's) of Karel Appel and Asger Jorn. These blobs «develop» the broken life status after the World War II. The civilization is bewildered, the pathos is diminished. The desire to derogate themselves in their nothingness is strong among artists. And those abominations are disgorged by some artistic power that summoned them into existence but left crushed and indistinct. This non-addressness of restless abominations curiously recognizes itself in an image of the new exhibition called «What's the Address?».
The Futuro art-gallery has a large hall a la neo-roccoco in XIX century style. The walls are beautifully inlaid with pilasters, cartouches and overdoors by analogy with XVIII century French hotels. However, in reality fretwork and orders were created as a tribute fashion for historical reconstruction in the second half of the XIX century. Moreover, there is a feeling that gypsy camp was settled in the front hall. The walls are burnt, fretwork is damaged, overlapping pieces are sticking out. Jagged and traumatized, the wall surface likens the gallery hall to a ruin, very picturesque and addressless in terms of historical architectural affiliation. This ruin perfectly embraces Alisa Yoffe's nomadic exhibition.
Two rooms are the prologue to the ruined hall – the vestibule and the white hall. Two big paintings are installed in the vestibule reclined on each other. An incomer notices one of them. Black-and-white spots are shaping into some ornament with an upside-down smiley face. It turns out to be a depiction of a paintess on a driver seat of the black BMW. Beamer drops us off in the white hall, where a viewer witnesses the nomadic movement of history art styles. The huge painting makes him experience some kind of orgy between masterpieces: Don Quixote rides through the «Night watch» shadows in projection made by futurists in 1910's and London street artists from East-End. The paintess emphasizes that we see the hall of the Moscow restaurant «5642 Vysota» with a print copy of Jacques Callot XVI century engraving from «Gypsy» in the interior.
Cars and comiсs. Gypsies and a restaurant. Baroque – pop-art – impressionism – street-art... Alisa Yoffe makes an ironic intervention into the territory of familiar plot schemes from past and modern art. Plots and methods of pictorial presentation become a shadow theater, or blob-nomades in a new language system subverting conventions and stereotypes.
The culmination occurs in the hall with an abraded fretwork. The texture of jagged burnt walls is so rich that to hang something above that is like to use Pollock's art as a background to a new picture gallery. Wittily and elegantly, Alisa proposes her nomadic show. With exhibits-wanderers. They are divided from walls and act like wandering actors, buffoons on the improvised scene inside an ancient palace. The screen is pulled on an aluminum truss stretch shape with a huge deformed face painted on it. This image almost has a stereoscopical 3D effect. It appears to be the culmination of a plethora of themes: besides nomadism it covers a fusion pack of history, art and voyeurism, peeping. The face is associated with the position for «observing the observer» – from ancient idols to enormous eyes on the screen. The stylistic manner of painting by itself, of course, refers to cubofuturistic experiments with «distorted faces» by Picasso, Braque, as well as by russian painters Larionov and Kliun. Gigantic tablet-stretch shape casts it's own shadow. The construction stands upright. If knocked over to the floor, it would definitely cover the space of the flattened carpet made of tarpaulin tent fabric. Painted pink, as a nail polish color, the carpet on the gallery floor refers us to the history of merchandise and travel in the Middle East. The ornamental painting is a variation of a XVI century turkish carpet from The Vorderasiatisches Museum. Crowning the compositional triangle, another exotic showpiece hangs from the ceiling on a pink suspension strip-rope – that's a roll. The tarpaulin roll is painted with silhouettes of idols belonging to traditional culture.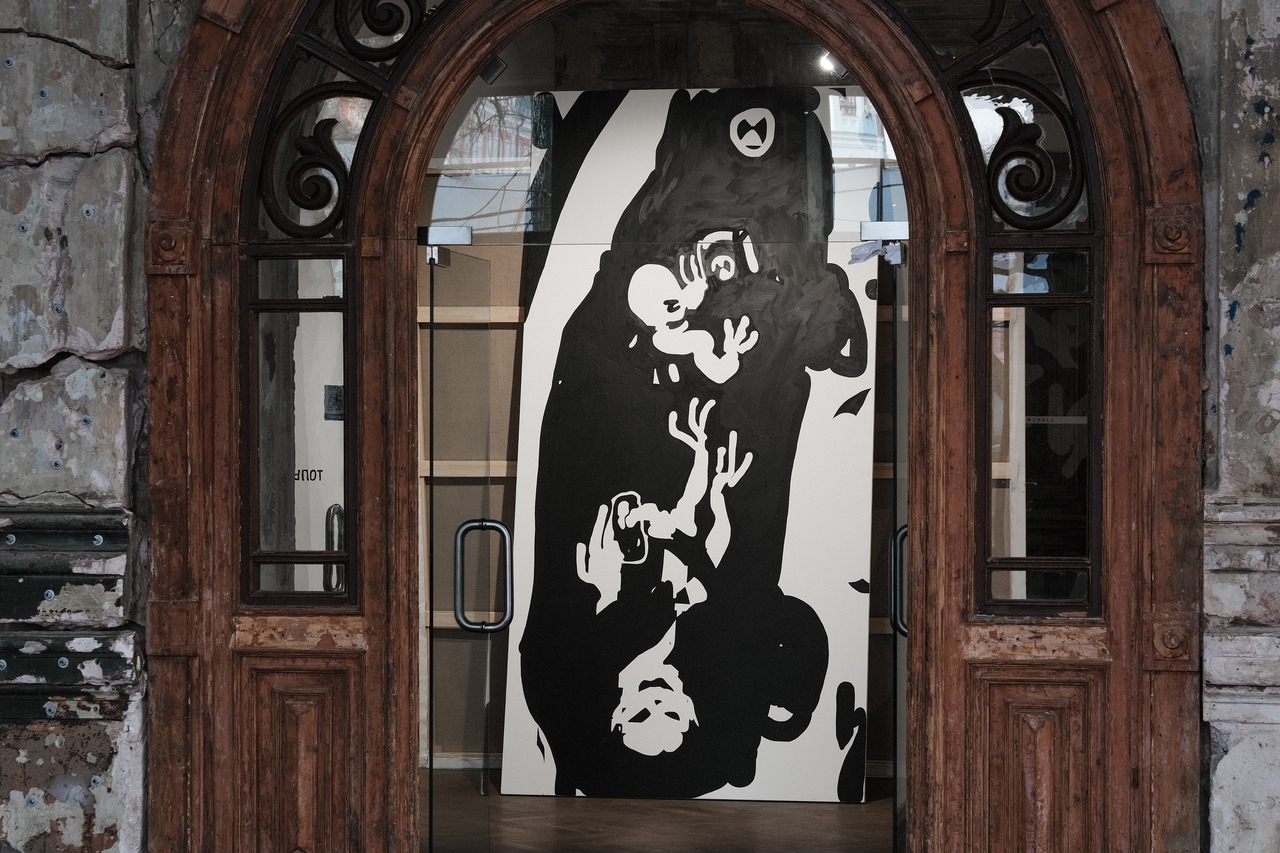 Wandering, slipping historical identity of the nomadical play corresponds perfectly with the new version of straying history of art in «metaswing» amplitudes. This «metaswing» assumes sinceruty of speech, in which we can't catch nor logic, neither words, as well as it represents the drift of graffitist blobs towards handicraft products of ancient cultures.
After making a full circle and watching the film about creating gigantic works, a visitor returns to a vestibule from the side opposite to the entrance. And then he sees another picture, pressed close to the one with Alisa as a beamer driver. But on the inside Alisa is a passenger now. Black fillings with white gaps can be associated with both abstraction and a figure of a woman holding a naked child. And the more so, through a vestibule gap a familiar picture can be seen with gypsy procession in Callot fashion - a man with a naked baby rides a horsie. The cycle of plots and themes correlates with circle of life itself. And the nomadic show correlates with the freedom of the language of art.